Welcome to Review 546, which focuses on GMOs, both new and older-style.
NEW GM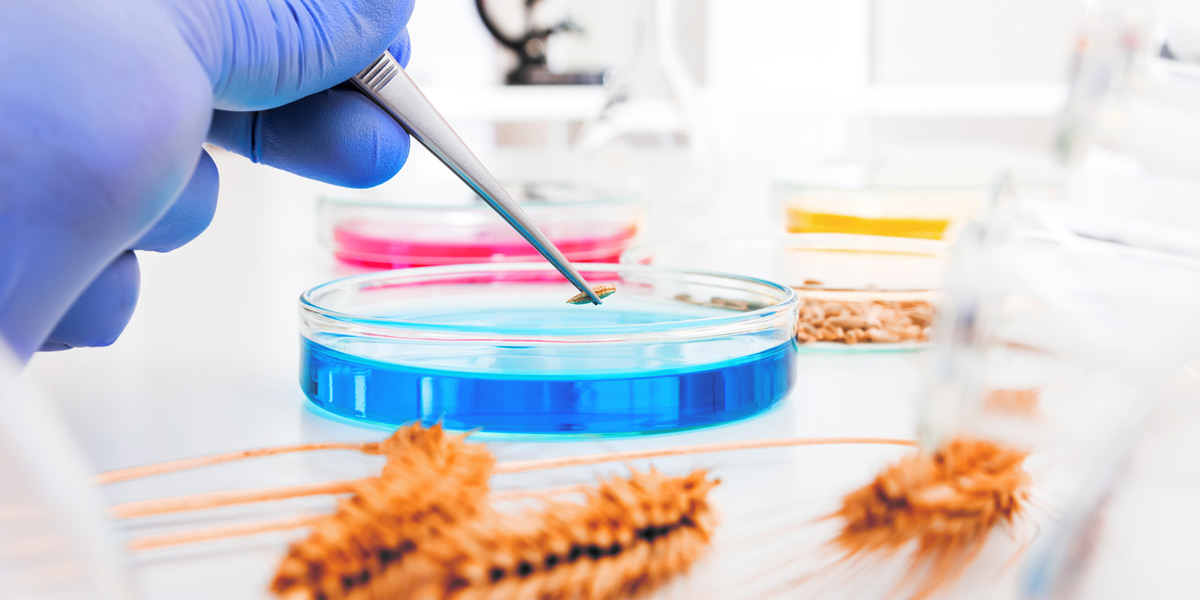 The EU is finally funding detection research for new GM plant products. The latest Horizon Europe funding programme for 2023-24 makes 10 million EUR available for research on the detection of gene-edited GM plant products. The call for research proposals, published by the European Commission in December, aims to "contribute to ensuring traceability and authenticity, enhancing transparency and promoting innovation in the area of new genomic techniques". GMWatch welcomes the Commission's move, as the industry continues to use the supposed non-detectability of new GM products as a reason not to require traceability and labelling. However, the main obstacle to validated detection and identification methods is the industry itself.
Foodwatch International and Friends of the Earth Europe have published a new briefing, "Unmasking new GMOs – protecting farmers and consumers' right to transparency". As the European Commission gets ready to unveil its new proposal to deregulate the new generation of GMOs made with so-called new genomic techniques (NGTs), Foodwatch International and Friends of the Earth Europe are calling on European Commissioners to veto the new legislative proposal and keep new GMOs strictly regulated and labelled as GMOs, in the best interests of farmers and consumers and the environment.
The European Commission is considering a new regulatory framework for GMOs. The deregulation policy option is causing concern among various organisations (distributors, consumers, farmers, environmental protection organisations) and is finding less and less support among EU Member States. Next to criticism of its policy plan, the Commission faces criticism on the methodology it has used. A complaint against the European Commission from two NGOs in February 2023 has led to the opening of an inquiry by the European Ombudsman. The Ombudsman asks the European Commission to reply to concerns raised by the NGOs by 24 July 2023. The concerns relate to the representation of stakeholders in the consultations organised by the European Commission, the taking into account of different scientific opinions, including on the environmental risks of new GMOs, and transparency.
No less than 340 organisations (including GMWatch) and companies have written to vice president Frans Timmermans, executive vice-president for the European Green Deal, saying that is it time to shift to evidence-based decision making for sustainable food systems and nature. The European Commission is proposing to deregulate new GMOs on the basis of unproven GMO industry claims that new GMOs will enable reduced pesticide use and greater sustainability. But the organisations respond that keeping new GMOs regulated as GMOs "will minimise potential negative impacts on nature, human and animal health and will uphold the precautionary principle and consumers and farmers' right to information as key political and social achievements of the EU".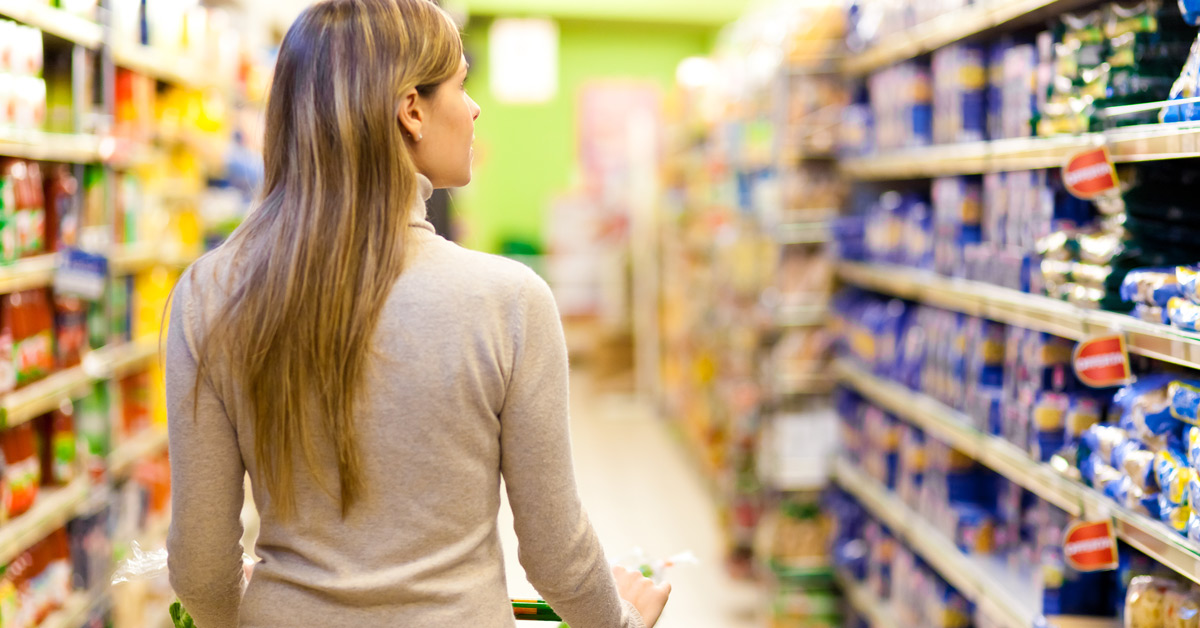 The Rathenau Institute, a technology assessment organisation in the Netherlands that is a member of the European Parliamentary Technology Assessment, has published a report about the perception of Dutch citizens on new GM techniques (NGTs), as revealed in a survey it conducted. In general, citizens' views converged towards reservation and hesitation about the use of NGTs and genetic modification in crops. Citizens raised doubts mainly about the plausibility that these crops will contribute meaningfully to the solving of our current societal challenges in the food system, and whether they are indeed the right approach for dealing with these challenges. They wondered if alternative solutions may be better, and how these may come with less unforeseen, long-term risks for human health and ecosystems. They also want regulation and labelling of new GM products.
On May 3, 2023 the Minister of Agriculture and Agri-Food approved changes to Canadian Food Inspection Agency (CFIA) regulatory guidance that, along with similar changes permitted by the Minister of Health in May of 2022, allow product developers to assess the safety of their own GM seeds and foods without government oversight. The exemptions to regulation apply to gene-edited seeds that are claimed to have no foreign DNA and to foods produced from these plants. "This is a shocking abdication of responsibility by our regulators. The government has fully turned GM food safety over to companies using confidential, privately-owned science," said Lucy Sharratt of the Canadian Biotechnology Action Network (CBAN). "Canadians should be aware that the government will no longer be assessing the safety of many new genetically modified foods and seeds. This decision asks Canadian farmers and consumers to trust unseen corporate science. We need independent science, not corporate self-regulation." There's more about this development here.
The National Research Council of Canada (NRC), a Crown corporation, teamed up with the agrochemical industry lobby to inform the public about GM seeds as the federal government prepared to announce a controversial seed reform that deregulates some GMOs (see above). The choice of speakers was criticised as almost all had an interest in the industry. The speakers at the free public webinars organised by the NRC "in collaboration with CropLife Canada", the lobby group for makers and distributers of agrochemicals, included:
* a representative of Bayer, the world leader in GMOs and pesticides;
* two executives from CropLife, of which Bayer is a member;
* a professor whose research is funded by Bayer and CropLife;
* a professor who wants to commercialise GM alfalfa in Canada;
* a professor who works in the field of genetic engineering.
In Quebec, Canada, on 26 May, protestors marched to denounce the influence of GMO and pesticide lobbies on the agri-food system, in response to the recent decision to let the industry regulate itself in the case of new GMOs created via genome editing. The protest took the form of a funeral march to mark the death of choice, transparency, independent science and democracy at the hands of the agrichemical lobby.
Allison Squires grows organic grains like wheat, lentils and flax on her farm, but she says she is "supremely disappointed" in Canada's newly clarified seed guidelines that she says puts her sector at risk. The updated seed rules now allow seeds created through gene editing that are claimed not to contain foreign DNA or altered to make them pesticide tolerant to be marketed without safety assessment, as they are assumed to be safe. Canada also announced an industry-managed database — the Seeds Canada Canadian Variety Transparency Database — to make clear which seeds are and are not organic. But Squires and other organic farmers say mandatory reporting is needed. And with no labelling requirements, consumers won't know which foods use gene-edited ingredients. Nobody is calling for a ban, just a way to opt out, explained Squires. "All we're asking for is a mandatory traceability system that provides myself and my fellow organic farmers with the assurances that we need to make sure that the seed that we're buying is free from genetic engineering. So all we're asking for is the choice to farm organically."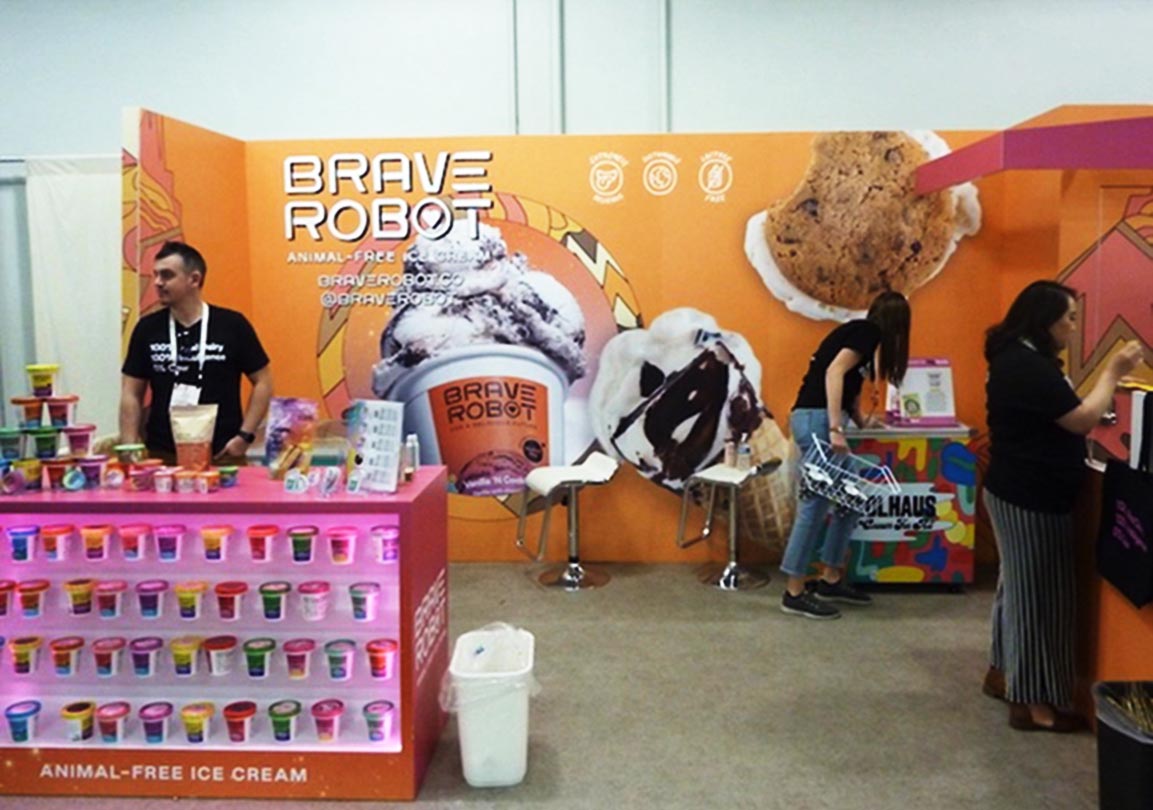 "Animal-free" dairy or meat products that taste nearly identical to a traditional animal product are often anything but "natural", writes Max Goldberg of Organic Insider. Aware of what consumers may find out and not wanting to make the same PR mistake twice, the GMO industry has introduced deceptive names such as synthetic biology, cultured meat, gene editing, precision fermentation and cellular-based seafood. The organic community is being aggressively courted. The companies are purchasing booths at Natural Products Expo West, a show that most attendees believe is only for "natural" products. "Companies call these things 'synthetic biology' and 'fermentation technology', but these foods are all just GMOs," said Michael Hansen, PhD, Senior Staff Scientist at Consumer Reports. "They are using terms people do not understand, so that people will not realise these are GMO ingredients." Some organic companies are concerned and are stepping in to raise awareness of the issue.
As the UK and EU consider deregulation of gene edited organisms, a persistent criticism has been a failure to acknowledge the importance of uncertainty in determining risk, safety and appropriateness. Join experts examining the many facets of uncertainty by registering for this free webinar.
In a podcast, Claire Robinson of GMWatch talks with James Freeman of TNT Radio's Freeman Report about the new Genetic Technology (Precision Breeding Bill) Act in the UK and the risks it poses to our food supply. Claire also talks about the powerful GM lobby and how it has captured governments and the media. James Freeman also interviewed Dr Michael Antoniou about the risks of GMO crops and foods, particularly new generation GMOs – the interview starts at 15 mins 45 secs in this podcast.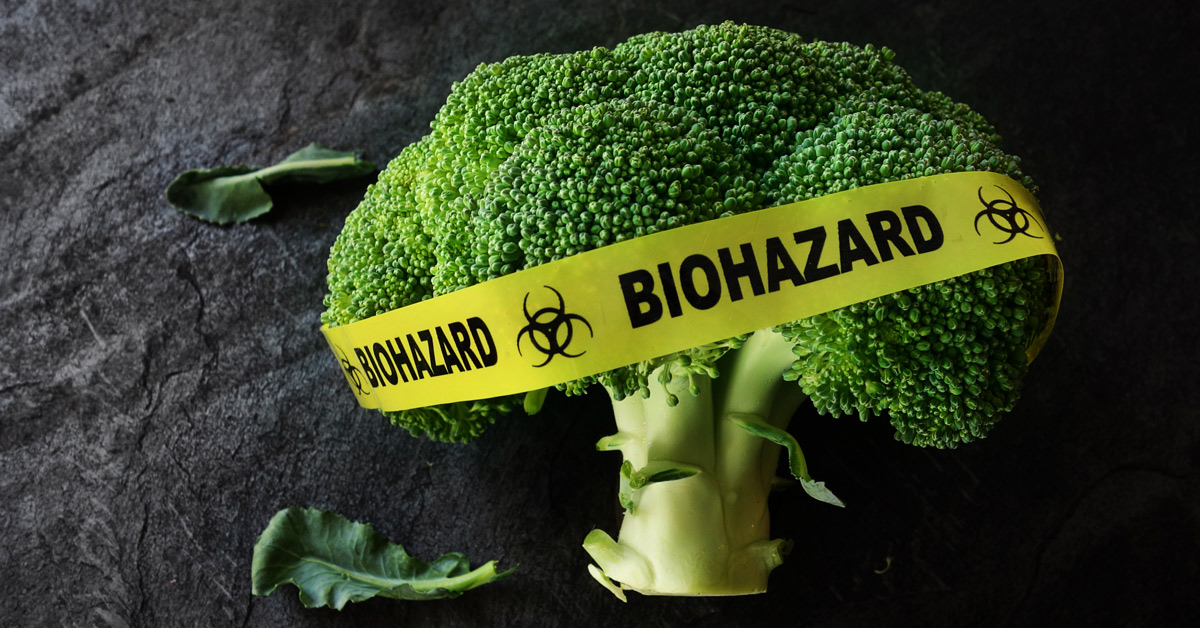 GMWatch and other concerned groups have had a series of meetings with the UK Food Standards Agency (FSA) on the GMO deregulation bill, which has passed into law. We and our scientific advisor Dr Michael Antoniou have published our latest comments on the bill and the draft proposals for the application and authorisation procedure that GMO developers will go through to get products on the market. These comments have been sent to the FSA for consideration. GMWatch's Claire Robinson said, "We're extremely concerned that both the bill and the accompanying draft guidelines on the application and authorisation procedure fail to make positive provision for complete traceability that includes the consumer – meaning an on-package label alerting people to the fact that this is a GMO. Without a label, the consumer won't know what they are buying and eating." This is of special concern to people with food allergies.
The New Zealand Government has reportedly been in closed door talks to "progress allowing GE [gene-edited] seeds to be imported and sold in New Zealand, the UK and the European Union". Claire Bleakley, president of GE Free NZ, said, "GE Free NZ has written to the Minister to clarify if this statement is correct. If this is true, the Government has breached its 'duty of care' and opened up dangerous economic and safety issues that GE regulation protects, through these secret talks." GE Free NZ says the government's move is a direct threat to New Zealand exporters who sell their products as non-GMO.
The US Department of Agriculture (USDA) has concluded that a gene-edited variety of teff would not be subject to its biotechnology regulation. Scientists behind the new semi-dwarf version of the grain celebrated the decision. Million Belay lists five reasons to be concerned about the gene-edited teff, including safety, ownership, and climate implications.
In Italy, the Senate Agriculture and Environment Committees have unanimously approved an amendment to the Drought Decree that allows the field testing of new GMOs. This is a first for Italy, which has never before allowed GMO field trials. In Italy new GM techniques have been euphemistically named TEAs (Assisted Evolution Techniques). For the member groups of the GMO-Free Italy Coalition, voting for this amendment "reinforces an intensive production model based on the illusion that technology alone can solve the problems caused by anthropogenic environmental crises. In reality, the new GMOs are nothing more than yet another tool to strengthen the power of control and management of agrifood supply chains by multinationals and powerful agricultural corporations to the detriment of farmers". The GMO-Free Italy Coalition is calling for the deletion of the amendment approved by the Commissions from the final text.
The coexistence of gene editing with organic production systems remains a point of contention within the European Commission. While proponents of the technology maintain the two can go hand in hand, the EU's organics sector warns coexistence requires robust traceability and liability mechanisms. Speaking of the EU Commission's plan to deregulate new GM techniques (NGTs), IFOAM's deputy director Eric Gall said, "If the Commission's proposal takes traceability and transparency away by assimilating NGTs to conventional breeding methods, then there is no 'coexistence' possible and it would amount to imposing the use of NGTs to all farmers, organic or not."
GMOs IN GENERAL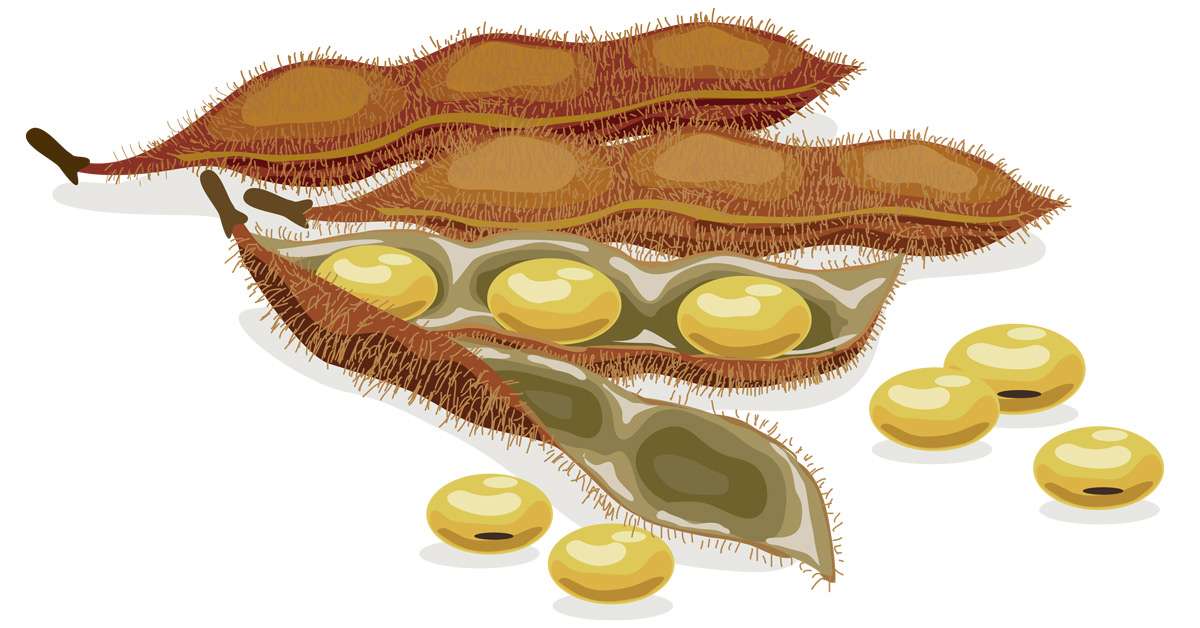 A recent study proposes a more advanced and thorough means to evaluate potential changes to the compositional profile of genetically modified (GM) crops, in order assess unintended effects with potential food safety implications. Using advanced molecular "omics" profiling techniques that can assess global changes to levels of RNA, protein and metabolites in a plant, the study on a GM soybean revealed a range of unintended changes in compositional profile, including increased levels of allergens and 70 proteins that were differentially expressed compared to the conventional counterpart. The scientists concluded that these changes have potential biological significance, with alteration to several metabolic pathways (related to protein synthesis and processing). GMWatch has long advocated including "omics" analyses in the risk assessment of older-style and new GM crops. Thus far, this hasn't happened.
The Kenyan government's move to import GMOs for human consumption has faced a setback as the appellate court ruled the move is contrary to the public interest. The court declined the government's appeal until the interests of the public are heard. In May 2023, a panel of three judges stated the application by Kenya's Attorney General Justin Muturi "lacked merit", adding that "the public interest test was not met", according to local media. Concerns remain over the health and environmental risks of GMO products. The Kenyan High Court is also hearing another case, filed by the Kenyan Peasants League. The League opposes the government's decision to impose GMOs, arguing that allowing their cultivation and consumption is unlawful and that the government did not consult the public. Furthermore, the League asserts that GMO products pose health risks. As a result of the ongoing case, the Kenyan government is prohibited from importing or distributing GMO crops and food until a final verdict is reached. If the Kenyan Peasants League wins the case, the Kenyan government may be permanently banned from importing GMOs.
In January 2023, German customs intercepted illegal rice noodles. The noodles, from Thailand, were made from transgenic rice, which it is illegal to import into the EU. Germany informed the European Commission of this new incident and the Rapid Alert System for Food and Feed (RASFF) issued an alert. The Netherlands is the point of entry for these illegal noodles, but the RASFF states that they have been distributed in other European countries: Austria, Belgium, France, Germany, Hungary, Ireland, Luxembourg, Romania, Spain and the United Kingdom. On 16 May 2023, it was Spain's turn to inform the RASFF of the detection of unauthorised GM rice flour, this time from India. The European Commission said two containers were involved (48 tonnes in total). By 2021, 500 tonnes of transgenic rice flour from India had already been intercepted in the EU. In November 2021, the Coalition for a GMO-free India called on the country's authorities and highlighted the lack of coexistence measures between the GMO and non-GMO supply chains. In an open letter, it pointed out that several GM rice field trials had been carried out in India. It warns that these trials have led to "contamination and leakage" reaching the food chain.
Punjab has failed to achieve its target cotton planting area. This year, the Punjab government offered a 33% subsidy on GM Bt cotton seed. However, at the end of the sowing season, the cotton crop was sown on around just 58% of the target area. Last year, the crop was sown on 62% of the target area. According to reports, farmers have chosen not to sow cotton because of the threat of whitefly and pink bollworm attack.
An application to field trial GM perennial ryegrass as "more nutritious" animal feed has been withdrawn. The civil society group GeneEthics had told the GMO regulator, the OGTR, that the trial could not be contained and more weeds would result. Grown as a pasture and lawn grass, the plant is also an aggressive, invasive weed that would spread more widely. If approved, more herbicides would be sprayed, adding to their $5 billion annual cost, says GeneEthics.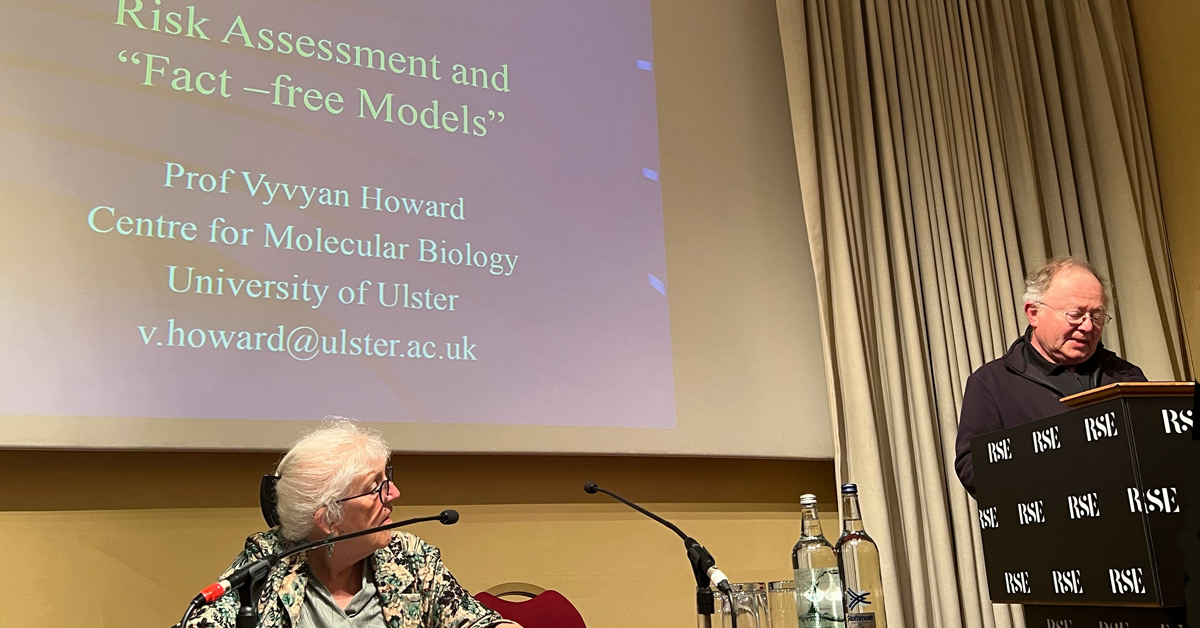 On 26-27 May, GMWatch's Claire Robinson attended a two-day conference in Edinburgh called The Integrity of Science, about the conflicts between corporate interests, public policy, and independent science, in honour of the late Dr Árpád Pusztai (1930–2021). At the conference, the toxico-pathologist Vyvyan Howard, Emeritus Professor at the University of Ulster, gave a presentation titled "Risk assessment and 'fact-free models'". Prof Howard explained what was wrong with the system of risk assessment and in particular, exposed gaping holes in the risk assessment of GM crops and foods. Prof Howard proposed ways in which reform could be achieved. But under the current system as it is practised, as he showed, risk assessments cannot be assumed to prove the safety of any substance, GMOs included. GMWatch adds that the solution to poor risk assessment is not to have no risk assessment at all, which is what the UK government plans to do with new GMOs. Instead it is to improve the risk assessment and use it appropriately, as Prof Howard explained. He also pointed out that alternatives to risk assessment include societal agreement not to use the technology.
On 26 May in Argentina, social and environmental groups marched to the Ministry of Health against the agro-industrial model, GMOs and pesticides. The organisers said, "500 million litres of pesticides are sprayed per year, and it is the country that applies the most glyphosate per person in the world!" They criticised the "recent approval of HB4 transgenic wheat in the country" and warned that "there are already 25 companies that are marketing the milled flour to the population in the form of bread, noodles and other products". They said, "GM wheat and new creations resistant to glufosinate ammonium are an even more damaging sequel than glyphosate itself." They added that the precautionary principle, the constitution, and the General Environmental Law are being violated. They called for comprehensive agrarian reform, an agroecological model of production, and food sovereignty, to put an end to the sickening of people and the destruction of ecosystems in this time of climate change.
The lifting of the GMO ban in Kenya was a pre-requisite for the agricultural component of the US-Kenya Strategic Trade and Investment Partnership (STIP) to be realised but it does not augur well for the people of Kenya, writes policy analyst Maryanne Nduati. The biggest beneficiaries are likely to be the corporations that are part of the American agricultural industrial complex. Those firms that produce GMO seeds and foods will now have a captive market through the US-Kenya STIP trade deal. Nduati writes, "There is concern that smallholder farmers, who account for 78% of total agricultural produce in Kenya, will be unable to compete with the US agricultural corporations who have vast economies and efficiencies of scale. Corn, a competitor to Kenya's staple maize crop, is likely to have a devastating effect on the local smallholder markets. As a result, smallholder farmers are likely to suffer a fall in farmgate prices, possibly exacerbating poverty."
Trade consultations requested by the US on Mexico's plan to limit the use of genetically modified corn are an "unacceptable violation" of Mexican law, a top Mexican official said. "The United States' request to Mexico follows the interests of seed, agrochemical, and other food-producing oligopolies," said Mexican Deputy Agriculture Minister Victor Suarez. Suarez said that seed makers Bayer AG, Corteva Inc, ChemChina's Syngenta and BASF are "winning" under the US' trade and agricultural policies, but that they do not represent all US growers. Washington requested consultations after Mexico softened an original plan to ban GMO corn across the board and instead opened its use for animal feed and industrial use. However, Mexico retained plans to prohibit GMO corn's use for human consumption, which applies to flour, dough or tortilla made from the grain.
GM Bt crops, which are genetically engineered to produce insecticidal proteins, are losing effectiveness as pests develop resistance to the Bt toxin insecticides. Researchers analysed global resistance monitoring data for 24 pest species based on the first 25 years of cultivation of Bt crops, including corn, cotton, soybean, and sugarcane. Each of the 73 cases examined represents the response of one pest species in one country to one Bt toxin produced by one or more Bt crops. The cases of practical resistance rose from 3 in 2005 to 26 in 2020. Practical resistance has been documented in some populations of 11 pest species, collectively affecting nine widely used Bt toxins in seven countries. Conversely, 30 cases reflected no decrease in susceptibility to Bt crops in populations of 16 pest species in 10 countries. The remaining 17 cases provide early warnings of resistance, which entail genetically based decreases in susceptibility without evidence of reduced field efficacy.
The Philippines Supreme Court has announced that it has issued a writ of kalikasan (a legal remedy under Philippine law that provides protection of one's constitutional right to a healthy environment) against the Department of Agriculture and other government agencies, as well as the Philippine Rice Institute and University of the Philippines-Los Banos, to stop the release of GMO golden rice and Bt eggplant. The decision was reached in a High Court session during which the respondents were required to file a verified response within 10 days. Petitioners led by the farmer-scientist organisation Masipag filed before the court a petition for the issuance of a temporary environmental protection order (TEPO) against the propagation of golden rice and Bt eggplant over safety concerns and lack of compliance with legal requirements. Masipag has urged the court to also issue a TEPO for the immediate stoppage of the project, and declare as null and void the commercialisation approval.
Valerie Segrest is a Native foods nutritionist and the Regional Director of Native Food and Knowledge Systems for the Native American Agriculture Fund. She is outraged that a corporation – GM salmon firm AquaBounty – "now owns the DNA of wild Chinook salmon. Someone now owns my ancestral foods' DNA. I remember that as a spirit-shaking moment and thinking, 'How dare you?' We put so much into taking care of the Chinook, and a company, without consultation, ripped out the genetics of a Chinook salmon and spliced it with an Atlantic salmon and an eel fish — three species that, if you combined in a small tank and let swim together for thousands of years, would never procreate." She adds, "The first goal and the work of colonisation, the genocidal efforts and policies that have been put in place to wipe tribes off the lands we originate from, is to promote invisibility. They made us invisible and created a false narrative about an entire race of people. AquaBounty followed that narrative. They never asked permission to take our cultural, intellectual property."
..................................................................
We hope you've enjoyed this newsletter, which is made possible by readers' donations. Please support our work with a one-off or regular donation. Thank you!