As always, don't forget the LOBBYWATCH and COVID-19 sections of the Review.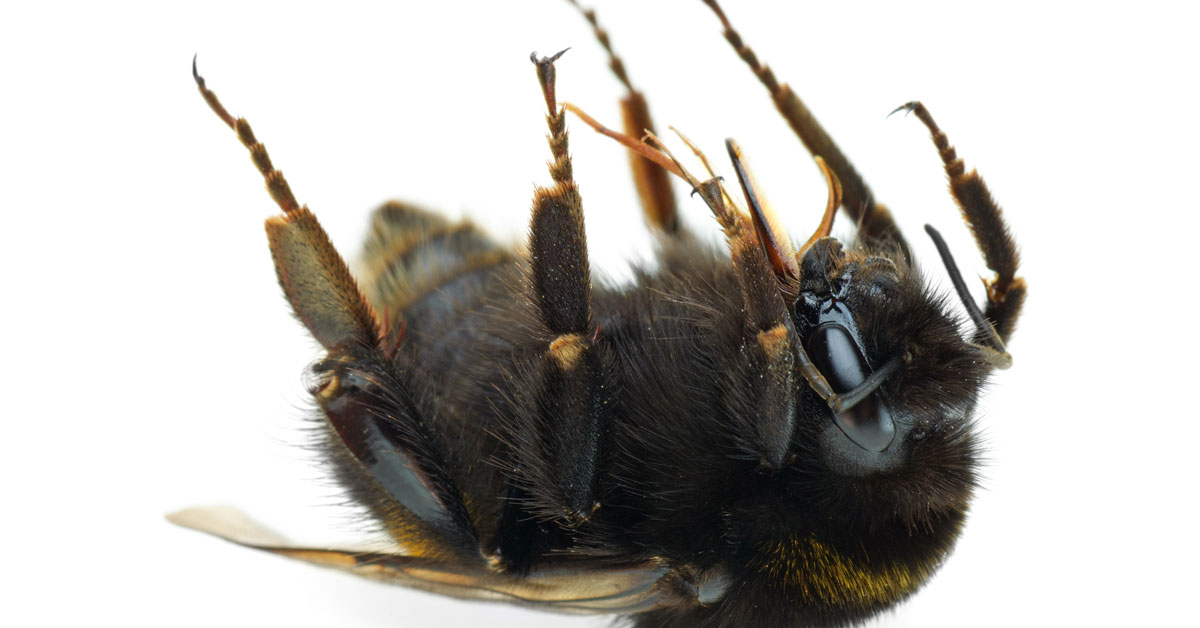 Newly published research in the journal Science demolishes claims that the impact of pesticides is declining and that GM crops are contributing to this positive trend. The study using US government data found that the toxic impact of pesticides on bees and other pollinators has doubled in a decade and GM crops have been contributing to that trend. According to the lead researcher Prof Ralf Schulz, of the University of Koblenz and Landau in Germany: "GM crops were introduced using the argument that they would reduce the dependency of agriculture on chemical pesticides. This is obviously not true if you look at toxicity levels."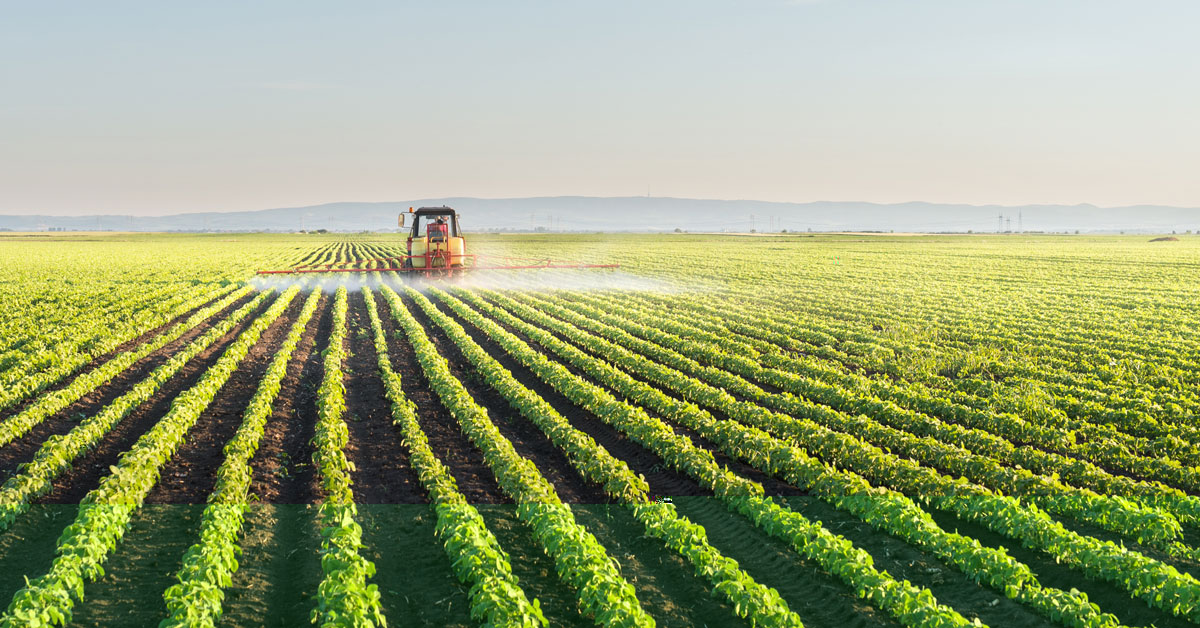 A new scientific paper spells out the future of agricultural gene editing. In spite of claims from GMO promoters that gene editing will save us from climate change and reduce pesticide use, the paper tells us that what we can expect is just more of the same – GM herbicide-tolerant crops, this time produced with gene editing. This will continue the trajectory of increased herbicide use resulting from the spread of GM herbicide-tolerant crops. But there are crucial differences with gene-edited crops, as the paper makes clear. The fact that some governments have deregulated some types of gene editing means that regulatory risk assessment won't be involved in those countries, making gene-edited GMOs faster to develop, more profitable, and potentially more hidden from consumers. This will help more multi-herbicide tolerant crops hit the market "years earlier", the scientists say.
Will food systems continue to be able to provide for human needs? Or do we face looming insufficiency and a calamitous mismatch between human population growth and agricultural productivity? A new peer-reviewed paper by Dr Jonathan Latham resolves this dispute by examining the global food system models, created by the Food and Agriculture Organisation (FAO) and others, that are the primary evidence base for predictions of global shortages. The paper shows that predictions of future global scarcity are entirely due to flawed modelling. It has important implications for the future direction of world agriculture.
Today the agbiotech industry and its allies zealously promote the legend of the so-called Green Revolution as a flattering framing for the spread of GM crops. So how many lives were saved in India due to the so-called Green Revolution? Try zero, writes anthropologist and commentator on GM crops, Glenn Davis Stone, who is based at Washington University in St Louis.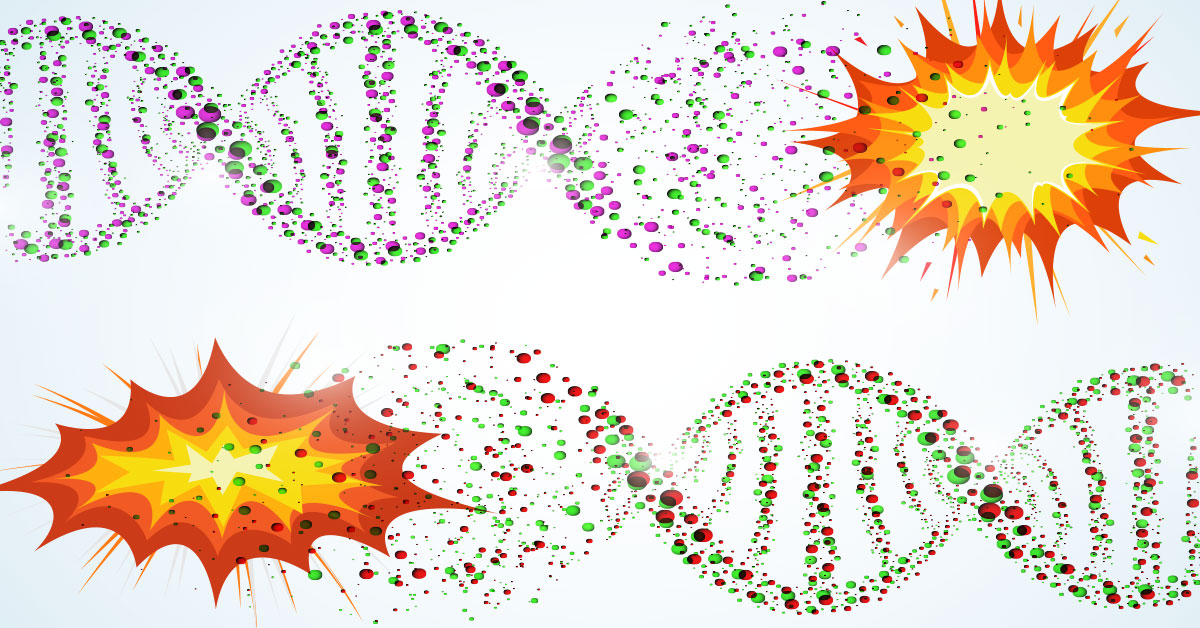 Research from Chinese scientists shows that CRISPR/Cas9 gene editing causes massive damage to the genome, much of which would have been missed by the analytical tools used so far. The researchers describe a new computer program, which enabled them to analyse data to greater depth than previous programs had allowed. They found what they call "tremendous deleterious DSB [double-strand break] repair byproducts of CRISPR/Cas9 editing".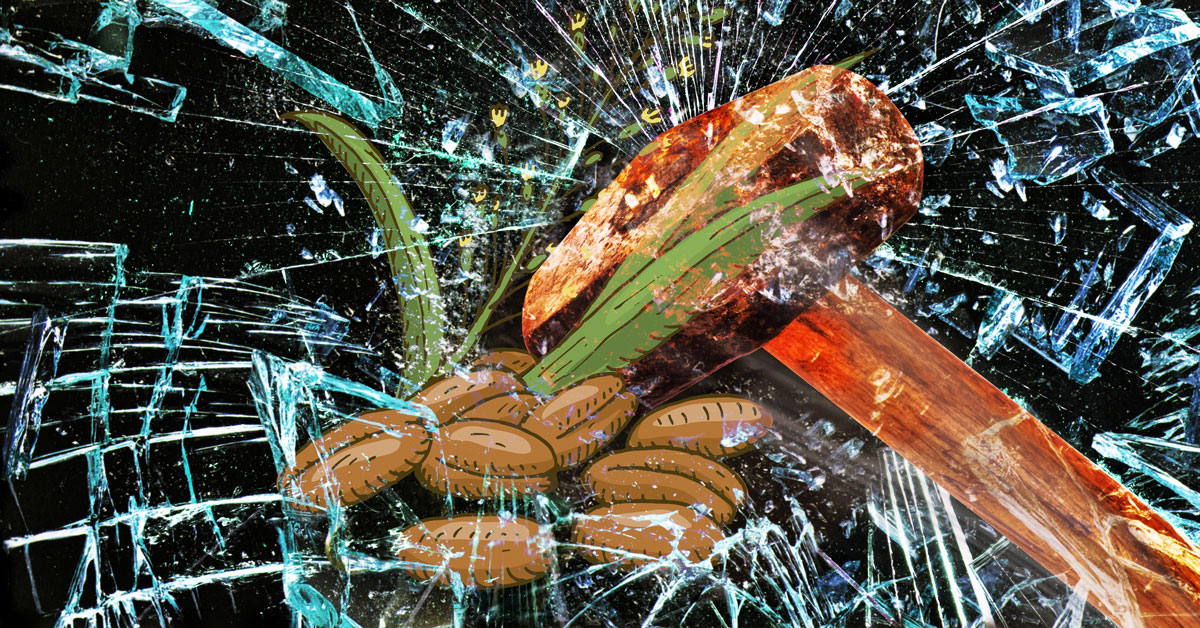 Gene editing causes drastic unwanted effects in gene-edited plants including severe deformities, a new scientific publication in the journal Environmental Sciences Europe shows. This is the case even when the changes are intended by the gene editor to be small tweaks to existing genes rather than, for example, the introduction of new genetic material. More broadly, the study provides an overview of the negative effects on ecosystems that can result from the release of gene-edited plants.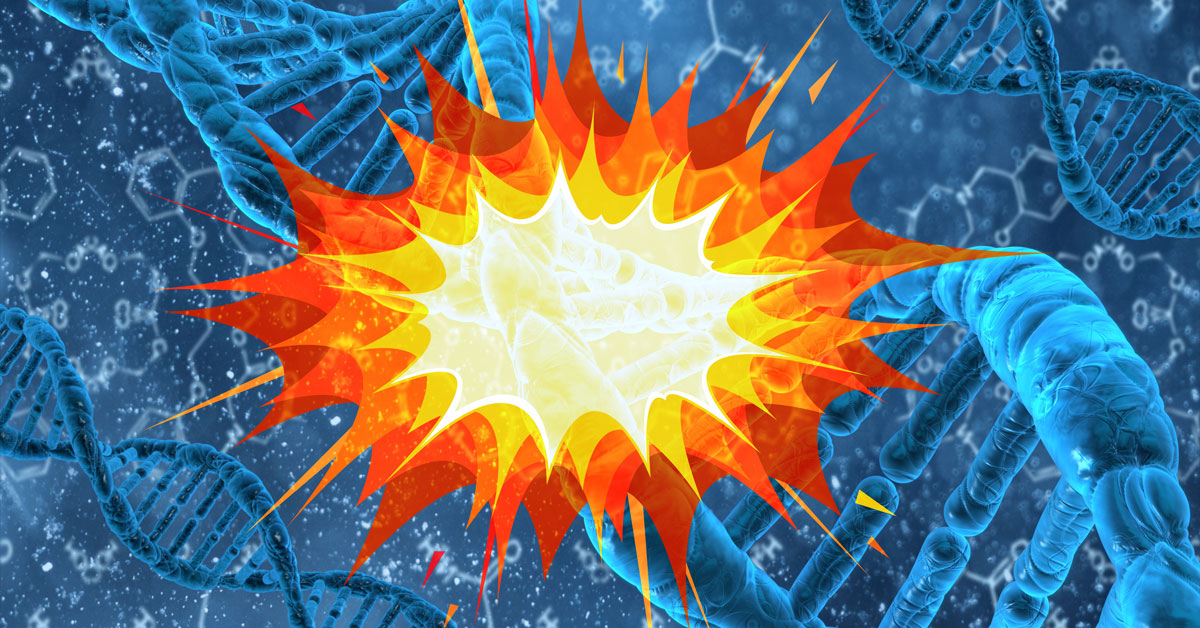 CRISPR-Cas9 gene editing can lead to unintended mutations (DNA damage) at the targeted section of DNA in early human embryos, researchers have revealed. This highlights the need for further research into the effects of CRISPR gene editing, especially when used to edit human DNA in laboratory research. The findings also have relevance to gene-edited plants and farm animals. But advocates for the deregulation of plant and livestock gene editing remain silent on the potential consequences. In the case of gene-edited plants, these could include the production of novel toxins or allergens or raised levels of existing toxins or allergens.
A scientific publication shows that CRISPR/Cas gene editing in mice can lead to unintentional epigenomic changes (changes in gene expression not caused by changes in DNA sequence), which persist over many generations. Besides intended changes in DNA in the target region, researchers found unintended changes in epigenetic markers. Epigenetic markers determine which genes are activated or silenced in certain cells and tissues, so they influence gene expression.
In March, Sustainable Food Trust CEO Patrick Holden led an online discussion about gene editing, asking if it belongs in a sustainable food system. He was joined by Defra Chief Scientist Gideon Henderson, Founder of Beyond GM and Co-founder of Whole Health Agriculture Lawrence Woodward OBE, Founder of Riverford Organic Guy Singh-Watson, and King's College London's Reader in Molecular Genetics Dr Michael Antoniou.
Worldwide, governments are under pressure from the biotechnology and agrichemical industries to deregulate products developed using the so-called "new" genetic engineering techniques such as genome editing and gene silencing. Efforts to deregulate new techniques use terminology and metaphors such as "like nature", "precise", and "no foreign genes". The language implies familiarity and safety by association with what occurs in nature or by breeding. In a new study, researchers demonstrate how these terms are being misapplied to the new techniques.
A new type of pesticide will broadcast "gene silencing" agents across our farm fields — resulting in an open-air genetic engineering experiment. Among the concerns that scientists have raised are threats to bees and other beneficial insects essential to food production. Others have called out potential impacts on human health, including for some of our most essential frontline workers — farmworkers — and rural communities.
Critical Scientists Switzerland have welcomed the planned extension of the Swiss moratorium on genetic engineering. In particular, they agree that organisms produced using newer genetic engineering techniques should fall under the current Gene Technology Act (GTG) and that they should be regulated according to the requirements therein (precautionary principle, risk assessment, step-by-step procedures, labelling, monitoring).
According to an article by GRAIN, authorities in at least five countries – Argentina, Brazil, Canada, Chile and the US – have approved a variety of maize genetically modified with the CRISPR gene-editing technique, without subjecting the crop to the risk assessments and regulations for GM crops. Other countries could soon follow. The GM maize is produced by US-based Corteva, the world's second largest seed company and fourth largest pesticides company. GMWatch points out that in the USA, the maize has been exempted from regulation by the ag department, the USDA, but the food safety authority, the FDA, has not yet weighed in with any decision on the food safety of the maize. So it's unlikely that it will be commercialised there until the FDA has reviewed the crop.
The Canadian Biotechnology Action Network (CBAN) has published a product profile of Corteva's gene-edited waxy maize. In Corteva's initial target markets of North America and Latin America, waxy corn is a minor crop used for food starch and some industrial products. However, it is a major food crop in East and Southeast Asia, where it originates. This is the first GM waxy corn.
Crop genetics and virology expert Dr Jonathan Latham says gene "editing is a marketing term that conceals more than it reveals". It implies micro changes to the genome and precision — but the term was created BEFORE anyone knew what the actual effects were in cells of using these technologies. His talk, "Gene 'Editing' or Genome Scrambling", starts at 45:00 minutes.
Health Canada has launched a public consultation on a proposal to remove government oversight for some GM foods, particularly gene-edited ones. That would mean no government safety assessments – and the government would potentially not even know that these GMOs exist. Anyone living in Canada who is concerned about their health and the integrity of the food supply should take part in this consultation. CBAN has produced a guide on how to respond, available as a downloadable pdf or web text. There's a quick and easy option, or guidance on how to send a more detailed response.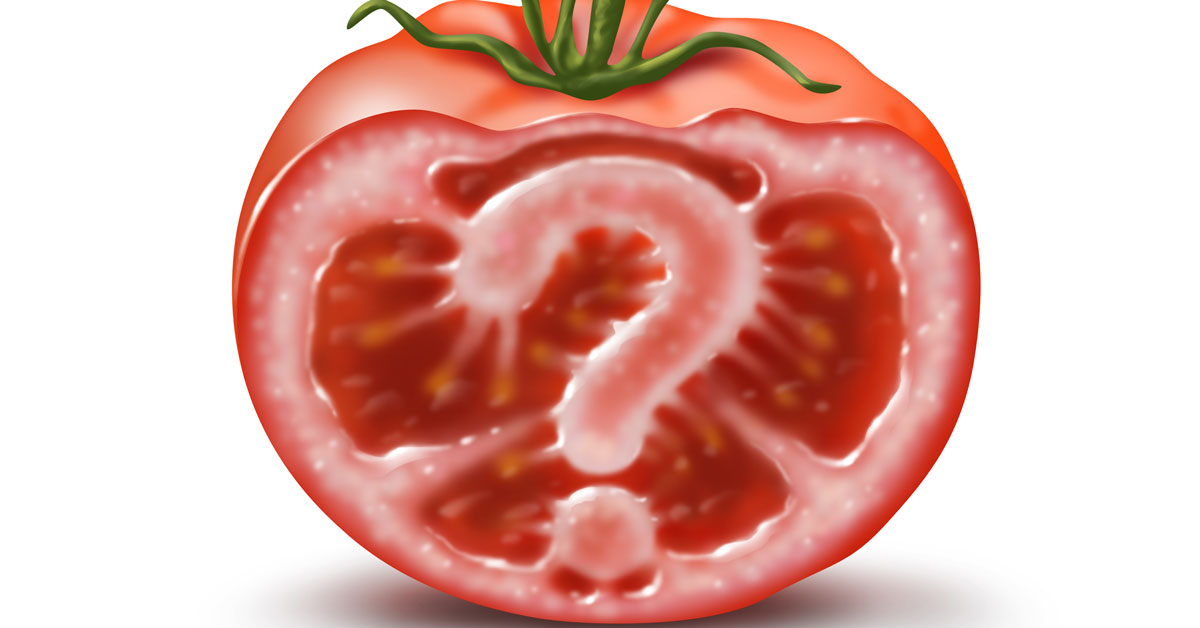 An article on Japan's gene-edited tomato specifically mentions the post-Brexit UK as a possible target for the experimental product. The article also mentions the developer Sanatech Seed's commercialisation plan, which centres on deliberate contamination via free distribution of the seeds to home gardeners in Japan. Such free distribution of GM seeds is a time-honoured tactic by GMO developers. It was used to spread illegal GM flax in Canada, leading to market collapse for Canadian flax exports to Europe.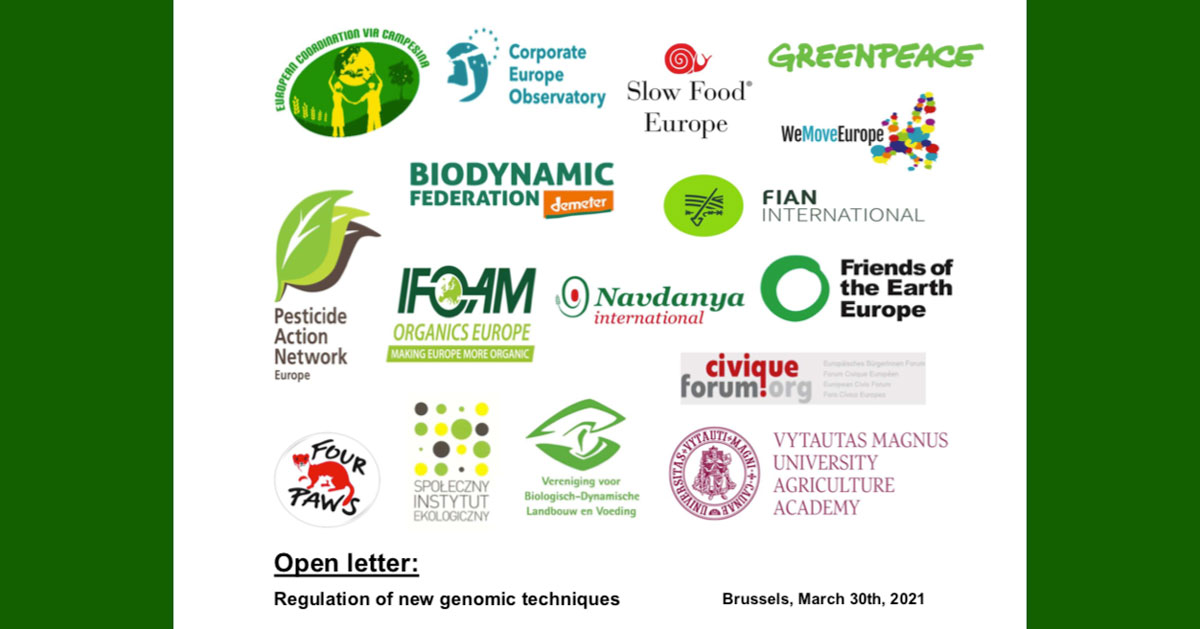 A large coalition of 162 civil society, farmers and business organisations, including GMWatch, is calling on Vice-President of the Commission Frans Timmermans to ensure all organisms derived from new genetic engineering techniques continue to be regulated in accordance with existing EU GMO standards.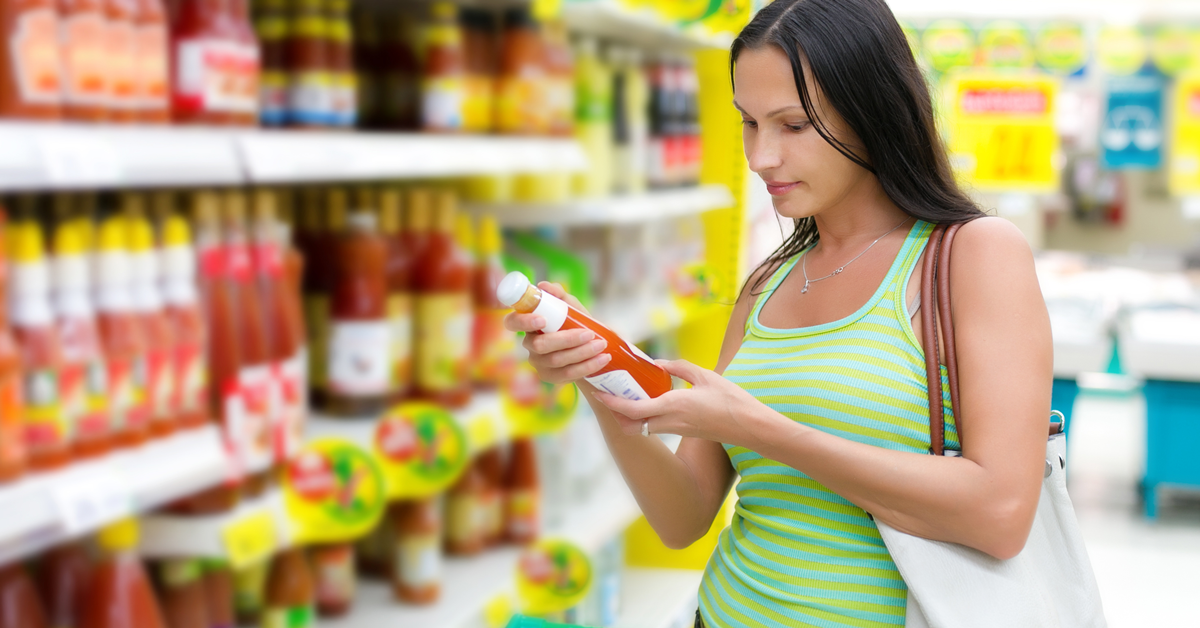 The Greens/EFA Group have released data that finds that the vast majority (86%) of Europeans that have heard of GM crops want food containing genetically modified plants to be labelled as GMOs. Additionally, the study finds that the majority (68%) of respondents that have heard of new genetic engineering techniques demand that food produced with new techniques, such as CRISPR, to be labelled as GMOs. Only 3% agree with the industry's proposal to exempt these products from GMO safety testing and labelling.
Some 73% of Welsh voters do not support any weakening of GM regulations, according to a survey released by Unchecked UK. Only 9% wanted to remove or weaken them.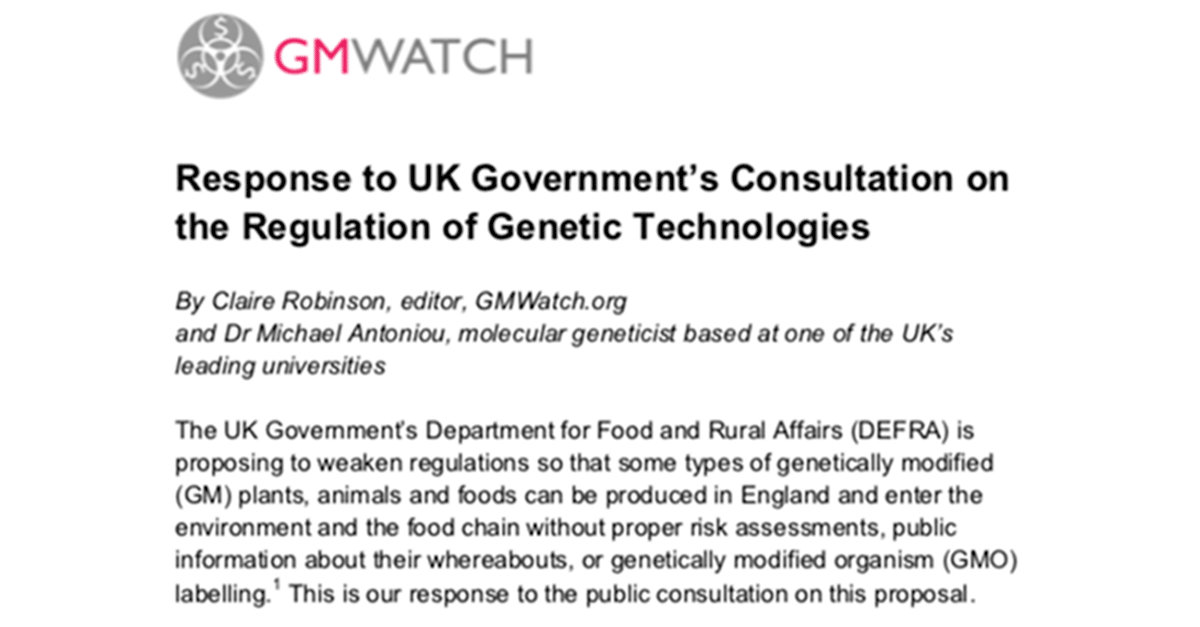 GMWatch submitted a response to the UK government consultation on the deregulation of gene editing in food and farming and published it on our website. The consultation is now closed.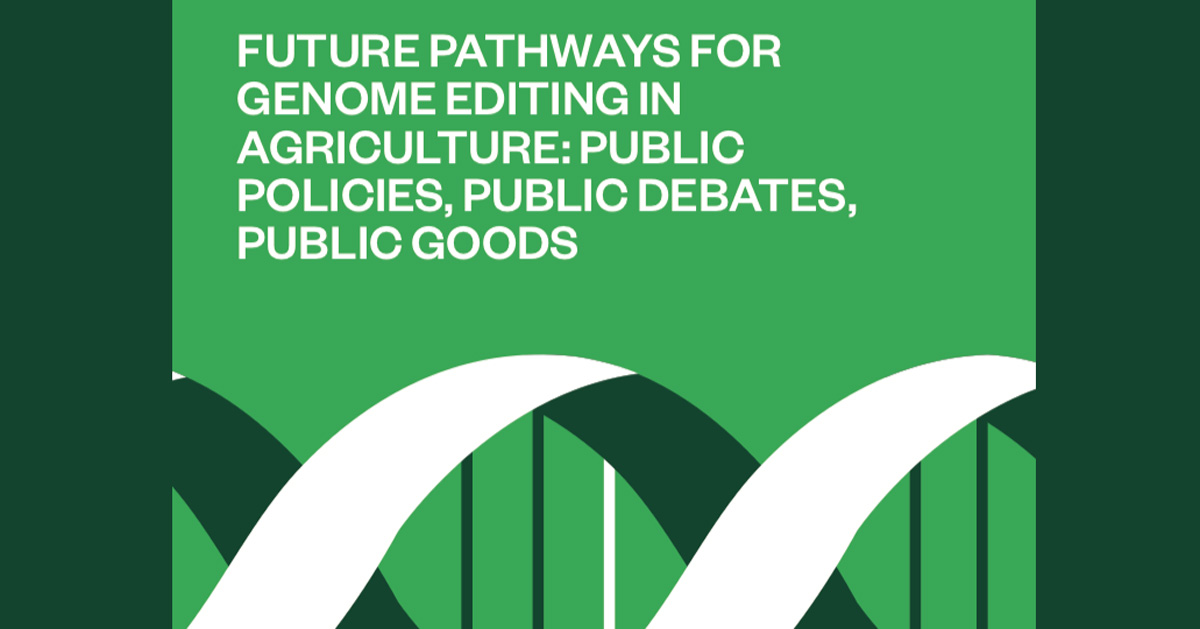 The STEPS Centre, a global research and policy engagement centre funded by the Economic & Social Research Council (ESRC), has published a new briefing discussing the governance of genome editing applications in agriculture, especially in crop breeding. The briefing raises tough policy and regulatory questions for the EU and UK in the context of their trade relationships with each other and with third countries.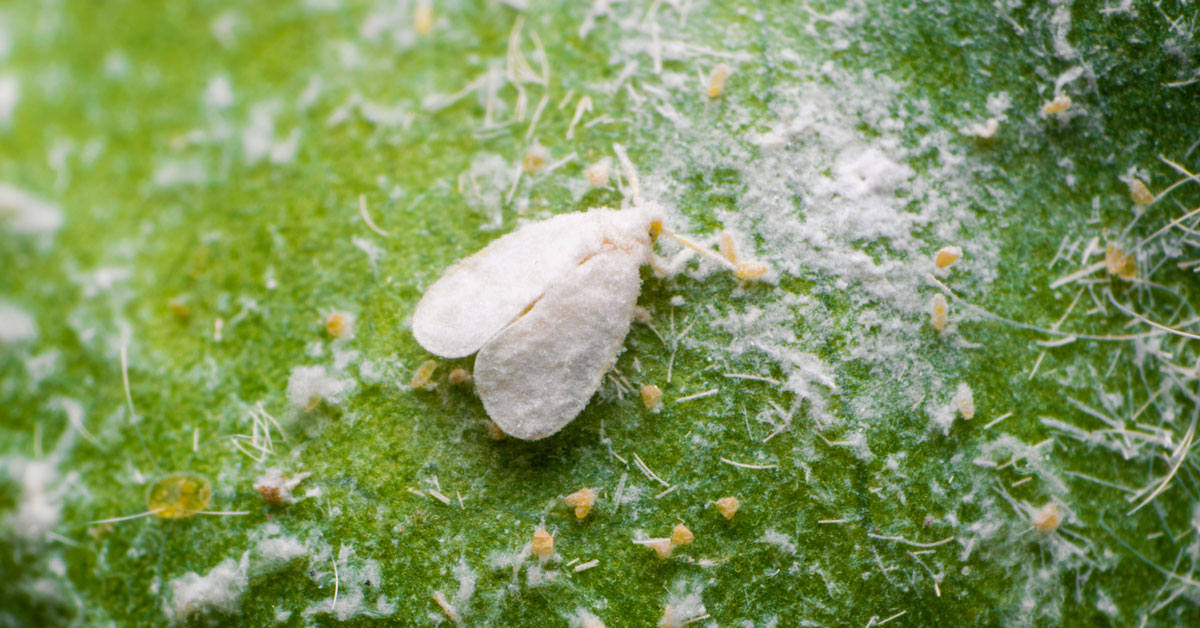 Chinese and Brazilian studies strongly indicate that the cultivation of transgenic insecticidal plants can speed up the spread of specific plant pests. Unexpected and complex environmental interactions play a crucial role in this context. The research was carried out with genetically engineered cotton and soybeans that produce Bt toxins.
Bayer has laid out its plans for Midwest row crop agriculture: "By [2030] the company expects to offer tolerance to six herbicides. 4th generation with five herbicide tolerances (glyphosate, dicamba, glufosinate, HPPD, 2,4-D), Fifth generation adds PPOs [PPO Inhibitors, also called contact herbicides]" to 4th. Dr Charles Benbrook commented, "What will these 'modern ag' technologies do? Increase farmer seed costs, double herbicide acre treatments, again, set back efforts to grow cover crops and diversify ag, and hasten the pace toward the weed resistance cliff. Not to mention the public health impacts."
Bayer is launching a new GM soybean in the US, striking back against rival Corteva in a bid to retain its dominant position supplying seeds to the $40 billion US soy industry. Bayer's new XtendFlex soybeans and Corteva's Enlist E3 soy tolerate three chemical herbicides.
Neither genetically modified (GM) crops nor powerful neonicotinoid insecticides have a place in any National Wildlife Refuge, according to a letter from 19 conservation organizations to the US Fish & Wildlife Service (FWS). The coalition seeks to reinstitute a FWS ban on these farming practices that the Trump administration rescinded in 2018.
The EU Parliament has again voted with a huge majority against further market approvals for GM plants. Gaps in the European Food Safety Authority (EFSA) risk assessment were identified. In earlier votes, EU member states also voted overwhelmingly against market approvals. Consequently, there is growing pressure on the EU Commission for closer scrutiny of EFSA findings and applications for market approval.
A new report shows Europe's ban on patenting conventionally bred crops and animals is being circumvented by corporations such as BASF, Bayer-Monsanto, DowDupont (Corteva), and Syngenta, who are seeking to exploit legal loopholes in European patent law by systematically blurring the boundaries between conventional breeding and genetic engineering.
For thousands of years, the intrinsic nature of a seed — the capacity to reproduce itself — has prevented it from being easily commodified. Grown and resown by farmers, seeds were freely exchanged and shared. All that changed in the 1990s when laws were introduced to protect new GM crops. Today, four corporations — Bayer, Corteva, ChemChina and Limagrain — control more than 50% of the world's seeds. These monopolies dominate the global food supply. Now seed laws criminalizing farmers for using diverse crops that stand a better chance of adapting to climate change are threatening food security.
Bayer won't seek US Supreme Court review of the first verdict finding its Roundup herbicide caused cancer. The company said that the decision not to pursue a further appeal of the verdict won by a school groundskeeper after a state appeals court reduced it to $20.5 million was made after "careful and extensive consideration".
Ten UN special rapporteurs sent a letter to the President of Colombia asking the government not to resume the aerial spraying of illicit coca crops with the herbicide glyphosate, a plan that the Ministry of Defence wants to undertake in the coming months. These sprays, they consider, are carried out in "a context of systematic violence against indigenous and Afro-Colombian peoples and human rights defenders who work to protect the right to health and the environment in the country."
A demonstration took place in France in support of 21 protesters on trial for defacing glyphosate containers. The charges arise from protests in which the accused took over stores and garden centres and covered cans of glyphosate in paint to make them unsellable.
Exposure to glyphosate has been associated with respiratory dysfunctions in agricultural workers. A new study shows how repeated exposure to glyphosate at an agriculturally relevant dose can cause inflammation in the lungs of laboratory animals.
Glyphosate residues in soils can substantially interfere with plant resistance to pests and pathogens, as well as disrupting both fungal and insect biological control – which are all essential elements in integrated pest management and healthy ecosystems, a new study shows.
A study on fish has found that Roundup formulations are extremely harmful at an environmentally relevant concentration. One formulation negatively affected swimming performance, thigmotaxia (motion in response to touch stimulus) and long-term memory consolidation. Another formulation reduced the sexual performance of males.
In an interview, Carey Gillam talks about her new book, The Monsanto Papers – the story of Roundup weedkiller, cancer, and the corruption of science. You can download the first chapter for free here. Some excerpts have been published here and here. And a review of the book is here. GMWatch can confirm that the book is a great read – and would make a fascinating film!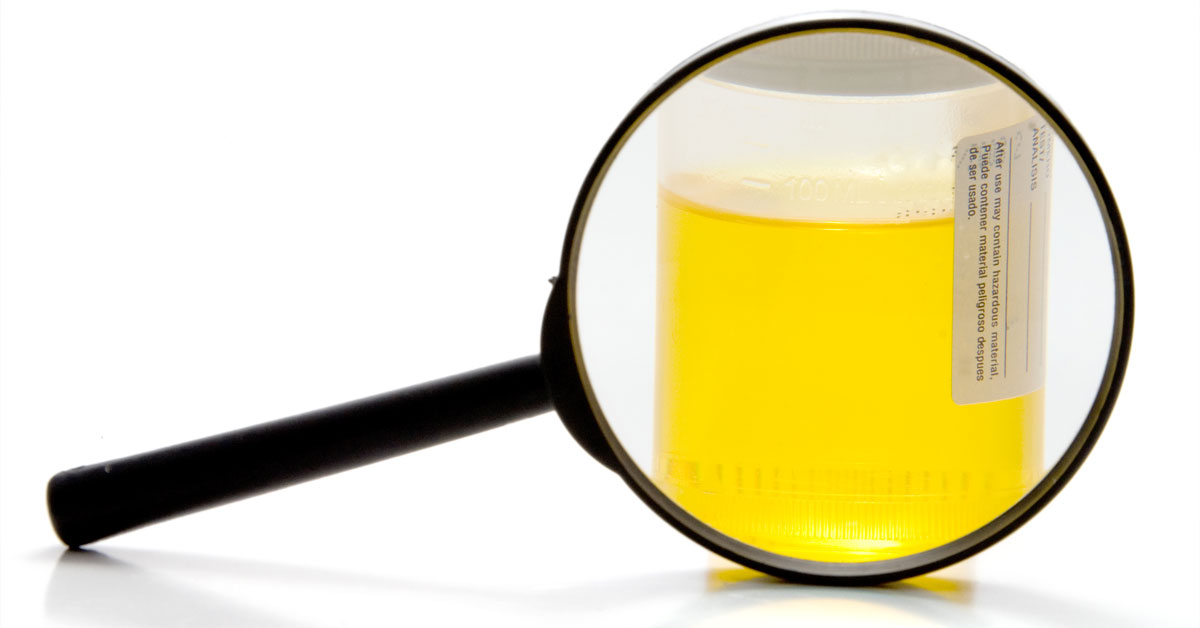 An important new step has been taken towards measuring glyphosate herbicide surfactants (a type of additive) in the urine of people exposed to Roundup, with the publication of a new study in rats. Many surfactants are known to be toxic in their own right and to increase the toxicity of the declared active ingredient (in the case of Roundup, that's glyphosate). But industry hides the toxicity of surfactants by listing them as "inert", with regulators going along with this assertion. Now there is no longer any excuse for ignoring this potential source of toxicity, as a new study by Drs Michael Antoniou and Robin Mesnage at King's College London describes a method for measuring surfactants in urine. This opens the door for biomonitoring of exposure to surfactants in people.
Austria has introduced a ban on all private use of glyphosate herbicides. But environmental group Global2000 says a total ban, like Luxembourg's, is needed.
Mayors in 10 communes have introduced new regulations against pesticide use under local laws against the disposing of dangerous waste and neighbourhood disturbance. One of the three articles in the decree says farmers cannot use pesticides if they cannot guarantee that chemicals will not spread onto neighbouring land.
Internal corporate documents obtained by a US law firm detail how the need for a safer formulation of Syngenta's popular Gramoxone paraquat-based product has been the subject of in-depth company discussions for decades. The documents, which date back to 1968, show that Syngenta and its predecessor corporate entities resisted options for changes to the formulations of Gramoxone, due, at least in part, to a desire to protect profits.
A scientist with one of the world's largest chemical firms took the difficult decision to speak out publicly when "a new generation" of managers rejected concerns about a mass produced weedkiller that he had been expressing for decades. Going public has been a "relief", says toxicologist Jon Heylings. He worked for 28 years for Syngenta, formerly ICI, where his efforts focused on developing safer formulations of the herbicide paraquat.
The Environment Agency, the body charged with protecting the English countryside from pollution, has millions of pounds invested in agrochemical giants – among them, Bayer – that make toxic chemicals, including banned pesticides.
In Ireland, Fianna Fáil Senator Eugene Murphy has urged gardeners, farmers and groundskeepers to consider the environment and whether the use of pesticides is necessary. There were 81 pesticide exceedances in public drinking water supplies in Ireland in 2020, an increase of five from 2019.
Planning documents for the 2021 United Nations Food Systems Summit shed new light on the agenda behind the controversial food summit that hundreds of farmers' and human rights groups are boycotting. The groups say agribusiness interests and elite foundations are dominating the process to push through an agenda that would enable the exploitation of global food systems, and especially Africa.
Although India's organic cotton farmers can take a hit on yields, giving up GM cotton and the pesticides used with it can give them multiple other benefits, says Purdue University anthropologist Andrew Flachs, who has made an in-depth study of GM and organic cotton production in India.
The Indian government has scrapped its decision to allow field trials of GM crops, including GM Bt brinjal (aubergine). The central regulator, GEAC, last year allowed field trials of two GM varieties of brinjal in 8 states during 2020-23. But the Bhartiya Kisan Sangh (BKS) and other farmer groups submitted representations to the central and state governments, urging them not to give a "no objection certificate" for the trials.
In a webinar about food and seed sovereignty, Cid Ryan Manalo from Searice in the Philippines explains the strong farmer opposition to GMO golden rice and talks about safe and sustainable alternatives (37 minutes into the video). Cid's presentation is in English, in an otherwise Norwegian language webinar.
A bit of seaweed in cattle feed could reduce methane emissions from beef cattle as much as 82%, according to new findings from researchers at the University of California, Davis. The results could pave the way for the sustainable production of livestock throughout the world. However, in GMWatch's view we won't see as much media excitement over this research as claims that GM cows could cut methane emissions by 50%.
On April 14, the US Court of Appeals for the Ninth Circuit heard arguments in Center for Food Safety's (CFS) ongoing lawsuit challenging the US Food and Drug Administration's (FDA) approval of soy leghemoglobin, the novel genetically engineered colour additive that makes Impossible Foods' plant-based burger, the Impossible Burger, appear to "bleed" like real meat.
The Gates-funded Target Malaria project has announced the "results" of phase I of its GM "sterile" mosquito release that was performed in 2019 in Burkina Faso. Thus far they have failed to publish the results in a journal, but instead announced them on their website, with no data on safety or efficacy.
LOBBYWATCH
Research by Corporate Europe Observatory shows that in order to influence the political decision-making process, Bill Gates, via his Bill and Melinda Gates Foundation, paid a large sum – 1.3 million euros – "for a dialogue with a wide range of European stakeholders on genome editing" to Re-Imagine Europa, a European think tank. A few months after this payment, the organization created an ad hoc working group, "the task force on sustainable agriculture and innovation", chaired by a former Commissioner for Research and Innovation, Carlos Moedas. Its objective: "Work on how new technologies could help us realize this vision of a new, more sustainable agricultural system." But above all, to influence the European institutions to weaken regulations around new gene editing technologies. The pro-deregulation lobby groups ALLEA and EU-SAGE (a lobby platform set up by the Flanders Institute for Biotechnology, VIB) are sub-awardees to the Re-Imagine Europa project on gene editing.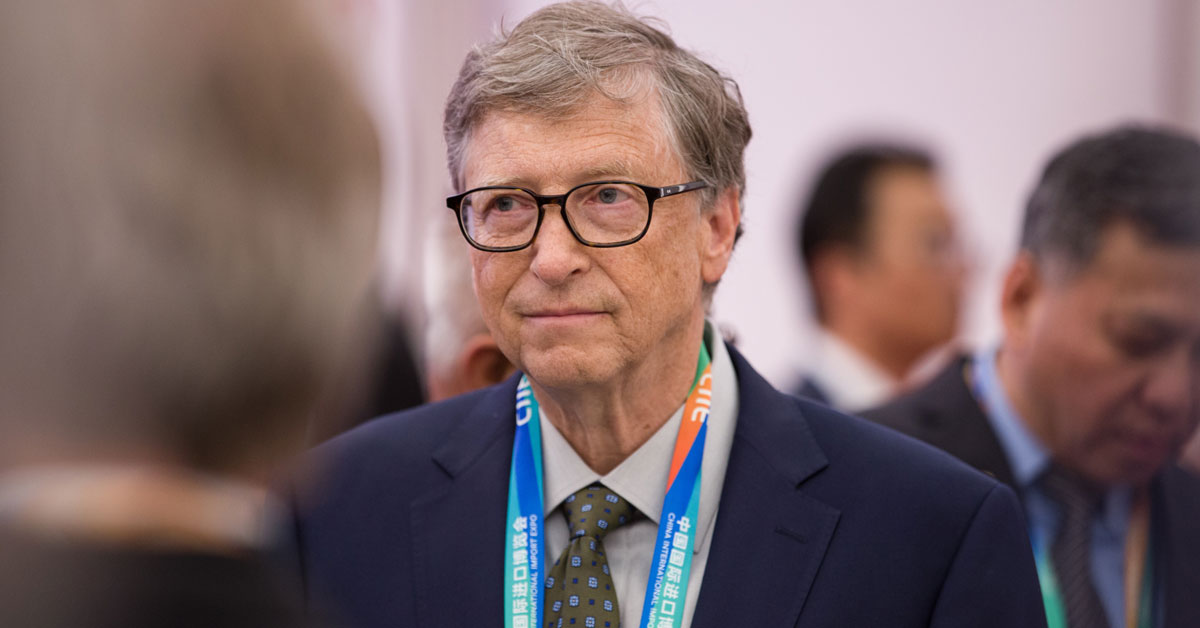 The French daily Reporterre published a detailed article on the Gates lobbying story (see above), taking in the lobbying activities of groups such as EPSO, ALLEA and EU-SAGE, all focused on deregulating new GMOs. GMWatch has provided an unofficial English translation.
Corporate Europe Observatory's research (see above) has uncovered how fresh lobbying strategies aimed at deregulating modern genetic techniques are driven by various academic and biotech research institutes with corporate interests – using "climate-friendly" narratives. The investigation has revealed that 74% of the input into the EU Commission's forthcoming study on new GM comes from agri-industry bodies.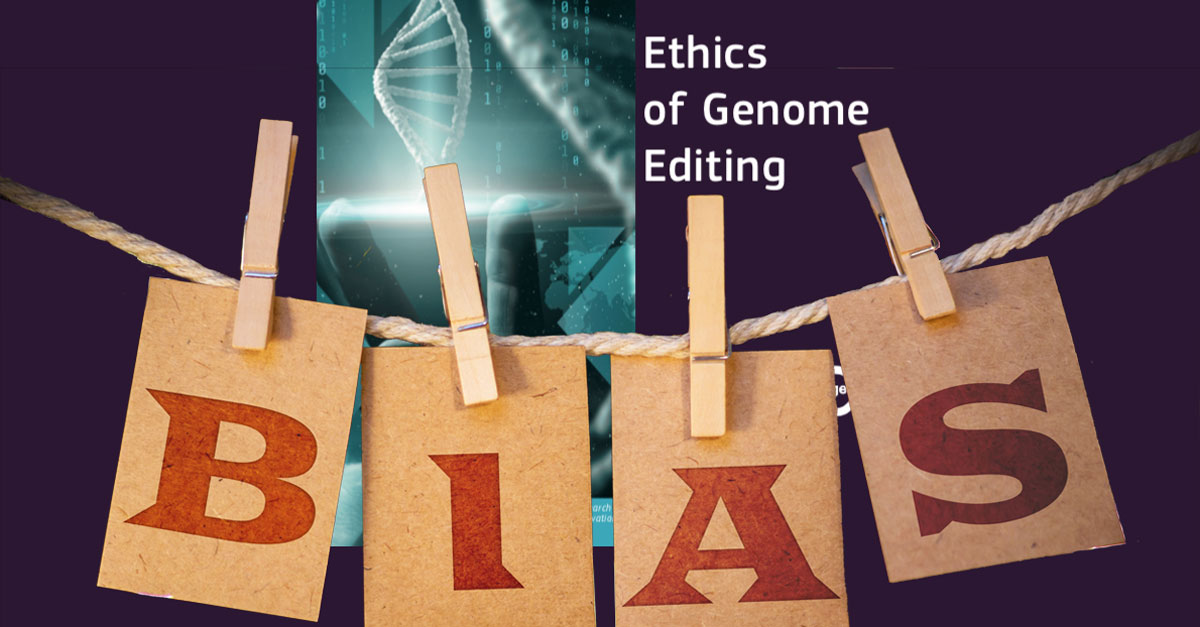 The European Group on Ethics in Science and New Technologies (EGE), which advises the EU Commission, has published its report on New Genetic Engineering (or gene editing) in humans, animals and plants. While the report makes thoughtful points on gene editing in humans and livestock animals, the chapter on plants is another matter. Separate analyses by GMWatch and Testbiotech found that this section lacks balance and scientific accuracy. Hence Testbiotech is questioning the independence of the experts involved. Julian Kinderlerer is the leading (and presumably only) expert of the EGE group dealing with New GE applications in plants. He is a long time promoter of light regulation for GM crops and has acted as a leading member of organisations funded by the biotech industry.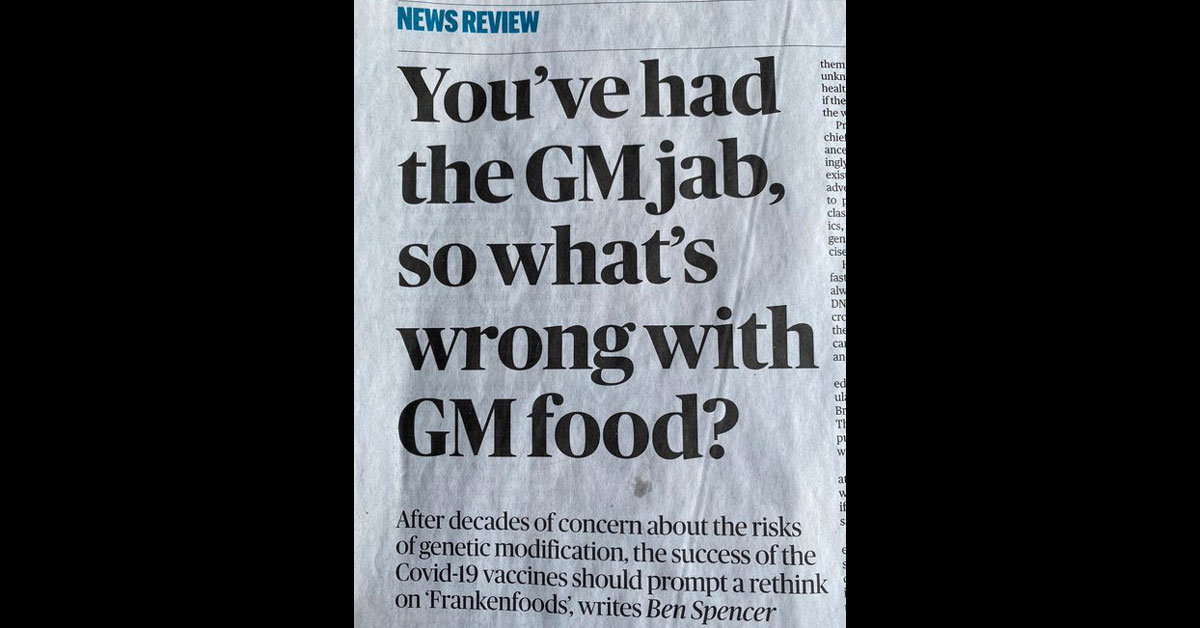 The Sunday Times has published a GMO promotional arguing for the deregulation of gene editing. But the article's claims are as wildly off-target as some of the errors caused by gene editing itself. The problems start with the title and subtitle: "You've had the GM jab, so what's wrong with GM food? After decades of concern about the risks of genetic modification, the success of the Covid-19 vaccines should prompt a rethink on 'Frankenfoods'." GMWatch believes that only people who have had a logic bypass could compare regulated medicines (where the risk is taken in exchange for expected benefit in an informed consent situation) with deregulated GM foods (where the consumer would take the risk in return for no benefit, without having given their informed consent).
Investigative report Tim Schwab, writing in The Nation, uncovered the Gates Foundation's striking conflicts of interest, complicated web of influence, and troubling monopoly power in the field of global health. Based on this work, the Park Center for Independent Media (PCIM) at Ithaca College has announced that he will be joint winner of this year's Izzy Award "for outstanding achievement in independent media".
COVID-19
The notion that more than 2.7 million deaths worldwide – so far – could be the result of a lab accident has been met with skepticism and derision by many journalists and scientists who often portray it as a crackpot conspiracy theory fueled by former President Donald Trump's China-bashing rhetoric. Without question, the lab-leak theory has been politically and racially weaponized in ugly ways. But that rhetoric needs to be separated from legitimate questions about lab safety that are deserving of investigation.
Drastic is an informal guerilla group of internet sleuths, scientists and data experts who have spent the past year scouring a multitude of digital sources for vital pieces of evidence that SARS-CoV-2 could have escaped from a lab. Some members have expertise in areas such as microbiology, genetics and virology. Others are data specialists, engineers or simply obsessed with discovering the truth about the origin of this wretched pandemic. Some hide their identities; others are open. Their collective efforts — and some of the illuminating evidence they have uncovered — have been crucial in challenging efforts to stop the lab leak hypothesis being properly investigated. The journalist Ian Birrell has published a good piece on the impressive work done by Drastic. And check out the Drastic website, which has lots of useful info, reports, and papers.
Drastic researchers examined public sequencing data from Wuhan and discovered contamination of agricultural datasets by viral sequences. Their findings suggest there was a lot of work going on on multiple viruses in Wuhan – including novel coronaviruses and viral backbones that remain unpublished. This directly contradicts claims that any manipulation of SARS-CoV-2 "would have used a known backbone" and thus could not have been created in a lab. The findings also indicate that biosafety guidelines were breached.
Prof Richard Ebright, the long-time critic of risky pathogen research, speaks on the merits (or otherwise) of the WHO investigation into the origins of COVID-19. The interview also covers Gain-of-Function (GoF) research. Dr Ebright describes how US scientific leaders deliberately circumvented the GoF research pause placed on them. The directors of NIAID (National Institute of Allergy and Infectious Diseases) and NIH (National Institutes of Health) even stymied risk-benefit assessment of such research.