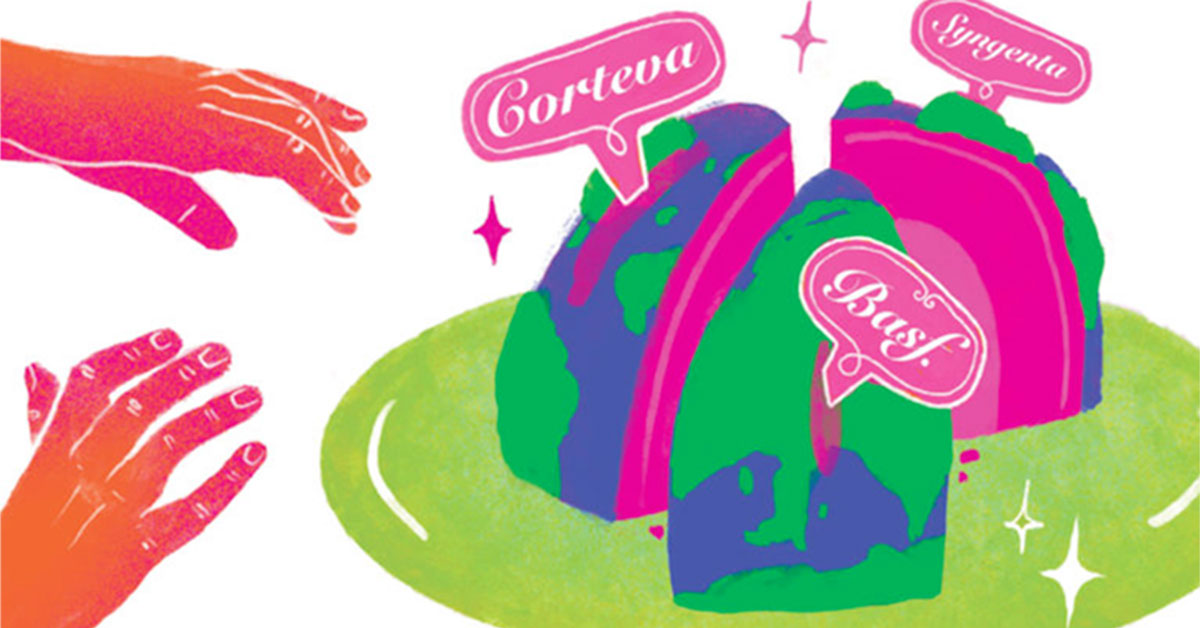 An unprecedented drive is under way to promote new genetic modification techniques that are collectively termed gene editing – most notably CRISPR/Cas. The agricultural biotech industry claims that these techniques can provide solutions to our food and farming problems, including the challenges posed by climate change, pests, and diseases. A new report published by the Greens/EFA in the European Parliament and written by GMWatch editor Claire Robinson looks at the claims and shows them to be at best misleading and at worst deceptive. It shows that gene editing is a costly and potentially dangerous distraction from the real solutions to the challenges faced by our food and farming sectors.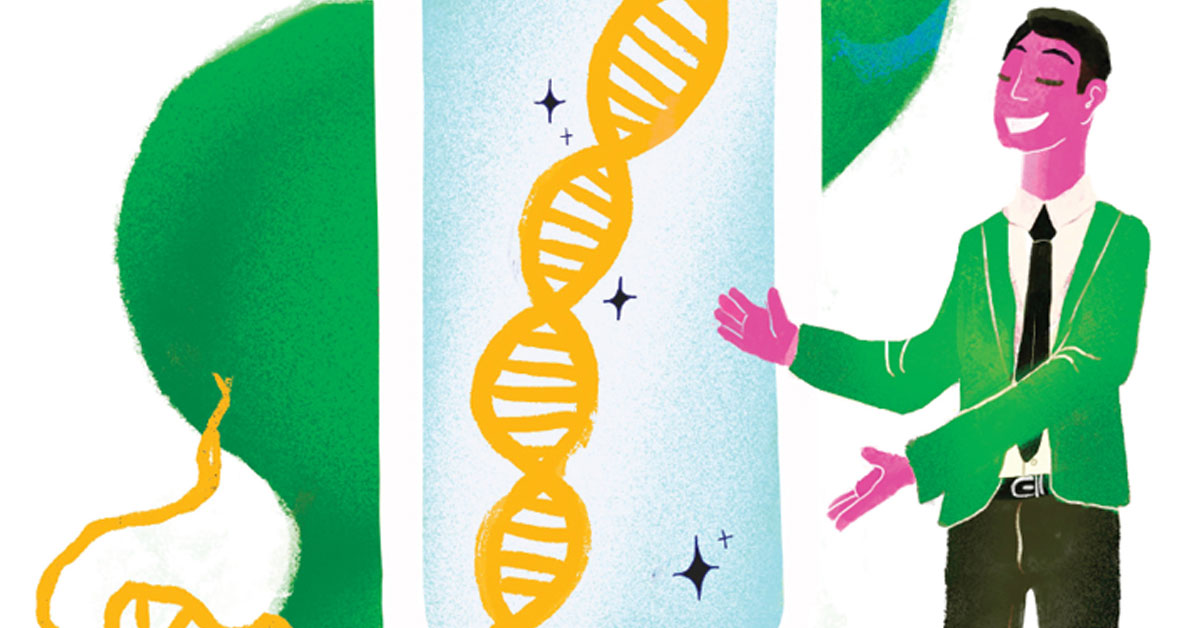 In an article marking the release of the new report (see above), MEPs and farmers Benoît Biteau and Martin Häusling argue that new GM technology won't solve the problems of industrial agriculture and will undermine nature, climate protection and the European Green Deal. Of the new report, they say, "It provides good information for those who have never heard of gene editing and for those who think they know it all."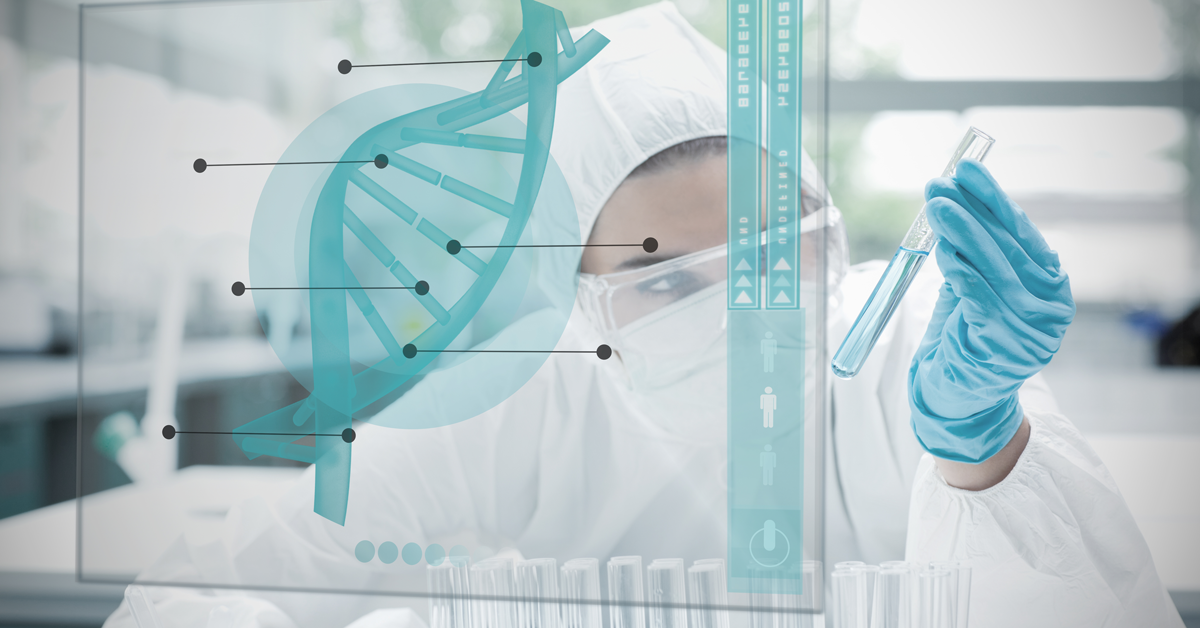 In an important new paper, scientists have called for an international database of gene-edited organisms to be set up in order to enable countries to detect these organisms in foods, seeds and crops. They write, "This approach helps to avoid trade disruptions and to facilitate GMO/non-GMO labelling schemes." Pressure is growing on the EU Commission and the EU member states to establish such a database, which must include gene-edited GMOs that are not authorised in the EU, as well as those that are.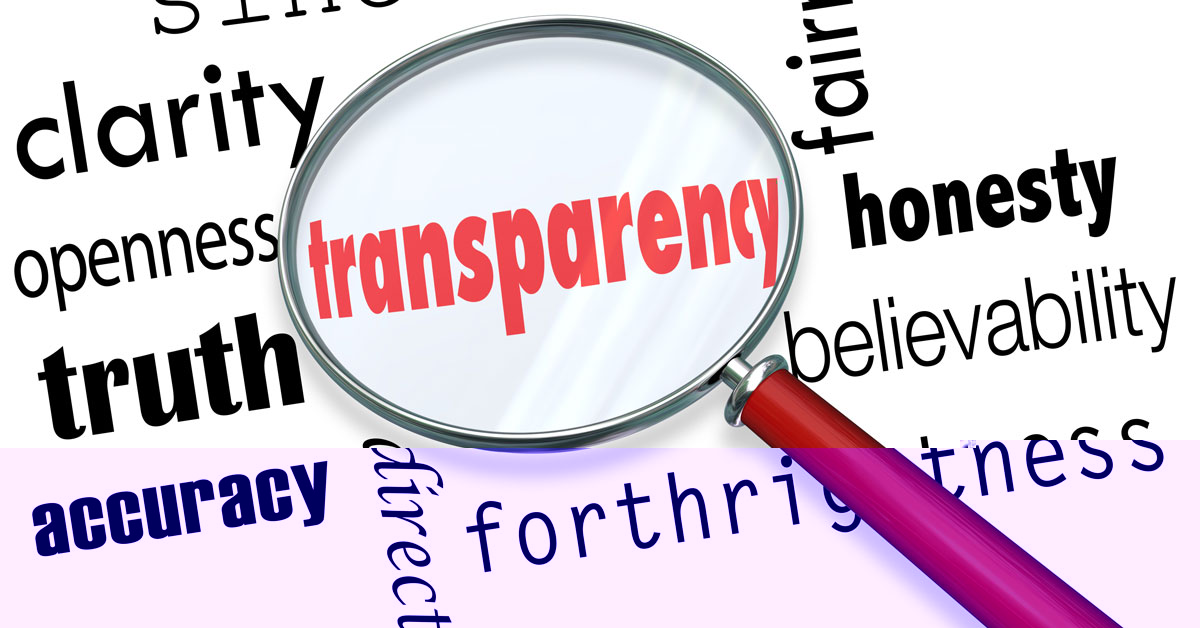 Researchers in the US have raised concerns in a peer-reviewed paper about the lack of transparency by developers of GM foods (gene-edited ones among them), including the lack of labelling. Now an article has appeared in the mainstream farming press about this important paper. The article reports co-author of the paper Prof Jennifer Kuzma as saying, "Even though developers of biotech foods want to do better with a second generation of gene editing, they are really making things more complicated by obscuring the terminology and exempting many things from both regulation and labelling."
The newly founded European Non-GMO Industry Association (ENGA) is backing the expansion of GMO-free production across the bloc and supporting Member States looking to promote non-GMO labelling, says co-founder Alexander Hissting. While the German Association for Food without Genetic Engineering (VLOG) and its non-GMO seal is well established in Germany, Hissting says he saw potential for greater harmonisation across the bloc. The organisation aims to close a loophole in the EU's GMO labelling system, in that milk, meat and eggs are not required to carry a label stating if the animals that produced them were fed with GM feed.
Labiotech.eu, "the leading digital media covering the European Biotech industry", has published a well researched article about GMO detection methods for gene-edited products and the difficulties in researching and applying them, given the lack of transparency on the part of GMO developers. John Fagan, cofounder of the Health Research Institute in the US and lead author on a paper describing an open-source detection method for a gene-edited canola, says, "This is something I always say to my friends in the industry: if you were just open and transparent about what you're doing, consumers would begin to trust your products and accept them. Instead of that, the strategy for so long has been just the opposite."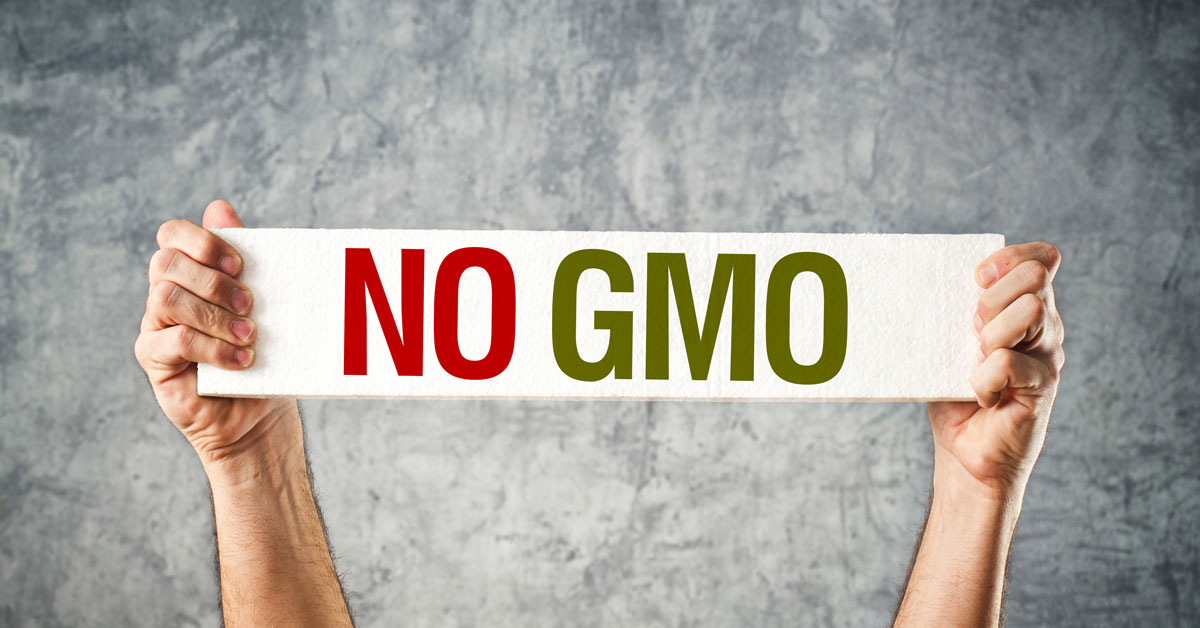 It is vital that everyone who is concerned about protecting the safety of food, farming and/or the environment responds to the UK government's public consultation on the deregulation of gene editing by 17 March 2021. We need as many people as possible to respond, even if you can only send a brief and simple response. Help is available on how to respond.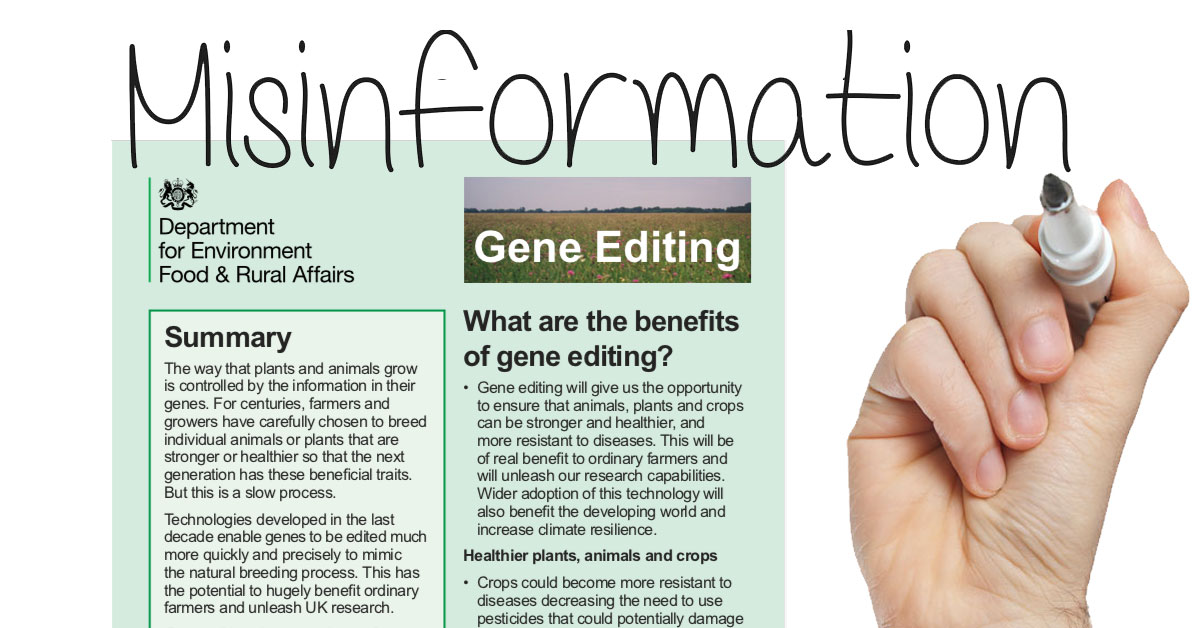 UK farm and environment ministry DEFRA published an "Explainer" document on gene editing as a guide for members of the public who want to respond to the UK government's consultation on its plan to deregulate gene editing. The "Explainer" is packed full of false assertions and reads like a wish list for the GMO lobby, presenting hypothetical "benefits" of gene editing as fact. GMWatch has compiled a mythbuster to counter the false claims in the document and help the public avoid having the wool pulled over their eyes.
The UK Government has been accused of breaking its own rules with its consultation on the introduction of gene-edited foods. Although DEFRA claims its position "follows the science", Beyond GM director Pat Thomas said: "The consultation document itself – which makes sweeping statements about gene editing being the same as traditional breeding or what could happen in nature – contains no references, scientific or otherwise." In a letter, Beyond GM's directors, Pat Thomas and Lawrence Woodward, wrote to the UK government to express their concerns that "the consultation is not being conducted in line with the Cabinet Office Consultation Principles".
Beyond GM has published a full account of how the UK government's consultation on the deregulation of gene editing violates its own rules and what it should have done instead. The group has not received a reply to its complaint to government officials about the process of the consultation.
The GM food debate has been reignited after the UK government announced plans to deregulate gene editing. In this article for the BBC's Science Focus magazine, molecular geneticist Dr Michael Antoniou is quoted as warning that gene editing could risk producing novel toxins or allergens, or increasing the levels of pre-existing toxins and allergens in plants.
The devolved nations, Scotland, Wales, and Northern Ireland, have been warned that trucks of gene-edited food "are going to roll across the borders" as England looks to legalise the technology post-Brexit. Although the regulation of GMOs is devolved, the Internal Market Bill's "non-discrimination clause" means that the devolved nations will be powerless to bar GE goods produced in England from being sold within their borders.
Leaders from food, farming, student activism, religion, business, democratic reform and academia have written to British supermarkets asking them to refuse to stock foods produced from unregulated and potentially unlabelled gene-edited crops and animals. The 51 signatories to the joint letter, among them the Soil Association, Landworkers' Alliance, Students for Sustainability, Green Christian, and Professor Emeritus of Food Policy at City University, Tim Lang, represent a broad range of interests.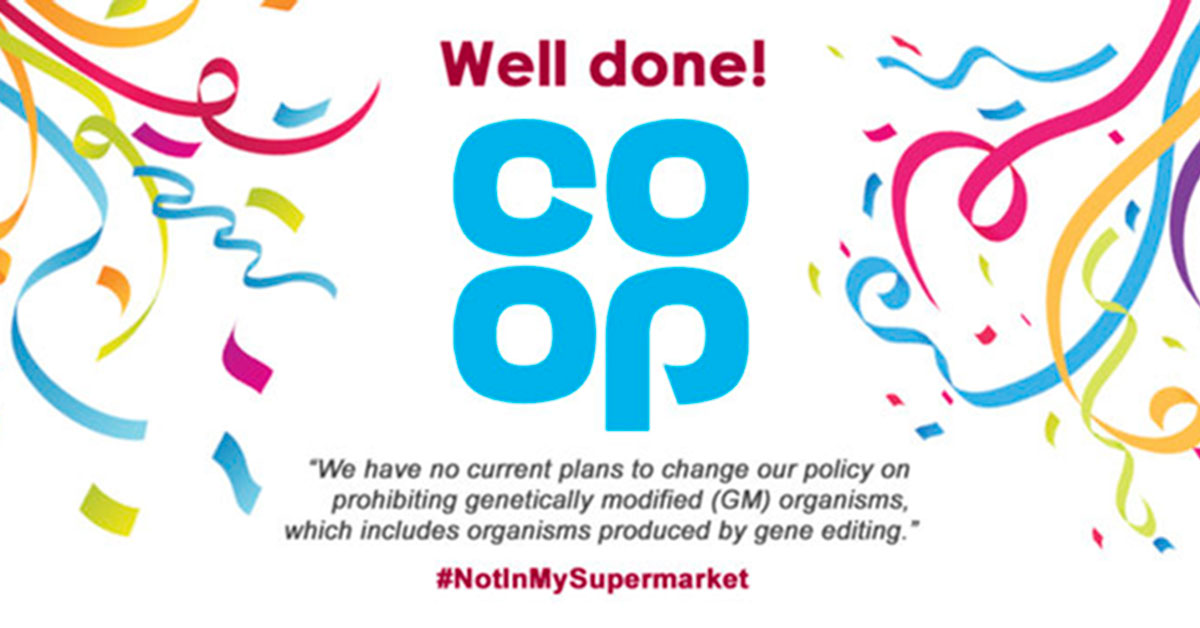 In response to a civil society appeal for UK supermarkets to back strong regulation of new gene-edited crops and animals, the Co-op has made a clear statement of its support.
Farmer Will Evans believes that the UK government's plan to deregulate gene editing will undermine consumer trust in the food supply. He says the EU stance on gene editing isn't anti-science, despite what the Brexiteers would have us believe. It's just pro-consumer. And UK agriculture would do well to be the same.
The European Food Safety Authority (EFSA) has published another report on the risk assessment of plants developed with new genetic engineering. The example chosen by EFSA is CRISPR/Cas-edited wheat with a reduced gluten content. Several dozen genes and gene copies in the wheat genome were changed. EFSA rightly concludes that these complex patterns of genetic change go beyond what has been achieved in genetic engineering and conventional breeding. EFSA explained that risk assessment should take into account issues such as molecular changes, gene expression and the potential impact on health and the environment. Testbiotech comments that the EFSA report shows that detailed risk assessment must be carried out even if no additional genes are inserted. But in showing this, EFSA contradicts its own earlier opinion on certain types of gene-edited plants.
Mexican president Andrés Manuel López Obrador quietly rocked the agribusiness world with his New Year's Eve decree to phase out use of the herbicide glyphosate and the cultivation of GM corn. Industry and US government officials seemed shocked that their lobbying had failed to stop López Obrador from acting.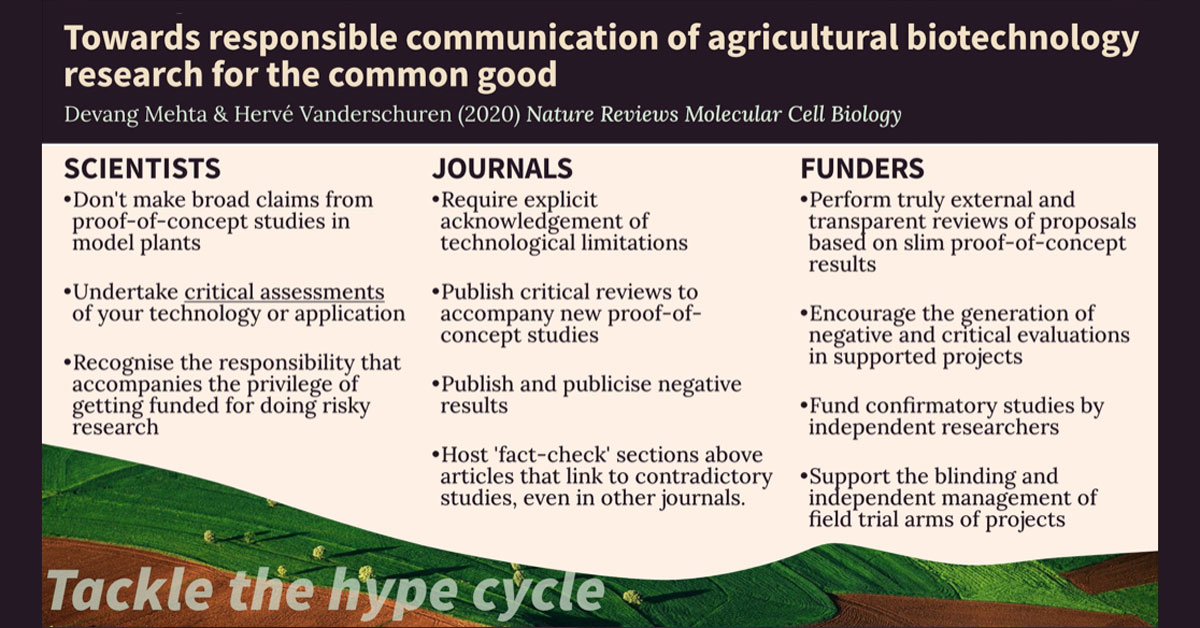 Two GMO crop researchers have published in a peer-reviewed journal an incisive commentary denouncing pro-GMO hype, especially from the point of view of the harm it can do in the Global South. They write, "Lack of critical assessment and responsible reporting of proof-of-concept agricultural biotechnologies such as CRISPR–Cas can delay innovation, jeopardise public trust and waste resources, especially in the Global South."
Japan granted approval in January 2021 for the first "CRISPR tomatoes" to be used in food production. The tomatoes contain a much higher concentration of a plant compound (GABA) compared to those derived from conventional breeding. GABA can diminish the transmission of specific signals in the central nervous system which may, amongst others, cause lower blood pressure. These changes also can cause unintended health effects at the stage of consumption. In addition, the plants can show unexpected reactions to environmental stresses, which can again have an impact on the safety of food products.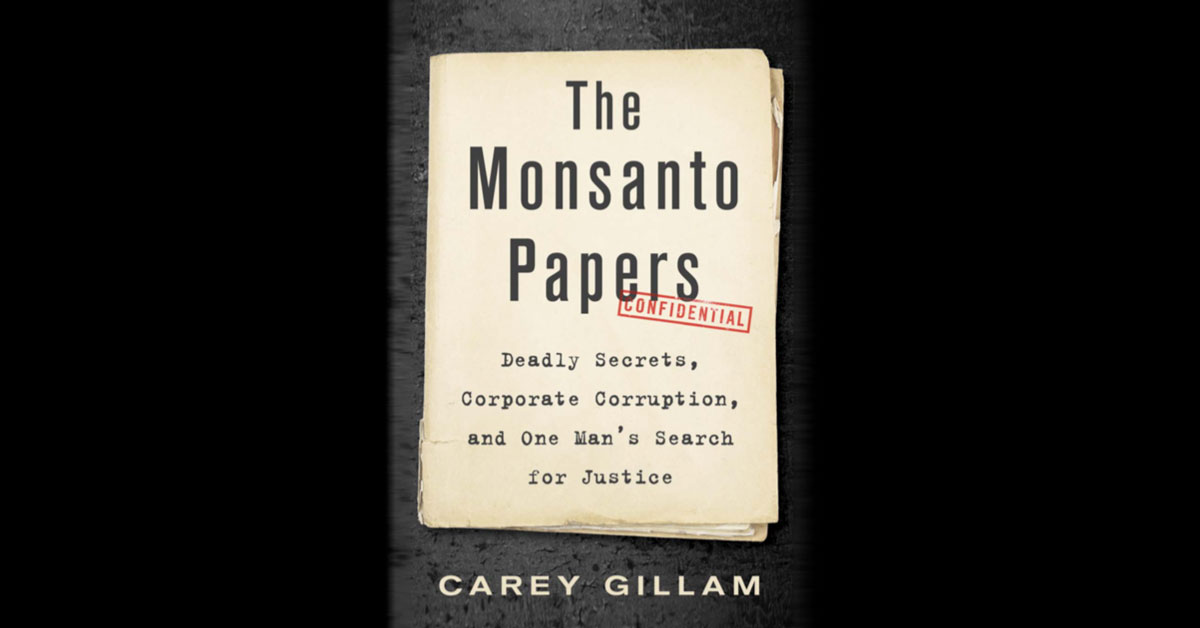 When Bayer paid $63 billion in 2018 to buy Monsanto, the deal was seen as a boost to Bayer's wealth and power. But only two years later, Bayer was forced to agree to pay $11 billion to settle the claims of more than 100,000 cancer victims who alleged their suffering was caused by the use of Monsanto's Roundup herbicide. That settlement may never have happened without Lee Johnson. Carey Gillam's new book, The Monsanto Papers: Deadly Secrets, Corporate Corruption, and One Man's Search for Justice, tells the inside story of Lee's landmark lawsuit against Monsanto after a workplace accident left him doused in Roundup and facing a deadly cancer. Lee was the first to take Monsanto to trial, drawing attention from around the world as his case became one of the most dramatic legal battles in courthouse history.
An enthusiastic review of Carey Gillam's new book has been published by the St Louis Post-Dispatch, Monsanto's home town newspaper. (The above link is for EU-based people, but it may take time to load. Outside the EU you can use this link.)
Dozens of US law firms have formed a coalition to fight a new $2 billion settlement proposal by Monsanto owner Bayer that aims to contain the company's ongoing liability related to claims that Roundup herbicide causes cancer. The small group of lawyers who put the plan together with Bayer say it will "save lives". But lawyers criticizing the plan say if it is approved it would set a dangerous precedent for other types of litigation involving large numbers of people injured by the products or practices of powerful corporations. According to attorney Gerald Singleton, the plan benefits Bayer and provides "blood money" to the four law firms that worked with Bayer to design the plan.
Bayer has announced steep losses for the year 2020 as it struggles to recover from a string of US lawsuits claiming its weedkiller causes cancer. The German chemical and pharmaceutical giant said in a statement that it posted an annual net loss of €10.5 billion ($12.8 billion), compared with a profit of just over €4 billion for 2019. The group was expected to end the year in the red after it agreed last June to set aside around $11 billion to settle a wave of US claims against its weedkiller Roundup.
The use of weedkillers can increase the prevalence of antibiotic resistant bacteria in soil, a new study shows. Scientists studied the effect of three widely used herbicides – glyphosate, glufosinate and dicamba – on soil bacterial communities. All three herbicides are used on GM herbicide-tolerant crops.
Chronic exposure to commercially formulated glyphosate weedkiller solutions (like Roundup) at or below recommended concentrations detrimentally affected bees' learning, memory, climbing ability, and water and sucrose responsiveness in a new study.
A new study conducted by an international team of scientists led by Dr Michael Antoniou of Kings College London found that exposure to glyphosate and its commercial Roundup formulation can disrupt the function of gut microbiome (bacteria and fungi) and internal bodily systems, with potentially serious effects on human health. The soil microbiome may suffer too, writes Patrick Holden of the Sustainable Food Trust.
Farmers in Germany will have to gradually reduce their use of glyphosate and stop using it completely from 2024 in order to preserve clean habitats for insects, under draft legislation passed by the country's cabinet on Wednesday. "The exit from glyphosate is coming. Conservationists have been working toward this for a long time. Glyphosate kills everything that is green and takes away insects' basis for life," environment minister Svenja Schulze said.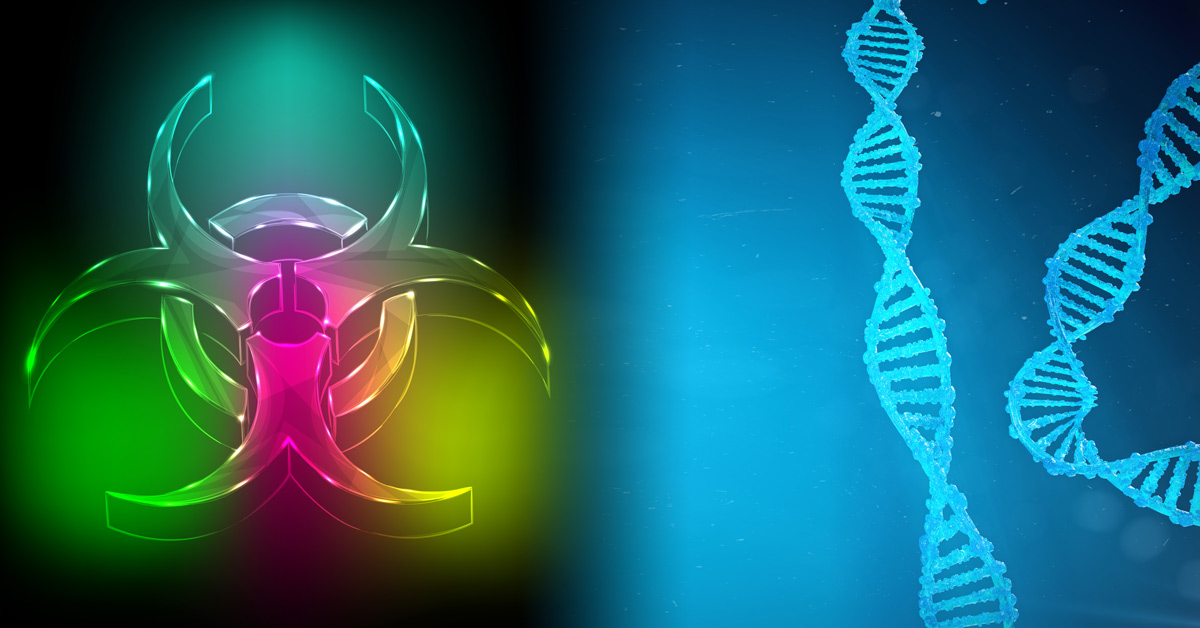 A researcher at Norway's Institute of Marine Research has reportedly committed GMO research misconduct, according to a news article. The article says Anna Wargelius killed and ate GMO CRISPR gene-edited salmon from the research project that she leads, claiming it was "safe" to do so. Her unnamed colleagues on the project also ate the salmon. There are strict rules for performing research with GMOs in Norway, as laid down in the country's Gene Technology Act. Eating GMO salmon from a research project before it has commercial approval is a violation of the law on several counts, according to a whistleblower scientist.
The Food Safety and Standards Authority (FSSAI) said that as from March 1, imported consignments of some of the major food crops must be accompanied with a non-GMO certificate. The regulator clarified that the requirement of this declaration is applicable on consignments dispatched from exporting countries on or after March 1.
US apples have effectively lost access to the Indian market after new import regulations requiring certain fruit and vegetable imports to be certified as non-GMO went into effect. The law means that a selection of fresh produce imports to India – including apples, melons, plums, peppers, and tomatoes – must now carry proof they have not been genetically modified.
China's Ministry of Agriculture and Rural Affairs says it found eight companies and research institutes that illegally produced or carried out research on GM seeds. The companies included two seed marketing companies and two corn breeders who were producing GM corn seed. The ministry said seeds were confiscated and the companies fined. China does not permit the production or planting of GM corn. The ministry also highlighted four cases of illegal research into GM cotton.
In Australia the New South Wales (NSW) state agriculture minister Adam Marshall claims he will lift the moratorium on GM crops in July. However, as Bob Phelps, executive director of GeneEthics, pointed out in a press release, there is no GMO ban in NSW. Roundup Ready GM cotton has been grown there since 2000 and Roundup Ready GM canola since 2010. Phelps said, "What the Minister announced only sacrifices the state government's discretion to say yes or no to the commercial growing of individual GM crops that the Office of Gene Technology Regulation (OGTR) may approve for release."
In acquiring competitors both small and large, the six biggest agricultural biotech firms collapsed rapidly into the Big Three — Bayer, DuPont (now Corteva) and ChemChina. This wave of consolidation gave these corporations control of proprietary, multi-level systems of traits, seeds, agrochemicals and digital technology that lock farmers into limited cropping systems, write Rob Larew, president of the National Farmers Union in the USA, and Dr Diana Moss, president of the American Antitrust Institute.
While the authors don't explicitly mention gene editing, Corteva is the major gatekeeper of patents on CRISPR gene-editing technology. Thus far from being a tool for the democratisation of agriculture, as is often claimed, gene editing is a tool enabling further consolidation of the seeds market and near-monopolistic control by Corteva, followed by Bayer/Monsanto. For more information, see this report.
Over a billion genetically engineered mosquitoes are scheduled to be released in Florida soon. Take action now to stop the first-ever mass release of a GMO insect. It's quick and easy.
Testbiotech has won an important opposition filed at the European Patent Office (EPO). A patent held by the Max Planck Society will now be changed to delete all claims covering genetically engineered vertebrates. In its original form the patent covered many different species from mice to apes. The animals were to be genetically engineered to develop symptoms of Parkinson's disease and for use in experiments. The new EPO decision was based on ethical considerations; the expected suffering of the animals would have been disproportionate to any medical benefit.
Colombia's new defence minister, Diego Molano, said Colombia could restart aerial fumigation of coca this month. Between 1994 and 2015, 1.8 million hectares (4.4 million acres) of land were fumigated with glyphosate herbicide as part of a plan to lower drug production, but the practice was suspended due to the disastrous effects the weedkiller had on the crops of rural farmers as well as concerns that it could cause cancer.
A 3-year study on squash bees found that the squash bees dug 85% fewer nests, left 5.3x more pollen unharvested, and produced 89% fewer offspring than untreated controls when exposed to a squash treated at planting with the neonic insecticide imidacloprid.
LOBBYWATCH
Internal government emails reveal Monsanto owner Bayer AG and industry lobbyist CropLife America have been working closely with US officials to pressure Mexico into abandoning its intended ban on glyphosate, a pesticide linked to cancer that is the key ingredient in Monsanto's Roundup weedkillers. The pressure on Mexico is similar to actions Bayer and chemical industry lobbyists took to kill a glyphosate ban planned by Thailand in 2019. Thailand officials had also cited concerns for public health in seeking to ban the weed killer, but reversed course after US threats about trade disruption.
Dr Dewayne Goldmon, US agriculture secretary Tom Vilsack's new senior advisor on racial equity, is a longtime agrochemical flack who until 2019 served as outreach lead at Bayer/Monsanto.
Dewayne Goldmon's organization (see above), the National Black Growers Council, was started by Monsanto.
Bill Gates has a new book out: How to Avoid a Climate Disaster. But some people are less than amused at having to take lessons on the climate crisis from a billionaire who, in the words of the ETC Group, "made a fortune skirting government regulations with monopolistic practices, and holds a significant financial stake in the continued expansion of the fossil fuel industry." Tim Schwab makes clear just how extensive those fossil fuel investments are and how much they are at odds with Bill Gates' claims.
In his new book (see above), Bill Gates discusses his plans to model African food systems upon India's "green revolution", in which a plant scientist increased crop yields and saved a billion lives, according to Gates. The obstacle to implementing a similar overhaul in Africa, he asserts, is that most farmers in poor countries don't have the financial means to buy fertilizers. But Gates' favoured agricultural model moves farmers toward ever-larger and less-diverse farming operations that rely on pesticides and climate-harming chemical fertilizers.
An African faiths environmental institute is calling on the Bill and Melinda Gates Foundation to stop funding green revolution technologies and GM seeds for the continent, but instead support natural methods to help Africa achieve food sufficiency and protect its environments. In an open online letter, the Southern Africa Faith Communities' Environment Institute said the foundation is fuelling hunger and poverty by funding farming methods that fail to protect small-scale farmers and the environment.
The Physician Payments Sunshine Act is a US law that requires companies to report monies and gifts they give physicians, which are known to influence what doctors prescribe or promote. We need a "sunshine law" for science that would expose all sorts of conflicts of interest and industry manipulation that skew research on food, synthetic chemicals, pesticides, air pollution, genetic technology, and the climate, writes Paul D. Thacker.
The New York Times has published an enthusiastic article about a black-footed ferret, hailing it as "the first of any native, endangered animal species in North America to be cloned". Grand claims for animal cloning go back to the birth of the first cloned sheep in 1996. But the cloning industry is marred by an appalling series of failures and cruelty, writes Pete Shanks.
COVID-19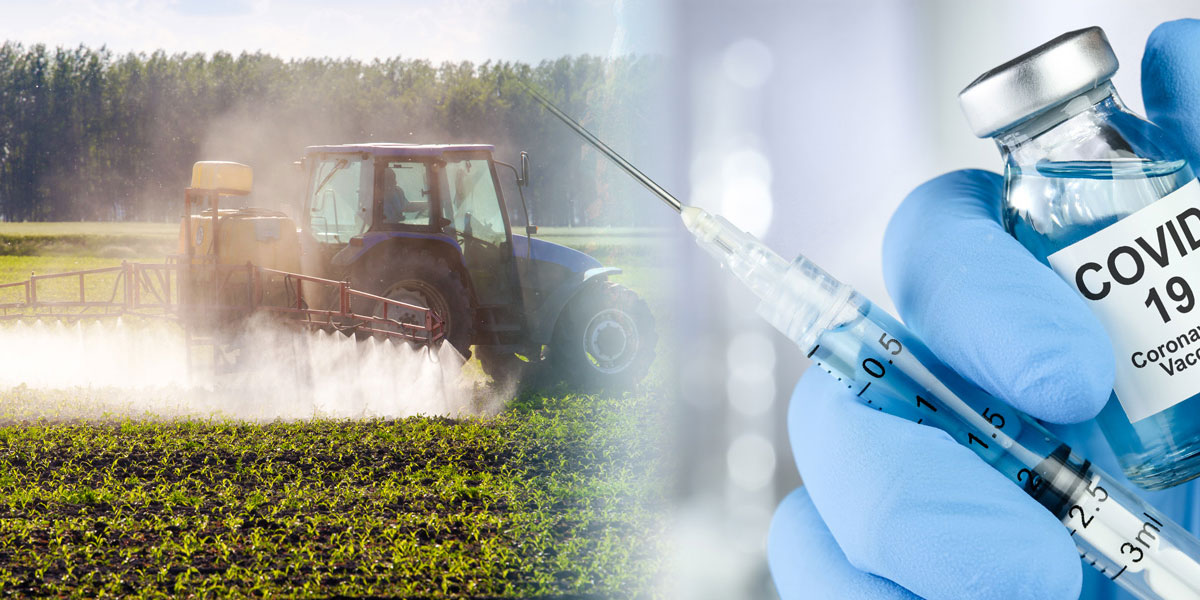 In an article in EuroChoices, agricultural economist Justus Wesseler and life sciences professor Kai Purnhagen cite "the contribution of biotechnologies to the creation of a vaccine" for COVID-19 to argue for a weakening of the EU's GMO regulations. They argue that this will allow the "potential" of GMOs, and in particular new GM techniques such as gene editing, to be realised. But Dr Judy Carman, epidemiologist, biochemist, and director of the Institute of Health and Environmental Research in South Australia, points out logical flaws in their argument – notably that medicines, including vaccines, are tested and regulated, whereas Wesseler and Purhagen want to scrap regulations for gene-edited foods.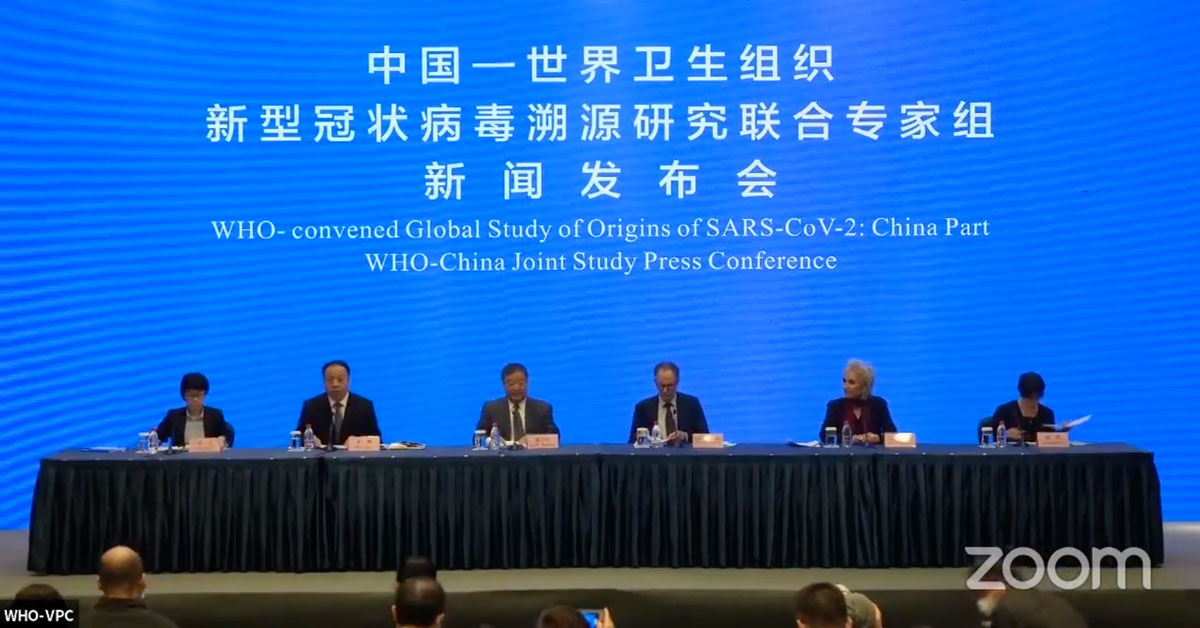 At a press conference in Wuhan, China, Peter Ben Embarek, the head of the World Health Organization (WHO) inspection team, said it was "extremely unlikely" that the coronavirus leaked from a lab and as a result the lab escape hypothesis would no longer form part of the WHO's continuing investigation into the origins of the virus. Dr Embarek listed frozen foods among the other possible sources of the outbreak in Wuhan that the WHO will continue to look into. But his claims are seriously unconvincing, writes Jonathan Matthews.
There are numerous coronavirus species. Any one of these might theoretically have caused a pandemic. Yet the actual pandemic virus belongs to the same species that was also the near exclusive focus of coronavirus research at the Wuhan Institute of Virology. The magnitude of these two coincidences explains why a natural zoonotic origin has not been found. Indeed, it implies that some variant of a laboratory escape is the only realistic possibility, according to Jonathan Latham, PhD and Allison Wilson, PhD.
EcoHealth Alliance President Peter Daszak's quip in a newly surfaced email exchange with two leading virologists sheds more light on the motives behind an influential statement in The Lancet signed by 27 prominent scientists condemning "conspiracy theories suggesting that COVID-19 does not have a natural origin". The emails show how Daszak and other experts with serious conflicts of interest were key players in undermining the hypothesis that SARS-CoV-2 may have leaked from the Wuhan Institute of Virology (WIV) in Wuhan, near the first reported outbreak of COVID-19, while trying to make it appear that the pushback came from scientists who had no links to the WIV and risky research on bat coronaviruses.
A series of three video talks by Dr Jonathan Latham, titled collectively, "Natural Origin or Lab Escape? The Emergence of SARS-CoV-2" has been published on the Youtube channel of Independent Science News. The three talks describe aspects of Dr Latham's current thinking on the origin of the SARS-CoV-2 virus and the nature of the underlying political/economic forces attempting to influence public perception, especially of its origins.