Despite all the hyperbole about the promise of GM drought resistant crops, it took until December 2011 for the first GM drought resistant crop to be approved for marketing anywhere in the world. That crop is a Monsanto GM drought resistant maize for cultivation in the United States – though even the US Department of Agriculture admitted that it was no more effective than existing non-GM varieties. By contrast, non-GM plant breeding has achieved success after success in producing a variety of drought resistant crops, including a whole series of drought resistant maize varieties, and these have been made available in many countries, including developing countries that are particularly vulnerable to drought. Here are just some of them.
Amaranth and others
Diet for a hotter climate: Five plants that could help feed the world (August 2022)
As the planet warms, these five drought-tolerant and highly nutritious crops offer hope for greater resiliency (not one relies on GM for its drought tolerance)
Beans
Heat, drought and disease tolerant beans released (June 2010)
And they yield and adapt well too!
Cowpea
Cowpeas bred for extra-early maturity, high protein and high yield potential with resistance to major diseases and aphids, as well as high levels of tolerance to heat and drought, for tropical and subtropical countries (April 2013)
Eucalyptus
Ground-durable and drought-tolerant eucalyptus trees (June 2022)
The NZ Dryland Forests Initiative is using conventional breeding to develop eucalyptus trees that are ground-durable (resistant to rotting or being eaten by insects when it is in the ground, such as in fencing, house timbers and decking) and drought-tolerant. In June 2022 the project manager confirmed to a member of the public that they are not using GM.
Grass
USDA scientists develop drought-resistant lawn/pasture grass (August 2009)
Maize/corn
Scientists map genome of non-GM drought-tolerant maize (February 2023)
Scientists have mapped the genome of a conventionally bred drought-tolerant maize variety. Many genes were found to be involved in the trait, meaning it is genetically complex, though the researchers flag up one gene in particular, called ZmRtn16. This is an example of a complex trait (drought tolerance) with many gene functions at its basis, meaning that it is beyond what genetic modification can accomplish. GM techniques are restricted to manipulating one or a few genes at a time.
Cross-bred crops get fit faster: Genetic engineering lags behind conventional breeding in efforts to create drought-resistant maize (September 2014)
Drought tolerant maize varieties ready (January 2014)
Nigeria releases two extra-early maturing white maize hybrids with combined resistance/tolerance to Striga, drought, and low soil nitrogen (August 2013)
Early-maturing maize lines hold drought-tolerance that could save farmers in Africa (April 2013)
Drought-tolerant maize wins 2012 UK Climate Week Award (March 2012)
Drought-tolerant maize to benefit Africa (August 2010) 
La Rovere, R., G. Kostandini, T. Abdoulaye, J. Dixon, W. Mwangi, Z. Guo, and M. Bänziger. 2010. Potential impact of investments in drought tolerant maize in Africa. CIMMYT (2010), Addis Ababa, Ethiopia.
Syngenta unveils drought-tolerant hybrid maize varieties (July 2010)
Syngenta has released hybrid maize varieties for dryland and drought-stressed areas that it says use available moisture more efficiently. Syngenta says that unlike with many drought-tolerant crops, there is no yield penalty.
Drought-tolerant and striga-resistant maize released in Ghana (April 2010)
Ghana has released four Quality Protein Maize varieties tolerant of drought and resistant to striga hermontica - a parasitic weed that reduces maize yield - to farmers to boost maize production in drought-prone areas of the country.
Drought-tolerant maize proves successful and popular in Malawi (July 2010) 
Two new drought tolerant maize varieties – ZM 309 and ZM 523 – have been developed specifically for Malawi's drought-prone areas with infertile soils by CIMMYT, Malawi's Ministry of Agriculture and Food Security, and the Chitedze Research Station, through the Drought Tolerant maize for Africa (DTMA) project. The research was supported by the Bill & Melinda Gates Foundation and the Howard G. Buffett Foundation. The varieties were officially launched in March 2009.
More than 50 new non-GM drought-tolerant maize varieties released for African farmers (April 2009)
Sub-Saharan Africa needs concerted efforts to improve the production of maize, its most important cereal. Two Centers supported by the CGIAR — the International Maize and Wheat Improvement Center (CIMMYT) and the International Institute of Tropical Agriculture (IITA) — have found a way to achieve precisely that.
GM drought tolerant maize way behind non-GM (June 2007)
During March 2007, the South African authorities gave Monsanto permission to conduct GM drought tolerant maize field trials in South Africa. The African Centre for Biosafety released a report on the issue, pointing out that drought tolerance is at least 8-10 years away from commercialisation. Nevertheless, GM drought tolerant crops are being used as PR tools by biotech lobbyists to promote acceptance of GM crops, expand existing markets and develop new markets. Finally, the report points out that traditional breeding, marker assisted selection, and building up organic content of the soil are proven methods of dealing with drought.

Philippines new non-GM drought-resistant corn (October 2007)
A Philippines scientist has developed a new non-GM corn variety that was able to survive a drought for 29 days.
Multiple crops
Vegetables in your future: Hot-weather cherries, drought-resistant melons and six other crops in the works that could change how we eat in a fast-warming world (September 2023)
All these crops, with the exception of the Pairwise ones, appear to be obtained by conventional breeding.
Pearl millet, sorghum, chickpea, pigeon pea and groundnut
ICRISAT develops climate change-ready varieties (June 2009)
When the world gets warmer with climate change, the dryland tracts will become even drier, making it more difficult for the farmers to grow crops in this region. The improved crops developed by the International Crops Research Institute for the Semi-Arid Tropics (Icrisat) and partners are able to withstand severe droughts, tolerate higher temperatures and mature early, enabling the farmers to be ready to meet the challenges of climate change. The new crops include pearl millet, sorghum, chickpea, pigeon pea and groundnut.
Pigeon peas
Non-GM drought-tolerant pigeon peas released in Kenya (February 2010)
Faced with increasingly unreliable rains, farmers in Kenya's eastern district of Mbeere South have started growing drought-tolerant crops to meet their food and subsistence needs instead of the staple maize.
Potato
Non-GM drought-resistant potatoes in Peru (October 2023)
In Peru, researchers are breeding drought-resistant potato varieties. They use genes from wild potato species so that cultivated potatoes can cope better with drought. Breeding researchers have already developed the first drought-resistant new varieties.
The seed guardians of Peru trying to save the potato (October 2023)
Indigenous potatoes can help to ensure our commercial potato crops can adapt to the challenges of climate change.
Rice
Perennial rice: In search of a greener, hardier staple crop (March 2015)
"Green Super Rice" is saline-tolerant, drought-tolerant, disease-resistant, and high-yielding without the use of fertilisers and pesticides (November 2014)
Rice gene discovered that triples yields in drought (August 2013) – GM was used as a research tool but the end-product rice was developed using marker assisted selection (MAS)
Uganda: new drought-tolerant non-GM rice variety (October 2009)
Novel upland non-GM drought-tolerant rice variety released in Jharkhand, India (May 2009)
A novel upland rice variety, Birsa Vikas Dhan 111 (PY 84), has recently been released in the Indian state of Jharkhand. It was bred using marker-assisted backcrossing with selection for multiple quantitative trait loci (QTL) for improved root growth to improve its performance under drought conditions. It is an early maturing, drought tolerant and high yielding variety with good grain quality suitable for the direct seeded uplands and transpl
anted medium lands of Eastern India. 
Non-GM drought-resistant rice in pipeline (August 2007)
Japanese researchers have made progress in breeding non-GM drought-resistant rice, intended for planting in Africa and other dry regions.
Indigenous rice better than GM for dealing with stress (October 2007)
A New Delhi-based NGO, together with farmers from nine Indian states, has developed a register documenting over 2,000 indigenous rice varieties. They say GM rice strains are not only costly to cultivate but also are a poor match to the native strains in fighting pests, diseases and environmental fluctuations.
Sorghum
Breeder of non-GM drought-tolerant and striga-resistant sorghum wins World Food Prize (2009)
The 2009 World Food Prize was awarded to Dr Gebisa Ejeta of Ethiopia, whose sorghum hybrids resistant to drought and the devastating Striga weed increased the production and availability of one of the world's five principal grains and enhanced the food supply of hundreds of millions of people in sub-Saharan Africa.
Soy
Understanding the genetic basis for drought-tolerant soybeans – breeding programme identifies soybeans with improved yield under drought conditions (December 2014)
Breeding programme identifies drought-tolerant soybean lines – study (August 2014)
USDA scientists to release drought-resistant soybean line (February 2010)
U.S. Department of Agriculture's Agricultural Research Service plant geneticist Tommy Carter, Ph.D., and his team of researchers plan to soon release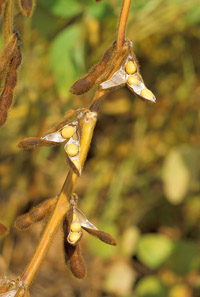 a soybean breeding line offering drought-tolerant traits.
Tomatoes
Israeli scientists develop drought-resistant tomatoes in response to climate change (March 2023)
Non-GM tomatoes made to drink less water (May 2007)
Wheat
Jabal: The new wheat scientists say can withstand extreme heat and drought (December 2022)
A new drought-tolerant variety of durum wheat has been created as part of an international breeding programme to boost climate resilience in the food system by increasing crop diversity.
New varieties rescue wheat crop in drought conditions (September 2017)