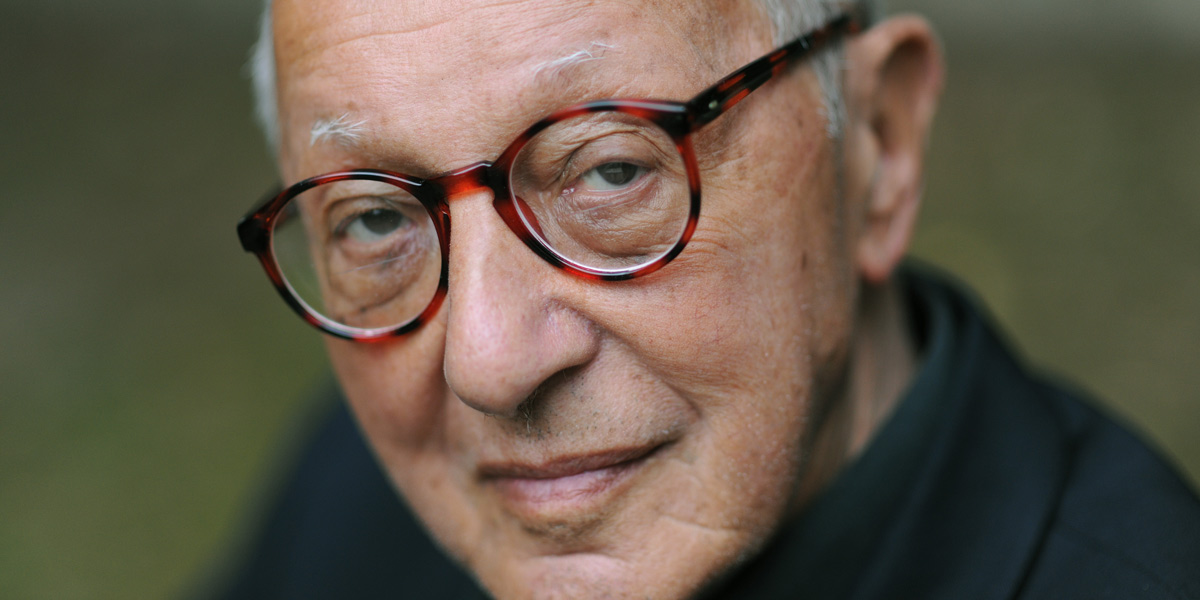 He realised most cancers are preventable and blew the whistle on GM dairy hormone rBGH
Dr Samuel Epstein, a giant in the field of cancer prevention who helped wake up the public to the fact that most cancers are caused not by genes but by exposure to toxic chemicals, has died aged 91 of cardiac arrest.
One omission from the New York Times obituary (item 2 below) is Dr Epstein's important work exposing the risks of the genetically modified dairy hormone rBGH (covered in item 1 below). That work had a big influence on many people who became critics of the GMO food venture.
GMWatch editor Claire Robinson writes: "Dr Epstein's book, The Politics of Cancer, was a seminal text for me in the 1990s when I was educating myself in the field of toxics.
"I interviewed him once for an article and he told me that everywhere he went to give public talks on cancer, he was followed around by industry flunkies who variously kept quiet and took notes on what he was saying or (more often) harassed and personally attacked him from the audience.
"I thought it sounded terrible and asked him how he coped. 'That's easy,' he said, 'I am a very insensitive person with a thick skin and I don't give a damn about those people.'
"He wasn't joking: at least, he said it without a smile, though it made me laugh. He was absolutely certain of his role in the world – to speak the scientific truth as he saw it and as the evidence showed — and didn't let anything get in the way of that."
The New York Times article calls Dr Epstein the "Cassandra of cancer prevention". Cassandra, a prophetess who was the daughter of King Priam and of Queen Hecuba of Troy in Greek mythology, was cursed to speak prophecies that were true but that no one believed.
As the science on toxic chemicals has progressed over the years, there is far more evidence now to support Dr Epstein's precautionary stance than there was when he began speaking out. Nonetheless, the so-called War on Cancer is plagued by a widespread refusal to address the avoidable causes of cancer in the form of chemical toxicants in the environment. Instead it focuses on the blind alley of genetic causes, early detection (a far cry from prevention!), and tweaks to the existing traumatic treatments for the disease.
Photo: Wolfgang Schmidt
1. Dr. Samuel Epstein's 20 year fight against biotech, cancer-causing milk
2. Dr. Samuel Epstein, 91, Cassandra of cancer prevention, dies
---
1. Dr. Samuel Epstein's 20 year fight against biotech, cancer-causing milk
World-Wire.com, 28 Oct 2009
https://www.sott.net/article/196232-Dr-Samuel-Epsteins-20-Year-Fight-Against-Biotech-Cancer-Causing-Milk
[excerpt only]
Twenty years ago, back when Frank Young, M.D. was Commissioner of the U.S. Food and Drug Administration, he received a report from Samuel S. Epstein, M.D. entitled Potential Public Health Hazards of Biosynthetic Milk Hormones, warning of the public health dangers of consuming milk from hormone-treated cows.
Injection of cows with recombinant Bovine Growth Hormone (rBGH), the genetically engineered, potent variant of the natural growth hormone produced by cows, sharply elevates levels of insulin-like growth factor (IGF-1) in milk, Dr. Epstein warned the commissioner.
IGF-1, which is readily absorbed through the small intestine, increases the risk of cancer in people who drink milk from cows treated with rBGH, he warned. In 1989, Dr. Epstein had found evidence of breast cancer resulting from IGF-1 ingestion; a few years later colon and prostate data began to emerge.
In his role as professor of environmental and occupational medicine with the School of Public Health, University of Illinois Medical Center in Chicago, Dr. Epstein urged the FDA Commissioner to ban the manufacture and sale of rBGH, as well as milk from treated cows, until all public and veterinary health and safety concerns were resolved.
Manufactured by Monsanto, rBGH is sold to dairy farmers under the trade name Posilac. Injection of this hormone forces cows to increase their milk production by about 10%. Monsanto has stated that about one third of dairy cows are in herds where the hormone is used.
Dr. Epstein warns that rBGH milk is often contaminated with pus, due to mastitis, an udder infection commonly induced by rBGH, and also with antibiotics used to treat the mastitis. This poses risks of nationwide antibiotic resistance to life threatening infections, he warns.
His 1989 report criticized Monsanto for failing to disclose their unpublished data and for the company's refusal to label milk from rBGH treated cows, which denies consumers the right to know when they consume hormonal milk.
"These concerns are further exacerbated by the abdication of regulatory responsibility by the FDA and USDA," Dr. Epstein wrote.
Dr. Epstein did not wait for government action.
In the September/October 1989 issue of the journal The Ecologist, of which he was associate editor, Dr. Epstein published the first major warning to reach the public about the risks of consuming rBGH milk.
In addition to increased risk of breast cancer, consuming hormonal milk increased stress, increased susceptibility to allergens, and suppressed the body's immune system, making the consumer more vulnerable to infectious diseases, the Ecologist article stated.
In Britain, the article explained, field trials of the hormone were being conducted secretly.
In the United States, the FDA granted the industry immunity from measuring hormone concentrations in milk from cows treated with rBGH.
Dr. Epstein objected that this exemption violated the 1938 Federal Food Drug and Cosmetic Act, which requires the FDA to have a "prescribed and approved test method" for determining whether a drug is being improperly used with resulting illegal residues in food. But no test was available for rBGH milk.
In September 1989, Dr. Epstein testified on these matters to the Wisconsin State Assembly Committee on Agriculture, and the following year, published an article based on his testimony in the International Journal of Health Services.
He has repeatedly called on government to require the industry to "fund research in accordance with independently approved protocols" supervised by a "neutral, independent intermediary" such as the National Institutes of Health or the National Science Foundation.
In December 1990, Dr. Epstein presented these views at a conference hosted by the National Institutes of Health, warning that high IGF-1 levels could increase the risk of breast cancer in people who drink rBGH milk.
Nevertheless, in 1993, the FDA approved the commercial sale of milk from rBGH treated cows and issued regulations banning the labeling of rBGH milk.
In 1994, FDA Commissioner David Kessler, M.D. received a letter from Dr. Epstein expressing his "grave concerns" about the risks of breast and colon cancer from consumption of hormonal milk.
Now chairman of his new nonprofit organization, the Cancer Prevention Coalition," Dr. Epstein wrote, "IGF-1 induces malignant transformation of normal human breast epithelial cells. IGF-1 is a growth factor for human breast cancer cells, maintaining their malignancy, progression and invasiveness. IGF-1 has similarly been associated with colon cancer."
The letter urged Kessler to revoke the agency's approval of rBGH registration.
Given these concerns, dairy farmers began assuring the public by putting "hormone-free" labels on milk from cows that had not been injected with rBGH. A month later, the Los Angeles Times published an article by Dr. Epstein blasting the FDA for the labeling ban.
The labeling ban was challenged by nationwide grassroots consumers groups, and by two milk suppliers, both of whom were sued by Monsanto.
In a range of public arenas, from 1996 Chicago hearings on the labeling of genetically modified foods to a 1998 article in the International Journal of Health Services, Dr. Epstein continued to warn that rBGH milk poses increased risks for breast and colon cancer.
"In short," he wrote in the 1998 article, "with the active complicity of the FDA, the entire nation is currently being subjected to an experiment involving large-scale adulteration of an age-old dietary staple by a poorly characterized and unlabeled biotechnology product. Disturbingly, this experiment benefits only a very small segment of the agri-chemical industry while providing no matching benefits to consumers. Even more disturbingly, it poses major public health risks for the entire U.S. population."
In March 1998, Dr. Epstein added a new warning about consumption of rBGH milk - prostate cancer.
In the journal Gene Therapy Weekly, he wrote that rBGH milk is "supercharged with high levels of abnormally potent IGF-1, up to 10 times the levels in natural milk and over 10 times more potent."
"Apart from prostate cancer," he warned, "multiple lines of evidence have also incriminated the role of IGF-1 as risk factors for breast, colon and childhood cancers."
After 10 years of warnings based on in-depth scientific documentation, Dr. Epstein began to get support in his fight against hormonal milk.
In March 1999, the Scientific Committee of the European Commission released a report finding excess levels of IGF-1 in milk of cows injected with rBGH. The report concluded that the excess IGF-1 poses serious risks of breast and prostate cancer.
Commenting on the Scientific Committee's report, Dr. Epstein criticized Codex, the World Health Organization responsible for setting international food safety standards, which had approved hormonal milk. "FDA officials and industry consultants are members of Codex, which meets in secrecy and relies on unpublished industry assurances of safety," he wrote.
Just five months later, in August 1999, Codex unexpectedly ruled in favor of the 1993 European Union moratorium on rBGH milk. The ruling forced the United States to abandon its threat to challenge the moratorium at the World Trade Organization.
Cancer Prevention Coalition warnings were endorsed by the National Family Farm Coalition, representing 30 organizations, and also by the Campaign Against rBGH, representing 10 organizations.
The Organic Consumers Association and Director Ronnie Cummins endorsed the campaign to educate the public about the dangers of rBGH milk. In a joint 2005 editorial in the journal Medical Veritas Epstein and Cummins wrote, "...increased IGF-1 blood levels have been incriminated as a major cause of cancer."
Over 100 leading independent experts in cancer prevention and public health, plus citizen activist groups endorsed this warning, wrote Epstein and Cummins.
This endorsement was coupled with insistence that the public has "an absolute right-to-know" of information on avoidable causes of cancer, "a democratic right which the agribusiness and FDA continue to subvert," they wrote.
In 2006, Dr. Epstein published the book, What's in Your Milk? An Exposé of Industry and Government Cover-Up on the Dangers of the Genetically Engineered (rBGH) Milk You're Drinking, (Trafford Publishing).
Monsanto, supported by the FDA, insists that rBGH milk is indistinguishable from natural milk, and that it is safe for consumers. "This is blatantly false," wrote Dr. Epstein, listing the dangers of milk from cows treated with the hormone:
* rBGH makes cows sick. Monsanto has been forced to admit to about 20 toxic effects, including mastitis, on its Posilac label.
* rBGH milk is contaminated by pus, due to the mastitis commonly induced by rBGH, and antibiotics used to treat the mastitis.
* rBGH milk is chemically, and nutritionally different than natural milk.
* Milk from cows injected with rBGH is contaminated with the hormone, traces of which are absorbed through the gut into the blood.
* rBGH milk is supercharged with high levels of the natural growth factor, IGF-1, which is readily absorbed through the gut.
* Excess levels of IGF-1 have been incriminated as a cause of breast, colon, and prostate cancers.
* IGF-1 blocks natural defense mechanisms against early submicroscopic cancers.
* rBGH factory farms pose a major threat to the viability of small dairy farms.
* rBGH enriches Monsanto, while posing dangers, without any benefits, to consumers, especially in view of the current national surplus of milk.
Of still greater concern, based on 37 published scientific studies as detailed in the book, excess levels of IGF-1 in rBGH milk pose major risks of breast, colon and prostate cancers.
Not surprisingly rBGH milk is banned in Canada, the EU and internationally. ...
---
2. Dr. Samuel Epstein, 91, Cassandra of cancer prevention, dies
By Sam Roberts
New York Times, April 25, 2018
https://www.nytimes.com/2018/04/25/obituaries/dr-samuel-epstein-91-cassandra-of-cancer-prevention-dies.html?rref=collection%2Fsectioncollection%2Fobituaries&action=click&contentCollection=obituaries&region=stream&module=stream_unit&version=latest&contentPlacement=4&pgtype=sectionfront
In 1926, when Samuel S. Epstein was born in Yorkshire, an English baby boy's estimated life span was about 60 years. Dr. Epstein lived to be 91, after devoting his career to preventing cancer and heeding his own advice. He died of cardiac arrest on March 18 in Chicago.
In his own way, Dr. Epstein seemed to be getting the last word in an argument he first ignited four decades ago, when he blamed greedy manufacturers, lax regulators, misguided researchers and complicit charitable groups for what he saw as a coming cancer epidemic.
A widely read author and widely heard lecturer, Dr. Epstein was venerated by some as an environmental prophet and reviled by others as an overzealous toxin avenger. He outlived many of his critics, perhaps because he had practiced what he preached about prevention in his own life.
Dr. Epstein did not live his life in a bubble, but he sought to avoid tobacco, X-rays, pesticides, saccharin, talcum powder, cyclamates used as preservatives, hair spray with vinyl chloride, hot dogs dyed with nitrites, milk from cows injected with genetically engineered growth hormones and pajamas treated with a certain flame retardant — all of which he considered carcinogenic.
"In his early years, before all the research, he did smoke a pipe," his son Julian said in a telephone interview. "But the things that we had data on he avoided religiously. He walked the walk."
He added: "We were pretty conscious about prevention as a family. His view was more that we could readily avoid exposure to carcinogens, and that there are many available safe alternatives, if only the regulatory agencies would be more forward leaning and less beholden to industry."
Dr. Epstein had summed up his thesis this way: "While much is known about the science of cancer, its prevention depends largely, if not exclusively, on political action."
He advanced that premise in his book "The Politics of Cancer" (1978), which was embraced by environmentalists, consumer groups and organized labor and derided by the chemical industry and some of his fellow scientists.
"Few books have ignited such a firestorm of controversy," Robert N. Proctor wrote in "Cancer Wars: How Politics Shapes What We Know and Don't Know About Cancer" (1995).
Professor Proctor, now at Stanford University, described Dr. Epstein's book as an "indictment of industry malfeasance, research impotence and regulatory incompetence."
That indictment was so sweeping, one critic complained, that Dr. Epstein's disquieting alarms created a "free-floating paranoia among many people about everything they eat or breathe and, in others, a sense of hopeless resignation."
Samuel Stanley Epstein was born on April 13, 1926, in Middlesbrough, in northern England, to the former Gertrude Joseph and Rabbi Isadore Epstein, who was principal of Jews' College (now the London School of Jewish Studies).
He graduated with a bachelor's degree in physiology in 1947 from the University of London, where he also earned his medical degrees.
After immigrating to the United States in 1960, he conducted research at the Children's Cancer Research Foundation (now the Dana-Farber Cancer Institute in Boston) before joining the faculty of Case Western University Medical School in Cleveland in 1971.
In 1976 he was named professor of occupational and environmental medicine at the University of Illinois, in the Abraham Lincoln School of Medicine and School of Public Health. He taught there until he was named professor emeritus in 1999.
Besides his son Julian, who confirmed his death, he is survived by his wife, the former Catherine Dollive; another son, Mark; a daughter, Emily, from his first marriage, to Elizabeth Dougherty, which ended in divorce; and two grandchildren.
In his books and speaking appearances, Dr. Epstein was a statistic-spouting Cassandra who attributed rising cancer rates to occupational and household hazards (although he was accused of belatedly emphasizing the risks from smoking).
He spoke on behalf of Vietnam veterans who had been exposed to the defoliant Agent Orange. He also championed homeowners who fled the toxic waste oozing from the Love Canal dump in upstate New York in the 1970s.
He was never shy in choosing his targets, which included the American Cancer Society and the National Cancer Institute, which he accused of potential conflicts of interest because they had corporate sponsors.
In 1995, at a news conference in Washington, Dr. Epstein, as chairman of the advocacy group Cancer Prevention Coalition, joined with the consumer advocate Ralph Nader to release a "dirty dozen" list of familiar household products — including a baby powder, a brand of toothpaste and an aerosol disinfectant — that they labeled dangerously toxic.
Dr. Epstein helped draft the federal Toxic Substances Control and Resource Conservation Recovery Acts in the mid-1970s; was president of the Rachel Carson Trust for the Living Environment (now the Rachel Carson Council), which furthers her research on pesticides; and received the 2005 Albert Schweitzer Golden Grand Medal for Humanitarianism, awarded by the Albert Schweitzer World Academy of Medicine.
"He was very much a man of the moment — by which I mean the late 1970s — indicting industrial 'chemicals' as causing cancer," Professor Proctor said in an email. "He showed that powerful industries could cause cancer, that cancer was a political disease, requiring political solutions, which made him a bit like the Rachel Carson or Ralph Nader of cancer."
He added, "His weak spot was tobacco, which he downplayed as distracting from what he thought were the real killers. His strength was in realizing that most cancers are preventable, caused by exposures to carcinogens. That is still a truth worth telling."