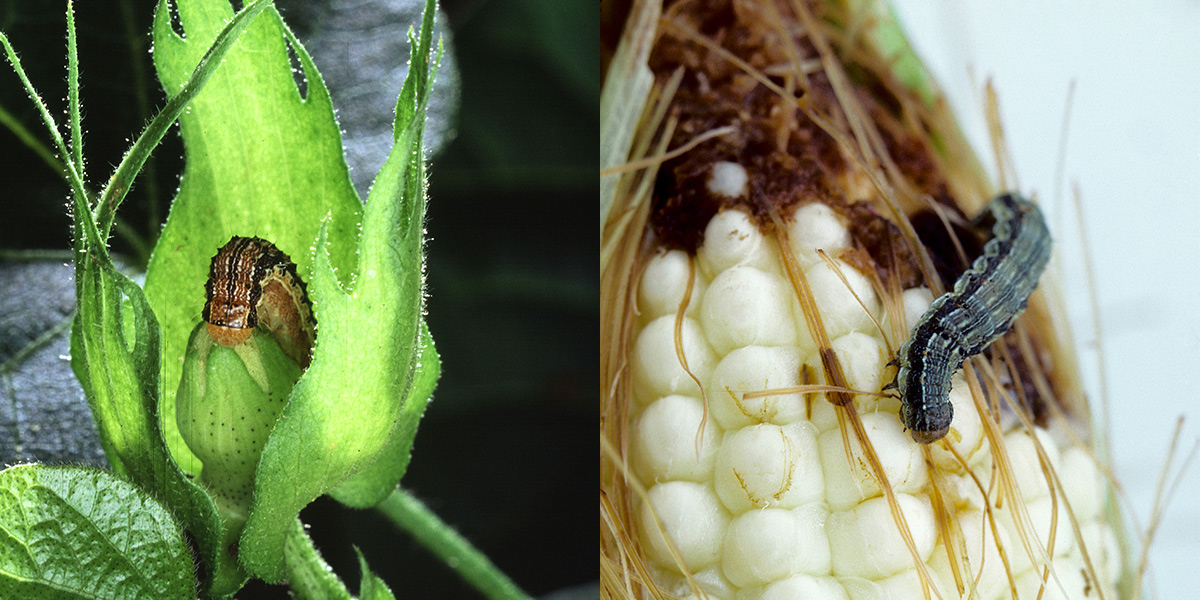 Cotton bollworm and corn earworm have outsmarted GM Bt and chemical insecticides and have now joined forces
The cotton bollworm and corn earworm are two pests targeted by the Bt toxins engineered into GM Bt insecticidal crops. Both pests have in past years become resistant to these GM Bt toxins. Now a new study has found that the two pests have hybridised, meaning that attempts to kill them with GM or chemical toxins are increasingly likely to fail.

Neither the new study (see abstract, item 3 below) nor press articles about it (items 1-2) talk about GM Bt crops as offering any kind of solution to this problem. The study simply mentions GM Bt crops as a former pest control tactic that has since been made redundant by resistant pests.

1. Scientists discover hybrid swarm in global mega-pest
2. Moth hybrid raises concerns of insecticide resistance
3. Hybridization and gene flow in the mega-pest lineage of moth, Helicoverpa – the new study
---
1. Scientists discover hybrid swarm in global mega-pest
CSIRO, 3 Apr 2018
https://www.csiro.au/en/News/News-releases/2018/Scientists-discover-hybrid-swarm-in-global-mega-pest

CSIRO scientists have confirmed the hybridisation of two of the world's major pest species, into a new and improved mega-pest.

One of the pests, the cotton bollworm, is widespread in Africa, Asia and Europe and causes damage to over 100 crops, including corn, cotton, tomato and soybean.

The damage and controlling the pest costs billions of dollars a year.

It is extremely mobile and has developed resistance to all pesticides used against it.

The other pest, the corn earworm, is a native of the Americas and has comparatively limited resistance and host range.

However, the combination of the two, in a novel hybrid with unlimited geographical boundaries is cause for major concern.

The CSIRO researchers in a paper published in the Proceedings of the National Academy of Sciences of the USA  provides clear evidence of the hybridisation of the two moths in Brazil.

"A hybrid such as this could go completely undetected should it invade another country. It is critical that we look beyond our own backyard to help fortify Australia's defense and response to biosecurity threats," Research Director leading CSIRO's Biosecurity Risk Evaluation and Preparedness Program Dr Paul De Barro said.

"As Australia's national science agency, we are constantly looking for new ways to protect the nation and technology like genome sequencing, is helping to tip the scales in our favour."

While a combination of insecticides currently controls these pests well in Australia, it is important to study the pests themselves for sustainable long-term management world-wide.

The scientists confirmed that among the group of caterpillars studied, every individual was a hybrid.

"No two hybrids were the same suggesting a 'hybrid swarm' where multiple versions of different hybrids can be present within one population," fellow CSIRO Scientist Dr Tom Walsh said.

The bollworm, commonly found in Australia, attacks more crops and develops much more resistance to pesticides than the earworm.

A concerning finding among the Brazilian hybrids was that one was 51 per cent earworm but included a known resistance gene from the bollworm.

Lead author of the paper Dr Craig Anderson, a former CSIRO scientist now based at The University of Edinburgh, believes the hybrid study has wide-ranging implications for the agricultural community across the Americas.

"On top of the impact already felt in South America, recent estimates that 65 per cent of the USA's agricultural output is at risk of being affected by the bollworm demonstrates that this work has the potential to instigate changes to research priorities that will have direct ramifications for the people of America, through the food on their tables and the clothes on their backs," Dr Anderson said.
---
2. Moth hybrid raises concerns of insecticide resistance
Gregor Heard
Queensland Country Life, 10 Apr 2018
https://www.queenslandcountrylife.com.au/story/5333168/moth-hybrid-raises-resistance-concerns/

THE CONFIRMATION of a hybridisation of two moth pest species is being monitored closely by world pest management authorities fearful hybrid pest insect species could quickly develop multiple resistances to insecticides.

Researchers from Australia's CSIRO made the discovery in Brazil recently that moth species the cotton bollworm (helicoverpa armidera) and the corn earworm (helicoverpa zea) have hybridised.

CSIRO scientist Tom Walsh said at present the hybridisation process was random.

"No two hybrids were the same suggesting a 'hybrid swarm' where multiple versions of different hybrids can be present within one population, whatever is possible in terms of crosses could still occur, you could have the majority of the insect armidera or the majority zea, it just depends," Dr Walsh said.

The two species are destructive pests in a number of crops, primarily summer crops such as corn and cotton, with armidera the most damaging of the two types.

While at present Dr Walsh said Australia had relatively good options in terms of control of helicoverpa in other parts of the world there were multiple resistances to pesticides in particular in the cotton bollworm.

The moths can be an especially big problem in the Americas.

Helicoverpa species are the species targeted in Monsato's Bollgard cotton technology.

Bollgard varieties make up over 90pc of cotton sown in Australia.

Dr Walsh said the creation of a new hybrid with unlimited geographical range could be a cause for concern.

He said it showed the threat to Australian biosecurity was two-fold, the obvious threat of a new species, such as the incursions of novel pests, like Russian wheat aphid in 2016, and then there is the threat of interbreeding.

"If a new, but closely related, species comes to Australia and breeds with existing populations you run the risk of resistance traits being passed on."

"We need to think of biosecurity at a genetic, as well as a species level as we can see this hybridisation occurring."

"In this era of globalisation, we are increasingly going to see related species interbreeding, the spread of insects is much greater with humans moving around everywhere."

North American agriculture is also watching with concern.

CSIRO's Craig Anderson said over 65 per cent of the agricultural output of the US would be at risk from impact from the bollworm.
---
3. Hybridization and gene flow in the mega-pest lineage of moth, Helicoverpa
Craig J. Anderson, John G. Oakeshott, Wee Tek Tay, Karl H. J. Gordon, Andreas Zwick and Tom K. Walsh
PNAS April 2, 2018. 201718831; published ahead of print April 2, 2018.
http://www.pnas.org/content/early/2018/03/29/1718831115

Significance

Helicoverpa armigera is a major agricultural and horticultural pest that recently spread from its historical distribution throughout much of the Old World to the Americas, where it is already causing hundreds of millions of dollars in damage every year. The species is notoriously quick to generate and disseminate pesticide resistance throughout its range and has a wider host range than the native Helicoverpa zea. Hybridization between the two species increases the opportunity for novel, agriculturally problematic ecotypes to emerge and spread through the Americas.

Abstract

Within the mega-pest lineage of heliothine moths are a number of polyphagous, highly mobile species for which the exchange of adaptive traits through hybridization would affect their properties as pests. The recent invasion of South America by one of the most significant agricultural pests, Helicoverpa armigera, raises concerns for the formation of novel combinations of adaptive genes following hybridization with the closely related Helicoverpa zea. To investigate the propensity for hybridization within the genus Helicoverpa, we carried out whole-genome resequencing of samples from six species, focusing in particular upon H. armigera population structure and its relationship with H. zea. We show that both H. armigera subspecies have greater genetic diversity and effective population sizes than do the other species. We find no signals for gene flow among the six species, other than between H. armigera and H. zea, with nine Brazilian individuals proving to be hybrids of those two species. Eight had largely H. armigera genomes with some introgressed DNA from H. zea scattered throughout. The ninth resembled an F1 hybrid but with stretches of homozygosity for each parental species that reflect previous hybridization. Regions homozygous for H. armigera-derived DNA in this individual included one containing a gustatory receptor and esterase genes previously associated with host range, while another encoded a cytochrome P450 that confers insecticide resistance. Our data point toward the emergence of novel hybrid ecotypes and highlight the importance of monitoring H. armigera genotypes as they spread through the Americas.
Images of cotton bollworm and corn earworm are from US Agricultural Research Service via Wikimedia Commons.