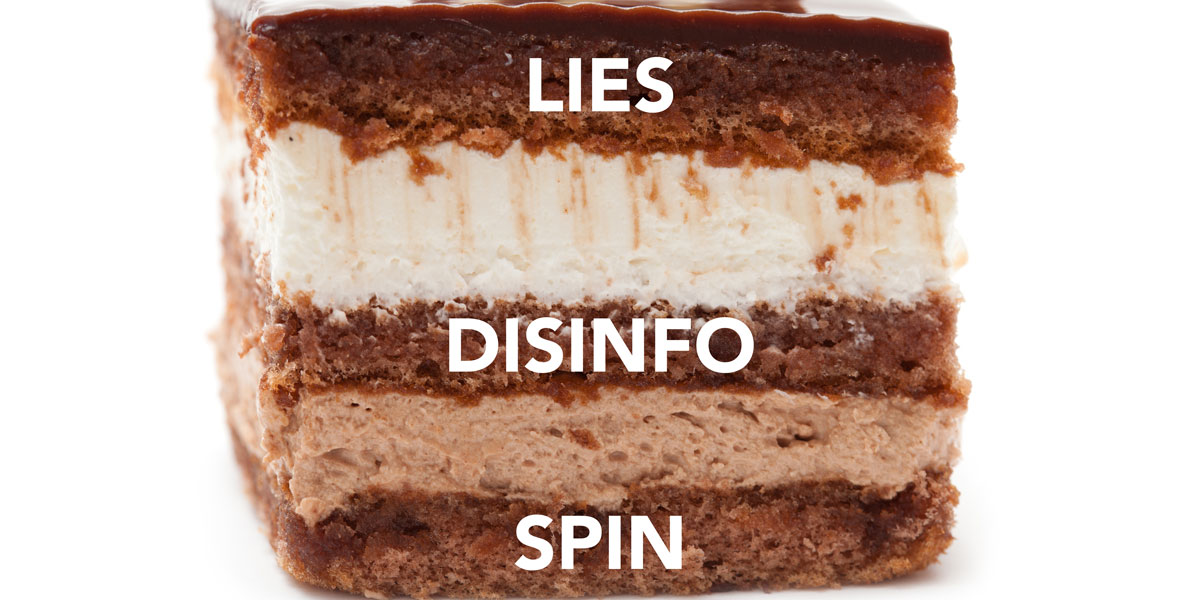 GMO cheerleaders use "disinformation layer cake" to promote corporate front group. Report: Jonathan Matthews
A "GMO disinformation layer cake" is what the investigative journalist Paul Thacker calls much of the narrative used to promote GMOs. And he cites GMO cheerleader Mark Lynas's promotion of the "farmers' collective called Shetkari Sanghatana" as a classic example.

Shetkari Sanghatana, which has been publicly distributing illegal GMO seeds in India, is far from being the kind of "grassroots" Indian farmers union, or "collective", that Lynas has claimed. It is, as we recently reported, an extremist fringe group led from the top by the free market fundamentalists behind India's ultra-libertarian Swatantra Bharat Pakash party. It also has a history of working with biotech industry PR people.

Now, according to a report in the financial and business daily, Business Line, India's intelligence agencies are investigating the support they believe Shetkari Sanghatana is getting from "some international seed companies", as well as a global investment firm that is also said to be pressurising the Modi government to legalise the seeds.

But Mark Lynas ignores all this in his just published article, Activists escalate efforts to stop Indian farmers from using GMO seeds, and continues to present Shetkari Sanghatana's illegal seed distribution as a "Gandhi-inspired" campaign of "civil disobedience".
Secret ingredients
Shetkari Sanghatana's corporate connections aren't the only ones being kept from view. There are some other well hidden ingredients in the "GMO disinformation layer cake". Lynas's new article was published first by his employer – the Gates-backed Alliance for Science, which has been dubbed a "PR campaign for the agrichemical industry", and then republished by the Genetic Literacy Project (GLP), which until recently was funded by Monsanto.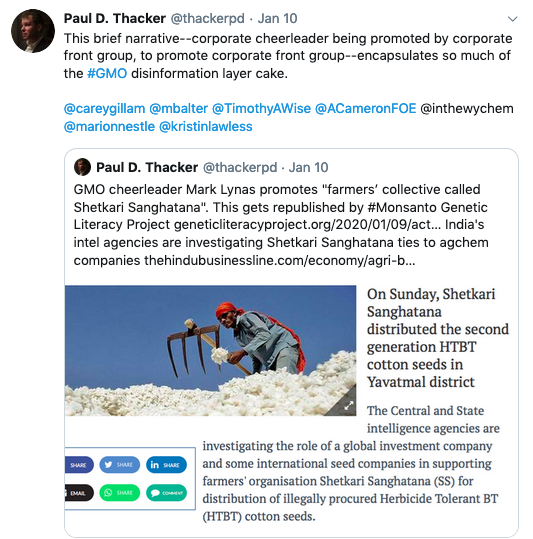 Bring on the boo words
In his article, Lynas doesn't just ignore Shetkari Sanghatana's corporate connections and ultra-libertarian agenda, he portrays their critics as the extremists. They, according to Lynas, are "activists" belonging to the "far left", or the "far right", who are prone "to indulge in conspiracy-theorizing about 'foreign' organizations supposedly 'pushing' GMOs on farmers". Lynas fails to mention that, according to one of India's leading business papers, it is India's Central and State intelligence agencies that are concerned about multinational actors supporting Shetkari Sanghatana's distribution of illegal seeds.

Lynas takes particular aim at the "anti-GMO activist Aruna Rodrigues" whose lawyers went to India's Supreme Court last week to seek an injunction on the illegal GMO seed planting spearheaded by Shetkari Sangathan. Lynas presents this legal move as an escalation in the "war on the country's resource-poor farmers".
Toxic mudslinging
We asked Aruna Rodrigues what she made of Lynas's article. She dismissed it as "toxic" mudslinging, and pointed out that she didn't belong either to the "far left" or the "far right", and nor for that matter did she consider herself an "activist".
 
She said she was "just a citizen campaigning through a legal instrument available to us in India called a Public Interest Writ with evidence to back that intervention." This evidence, Rodrigues said, clearly showed GMO regulation in India involved "gross irregularities, lack of expertise, virtually no biosafety testing, and contempt of court". And it was this "regulatory delinquency" around GMOs that had compelled her to act.  

Rodrigues also sees Shetkari Sanghatana's actions as far from "Gandhi-inspired" "civil disobedience". Ghandi's actions, it will be remembered, were aimed at a colonial power, but Rodrigues points out that the kind of moratorium she has been seeking to have upheld on GMO crops has the backing of five official high-level reports. In other words, it is entirely a product of India's own constitutional processes.

The five reports include that of the Technical Expert Committee (TEC) appointed by the Supreme Court. This high powered committee, which included government nominees, was scathing about India's prevailing regulatory system and found the kind of herbicide-tolerant GMO crops Shetkari Sangathan has been illegally distributing "completely unsuitable" in the Indian context. The committee recommended a long-term moratorium on the commercial release of all GMO crops.

The other GMO crop that Lynas and Shetkari Sangathan have been promoting, Bt brinjal, has been subject to a specific indefinite moratorium following the 2009 report of India's then environment minister, Jairam Ramesh, who consulted widely with scientists and India's farmers in an extensive public consultation before reaching his conclusion.
One trick pony?
Lynas dismisses the whole careful process which led to the Bt brinjal moratorium as merely (wait for it!) "activists" "persuading politicians". Similarly, he attributes GMO mustard failing to be commercialised to "furious campaigns by anti-GMO activists", in which category he puts "a Supreme Court lawsuit by Aruna Rodrigues". Why India's Supreme Court would be won over by "furious campaigns" rather than expert opinion, he fails to explain.

The fact that concerned farmers and scientists have been entirely edited out of Lynas's narrative should surprise no one. According to Washington University's Glenn Davis Stone, an expert on GMO seed uptake in India, this mirage of all GMO criticism being "a purely activist affair" constitutes Lynas's entire schtick.

This would certainly explain why in Lynas's relatively short article the word "activists" occurs no less than nine times, starting with the very first word of the title. What Lynas is doing, according to Glenn Davis Stone, is fixating his readers' attention on "activists" to the point where they "would never know of the roster of knowledgeable and credentialed scientists who have pointed out serious issues with GM agriculture".

Opposite this mirage of "a purely activist affair", Lynas performs his other piece of PR magic by transforming a front for corporate libertarians, who work hand in glove with industry, into the "Gandhi-inspired" representatives of "resource-poor farmers".

And, as we have seen, the projection of this spectacle to the wider world is assisted by an organisation (the Genetic Literacy Project) with a record of being covertly funded by the very corporation that stands to profit most from any legalisation of glyphosate-resistant seeds.