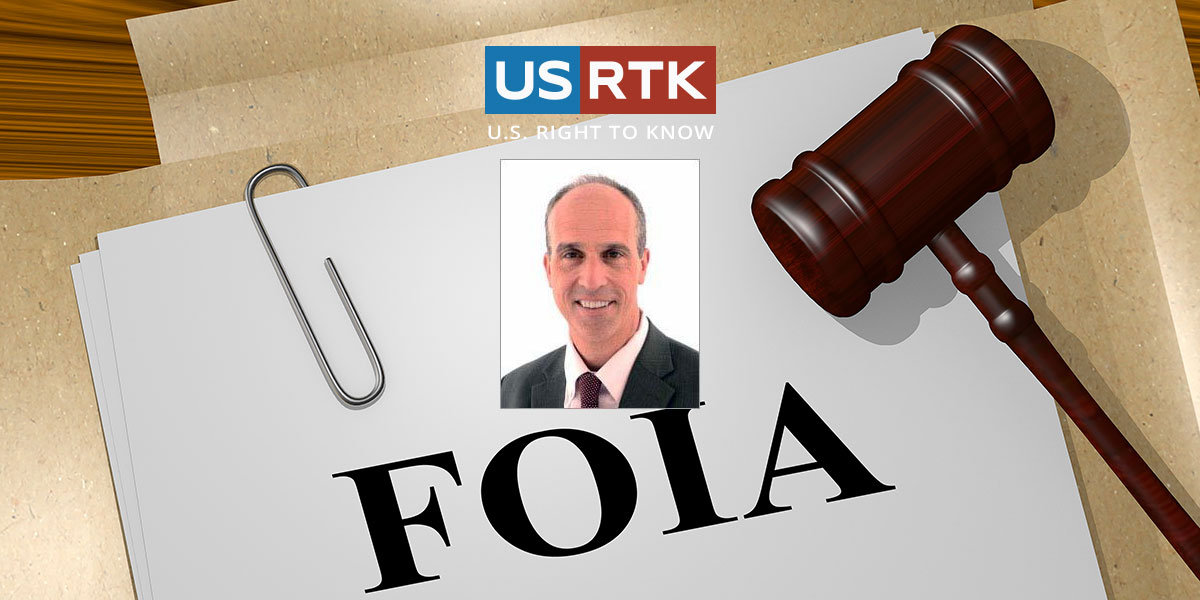 Open letter of concern to Kenneth Kimmell, UCS President
We sent this letter today. It reflects our continuing concern over UCS's ongoing campaign to undermine transparency in relation to public science, and its failure to rectify the false claims that we have previously reported on.


Dear Mr Kimmell

I'm the founder and director of GMWatch (gmwatch.org), a UK-based public interest group which has been working on genetically modified (GM) crops and their associated pesticides for over two decades. We have had a persistent focus on documenting the corruption of science and the means by which agrichemical corporations manipulate public opinion and government policy. And in the process of doing this, according to the journalist, broadcaster and author George Monbiot, we have assembled "the world's most comprehensive database on the impacts and the politics of genetically engineered crops."[1]

I'm writing to ask you to rectify false claims UCS has made about a small non-profit that has been making effective use of the freedom of information act (FOIA). I am also asking you to reconsider your campaign to limit the use of FOIA. Nancy Barnes, Senior Vice President of News and Editorial Director at NPR, wrote that the bill against state FOIA that UCS sponsored in California was "dangerous".[2] An op-ed in the Los Angeles Times stated that this same UCS-sponsored bill would make it easier to cover up sexual harassment on campuses.[3]
Fairness, accuracy and truthfulness
From the early 1990s, UCS has done important work educating the public, raising science-based concerns, and trying to handle disinformation on genetically modified organisms (GMOs). For example, I will refer you to work by Dr Margaret Mellon,[4] Dr Jane Rissler,[5] and later Dr Doug Gurian-Sherman.[6] Because of the history of UCS in tackling GMOs in a science-based manner, I and others have been taken aback by the unfair, misleading and – frankly – false claims made by UCS about the organisation US Right to Know (USRTK).[7]
Why we're so concerned
When we began our work back in the 1990s, we were very concerned by the degree of industrial alignment between public institutions and scientists with agriculture and biotechnology corporations. Over the years we have had some success in exposing examples of collusion. One of our most notable successes involved investigating the AgBioWorld[8]  campaign run by the University of Tuskegee scientist C.S. Prakash.[9] Prakash appears to be a lone public scientist championing GMO crops in the developing world, but our research showed Monsanto and its PR people were covertly facilitating his online campaign. Among other things, AgBioWorld aggressively targeted Dr Ignacio Chapela at UC Berkeley, whose research[10] they wanted retracted. Our painstaking detective work took months to complete and involved not only analysing digital footprints with the help of technical experts but working with an investigative reporter/author and even a private detective.

Our findings prompted three separate articles by George Monbiot in The Guardian,[11] and other pieces in New Scientist,[12] on BBC TV's flagship current affairs programme Newsnight,[13] and on radio, as well as in film[14] and in four different books.[15] But little coverage happened in the United States.

But this changed when USRTK appeared in 2015 and began to use FOIA to gather relevant scientists' emails. Suddenly, articles[16] started appearing all over the North American media, including the front page of the New York Times,[17] reporting on the hidden links between public scientists and US agrichemical and food corporations. Journalists had no difficulty in persuading their editors to publish stories based on these emails showing scientists working with corporate executives and industry PR people.

In short, FOIA has proven a vital tool for exposing and communicating corruption in science.
USRTK is targeted
Many of the public scientists USRTK investigated were well known to us in the UK. But because FOIA kept exposing these hidden ties, USRTK quickly became the targets of a smear campaign intended to portray them as bullies who used FOIA to harass those they investigated. The individuals and groups making these claims were pretty predictable, until UCS not only joined in the attacks but did so in a particularly dishonest fashion.

The UCS attacks I'm referring to appeared primarily in a series of UCS blog posts authored by the deputy director of your Center for Science and Democracy, Michael Halpern.[18] What has surprised me even more than Halpern's cavalier disregard for fairness and accuracy, is that none of these posts have been retracted or corrected since the bogus elements in his narrative have been pointed out – first by journalist Paul D. Thacker,[19] and then in more detail by GMWatch.[20]
First point of concern: fabrication
There are three claims Halpern makes about USRTK that completely violate UCS's commitment to fairness, truthfulness and accuracy.

The most outrageous of his claims is that Eric Lipton's New York Times' piece[21] exposing University of Florida Kevin Folta's close ties to Monsanto and the industry's PR people was not based on USRTK's FOIA work, but was "based on [Lipton's] own [FOIA] requests". Halpern praises the latter and damns the former. But as GMWatch pointed out,[22] "Halpern's narrative of the bad NGO [USRTK] using FOIA for 'harassment', versus the skilled journalist [Lipton] forensically exposing the truth, is a total fabrication."

We know that beyond a shadow of a doubt because of the subpoenaed testimony[23] of Eric Lipton in the failed defamation suit[24] that Kevin Folta brought against him and the New York Times. In that testimony, Lipton makes clear (1) that his Folta exposé was a direct result of studying USRTK's FOIA documents; (2) that his article was well underway on that basis before he even made his own FOIA request to the University of Florida; and (3) that the purpose of his own FOIA request was simply to make sure that he obtained the same documents as USRTK, so that he had chain of custody and direct evidence of the authenticity of the material he was using for his story.

As someone trained in the law, you will know that unless Michael Halpern has evidence to show Eric Lipton perjured himself (and it would make no sense for him to do so), Lipton's testimony given under oath cannot be disregarded.
Doubling down on the fabrication
Yet, not only has Michael Halpern repeated this false claim several times – the most recent example is in February of this year,[25] but he appears to have induced you to publicly support it.

According to an article[26] by Paul D. Thacker, you said, "We found the New York Times' reporting to be fair and accurate and based on documents that should have been disclosed." And according to Thacker, you also reiterated that your "organization's assertions that U.S. Right to Know's requests for public information have been too broad".
Other points of concern: falsehood and misrepresentation
In trying to understand why Michael Halpern continues fabricating, I have concluded that he simply required a convenient FOIA scapegoat, and a triple Pulitzer Prize winning reporter working for the New York Times did not fit the bill. But a small non-profit already being aggressively targeted by Monsanto and its associates was perfect.
 
In other aspects of Halpern's posts[27] he attempts to marginalise and disparage USRTK. An obvious example is the way he labels USRTK as "an anti-GMO group", and as "anti-GMO activists", even though USRTK have always made clear they are not opposed to genetic engineering. Further, a sizeable part of their work is focused on consumer and public health issues entirely unrelated to genetic engineering.
 
An important new peer-reviewed study based on their FOIA work has just been published[28] in the journal Globalization and Health, exposing how the International Life Sciences Institute has been used by corporate backers like the Coca-Cola Company to counter public health policies. This is just the latest in a series of papers,[29] all based on USRTK's FOIA discoveries, which have appeared in the pages of public health, medical and academic journals.
Defending "one of the most dishonest, conflicted individuals in science"
Michael Halpern's need to scapegoat USRTK has also driven him to defend Kevin Folta. Halpern has adopted Folta's "victim" narrative by asserting that he is being bullied[30] by the use of FOIA. But as journalists like Eric Lipton,[31] Charles Seife,[32] and Paul D. Thacker[33] (on the basis of USRTK's FOIA work) have shown, Folta is deeply involved with the biotech industry, despite having repeatedly claimed to have no such connections.[34] In recent weeks, journalist Michael Balter[35] has also found proof[36] that Folta lied to colleagues and the public when he claimed not to have done consulting for Bayer. He has now described Folta as "one of the most dishonest, conflicted individuals in science."[37]
So where do we go from here?
Because UCS does such enormously important work, it seems vital that you act swiftly to restore UCS's reputation for fairness, accuracy and truthfulness.

This is what I think would help achieve that:

1. Michael Halpern's blogs need to be corrected or retracted.
2. Ideally, an apology should be made to USRTK for the repeated misrepresentations by Halpern. It is particularly unsavoury for a large NGO like UCS to use a tiny NGO like USRTK as a convenient foil.
3. I appreciate that an organisation as large as UCS requires a high degree of delegation, and that you cannot directly oversee the work of all your employees. But it seems evident that Michael Halpern needs to be more carefully supervised.
4. The approach to FOIA that Halpern has developed needs thorough review. Already the bill you sponsored in California has run into the ground in the face of strong opposition[38] from the likes of the American Civil Liberties Union, the California Newspapers Publishers Association, multiple chapters of the Society of Professional Journalists, Friends of the Earth, Greenpeace, and a whole range of other public interest groups.

Finally, I'd be interested in knowing if UCS is attempting to take this kind of legislation forward in any other states. If so, it surely needs to be put on hold while the recommended review, ideally involving outside experts, takes place to examine the grave concerns it is generating among journalism and public interest groups.

Jonathan Matthews
GMWatch
www.gmwatch.org

CC
Anne R. Kapuscinski
Peter A. Bradford
Laurie Burt (c/o Stephen W. Kidder)
Steve Fetter
Kurt Gottfried
Ellyn Weiss

Notes

1. http://powerbase.info/index.php/Comments_on_GMWatch
2. https://www.asne.org/files/Letter%20regarding%20CA%20Bill%20700%20(01308328xB3D1E).pdf
3. https://www.latimes.com/opinion/op-ed/la-oe-seife-ab-700-scientists-disclosure-20190401-story.html
4. https://blog.ucsusa.org/author/margaret-mellon
5. https://www.researchgate.net/scientific-contributions/2010556202_Jane_Rissler
6. https://blog.ucsusa.org/author/doug-gurian-sherman
7. https://usrtk.org/
8. http://www.agbioworld.org/
9. http://www.agbioworld.org/about/prakash-bio.html
10. https://perso.univ-rennes1.fr/antoine.gravot/index.htm/M1%20BiotecVeg%202011-2012/SYNTHESEBIBLIO-BIOTEC/2001-Quist%20Chapela-IntrogressionTransgeneWildMaize-NATURE.pdf
11. https://www.theguardian.com/politics/2002/may/14/greenpolitics.digitalmedia https://www.theguardian.com/education/2002/may/29/research.highereducation https://www.theguardian.com/science/2002/nov/19/gm.food
12. https://www.newscientist.com/article/mg17423471-800-the-great-mexican-maize-scandal/
13. http://ngin.tripod.com/080602d.htm
14. https://www.amazon.com/World-According-Monsanto/dp/B001KWB0L0
15. https://www.amazon.com/Dont-Worry-Its-Safe-Eat/dp/1853839329
https://www.amazon.com/World-According-Monsanto-Marie-Monique-Robin/dp/1595587098
https://www.plutobooks.com/9780745331867/secret-manoeuvres-in-the-dark/
https://www.chelseagreen.com/product/seeds-of-deception/
16. https://usrtk.org/our-investigations/
17. https://www.nytimes.com/2015/09/06/us/food-industry-enlisted-academics-in-gmo-lobbying-war-emails-show.html
18. https://www.ucsusa.org/bio/michael-halpern.html
19. https://medium.com/@thackerpd/the-union-of-concerned-scientists-quixotic-relentless-campaign-against-transparency-dca9cab68dab
20. https://www.gmwatch.org/en/news/latest-news/18835
21. https://www.nytimes.com/2015/09/06/us/food-industry-enlisted-academics-in-gmo-lobbying-war-emails-show.html
22. https://www.gmwatch.org/en/news/latest-news/18835
23. https://www.gmwatch.org/files/Eric_Lipton_deposition.pdf
24. https://www.gmwatch.org/en/news/latest-news/18787
25. https://blog.ucsusa.org/michael-halpern/corporations-and-activists-are-exploiting-open-records-laws-california-is-trying-to-change-that
26. https://medium.com/@thackerpd/the-union-of-concerned-scientists-quixotic-relentless-campaign-against-transparency-dca9cab68dab
27. https://www.gmwatch.org/en/news/latest-news/18835
28. https://globalizationandhealth.biomedcentral.com/articles/10.1186/s12992-019-0478-6
29. https://usrtk.org/academic-work/
30. https://www.gmwatch.org/en/news/latest-news/18835
31. https://www.nytimes.com/2015/09/06/us/food-industry-enlisted-academics-in-gmo-lobbying-war-emails-show.html
32. https://www.latimes.com/opinion/op-ed/la-oe-0821-seife-thacker-science-transparency-20150821-story.html
33. https://progressive.org/magazine/how-the-biotech-industry-cultivates-positive-media/
34. https://www.gmwatch.org/en/articles-mobile/92-folta-rogue-s-gallery/17435
35. http://michael-balter.blogspot.com/2019/06/lying-about-industry-ties-gaslighting.html
36. https://gmwatch.org/en/news/latest-news/18959
37. https://michael-balter.blogspot.com/2019/05/proof-that-university-of-florida-plant.html
38. https://usrtk.org/tag/ab700/