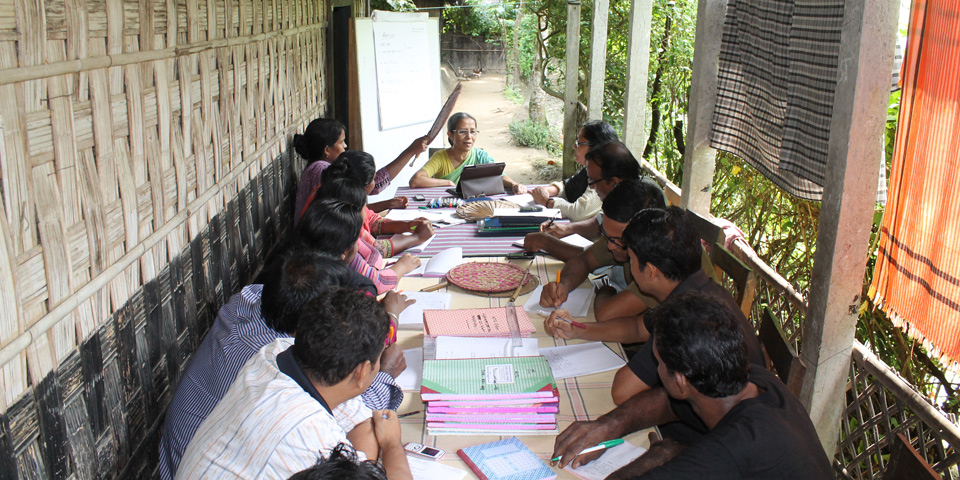 The narrative of GMO success is unravelling, writes Claire Robinson
Recently we published an article about a report by the policy research organization UBINIG, which presented the results of its investigation into the performance of GM Bt insecticidal brinjal (eggplant) in its second year of cultivation in Bangladesh.

UBINIG's report found that officials from the Bangladesh Agricultural Research Institute (BARI) and the Department of Agriculture nannied the GM brinjal plants through their short and fragile lives, providing farmers with a large arsenal of pesticides to combat the host of pests and diseases that besieged the plants. In many cases the officials even took over management of the crop from the farmers.

The report also alleged that failing Bt brinjal plants were replaced by the officials during the growing season, meaning that the project would not meet basic scientific standards and could not be used as evidence for the crop's success.

In spite of these extraordinary efforts, however, UBINIG concluded that Bt brinjal had proved a "miserable failure", giving poor yields and income for the farmers and fruits that proved hard to sell in the marketplace.
New challenge to BBC Panorama programme
UBINIG's report offers a new challenge to the BBC Panorama programme of June this year, which claimed that GM Bt brinjal was a 90% success in its second round of cultivation. The programme featured the British author and pro-GMO campaigner Mark Lynas, who has a paid position at Cornell University promoting GM crops. Lynas enthused about the performance of the crop and its supposed ability to help farmers avoid pesticide poisoning.

The BBC cited the source of the 90% success figure as Cornell University. After the programme aired, GMWatch challenged Cornell's Alliance for Science, which promotes the Bt brinjal project, to provide documentation for the claim. It had none, and referred us to BARI as the source. BARI too failed to provide evidence.

We also questioned Joseph McAuley, the programme's producer and researcher, about the 90% success claim. In his reply, McAuley justified it on the basis that the intended GM trait, resistance to the fruit and shoot borer, had worked as intended.

Crucially, however, the programme failed to qualify its claim of 90% success to make clear that it only referred to this single trait. Other problems that befell Bt brinjal, including bacterial wilt and fruit that proved unattractive in the marketplace, were ignored in the programme.
Complaint to BBC
GMWatch submitted a complaint about this biased presentation to the BBC's editorial complaints unit. The unit's Colin Tregear replied, defending the 90% success claim by quoting Dr Frank Shotkoski, director of the Agricultural Biotechnology Support Project II (ABSPII) programme at Cornell University, which is promoting the Bt brinjal project in Bangladesh. Tregear quoted Shotkoski as saying, "Some farmers had crop damage due to bacterial wilt infection but surviving plants not destroyed by bacterial wilt produced fruit that were resistant to the fruit and shoot borer."

Tregear added that this pest is the most significant in brinjal and that therefore "it was reasonable … to present the success or failure of the Bt brinjal in terms of its resistance to the insect it is designed to resist".

To show how spurious this reasoning is, consider a parallel hypothetical example from organic farming. An organically grown tomato bred for blight resistance does not contract blight. The intended trait works. However, many of the tomato plants fall victim to a bacterial wilt disease. The surviving plants prove difficult to sell because the taste and texture are unattractive to shoppers.

Would the BBC hype this tomato as a triumph of organic farming? Would it attack critics who drew attention to the problems suffered by the crop as standing in the way of agricultural progress, as it allowed opponents of GMOs to be attacked in its programme hyping Bt brinjal as a 90% success?

Maybe not. This suggests that the BBC's presentation of Bt brinjal as a 90% success is a false narrative constructed to promote a preconceived pro-GMO agenda.

GMWatch's complaint to the BBC about its misrepresentation of the Bt brinjal case in Bangladesh has progressed through various levels of the BBC administration and will be considered by the BBC's editorial standards committee at its January 2016 meeting.
90% success claim defended
GMWatch followed up Tregear's letter by writing to his named expert, Cornell's Dr Frank Shotkoski. We asked him if he was the source of the 90% claim and if so, whether he had evidence to back it up. In his reply, Shotkoski echoed the Alliance for Science's statement that the source was BARI, but added, "Given my experience working with early adoption of new agricultural technologies, especially Bt technology for insect control, the greater than 90% success rate likely is accurate and not unexpected."
Pesticide savings?
Shotkoski said that farmers made savings on pesticides due to the success of the GM trait: "The farmers were quite impressed that there was no incidence of fruit and shoot borer infestation in their Bt brinjal crop. This was a considerable saving for them as insecticide applications to control the fruit and shoot borer usually constitute over 30% of cost of production for brinjal in Bangladesh."

However, according to UBINIG's director Farida Akhter, claims of farmer savings on pesticide costs in the second round of cultivation are false. Pesticides and other inputs were managed differently in the first and second rounds of cultivation. In the first round, the farmers were given cash – between Tk.4,000 (USD 51) and Tk.8,000 (USD 103) – to buy fertilisers and pesticides, with the precise amount being calculated based on the amount of land allocated for cultivation.

But Akhter says that because of the failure of Bt brinjal in the first round, the strategy was changed in the second round: "This time all the inputs (fertiliser and pesticides) were given directly to the farmers for free by the Department of Agriculture and BARI. The plants were intensively monitored for pest attacks and a lot of pesticides were used. So there were no savings for the farmers on pesticides. If in the future, farmers cultivate Bt brinjal on their own, they will have to spend their own money."
Farmers to blame for bacterial wilt?
As for the bacterial wilt problem, Shotkoski said, "A few (less than 10%) of the Bt brinjal farmers lost plants to bacterial wilt infection". However, this figure is not based on comprehensive field monitoring. Shotkoski said that due to political unrest in Bangladesh, he was only able to visit "about a dozen" of the fields, "all of which were in very good condition".

Shotkoski's figure of less than 10% of Bt brinjal farmers experiencing bacterial wilt is difficult to reconcile with the experience of Bangladeshi journalist Faisal Rahman, who interviewed 40 farmers, visiting 12 fields himself and talking to the others over the phone. Rahman concluded, "Bacterial wilt was endemic to Bt plants in most of the fields."

As for BARI, it does not mention the number of farmers whose crops were affected by bacterial wilt, but it does say that those farmers who had this problem lost between 15 and 70% of their Bt brinjal plants to the disease.

According to Shotkoski, even the 10% of farmers that he admits had wilt problems cannot blame GM Bt brinjal. In an example of the "blame the farmer" syndrome that leads GMO proponents to credit all GMO crop successes to the GM technology but all failures to farmer incompetence, Shotkoski said that the wilt infections were "due to improper flood irrigation practices using stagnant water". Shotkoski added that the farmers were advised by BARI officials to avoid this method of irrigation, but "not all complied" and these farmers "unwittingly destroyed their own crop".

But Shotkoski's take on the 'non-compliant' farmers raises some obvious objections.

1. It does not seem reasonable to assume that Bangladeshi farmers have a choice regarding whether they use stagnant water irrigation, which appears to be a common practice.

2. If stagnant water irrigation is known to be a problem for Bt brinjal, farmers who rely on it should not have been included in the project.

3. There's no evidence that the wilt problem was caused by GM technology making the plant more susceptible. But equally there is no evidence that it wasn't, as pointed out by Dr Doug Gurian-Sherman, a plant pathologist trained in molecular biology and director of sustainable agriculture at the Center for Food Safety. One scientific report says that between 7–31% of brinjal plants are affected by bacterial wilt, but there appears to be no report linking stagnant irrigation water with wilt infection in this crop. Maybe wilt is a contribution of the GM technology, maybe not. No one knows, as the research has not been done.

4. Promoters of experimental new technologies like GM Bt brinjal should consult closely with farmers in the localities targeted for the technologies and respond to their needs and local conditions. This does not appear to have been done with Bt brinjal, which appears to be a top-down 'one size fits all' solution requiring farmers to radically change their cultivation practices.
Bt brinjal proponents must address evidence
In conclusion, we've seen how an eminent academic, a British author, and even the BBC appear to be twisting themselves in knots in an attempt to portray this troubled GM crop as a runaway success.

If they want us to believe them, they must address the points of evidence raised by UBINIG, Faisal Rahman, and GMWatch and provide the objectively verified documented evidence to back up their claims. Crucially, they must show that proper scientific procedures were followed and that fraudulent and questionable practices such as replacing failing plants were strictly avoided.
***
Supporting information
Here are the emailed responses of Dr Franki Shotkoski to GMWatch. We are publishing Dr Shotkoski's complete responses along with our questions, as promised to him, in an attempt to fairly represent his position.
The image at the top of this article shows Farida Akhter, director of UBINIG, sharing information on Bt brinjal with staff at the organisation's centre in Cox's Bazar, Bangladesh.