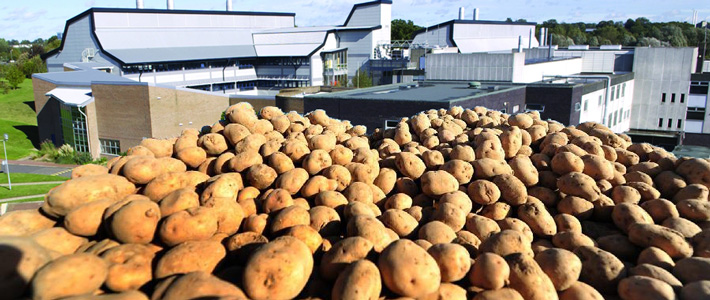 The John Innes Centre has spent over GBP3 million of taxpayers' money to produce a deceptive piece of research on GM potatoes that deliberately excluded already available non-GM blight-resistant potatoes.
1. GMWatch comment on GM potato research
2. GM potato research a waste of money
---
1. GMWatch comment on GM potato research
GMWatch, 17 Feb 2014
The John Innes Centre (JIC) has spent over GBP3 million of public money to deceive the public by carrying out a misleading piece of research on GM blight-resistant potatoes that deliberately excluded the already available non-GM blight-resistant varieties.
The paper is here:
http://rstb.royalsocietypublishing.org/content/369/1639/20130087.abstract
The JIC apparently did not test the non-GM blight-resistant Sarpo varieties as a non-GM control along with the GM varieties, although they claim to be studying them. Instead they used highly blight-prone non-GM potatoes, Desiree and Maris Piper, as the controls.
This omission of Sarpos is presumably meant to be justified by the JIC's repeated claim that consumers don't like them and/or that they don't taste good. But although Sarpos are not as well known as some other varieties, they have done well in both taste and cooking tests:
http://www.telegraph.co.uk/gardening/howtogrow/9862734/Dig-around-for-the-best-tasting-potatoes.html
http://sarponews.blogspot.co.uk/
http://sarponews.blogspot.co.uk/2013/11/bbc-radio-gqt-today-asked-if-gardeners.html
In fact, the only thing that Sarpos really lack is marketing to consumers. And what kind of marketing would it take to make GM potatoes popular with shoppers?
It's difficult not to conclude that the real reason for the omission of Sarpos from the JIC tests was because they would have made the GM potatoes look bad. After all, as noted below, Sarpos have been tested successfully against multiple strains of blight while the JIC's GM potato can only resist one.
So the JIC's testing regime is reminiscent of the UK farm scale trials, where GM maize was tested for wildlife-friendliness against a non-GM crop grown with atrazine, a herbicide so toxic it was subsequently banned in Europe.
http://www.gmwatch.org/index.php/news/archive/2003/5543
The BBC coverage of this issue has been predictably one-sided. The Today programme even provoked Sheila Dillon, the well known presenter of Radio 4's The Food Programme, to tweet: "a discussion of GM technology with just 2 strongly pro-GM advocates, Peter Kendall, Chris Haskins," and, "worth a debate, not just ferociously expressed endorsement."
https://twitter.com/SheilaDillon/status/435335116513370112
The BBC could have been in no doubt about the balance they would get from Haskins and Kendall. Kendall had previously compared anti-GM activists to Nazis - something that he had been challenged on even on the Today programme.
http://www.gmwatch.org/index.php/news/archive/2012/13947
Lord Haskins, the former chairman of Northern Foods, is equally immoderate, having previously claimed that organic farming threatened the world with "mass starvation" whereas GM could raise "food outputs to spectacular heights."
http://ngin.tripod.com/haskins.htm
Yet these two rabid GM supporters were barely challenged by the Today interviewer who even asked Kendall to "just reassure people" about GM!
Recently the Today programme defended the considerable airtime it gave to the climate sceptic Lord Lawson as reflecting the need for balance, but on GM it seems pure lobbying is acceptable.
Incidentally, while over GBP3 million of public funding is being wasted on unwanted GM potatoes, the non-GM blight-resistant potato breeding programme, which is streets ahead, has received no Government support at all.
You can support this important breeding programme here:
https://buzzbnk.org/SarpoPotatoes
---
2. GM potato research a waste of money
Genewatch UK, 17 February 2014
http://www.genewatch.org/article.shtml?als[cid]=574133&als[itemid]=574243
GeneWatch UK today criticised Biotechnology and Biological Sciences Research Council (BBSRC) for wasting public money on genetically modified (GM) potato research. BBSRC-funded research by the John Innes Centre (JIC) on a GM blight-resistant potato is published today.[1] The BBSRC has spent £3.2 million on the research to date[2] but considerably more research will be needed to create a commercial product because more genetic modification is needed to resist other strains of blight.
"Taxpayers' money is being wasted on yet more GM research that is a very long way from delivering what farmers really need" said Dr Helen Wallace, Director of GeneWatch UK "There are blight-resistant non-GM potatoes already on the market. Why waste money, take unnecessary risks, and end up with a product that no one wants to eat?"
The paper shows that one variety of GM potato gave some protection against one strain of blight (known as "Pink 6") in the third year of trials. JIC's other GM potato strain failed and the protected strain made no difference to the crop in the first two years when blight was limited or late. The GM potato was not tested for resistance to other strains of blight, such as the aggressive "blue 13" strain, and the researchers admit that the single genetic modification cannot protect against all strains. In contrast, conventionally-bred non-GM blight-resistant potatoes are already available and are tested against multiple strains of blight.[3]
The GM industry's PR strategy is to focus on promises of future GM crops, which are never delivered in reality, rather than on the real problems with GM crops in the ground today.[4] The main GM crops grown in North and South America are herbicide-tolerant GM crops, such as Monsanto's RoundUp Ready GM soya. Blanket spraying of these crops with weedkiller has led to the spread of herbicide-tolerant superweeds across more than half of US farmland and caused a major reduction in the numbers of Monarch butterflies, due to loss of habitat. British consumers are unwittingly contributing to this environmental damage by eating unlabelled meat, milk and eggs fed on imported GM feed.[5] New GM crops resistant to more toxic weedkillers will enter the UK market soon if planted overseas.[6]
"The GM industry is always promising jam tomorrow, but it's never jam today. The real next generation of GM crops will be tolerant to more toxic weedkillers such as 2,4-D, and cause even greater damage to the environment and wildlife" said Dr Wallace.
For further information contact:
Dr Helen Wallace 01298-24300 (office) 07903-311584 (mobile)
Notes for Editors:
[1] Jones et al. (2014) Elevating crop disease resistance with cloned genes. Phil.Trans. R. Soc. B 368: 20130087. http://rstb.royalsocietypublishing.org/content/369/1639/20130087.abstract [Note: this link has been corrected]
[2] BBSRC grants since 2005:
BBC0075221: Isolation of new potato genes for resistance to Phytophthora infestans from wild diploid Solanum species  £353,381
BBE52718X1:  Late blight resistance and elevated flavonoid composition for potato improvement  £112,179
BBG02197X1: A pipeline of resistance genes to Phytophthora infestans from wild Solanum species and their accelerated isolation using Illumina sequencing methods (2009-12) £750,648
P13270: Genetic and molecular characterisation of resistance genes to Phytophthora infestans (late blight) in diploid potato species £241,392
BBE0248821:  Understanding host plant susceptibility and resistance by indexing and deploying obligate pathogen effectors £277,434
BB/G02197X/1: A pipeline of resistance genes to Phytophthora infestans from wild Solanum species and their accelerated isolation using Illumina sequencing methods £750,648
BB/H019820/1 An enduring pipeline to identify and utilize durable late blight disease resistance in potato £712,792
[3] http://www.sarvari-trust.org/
[4] GeneWatch UK and GM Freeze Press Release: Monsanto meets ministers to push return of GM crops to Britain. Thursday 25th October 2012. http://www.genewatch.org/article.shtml?als[cid]=492860&als[itemid]=571449
[5] GeneWatch UK PR: Supermarkets must stop harm to Monarch Butterfly, end GM animal feed use. 30th January 2014. http://www.genewatch.org/article.shtml?als[cid]=492860&als[itemid]=574156
[6] Testbiotech, GeneWatch UK and the Pesticide Action Network (PAN) PR: Stop risky herbicide 2,4-D. 27th January 2014. http://www.genewatch.org/article.shtml?als[cid]=492860&als[itemid]=574132