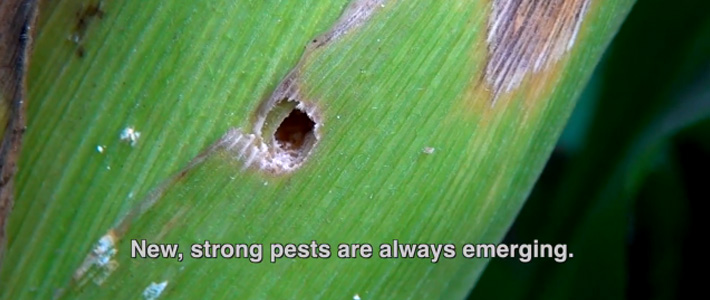 Please spread this shocking video about the reality of GMO corn farming in the Philippines far and wide.
1. 10 Years of Failure, Farmers Deceived by GM Corn
2. Massive GMO crop failure in Philippines - 
comment by MomsAcrossAmerica.com
---
1. 10 Years of Failure, Farmers Deceived by GM Corn
MASIPAG (Philippines), 16 Oct 2013
http://www.youtube.com/watch?v=hCuWs8K9-kI&list=LL6feir9VTqIG5CV3-V29IcQ&feature=mh_lolz
The film entitled "10 Years of Failure, Farmers Deceived by GM corn" shows the dire situation of corn farmers in the Philippines who have adopted GM corn. Amidst protests from farmers, scientists, consumers, and basic sectors, GM corn was commercialized in the Philippines in 2003. At present, there are about 8 varieties of single, stacked-trait, and pyramided GM corn approved by the government for direct planting. It is now planted in about 685,317 hectares of agricultural land allotted for corn.
The film documentary is based on the study done by MASIPAG on the socio-economic impacts of GM corn on farmers' lives and livelihood after more than 10 years of commercialization. In the film, GM corn farmers relate how they became indebted because of the rising cost of GM corn seeds and increasing cost and quantity of inputs being used. The film also shared the farmers' account on the effect of GM corn farming such as emergence of new pests, soil erosion, corn contamination, and human and animal health impacts. Farmers also shared the difficulty to go back to traditional or organic corn farming because of the loss of traditional seeds and practices replaced by GM corn farming and the effects of neighboring GM corn plantations. The film documentary covers the islands of Luzon, Visayas, and Mindanao.
For more information on the study, please visit www.masipag.org.
Film produced by Magsasaka at Siyentipiko para sa Pag-unlad ng Agrikultura (MASIPAG) and KI Multimedia
---
2. Massive GMO crop failure in Philippines
Momsacrossamerica.com, 13 Feb 2014
An authentic, humble, and yet shocking video of 10 years of GMO crop failure in the Philippines rocked my world tonight. Never have I been more sure that GMOs and Glyphosate (Roundup) are dangerous and destructive. They destroy the livelihood of hard working farmers, they destroy the health of our people and the fabric of our society. Please watch this video and reconsider being straight forward with everyone you know about the health dangers and GMOs/Glyphosate. Please send this video to farmers, grocery stores, doctors, food service directors, nurses, child care providers, and Moms.
If we don't buy it, they can't sell it, and the farmers won't grow it. Once you watch this video you will see how we will be helping the farmers by facilitating this change.
GMO crop failure in Philippines
http://www.youtube.com/watch?v=hCuWs8K9-kI&list=LL6feir9VTqIG5CV3-V29IcQ&feature=mh_lolz