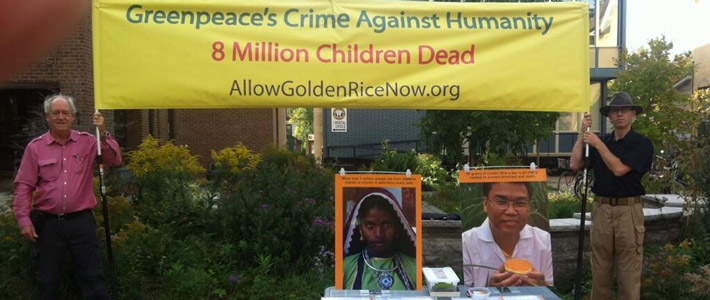 The Today programme provides a platform for the aggressive misinformation of Patrick Moore and Mark Lynas about Golden Rice
A recent discussion on Golden Rice on BBC Radio 4's flagship programme Today (Saturday, October 5) was apparently prompted by a new campaign called Allow Golden Rice Now! According to Today presenter James Naughtie, the campaign, launched by "the Founder of Greenpeace" - Patrick Moore, has been "stirring up a big argument among environmentalists."
But although Moore was an early member of Greenpeace, he certainly wasn't its "Founder", and the big row that Naughtie claimed his campaign had been stirring up turns out to be just as imaginary. The campaign's recent protest outside Greenpeace's Toronto HQ appears to have attracted only two or three people, and that's including Patrick Moore! That, of course, didn't stop ACSH, a group that promotes the interests of the food and chemical industries, describing the event as a "huge" "grassroots demonstration".
To discuss Golden Rice the Today programme brought together Tony Juniper and Mark Lynas. And Lynas told Radio 4 listeners that Golden Rice "could be saving lives right now. The reason it hasn't happened is because of the large scale opposition of the environmental movement and that needs to stop."
Patrick Moore makes the same point. His campaign website declares that "Greenpeace and its allies" have "blocked this cure [i.e. Golden Rice], resulting in 8 million deaths, mostly among poor children. We believe this is a crime against humanity as defined by the International Criminal Court."
The only problem with these claims is that they're bogus. For Golden Rice to have been saving all these lives it would have to (a) work and (b) have long been available. But as recently as February of this year, the IRRI - the institute overseeing the Golden Rice trials – made clear not only that Golden Rice is still some way from being ready to deploy in farmers' fields but that it is not yet a proven means of reducing Vitamin A Deficiency. To quote the IRRI: "it has not yet been determined whether daily consumption of Golden Rice does improve the vitamin A status of people who are vitamin A deficient and could therefore reduce related conditions such as night blindness."
Despite this inconvenient fact, the Today programme broadcast Moore's claims that Golden Rice "is the cure" to Vitamin A Deficiency and "the entire scientific community agree with this."
And contrary to the claims of Moore and Lynas, it's also far from clear that "Greenpeace and its allies" have much if anything to do with the fact that Golden Rice is still not available. According to Dr Michael Hansen, who has been carefully following the research for years: "Bottom line, even if there had been no push back from NGOs, GR [Golden Rice] would still not be on the market due to the technical issues."
The New York Times reporter Amy Hamon, who has reported sympathetically on Golden Rice, made a similar point recently on Twitter, asking "Haven't even seen real evidence activism has delayed Golden Rice, have you?"
So why are Patrick Moore and Mark Lynas so keen to assume otherwise? The answer is almost certainly that they see Golden Rice as a useful weapon with which to attack the environmental movement, which seems to be their main platform for self-promotion.
James Naughtie also failed to mention to Today's listeners that Moore and Lynas don't just disagree with environmentalists over GM, but a whole swathe of environmental issues. Moore even goes so far as to promote climate change scepticism and to defend the Keystone XL tar sands pipeline. In fact, he makes a very good living from his industry-friendly anti-green views - something else Today's listeners were not made aware of.
But there's another aspect of Today's framing of the debate that's open to criticism. Why, Tony Juniper wanted to know, was Today's debate centered exclusively on the views of western men? "It's really interesting that we're sitting here talking about poor farmers in southern Asia having not enough to eat, and it's a British guy and an American [in fact, Canadian] guy who are advocating Golden Rice." 
After all, as Tony Juniper pointed out, it's not as if there aren't plenty of critics of this type of approach in southern Asia. But it hadn't apparently occurred to Today, which regularly talks to people right around the world during the course of its programmes, to involve any of them.
If the BBC really wants to provide yet another platform for the views of Patrick Moore and Mark Lynas, then why not let us also hear from a scientist like Dr Chito Medina, who has written extensively about Golden Rice and who works closely with the kind of small, resource-poor farmers that Golden Rice is aimed at?
Or how about Neth Dano, who similarly champions the rights of rural communities and farmers in the Philippines, the country that is currently the principal target for those promoting Golden Rice.
But then that wouldn't fit in with the easy narrative promoted by the likes of Lynas and Moore, that it's Greenpeace in places like London and Toronto who are blocking the access of people in the poor world to a life-saving GM crop.

For more on the realities behind the hype about Golden Rice, click here.                                          
---
Golden genocide
Extract from The Repentant Environmentalist
http://www.spinwatch.org/index.php/issues/science/item/5490
Another emotionally potent weapon that all the repentant environmentalists flock to is golden rice. This is because of the association of the vitamin A deficiency it's designed to ameliorate, with blindness and death in children in the developing world.
It's a particular favourite with Patrick Moore, who has repeatedly used it to berate environmentalists - even accusing them of murder and of a crime against humanity.
Bjorn Lomborg, who achieved worldwide celebrity by branding himself The Skeptical Environmentalist, has also made use of golden rice, claiming opponents of GM have caused a '12-year delay' in its introduction during which time 'about 8 million children worldwide died from vitamin A deficiency.'
Mark Lynas also directly ascribes the deaths of children to opposition to golden rice. 'There are tens of thousands of kids who are dead who wouldn't be dead otherwise,' he told the Observer. 'Imagine if Monsanto had been culpable in the deaths of tens of thousands of children!'
Lynas, just like Lomborg, argues that these children's deaths were unnecessary because golden rice has been ready to use 'for over a decade' and it has only been held up by 'over-regulation'.
But these claims are simply untrue. As recently as 2008, a largely sympathetic article in the journal Science pointed out that golden rice still had a long way to go in its development. This is because it was created with Japonica cultivars 'that are scientists' favorites but fare poorly in Asian fields.' As a result, researchers were having to backcross golden rice lines 'with the long-grained, nonsticky Indica varieties popular among Asia's farmers'. These new varieties, the Science article pointed out, 'must not only produce enough beta carotene but also pass muster in terms of yield, seed quality, and appearance'. This laborious cross-breeding process and the accompanying field trials take years, and this has absolutely nothing to do with regulations requiring golden rice be proven safe.
After the publication of the Lomborg piece and the Observer article that quoted Lynas, the International Rice Research Institute, which is at the forefront of the development and evaluation of golden rice, felt it necessary to release a statement making it clear that contrary to the claims in these articles golden rice is still not ready to go into farmers' fields, and probably won't be for at least another two years or more. The statement also pointed out that they've yet to prove that golden rice does actually reduce Vitamin A deficiency, and that community wide research would be needed before that became clear. Yet the golden rice section in Stewart Brand's book is headed: 'Golden Rice Saves Lives, Prevents Blindness in Millions.'