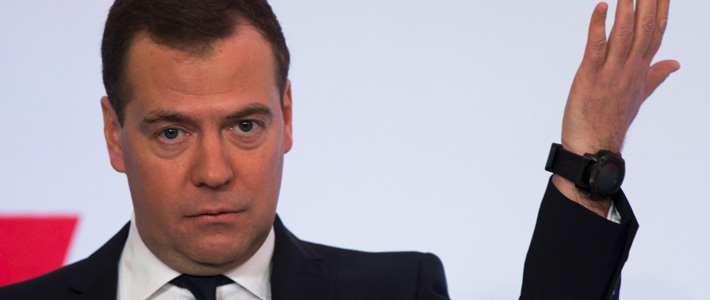 The Russian Prime Minister has ordered relevant agencies to consider a possible ban on the import into Russia of GM products.
The story below is also available to subscribers to Interfax News Service:
http://www.interfax.co.uk/russia-news/russia-may-ban-import-of-products-containing-genetically-modified-organisms/
Russia considers total ban on all GMO products
Sustainable Pulse, September 25, 2013
http://sustainablepulse.com/2013/09/25/russia-considers-total-ban-on-all-gmo-products/#.UkMBgbyE7gM
Russian Prime Minister Dmitry Medvedev has ordered the relevant agencies to consider a possible ban on the import into Russia of products containing genetically modified organisms (GMOs) by October 15.
The order is addressed to Rospotrebnadzor, the Health Ministry, the Agriculture Ministry, and the Trade and Economic Development Ministry. They are ordered to "submit proposals on amendments to the Russian legislation aimed at tightening control over the turnover of products containing components obtained from GMOs together with the relevant federal executive bodies."
The aforementioned agencies are also ordered to submit proposals "on the possibility of banning the import of such products into the Russian Federation."
A list of the prime minister's orders was drawn up to fulfill the presidential orders issued after the meeting on the socio-economic development of the Rostov region held on September 18. Medvedev's orders have been posted on the government website, Interfax news agency reported today.
Russia is currently taking a hard line on GMOs – in August the first independent project for identifying whether Russian farmers are growing illegal GM crops started in the Belgorod region.
NAGS (The National Association for Genetic Safety) conducted the first checks of agricultural crops for the presence of GMOs. No GMO plants were found in any Belgorod fields.
We remind you that currently, according to the law in Russia, 19 GM lines are allowed in foodstuffs, but the cultivation of GMOs is not allowed.
After joining the World Trade Organisation (WTO), Russia is obliged to simplify the procedure for registration of genetically modified products, seed and feed, to stop their safety checks, and to stop controls over their distribution.