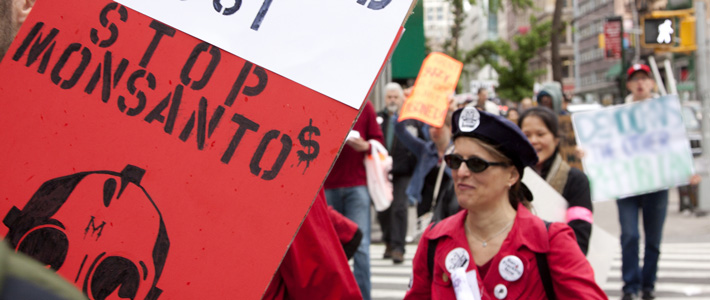 Monsanto has withdrawn its applications for new GMOs in Europe
1. Biotech industry retreats from Europe – time to move farming on
2. Major GM company withdraws applications for new crops in Europe

TAKE ACTION UK: Good time to increase the pressure over GM animal feed: Keep supermarkets GM-free! Quick easy action from Friends of the Earth:
http://www.foe.co.uk/campaigns/biodiversity/press_for_change/asda_rolls_back_on_gm_23592.html
---
1. Biotech industry retreats from Europe – time to move farming on
Friends of the Earth Europe, July 18 2013
Brussels – Commenting on Monsanto's withdrawal of applications for the cultivation of seven genetically modified (GM) crops in Europe,[1] Mute Schimpf, food campaigner for Friends of the Earth Europe said: "There is no market for GM crops in Europe: the public don't want them, farmers don't want them. With biotech companies rushing one by one for the exit it's time to plough all our resources into ensuring the green and fair farming that European citizens demand – farming that protects nature and encourages a vibrant community."

"However, Monsanto's toxic presence in Europe has not gone away. They still plan to grow their main GM crop in Europe, seek to widen their control over conventional seeds and increase their sales of chemicals that pollute the countryside and our bodies."[2]

For more information please contact:
Mute Schimpf, food campaigner, Friends of the Earth Europe (German, English),
Tel: +32 (0) 475 703 475, email: This email address is being protected from spambots. You need JavaScript enabled to view it.

NOTES:
[1] Financial Times: Monsanto to drop applications to grow GM crops in EU http://www.ft.com/cms/s/0/aed5e0a8-ef1e-11e2-9269-00144feabdc0.html#axzz2ZEpJAZXy
Reuters: Monsanto to withdraw EU approval requests for new GMO crops
http://uk.reuters.com/article/2013/07/17/uk-eu-monsanto-gmos-idUKBRE96G16N20130717
[2] Friends of the Earth Europe: Weed killer found in human urine across Europe (June 2013)
http://www.foeeurope.org/weed-killer-glyphosate-found-human-urine-across-Europe-130613
---

One of the world's biggest and best known genetically modified crops companies is effectively pulling out of Europe, The Daily Telegraph can disclose.

The news is a major blow to the nascent British GM industry which ministers have been championing this year as fears grow about food security.

Monsanto, whose name is synonymous with GM crops, confirmed that it is withdrawing all of its EU applications for approval for new crops.

The decision is understood to affect as many as 10 applications for approval for new GM crops. It is understood that Monsanto is pulling all of its applications for crops in frustration at delays over clearing existing crops at EU level.

It does not affect clearance for an existing crop grown from GM seeds in Portugal and Spain.

Monsanto currently sells only one biotech seed product in Europe — a biotech corn called the European corn borer which is modified to be resistant to a destructive pest. It accounts for less than one per cent of the corn grown in the EU.

A company source pointed to the fact that the EU has not approved a new GM crop for cultivation since 1998, adding that it "currently has suspended the progression of cultivation files towards decisions for political reasons".

The source added: "As the EU today is effectively a conventional seed market we have been progressively de-emphasising cultivation of biotech crops in Europe.

"Amongst other things, this means we are no longer seeking approval to commercialise biotech seeds in the EU. We intend to withdraw pending regulatory applications for commercial cultivation of new biotech crops in the EU."

A Monsanto spokesman told The Daily Telegraph: "Monsanto´s business in Europe is very strong and growing. In order to better serve farmers in Europe we will be investing several hundred million dollars in Europe over a decade to expand our conventional seed production and breeding.

"In parallel, biotech crops are highly successful in the rest of the world. In order to fully support both of these success stories, we will no longer be pursuing approvals for cultivation of new biotech crops in Europe.

"Instead, we will focus on enabling imports of biotech crops into the EU and the growth of our current business there."

Monsanto is planning to invest hundreds million dollars in Europe through the end of the decade including €225 million ($300 million) in corn production plant expansions that are already under way in France, Hungary, Romania and Turkey, creating more than 150 new full-time jobs and many more seasonal jobs.

The news comes just as the Government, led by Environment secretary Owen Paterson and Science minister David Willetts, lead a major push to persuade Britons to eat more GM food.