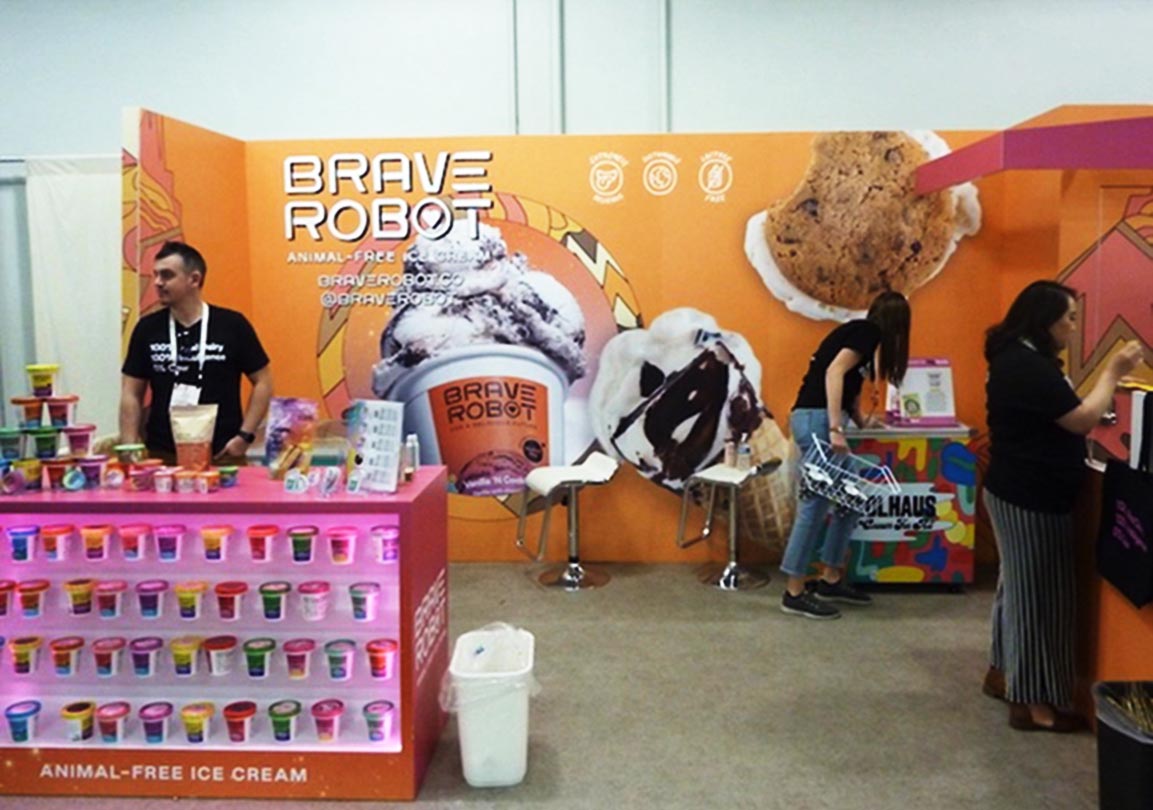 By Max Goldberg, founder, Organic Insider
This article was reprinted with permission from Organic Insider, a US publication that covers the organic industry.


If you are eating "animal-free" dairy or meat products that taste nearly identical to a traditional animal product, you should be asking plenty of questions.
And more often than not, what you will discover is that these foods are anything but "natural".
Aware of what consumers may find out and not wanting to make the same PR mistake twice, the GMO industry has intentionally introduced sophisticated and deceptive names such as synthetic biology, cultured meat, gene editing, precision fermentation and cellular-based seafood.
Further muddying the waters is that these companies have been funded not just by the likes of Bayer and BASF, but by Silicon Valley heavyweight investors who have bankrolled some of the largest technology companies in the world, giving these start-ups instant credibility and a certain degree of protection from criticism.
Even more, the organic community is being aggressively courted.
They are enlisting people like acclaimed farm-to-table chef Dan Barber and are purchasing booths at Natural Products Expo West, a show that most attendees believe is only for "natural" products. And these booths are interspersed throughout the show, sharing aisles with USDA organic and natural product companies. 
During 'The State of Organic & Natural' keynote presentation at this year's Expo West, we were told that "The only way we are going to meet demand, as a planet, is through cultured meat." Cultured meat is meat produced from cells, without having to raise or kill animals. This is synthetic biology.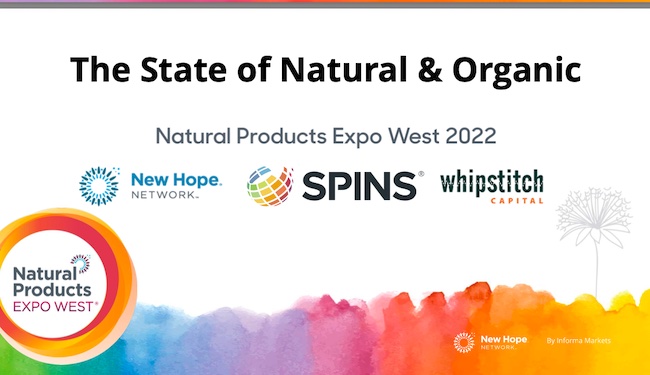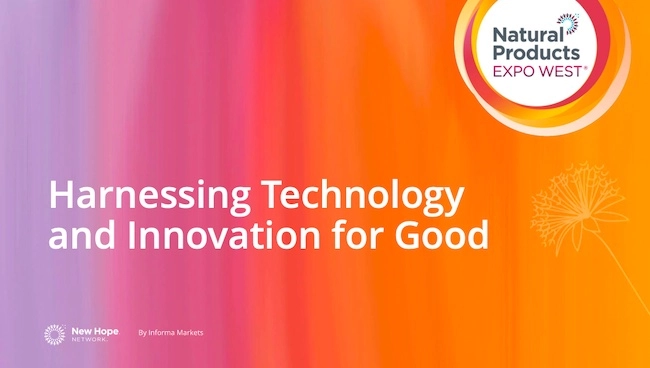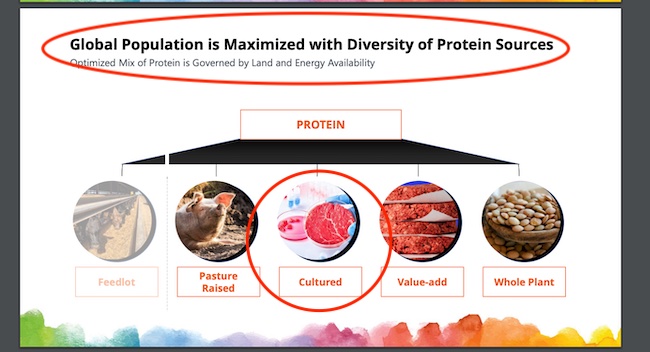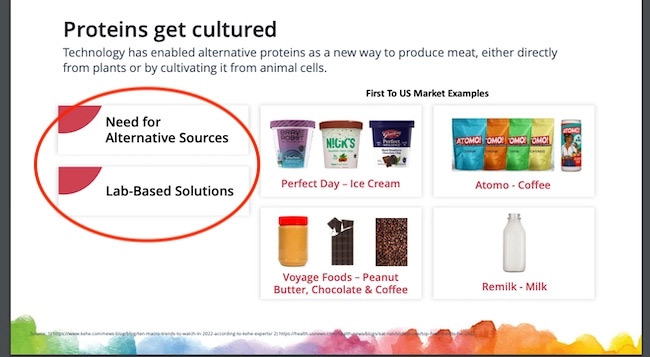 As these GMO 2.0 companies have raised billions of dollars, with Silicon Valley salivating over the prospect of owning a piece of the patent-protected food supply, their marketing tactics have been an unmitigated success at manipulating the public.
"Companies call these things 'synthetic biology' and 'fermentation technology', but these foods are all just GMOs," said Michael Hansen, PhD, Senior Staff Scientist at Consumer Reports. "They are using terms people do not understand, so that people will not realise these are GMO ingredients."
Moreover, the problems with synthetic biology are the same ones that we have had with traditional GMOs.
"These are often highly processed foods, which are associated with increased calorie intake and weight gain, according to a study from the National Institute of Health. And while these companies may be perceived as tech start-ups, the products they produce are designed to fit into an industrial food system, and society is clearly moving against this trend and toward a more agroecological-based food system. Additionally, they are introducing novel, genetically-engineered proteins into the food supply that will have unknown potential impacts on the human microbiome and the environment, and these companies are self-affirming GRAS status with the FDA, a voluntary process that is incredibly problematic and falls very, very short of protecting the consumer," said Michael Hansen.
New campaign to clarify the facts
Gravely concerned about this issue, Albert Straus, founder/CEO of Straus Family Creamery, has partnered with the Non-GMO Project on its first-ever, dairy-focused campaign during National Dairy Month to bring awareness to the agricultural and environmental threat of synbio dairy called "How Do You Milk a Microbe?"
"Synthetic biology is a threat to our farming system and healthy soils, which take care of our land, animals and communities. As such, it will continue the decline of organic family farms and create a less healthy food supply for our population," he said. "Organic dairy farming and milk production are the foundation for a carbon-neutral dairy farming model, something that we'll achieve on my farm by 2023."
The benefits of regenerative organic farming practices and leveraging the soil's ability to mitigate climate change somehow get lost in the discussion when it comes to synthetic biology. Overshadowing it is the blindly accepted assumption that because synthetic biology does not use animals or CAFOs, its environmental impact is much less deleterious.
But is that true?
"Given that their patents reference the need for large amounts of feedstock, it's clear the industry is just ramping up demand for more GMO seed and cheap GMO crops. This reinforces the loss of biodiversity through monocultures and pesticides, while reducing the vitality of our rural communities by concentrating wealth in corporations," warns Alan Lewis, Vice President at Natural Grocers. "The dependence on petrochemical fertilizers and tillage releases tremendous amounts of carbon into the atmosphere. The same cows that synthetic biology wants to replace with 'sustainable' fermentation vats are actually critical to recapturing carbon via healthy pasture lands."
In recent years, "animal-free" dairy proteins have found their way into everything from ice cream to cream cheese to snack bars, but many shoppers, food manufacturers and retailers are unaware that these are actually unlabelled and unregulated GMOs. Further compounding the problem is that consumers may be misled into thinking that these products are "natural", which could potentially take market share away from the organic industry.
The introduction of synthetic biology products will seemingly only continue to accelerate, and according to the biotech industry's Good Food Institute, nearly $2 billion has been invested in developing "precision fermented" products like synbio dairy in the past year alone.
How is so much money being directed into this category despite consumers increasingly moving away from GMOs?
"This appeals to the folks in Silicon Valley because it is a new technology. These companies come up with nice stories to tell, but they do not have to be connected to scientific reality; their stories just have to sound plausible. The people throwing money at this do not fully understand the technical issues. Look at Theranos. Any good analytical scientist could have told you that taking a drop of blood and getting all of the tests that they promised was not really technically feasible," put forth Michael Hansen.
 
Top image: Brave Robot, a GMO synbio dairy company, exhibited at the 2022 Natural Products Expo West trade show. All images are from Organic Insider.