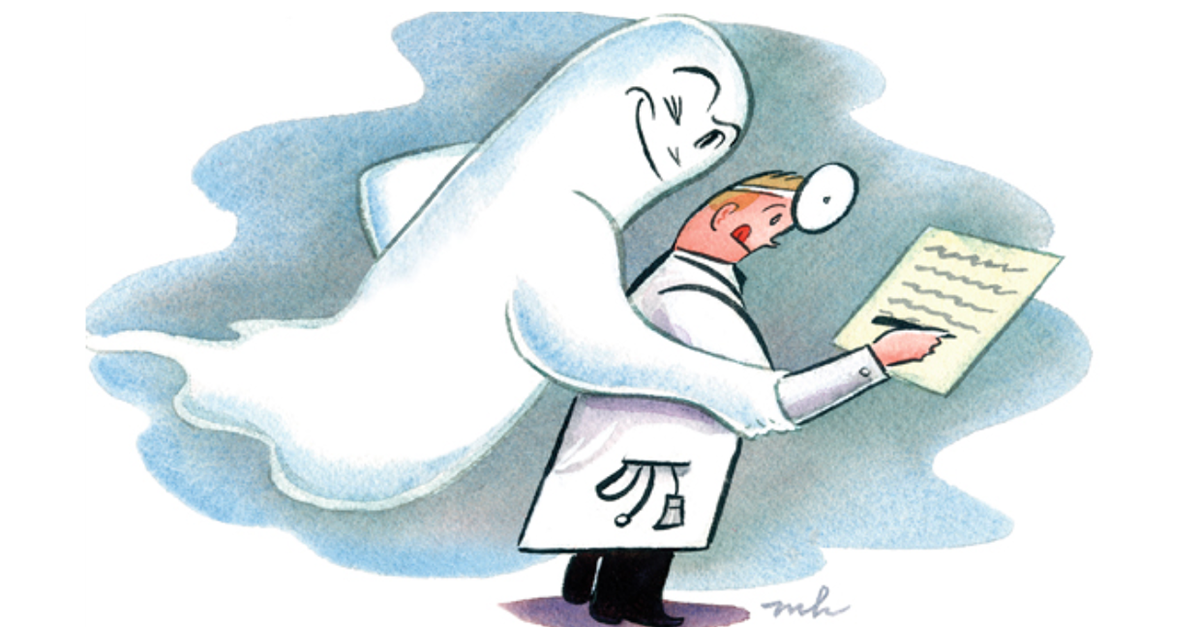 Monsanto ran a sophisticated ghostwriting campaign to defend glyphosate and attack its critics
Last week, the award-winning investigative journalist Paul Thacker gave a presentation at Carleton University on Monsanto's ghostwriting to influence both science and media, detailing Monsanto's ghostwriting campaign which kicked off in 2015 to attack the World Health Organization's cancer agency, after it found glyphosate was a "probable carcinogen." Thacker followed this up by publishing an article on his talk at The DisInformation Chronicle. Below is a condensed version of that piece.
Monsanto ghostwrote research and essays to promote the safety of the pesticide glyphosate and to attack the World Health Organization. Monsanto front groups then published these essays and the studies ran in journals that have argued tobacco, asbestos, and fossil fuels are safe.

Even before the World Health Organization's International Agency for Research on Cancer (IARC) found glyphosate to be dangerous, internal emails show that Monsanto scientists began discussing how to undermine the findings. "[W]e would be keeping the cost down by us doing the writing and they would just edit & sign their names so to speak," wrote Monsanto's chief of regulatory science, William Heydens. "Recall that is how we handled Williams Kroes & Munro, 2000." The Williams, Kroes and Munro 2000 paper appeared in Regulatory Toxicology and Pharmacology (RTP) and concluded, "Roundup herbicide does not pose a health risk to humans."
A year after Monsanto began plotting their 2015 attack on IARC, the journal Critical Reviews in Toxicology (CRT) published a special issue titled "An Independent Review of the Carcinogenic Potential of Glyphosate." But emails show Monsanto directed and edited the studies.
In one email, Monsanto's Heydens told an organizer of the papers, "I have gone through the entire document and indicated what I think should stay, what can go, and in a couple spots I did a little editing."
The journal Regulatory Toxicology and Pharmacology has a long record of publishing industry friendly studies. Academics and public-health activists sent a letter in 2002 to Elsevier complaining about the journal, and Tufts University professor Sheldon Krimsky wrote in 2017 that industry consultants litter the RTP masthead.
The journal Critical Reviews in Toxicology (CRT) also has problems. After several environmental groups later sent a letter to publisher Taylor and Francis detailing ethical misconduct in the 2016 special issue on glyphosate, the publisher launched an investigation.
"In reviewing the results of our investigation, how we will communicate this externally, and how it relates to our policies, we have decided that the only tenable outcome is to retract 3 of the articles," a Taylor & Francis editor later emailed a colleague. But instead of retractions, the journal only published a correction of the papers.
In another example, the Center for Public Integrity published a 2017 report on fossil fuel industry manipulation of science to undercut clean air regulations. The report found a study in RTP and another study in CRT that drew conclusions at odds with years of science that fine-particle pollution is linked to premature death and chronic illness. Both studies were funded by the American Petroleum Institute.
In 2017, Monsanto managed to promote a ghostwritten study German scientist Helmut Greim in Politico. In a 2015 performance evaluation, a Monsanto executive summarized his glyphosate-related activities, which included "ghost wrote cancer review paper Greim et al. (2015), coord Kier (2015) update to K&K, pushed for Sorahan (2015)."
The ghostwritten Greim review in CRT was also promoted on the website of the Genetic Literacy Project, and the American Council on Science and Health, also promoted ghostwritten glyphosate studies.
To defend the herbicide glyphosate, Monsanto put together a comprehensive plan in 2015 to undermine IARC. As part of their "strategies" and "tactics" they identified several "industry partners" including the Genetic Literacy Project and Biofortified AKA Biology Fortified.
The website Biology Fortified promoted articles alleging the safety of glyphosate. Members of Biology Fortified include Kavin Senapathy—a contributor to the Genetic Literacy Project, and a co-author with Henry Miller, on multiple Forbes articles promoting GMO products.
The New York Times reported that Monsanto ghostwrote a Forbes article for Henry Miller that attacked IARC's findings on glyphosate. Forbes removed several articles written by Miller and Senapathy. The Hoover Institution aggregated several of Miller and Senapathy's Forbes articles, but the titles now lead to dead links.
In 2015, Monsanto secretly recruited scientists from Harvard, Cornell University and three other schools to write about the benefits of GMO technology. In the case of Harvard's Calestous Juma, Monsanto suggested the topic and provided a summary and headline.
The papers were later published on the website of the Genetic Literacy Project.
As part of their "biotechnology outreach" Monsanto also began working with several professors to promote GMO technology through a website called GMO Answers—operated by the PR firm Ketchum PR. On several occasions, Ketchum PR sent the University of Florida's Kevin Folta statements which he then used nearly verbatim at GMO Answers.
In the course of researching his talk, Thacker found that nobody involved in the ghostwriting was ever punished for unethical behaviour:
• Bayer later bought Monsanto and announced that the company's name would no longer exist. Nonetheless, Monsanto remains ensnared in litigation from people harmed by glyphosate.
• Both the Genetic Literacy Project and the American Council on Science Health deny any influence by Monsanto and carry on publishing claims that glyphosate is safe.
• Although they remain tarnished from numerous scandals, the journals RTP and CRT continue to publish studies.
• Henry Miller continues to publish in conservative and libertarian outlets such as City Journal and the Wall Street Journal, as well as at the Genetic Literacy Project. Kavin Senapathy continues to promote GMO technology messaging at outlets such as Slate and UnDark, an online science magazine.
A lot of the documents relating to this talk can be found at UCSF Industry Documents Library.
To read the original article at The DisInformation Chronicle, click here.