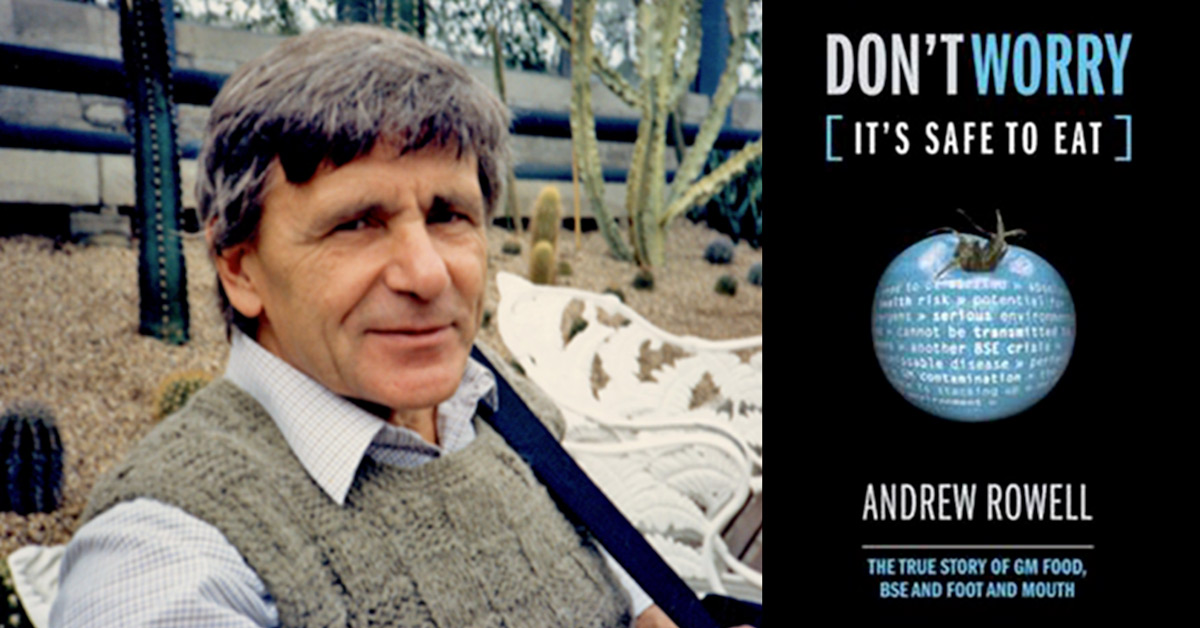 Read the whole extraordinary drama of Pusztai's groundbreaking research and the attempts to destroy his reputation
Just before Christmas last year we heard the sad news that the eminent scientist Dr Arpad Pusztai had passed away. Dr Pusztai and his experimental work had, more than any other factor, woken up the world to the dangers of GM foods.
To mark Dr Pusztai's passing, GMWatch published some extracts from the definitive account of what happened to him after he revealed his results on British television. But now, we are delighted to say, we have been given exclusive permission to publish the full account.
The extraordinary drama that unfolded is described by the author and investigative journalist Andy Rowell in two carefully referenced chapters of his book, Don't Worry, It's Safe to Eat. And nobody was better placed to tell that story. That's because the most revealing and explosive reporting on the Pusztai affair, which helped it to make headlines around the world, was done by three journalists, one of whom was Andy Rowell.
The reporters who first broke the news of Dr Pusztai's research – in an August 1998 World in Action report on British television – were two investigative journalist colleagues of Andy Rowell's, Michael Gillard and Laurie Flynn. Flynn and Gillard's exposé of Pusztai's experimental findings, as well as how poorly GM foods were being regulated, caused an immediate media sensation. In its aftermath, a savage backlash quickly got underway, aimed at silencing Dr Pusztai and destroying his career as well as his public reputation.
But on Friday February 12 1999, the GM debate in the UK changed forever when the Pusztai affair exploded back into the media spotlight. The explosion was triggered by the reporting of Gillard, Flynn, and Andy Rowell. Their Guardian pieces, Food scandal exposed and Ousted scientist and the damning research into food safety, provided clear evidence that the public had been fed a pack of lies about Dr Pusztai and his research by people in the scientific and political establishment desperate to prevent GM foods going into meltdown.
As well as playing the lead role with Gillard and Flynn in initially unearthing the real story of Pusztai's treatment and research, Andy Rowell was also an unacknowledged contributor to a story that made the front page of The Guardian nine months later, which exposed how a leading Fellow of the Royal Society had threatened the editor of The Lancet with the loss of his job in a desperate but unsuccessful effort to try to prevent the peer-reviewed publication of Pusztai's research.
Andy Rowell followed this up by spending many days interviewing Dr Pusztai to establish the clearest possible account of his research and his career-destroying treatment. He also conducted interviews with many other key players in the Pusztai affair and all of this fed into the two chapters that GMWatch is now publishing from Andy's book, which was the first to reveal evidence for the highest levels of political involvement in the "killing" of Pusztai's research.
"Don't Worry, It's Safe to Eat – GM foods and the Pusztai affair, part I" is available here and part 2 is here.
Incidentally, Andy Rowell also played a key role, together with Jonathan Matthews of GMWatch, in exposing the extraordinarily dirty campaign of intimidation and vilification waged against Dr Ignacio Chapela over his research on GM contamination of native Mexican maize. The definitive account of the Chapela affair, as well as of how the use of "fake persuaders" to promote GM and discredit sceptical scientists was traced right back to the doors of Monsanto, can also be found in Andy's book, which was republished by Routledge in 2015.