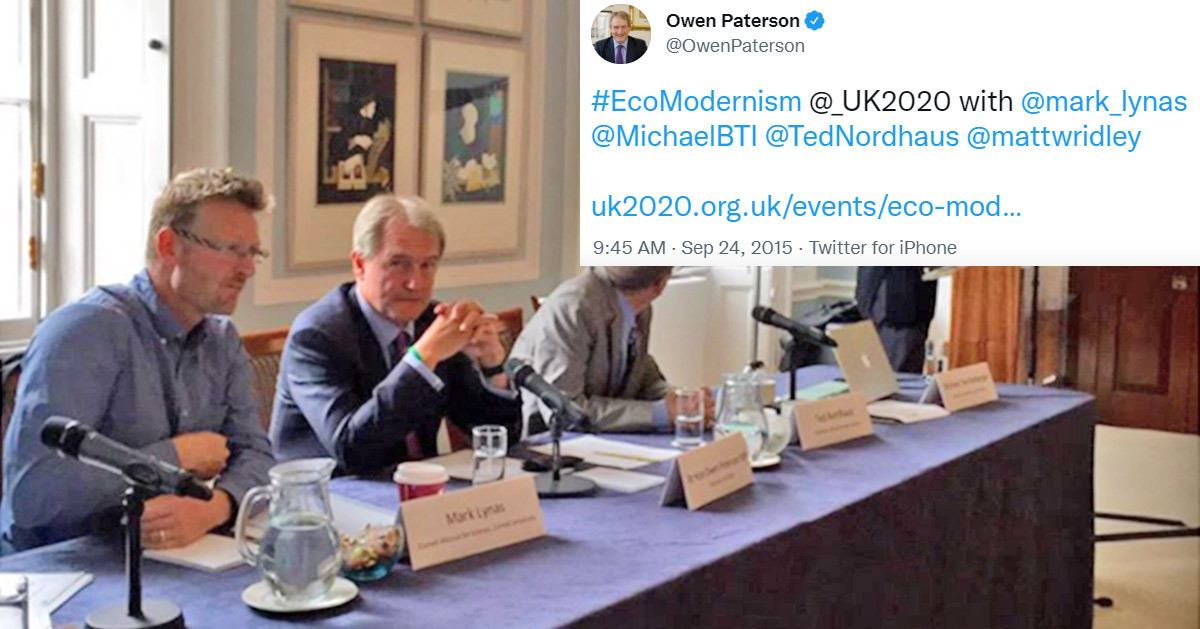 Owen Paterson's former bedfellows take cover as he quits the House of Commons. Report: Jonathan Matthews
When Owen Paterson recently quit the House of Commons amid the fury over the lobbying scandal, his former agribusiness allies were notable by their absence. With one striking exception – the leader of the National Farmers Union, Minette Batters, responded to Paterson's self-pitying and self-justifying resignation statement by tweeting: "Unbelievably sad to read this. @OwenPaterson you have been an outstanding supporter of British Agriculture. I don't have words to express my extreme sadness at your decision to step down. Thank you so much for all that you have done."
Batters had every reason to feel grateful. When Paterson was sacked as environment secretary back in 2014, he told the then Prime Minister David Cameron: "I have not been afraid to take on the greens on everything, from fracking to GM foods, the badger cull, even bees!"
Essentially, this was the wish list of the NFU, which as well as being the biggest backer of England's controversial and ineffective badger cull, has long been aligned with the biotech industry in trying to win acceptance for GMOs – as well as with Syngenta and Bayer in seeking to stop or overturn any ban on their bee-harming neonicotinoid pesticides.
Setting the agenda
Given the unpopularity of the Paterson/NFU agenda, not only with environmentalists but with the public at large, many were surprised that Cameron, who had famously promised that his would be the "greenest government ever", chose to appoint Owen Paterson as his Secretary of State for Environment, Food and Rural Affairs in September 2012.
Interestingly though, Freedom of Information requests show that the GM part of this agenda was established in the run up to Paterson's appointment, when ministers met with the GM crop companies and their UK industry lobby group, the Agricultural Biotechnology Council (ABC), as well as the NFU and representatives of public institutes engaged in GM research, like Rothamsted Research and the John Innes Centre. The summary of the meeting, written by the industry's ABC, showed there were plans to remove regulatory and political barriers to GM crops being grown in the UK, to promote GM crops in developing countries, and to increase public expenditure on GM research.
These goals would all become part of the agenda that Paterson would push after his appointment. And regular contact between Paterson, other ministers, and the biotech industry on promoting and developing this agenda continued once Paterson was in office, as Freedom of Information requests have made clear.
In fact, even after Cameron sacked him in July 2014, Paterson continued to aggressively promote this industry-set agenda through his public statements and appearances, using his UK 2020 "think tank", which he formed not long after he lost his ministerial post, as his vehicle.
Biotech bedfellows
During this whole period it wasn't only England's agribusiness-promoting NFU and the biotech industry's ABC that were jumping into bed with Paterson. Here are some of the notable suitors who either provided him with public platforms or shared them with him.
Rothamsted Research
Nine months after being appointed Environment Secretary, Owen Paterson gave a controversial keynote speech calling for the UK to adopt the use of GM crops. According to the Financial Times, preparations for this speech had been "going on for months". The chosen venue was Rothamsted Research in Hertford, which was itself no stranger to controversy over its GM research and its alignment with industry.
His speech prompted the LibDems, the Tories' then partners in Cameron's coalition government, to attack Paterson for "cheerleading for the GM industry". But Rothamsted were delighted with the speech. Its then director, Maurice Moloney told the media, "We are very happy to see clear leadership on this issue from Paterson." And in a press release, Moloney said: "We are really pleased the SoS (Secretary of State) chose to make this speech from Rothamsted." Paterson in turn told his audience that there was "no better venue at which to initiate a discussion about GM technology".
Paterson continued to promote Rothamsted's GM research in his tweets and articles right up until shortly before his resignation, with his last visit to Rothamsted being made as recently as late October 2021.
But curiously, if you search for "Owen Paterson" on Rothamsted's website, no results at all show up. Even their press release welcoming his keynote speech is no longer available.
Europabio
At the beginning of 2014 Paterson was a key speaker at an invitation-only event in Brussels that was organised by the GM industry lobby group Europabio. Although the text of Paterson's speech was released, the "high-level panel of politicians, researchers and (pro-GM) campaigners" at which he spoke was strictly off limits to the media.
However, the French investigative journalist and documentary maker Paul Moreira sent a film crew along who were able to surreptitiously record Paterson giving strategic advice behind closed doors on breaking the dam on GMO authorisations in Europe. "The golden rice battle is absolutely fundamental," Paterson told the industry invitees, promoting it as the key PR weapon, in comments that didn't appear in the published text of his speech.
It's certainly a weapon that Paterson himself was already deploying to the max. The previous autumn he had made headlines by calling GM crop opposition "absolutely wicked" and "disgusting" because it was obstructing golden rice, causing little children to "go blind and die". This claim is totally untrue.
Paul Moreira told GMWatch that he was "surprised a member of the UK Government was actually part of a Public Relations event directly organized by the biotech industry". According to Moreira, Paterson had been dodging the cameras in Brussels all day and Europabio were clearly trying to protect him.
Syngenta
In early 2015, after Paterson had been sacked as Environment Secretary, he was invited to Syngenta UK's research HQ at Jealott's Hill, where the company provided him with not just a platform but with material for promoting Syngenta, GM crops and GM golden rice, over which Syngenta retains commercial rights. This resulted in Paterson tweeting his congratulations to Syngenta on "developing new technologies to feed the world", with a photo of him next to a poem that appeared to be the heartfelt plea for golden rice of a distressed child fearful of going blind. The poem was actually written, as we showed at the time, by a Syngenta employee – a fact not disclosed by Paterson.
This wasn't the first time Syngenta and Paterson had teamed up. While Paterson was still Secretary of State, Syngenta had successfully sought his ministerial support in lobbying against a ban on neonicotinoid pesticides in Europe.
ISAAA
Not long after his PR trip to Syngenta, Paterson headed off on a PR trip to South Africa to address the GM industry-funded lobby group ISAAA. Here he made the headline-catching claim that millions of lives could have been saved if GM golden rice had been available years earlier. He omitted the fact that this GM rice has had multiple research and development problems and that it is these problems that have delayed its release for so long. Instead he blamed Greenpeace and the European Union for "condemning millions of people in developing countries to starvation and death by their stubborn refusal to accept the benefits of genetically modified crops".
Cornell Alliance for Science
Later in 2015 the Gates-funded GMO PR outfit, the Cornell Alliance for Science, featured Paterson in their Fall 2015 Speaker Series, where he gave a speech entitled Check Your Green Privilege: It's not environmentally friendly to allow millions to die. Once more, Paterson's speech was marked by hyperbolic claims about how GMOs "can save millions of lives that today are squandered by the ideology of massively supported environmental campaign groups".
Mark Lynas and the Breakthrough Institute
Just three days after his Cornell appearance, Paterson was back in the UK hosting a press conference for the launch of the so-called Ecomodernist Manifesto. Those appearing in London with Paterson included Mark Lynas of the Cornell Alliance for Science, Ted Nordhaus, and Michael Shellenberger, who co-founded a think tank called the Breakthrough Institute, which, like Lynas, promotes technologies like nuclear power and GMOs as the answer to environmental problems, and Matt Ridley, the Conservative hereditary peer who, like Paterson, is a climate denier.
Who paid for all the lobbying?
These are only a few of the GM-related PR events that Paterson has engaged in since 2012 and by 2015 questions were starting to be asked about whether the GM industry might be paying for any of this promotional activity, which already included more trips abroad (to Australia, for instance) than we have detailed here.
As Paterson was an MP, and MPs have to disclose any significant external funding, the question of who paid for his trips should be easy to answer. But even when in office, Paterson had a record of being coy about industry connections. And this coyness continued out of office.
Those who sought information on Paterson's finances from the UK Parliament's Register of Members' Interests ran into a brick wall. That was because of a loophole in the regulations that Paterson cleverly exploited. Although the rules require MPs to declare who paid for any visits outside the UK costing more than £300, Paterson avoided revealing where the money originated from by giving his own think tank, UK 2020 Ltd, as the funder. For instance in 2015, three overseas trips (to Australia, South Africa and the USA) are shown in the register as funded solely by UK 2020, while the fourth (the one to New York for the Cornell Alliance for Science event) is shown as co-funded by UK 2020 and Cornell. As UK 2020, which was wound up in October 2019, kept its funders secret – something limited companies can legally do, that left no way of knowing which private entities might be the ultimate sources of funding for any of his trips.
When Buzzfeed News asked Paterson's office to supply the missing details, a spokeswoman for Paterson unhelpfully told them: "In response to your questions, I refer you to the Register of Members' Interests."
And when the climate campaigners at DeSmog UK took the direct route and asked if UK 2020 had received any payments from the biotech industry, a press representative told them, "I can't answer that." DeSmog says she also "refused to explain why she could not answer questions about GM funding, before promptly hanging up the phone". After DeSmog ran an article about the issue headlined, "Is Owen Paterson funded by Monsanto?", the executive director of UK 2020 emailed them to say the think tank does not receive any funding from the GM industry.
But there are reasons for scepticism. Take, for instance, Paterson's trip to South Africa. That was to take part in an event organised by the lobby group ISAAA, which logically would seem the most likely funders of his trip. And who is ISAAA financed by? GM corporations like Monsanto, Syngenta and Bayer.
Another reason for scepticism is provided by the Guardian, which in 2018 started its own investigation into who was funding UK 2020 and Paterson's trips. Like everyone else, the paper ran into the brick wall of the think tank's secrecy but it did manage to identify two donors via old entries on UK 2020's website.
One of these was the Crop Protection Association (CPA), which, as the Guardian notes, "represents the agrochemical and GM sector". Although its payments weren't for overseas trips but for UK 2020 hosting talks at Conservative Party Conferences in 2015 and 2016, this still undermines the claim about UK 2020 not receiving funding from the GM industry.
Demands for an inquiry
Just in terms of the trips, the sums we're talking about are significant. According to the Guardian, between 2014, when it was set up, and 2019, when it was closed down, UK 2020 paid Paterson almost £40,000 purely to fund overseas trips.
This led to both Greenpeace and the Labour Party calling on the parliamentary Commissioner for Standards to investigate the source of Paterson's funding, with Labour warning that it could set a terrible precedent if MPs could evade transparency rules by setting up their own shell companies into which monies from undisclosed donors could be paid.
Paterson guilty of "egregious" breaches of the rules on lobbying
Although that inquiry never happened and so we still don't know who funded Paterson's GM lobbying, it seems to have been the continuing interest in Paterson's funding triggered by this issue that eventually led the Commissioner, Kathryn Stone, to investigate some of Paterson's other lobbying activities. Stone found he had breached the MPs' Code of Conduct in relation to his highly paid advocacy for two companies: a food manufacturer and a health care firm.
The Commons Standards Committee in a follow-up report also found Paterson guilty of "egregious" breaches of the rules on lobbying. The breaches were so serious that they caused "significant damage to the reputation and integrity of the House of Commons as a whole", the committee's 175-page report concluded, and it recommended Paterson be suspended from the Commons for 30 days.
It was the government's botched attempt to then protect Paterson from suspension – by scrapping Westminster's current standards system – that engulfed Westminster in a sleaze row, and led to Paterson's resignation and calls for his conduct to be unequivocally condemned as corrupt.
Amid the exploding scandal, other than Minette Batters, Paterson's former bedfellows were nowhere to be seen. But in a second article on Owen Paterson, I will examine further the actors and forces that shaped Paterson's rise to prominence as a GM lobbyist and show how, when it comes to GM policy, they are still as active and influential as ever.