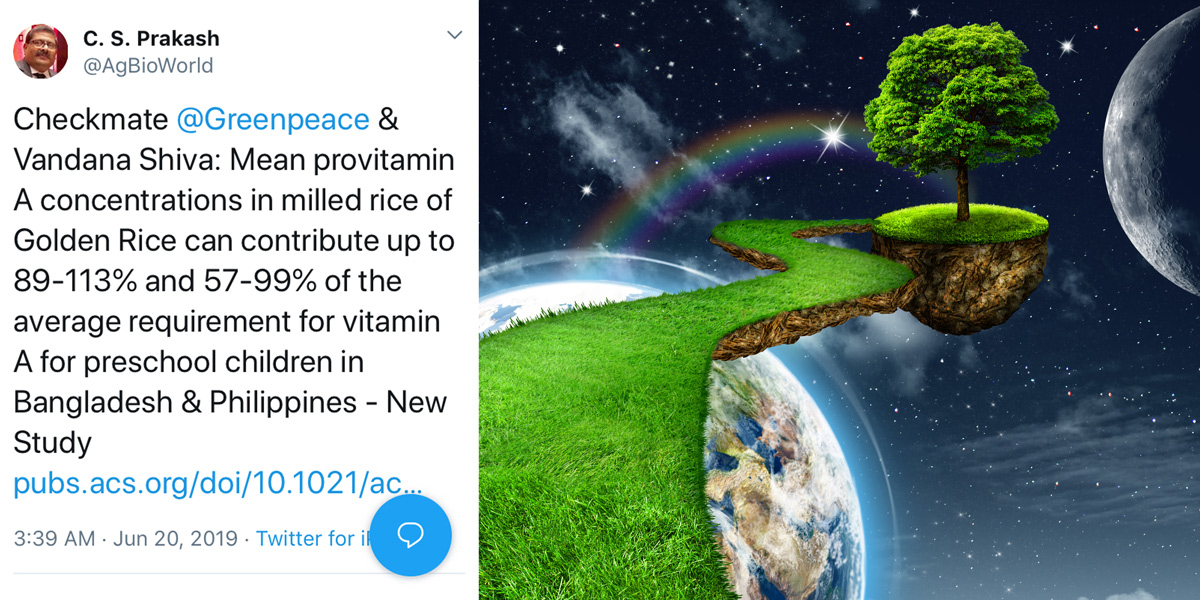 GMO promoter lost in fantasy land fails to acknowledge need to store and cook rice
The well known GMO promoter C.S. Prakash is in ecstasies over a new study on golden rice, the genetically engineered grain that has been hyped for the last two decades as a lifesaver for millions suffering from vitamin A deficiency (VAD).

The new study, Prakash tweeted, constitutes a "checkmate" for golden rice's critics, who have long been skeptical about whether golden rice could produce enough beta-carotene, or provitamin A, to help those who suffer Vitamin A deficiency.

According to the study's authors, "Mean provitamin A concentrations in milled rice of GR2E [golden rice] can contribute up to 89-113 percent and 57-99 percent of the estimated average requirement for vitamin A for preschool children in Bangladesh and the Philippines, respectively."

When those findings are taken out of context, which is what Prakash does, they sound like impressive support for his claim that these are "Golden grains packed with lifesaving proVA [provitamin A]."

But when you dig into the paper you discover that when they harvested the golden rice, the researchers then froze the grain until it was tested for its provitamin A levels. In other words, they didn't store it under normal conditions or cook it — two fundamental things that ordinarily happen to rice when it is marketed and consumed.

That's important because as another recent study that we reported on noted, storage massively reduces the beta carotene (or provitamin A) content of golden rice. That study showed that after just 6 months of storage in the presence of air, even at the low refrigerated temperature of 4 degrees C, the beta-carotene degraded by around 68–79%. And normally rice wouldn't, of course, be stored at 4 degrees C, let alone frozen. Cooking also degraded the beta-carotene by up to 24%.

The authors of the new study themselves refer to "the known loss of β-carotene over time due to storage, processing, and cooking methods" as among a number of factors that might negatively influence the amount of actual vitamin A that might be derived from the rice by malnourished people in developing world conditions.
Blackmail
The authors add that, "Assessment of the realistically achievable contribution of rice varieties containing event GR2E to improving vitamin A status in at-risk populations will require additional bio-efficacy testing that can only be accomplished following the regulatory authorization of event GR2E for food use in the target geographies."

In other words, "Approve golden rice for consumption first and then we will be able to study its impact." This constitutes a form of blackmail.

But why should we put the cart before the horse? Pharmaceutical companies don't ask governments and regulators to approve their products first so that they can be tested for safety and efficacy after they have entered the market. They have to provide the test data on safety and efficacy first, including the results of human trials. And human trials are only performed after tests in laboratory animals have found no toxicity risk.

What makes the emotional blackmail practised by golden rice proponents particularly absurd is that there are already simpler, safer, and cheaper measures that have already proven effective in reducing vitamin A deficiency – in the Philippines, for instance. That's something that the likes of C.S. Prakash never seem to mention or acknowledge, as they endlessly promote GM's golden "lifesaving" grains.