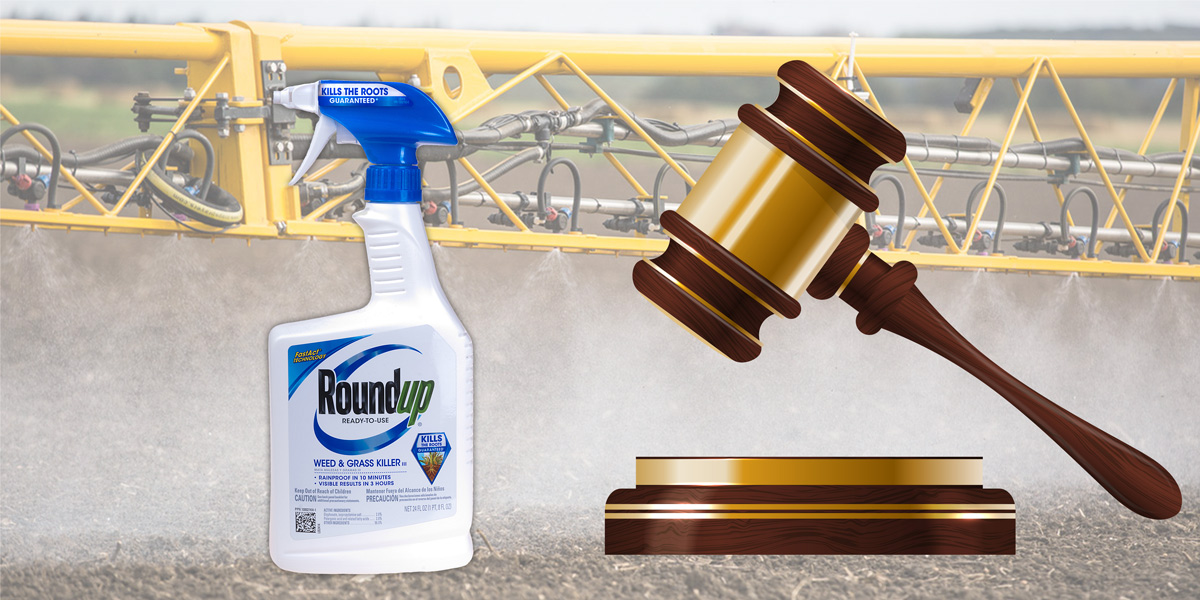 Jury finds Roundup was a significant contributing factor in causing Alva and Alberta Pilliod's non-Hodgkin lymphoma
A California jury found on Monday that Monsanto's Roundup likely caused a couple's cancer and awarded them a staggering $2.055 billion in damages, in a third consecutive Roundup trial loss for the Bayer-owned unit.
After nearly two days of deliberations, the jury of five women and seven men found that it is more likely than not that Roundup was a significant contributing factor in causing Alva and Alberta Pilliod's non-Hodgkin lymphoma. The jury awarded the couple $55 million in noneconomic and economic damages and hit Monsanto with $1 billion in punitive damages for each plaintiff. That's $2.055 billion in total, a sum that doubled what the plaintiffs' attorney suggested in closing arguments.
The verdict ends a five-week trial over the Pilliods' allegations that decades of spraying Roundup on their properties gave them cancer. Alva Pilliod was diagnosed with diffuse large B-cell lymphoma in 2011 and his wife was diagnosed with primary central nervous system lymphoma in 2015.
The Pilliods' case was the third lawsuit to go to trial out of 13,400 pending that allege Roundup causes cancer.
In a statement on Monday, Bayer said the company is disappointed with the jury's decision and will appeal.
During the latest trial, the jury heard testimony from oncologists, pathologists and toxicologists who gave different views of the weedkiller's skin absorption rates and the science backing claims that Roundup causes cancer.
The Pilliods' experts pointed to animal studies, mechanistic data and epidemiological data showing that glyphosate is genotoxic (damages DNA) and causes oxidative stress, which can cause cancer mutations. They also cited the International Agency for Research on Cancer's 2015 finding that glyphosate is a probable carcinogen.
The Pilliods' expert toxicologist Dr William Sawyer stated that Monsanto made glyphosate 50 times more toxic by selling the Roundup formula with polyethoxylated tallow amine (POEA), a surfactant that is banned in Europe. He explained that the surfactants allow glyphosate to easily penetrate the skin.
He said that once the glyphosate is in the body it gets stored under the skin for days and then is delivered to the bones, where lymphoma originates. Sawyer accused Monsanto of manipulating its absorption studies by heating and then freezing skin samples before they were tested, leading to skewed results.
Other experts called by the Pilliods testified that the US Environmental Protection Agency approved Roundup in the 1970s based on fraudulent studies done by Industrial Bio-Test Laboratories. They said the company kept selling the product even after the fraud was exposed and refused for decades to conduct certain studies of its Roundup formula, despite requests from the EPA and its own toxicologist.
In a closing argument, the Pilliods' attorney, Brent Wisner of Baum Hedlund Aristei & Goldman PC, argued that Monsanto spent decades suppressing science linking its products to cancer by ghostwriting academic articles and feeding the EPA "bad science". He asked the jury to "punish" Monsanto with a $1 billion punitive damages award.
Monsanto's experts argued that the epidemiological data put forward by the decades-long Agricultural Health Study shows that glyphosate doesn't pose a cancer risk and that multiple regulatory agencies around the world, including Health Canada, the EPA and the Australian government, have repeatedly concluded that Roundup doesn't pose a cancer risk. They also noted that the rate of non-Hodgkin lymphoma has plateaued over the past two decades, while the use of Roundup has increased significantly.
On Monday the jury sided with the Pilliods and found Monsanto liable for failure to warn claims, design defect claims, negligence claims and negligent failure to warn claims. They awarded the Pilliods $52 million in noneconomic damages and $3.2 million in economic damages, along with a combined $2 billion in punitive damages.
The Pilliods' trial began on March 28, the day after a separate California federal jury handed down an $80 million verdict against Monsanto in favour of plaintiff Edwin Hardeman. The first trial culminated in August, when a state jury in San Francisco awarded former school groundskeeper DeWayne "Lee" Johnson a win and hit Monsanto with a $289 million verdict. Over multiple objections by the jurors, a state judge later slashed the verdict to $78 million, which Monsanto has since appealed.
Attorney Brent Wisner said in a statement after the verdict, "Monsanto has never had any interest in finding out whether Roundup is safe. Instead of investing in sound science, they invested millions in attacking science that threatened their business agenda."
The case is Pilliod v. Monsanto Co., case number RG17862702, in the Superior Court of the State of California, County of Alameda.

More coverage of the verdict:
Law360.com
https://www.law360.com/articles/1158218
The Guardian
https://www.theguardian.com/business/2019/may/13/monsanto-cancer-trial-bayer-roundup-couple