Claire Fox standing for Nigel Farage's Brexit Party triggers condemnation of Fox sisters' actions
Claire Fox, the sister of Fiona Fox – the director of the Science Media Centre – has become embroiled in a huge row since becoming Nigel Farage's star candidate in the forthcoming European elections. This is because the North West of England constituency that she is standing for includes the town of Warrington, where in 1993 two young boys were killed and many others were injured by IRA bombs – an atrocity that Claire and Fiona Fox both defended.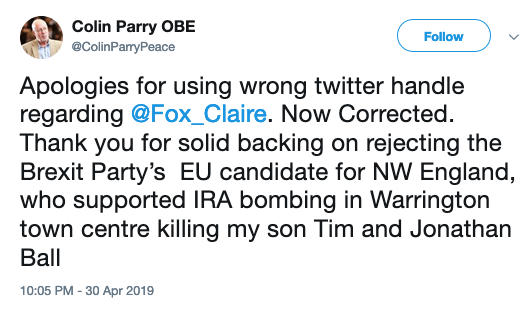 At the time of the Warrington bombings, the Fox sisters were members of the Irish Freedom Movement (IFM), which had a policy of never condemning IRA bombings, even when, as in Warrington, they targeted civilians. Fiona Fox was also one of the editors of Irish Freedom, IFM's newspaper, which following the deaths of the children published an article defending "the rights of the Irish people to take whatever measures necessary in their struggle for freedom."
As well as defending the bombings, the IFM – an organisation Fiona Fox is said to have headed – also heckled and otherwise disrupted a peace march held in Hyde Park a month after the two boys' deaths. They then boasted about how they had "spoiled the party" (i.e. the peace commemoration) in the paper that Fiona Fox edited.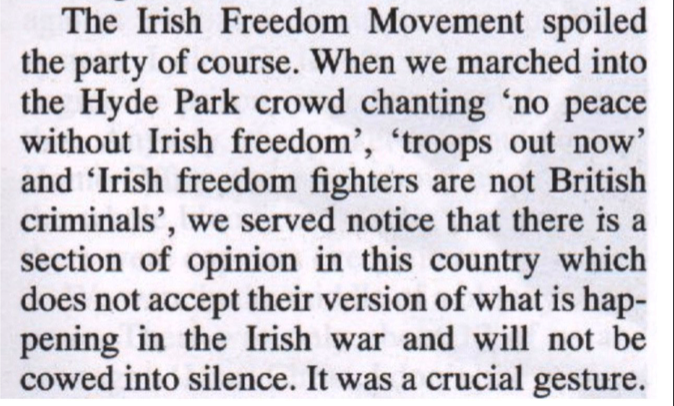 After hearing that Claire Fox was going to be the Brexit Party's number one candidate for the North West, Colin Parry, the father of one of the boys who died, called on voters to reflect on the fact that Fox had "defended the IRA bombing" that killed his 12-year-old son Tim as well as 3-year-old Johnathan Ball.
Colin Parry says Claire Fox subsequently phoned him, but in their conversation she "repeatedly refused to disavow her comments supporting the IRA bombing which took Tim's and Johnathan's young lives."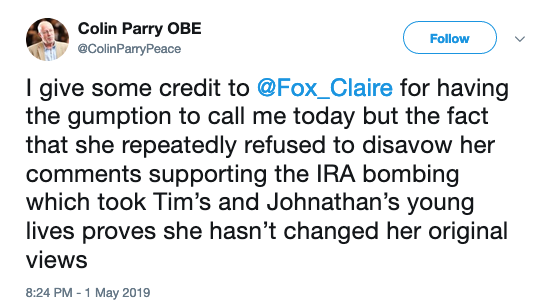 The Fox sisters' ardent support for terrorism cannot be dismissed as just some sort of familial aberration arising from their Irish Catholic background in Wales, as this was not the only time that Fiona Fox sought to excuse campaigns of extreme violence. Two years after Warrington, she wrote a piece – under her customary pseudonym of "Fiona Foster" – that led to her being branded an apologist for mass murder, and this time it was downplaying not Irish terrorism but the orchestrated slaughter of up to 800,000 Tutsis in Rwanda.
In an outraged letter of complaint about the article, Rakiya Omaar and Alex de Waal of African Rights wrote, "Not only do you make an apologia for the genocide – the first to appear in print in a widely sold English language publication – but go so far as to question its very reality. This is not only an affront to the truth, in defiance of the fundamentals of humanity, but deeply offensive to the survivors of the third indisputable genocide of this century."
Omaar and de Waal describe Fiona Fox's Rwanda article as "shoddy journalism" and the ideas advanced in it as "absurd". All of which "would matter less if you were not dealing with one of the greatest crimes of the century, and playing into the hands of genocidal killers". An article in The Guardian entitled Genocide? What genocide? similarly accused Fox of rewriting history "in favour of the murderers".
Fox was in her early thirties when she wrote her Rwanda piece, so her genocide denial can hardly be dismissed as a youthful indiscretion. The explanation for her ideological extremism lies rather in her involvement in the extraordinary Trotskyite turned ultra-libertarian "LM network", which was also involved in denying Serbian war crimes.
Not only Fiona Fox's sister, but also her husband Kevin Rooney belong to this political network, which compares environmentalists to Nazis and opposes all restrictions on technologies like genetic engineering and cloning. It is also a network whose members have a history of infiltrating science-related lobby groups in order to promote their own agenda.
Tracey Brown, the director of Sense About Science, is a member of the same network, and in his ground-breaking article Invasion of the Entryists, George Monbiot details a series of further examples of participants in this "bizarre and cultish political network" having quietly "taken on key roles in the formal infrastructure of public communication used by the science and medical establishment".
Claire Fox's refusal to disavow her comments defending the bombing that killed the two boys caused another North West England candidate to quit Farage's party, saying she could not "continue to stand beside her [Claire Fox] as a Brexit candidate".
It would be interesting to know whether the director of the Science Media Centre is any more willing than her sister to disavow her former involvement in the IFM and its defence of the Warrington bombings, particularly as after Warrington, Fiona Fox went on to provide a platform for dissident republicanism through her articles. The LM network was, in fact, totally opposed to the Good Friday Agreement in Ireland, and Fox even went so far as to describe the peace process as "an act of war".
That said, Fiona Fox's statements were all made under a pseudonym, and she has trodden a very different path to her sister Claire – one that has required far greater discretion. Claire Fox runs the Academy of Ideas, which is quite open about having emerged, like Spiked – its still more confrontational twin, out of LM, the magazine that was sued out of existence over its denialist coverage of Serbian war crimes in Bosnia.
Fiona Fox, by contrast, although she might attend Academy of Ideas' events or be quoted in Spiked, tries to keep a much lower profile as regards her past and her associates. She sought to deny, for instance, that she was the author of the genocide denial article when first asked (by The Guardian) if she had written it. On another occasion, she even refused to confirm to a journalist from the London Review of Books that Kevin Rooney was her husband!
This ability to duck, dive, and lead a double life has helped her maintain and use her SMC position to shape media coverage on controversial issues like GM, pulling off perhaps her biggest coup in 2012 when she helped to kill off media coverage of the Séralini research, which found adverse health impacts in rats fed a GM maize and the Roundup herbicide it is grown with. A year later she was awarded an OBE.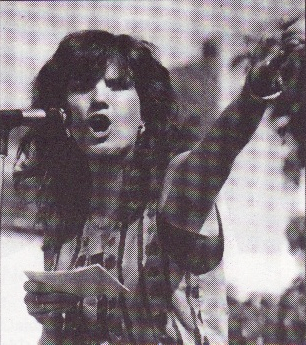 Fiona Fox listed as "Fiona Foster" in a picture from the journal she edited at the time: Irish Freedom, the bulletin of the Irish Freedom Movement, Issue 18 Summer 1992.
That award of the Order of the British Empire to a genocide denier and fervent defender of Irish republican terror, who editorialised about her organisation's "irreconcilable hostility to British imperialism", perfectly symbolises the success of Fiona Fox's mission to operate from the heart of the British establishment.