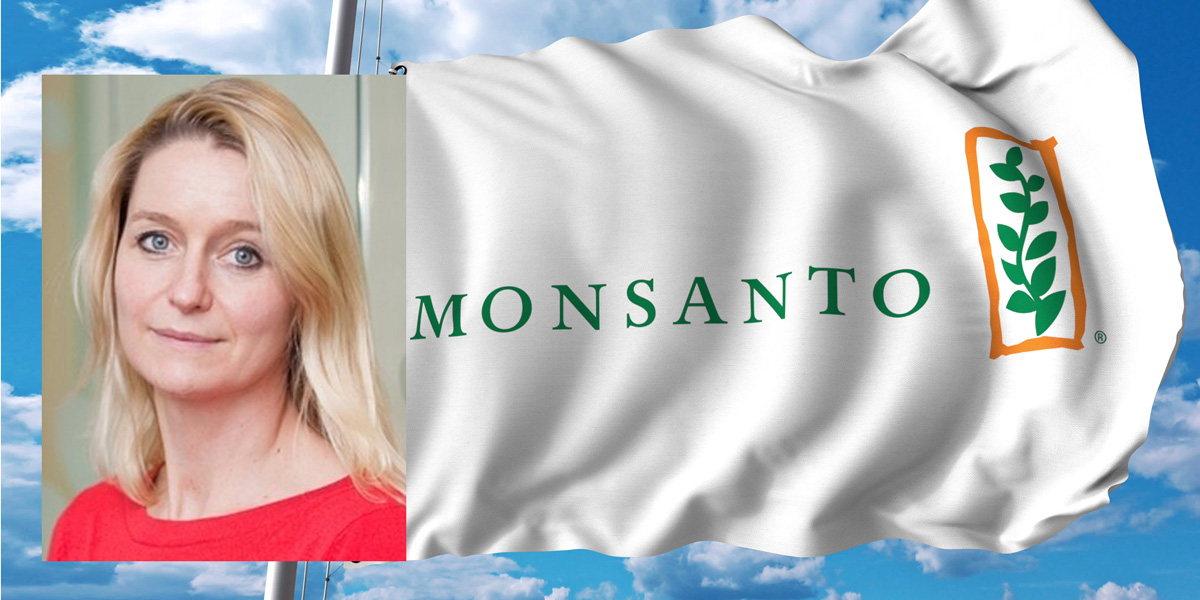 Kate Kelland won prize for misleading story fed to her by Monsanto
In 2017 Reuters reporter Kate Kelland was honoured at the Foreign Press Association Media Awards for her story, Cancer agency left in the dark over glyphosate evidence. But although Kelland's investigation won the Science Story of the Year award, it quickly attracted accusations that her scoop was actually fed to her by Monsanto.

Former Reuters correspondent Carey Gillam pointed out that although Kelland cited "court documents" as her primary sources for the article, the documents in question had not been filed in court at the point she wrote the story and so were not publicly available for her to access. Gillam argued that as the story centred on a deposition obtained by Monsanto, the company was almost certainly Kelland's undeclared source. Now new court documents have confirmed Gillam's accusation.

Kelland's article aimed at discrediting both the cancer scientist Aaron Blair and the classification of glyphosate as a probable carcinogen by the World Health Organisation's cancer agency (IARC). And it has been used repeatedly, together with other stories by Kelland, to attack IARC. Kelland's work was even used by US politicians to try and get the agency defunded.

Gillam also accused Kelland of creating a false narrative by taking comments from the deposition out of context, and relying in the article in part on the anti-IARC view of a scientist named Bob Tarone, whom Kelland identified as an "independent" expert, when he is in fact a paid consultant to Monsanto.

Here's the update on how Kelland's story originated with Monsanto.
---
Monsanto Roundup Trial Tracker: New Developments
Carey Gillam
USRTK, January 18 2019  
https://usrtk.org/pesticides/monsanto-roundup-trial-tracker/
[links to sources at the URL above]

You can find updates about the ongoing litigation against Monsanto Company in this blog, which we will be updating regularly with tips and tidbits of interest. Discovery documents from the litigation are posted on our Monsanto Papers page, and we provide links to recent news stories and analysis here…

January 16, 2019 – New documents filed in federal court are threatening to expose Reuters news reporter Kate Kelland for acting as Monsanto's puppet in driving a false narrative about cancer scientist Aaron Blair and the International Agency for Research on Cancer (IARC) that classified glyphosate as a probable carcinogen.

In 2017, Kelland authored a controversial story attributed to "court documents," that actually appears to have been fed to her by a Monsanto executive who helpfully provided several key points the company wanted made. The documents Kelland cited were not filed in court, and not publicly available at the time she wrote her story but writing that her story was based on court documents allowed her to avoid disclosing Monsanto's role in driving the story.

When the story came out, it portrayed cancer scientist Aaron Blair as hiding "important information" that found no links between glyphosate and cancer from IARC. Kelland wrote that Blair "said the data would have altered IARC's analysis" even though a review of the full deposition shows that Blair did not say that.

Kelland provided no link to the documents she cited, making it impossible for readers to see for themselves how far she veered from accuracy.

The story was picked up by media outlets around the world, and promoted by Monsanto and chemical industry allies. Google advertisements were even purchased promoting the story.

Now, new information revealed in court filings indicates just how heavy Monsanto's hand was in pushing the narrative.  In a January 15 court filing, Plaintiff's attorneys cited internal Monsanto correspondence dated April 27, 2017 they say show that Monsanto executive Sam Murphey sent the desired narrative to Kelland with a slide deck of talking points and portions of the Blair deposition that was not filed in court. The attorneys said the correspondence shows the Monsanto executive asking her to publish an article accusing Dr. Blair of deceiving IARC.

The public cannot see the actual internal correspondence between Monsanto and Kelland because Monsanto and Bayer lawyers want it sealed from public view.

Plaintiff's attorneys also write in their letter brief that Monsanto's internal documents show Kelland was seen as a key media contact in their efforts to discredit IARC.

There is nothing inherently wrong in receiving story suggestions that benefit companies from the companies themselves. It happens all the time. But reporters must be diligent in presenting facts, not corporate propaganda.

This story was used by Monsanto to attack IARC on multiple fronts, including an effort by Monsanto to get Congress to strip funding from IARC.

At the very least, Kelland should have been honest with readers and acknowledged that Monsanto was her source. Reuters owes the world – and IARC – an apology.
For more background on this topic, see this article.