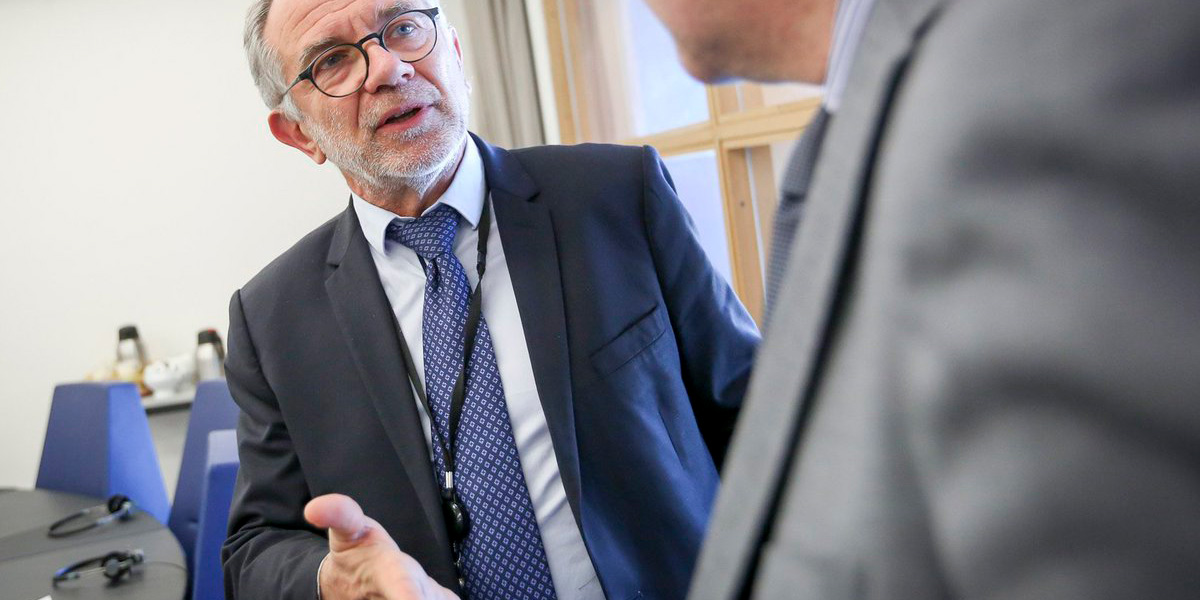 PEST Committee chair Eric Andrieu MEP and his team have faced intimidation, suspected hacking, and an invitation to a secret meeting with the agrochemical industry
Eric Andrieu is the MEP chairing the European Parliament's PEST Committee, set up following the Monsanto Papers scandal to investigate the EU's approval of glyphosate and the pesticide authorisation process in general.

It seems that Mr Andrieu has been put under strange and unusual pressure – for example, there have been anonymous threatening calls from the US, and emails addressed to him containing the word "cancer" were filtered from his inbox and put in the trash, so that he did not see them.

Here's our unofficial translation of a fascinating and worrying article by Stéphane Foucart.
---
Pesticides committee under pressure
By Stéphane Foucart
Le Monde, 5 Oct 2018
https://abonnes.lemonde.fr/planete/article/2018/10/05/eric-andrieu-un-eurodepute-sous-pression_5364878_3244.html
[translation by GMWatch]

Intimidation, suspected hacking, an invitation to secretly meet senior officials of the agrochemical industry... Since he took over the chairmanship of the European Parliament's committee of inquiry into the procedures for the approval of pesticides (the so-called "PEST" Committee), created after the revelations of the "Monsanto Papers", Eric Andrieu (Socialists and Democrats) and his team say they have never experienced such a sequence of disturbing or unusual events. The draft report of the commission, presented on September 20, will be discussed until October 11 and put to the vote December 6. It is of critical importance to the pesticide industry, whose products could see tougher conditions of access to the European market.

In June, a few weeks after the installation of the committee and the election of Mr Andrieu as chair, the French MEP received a letter from EPPA, a Brussels consultancy firm. It was acting on behalf of the chemical giant Bayer, which had then acquired the US agrochemicals firm Monsanto. EPPA offered an "informal, i.e. confidential" meeting with senior officials of Bayer. "This is the first time I have received a request for a secret meeting, outside the agenda, and I did not answer," said the MEP, who is known to be very critical of the pesticides industry.
"Confidential exchanges"
On 10 September, ten days before the submission of the draft report of the PEST Committee, an email reminder was sent to him. In their letter, two partners of EPPA, Pascal Michaux and Daniel Guéguen, specified that their company is an habitué with close relations with the political world of Brussels: it is "the council of the presidencies of the European Union" and "manages working groups bringing together various Member States, the European Commission and industry". "I fully admit to taking this type of approach," said Daniel Guéguen, interviewed by Le Monde. "It is clear that the PEST Committee is of great importance and it is natural that Bayer representatives wish to exchange information, in confidence, with its chairman."

Outside of this lobby group, which has represented its interests in Brussels for eighteen years, Bayer denies the attempt. "Bayer has never requested in a single case confidential meetings with French or European MEPs," it told Le Monde, "but interacts with them in full transparency, to contribute to the debate on agriculture and its necessary evolution." For his part, Belgian MEP Bart Staes (Greens), co-rapporteur of the PEST commission, said he has not been subjected to any kind of pressure. "I have not been invited to any confidential meetings with industry," he said. I have been a Member of Parliament for nineteen years, and that has never happened to me. That would be unacceptable."

Shortly before the submission of the draft report, there was a new surprise. "On his return from Strasbourg, my assistant finds, in our offices in Brussels, next to his keyboard, an apple on which is written, "I contain pesticides," said Andrieu. At first, we thought it was a joke and we went around the floor to find out if one of our colleagues had done it. This was not the case." The prank seemed in especially bad taste in light of the fact that in recent months, Mr Andrieu's assistant admitted to having received four anonymous calls from an American telephone number – a voice of a woman who just said, in English, that she hoped he was fine – before hanging up. "In the latest calls, he was also asked for news of his family," says Andrieu. The phone number used belongs to the operator Verizon and is now disabled.

An internal investigation is underway

A few days later, the team of the French MEP noticed that some of the emails sent to his official address did not reach him. "The Parliament's IT departments intervened and discovered that a filter had been programmed into my account: all the messages containing the word "cancer" were sent to a folder called "glyphosate" and put in the trash," he said. "None of us had created such a filter. We do not know how long it had been in place, whether it was programmed in my office or remotely. A manipulation error may not be excluded, but with this accumulation of small things, we can not avoid asking questions..."

An incident report was nonetheless published by the technical services of Parliament and an internal inquiry, requested by Mr Andrieu, is in progress.

That's not all. The members of the PEST Committee had a collective surprise in discovering the content of the expert report commissioned by them, in support of their work. This technical report was meant to consider alternatives to pesticides and the prospects for developing new products. "We found that the text was not of the quality and impartiality expected: some figures in the report were wrong, some information was twenty years old and many of the sources cited were from industry," said Bart Staes. "We did some quick research on the author of this briefing and he happens to have been in very close contact with the pesticide industry for a long time. In light of these facts, our committee finally decided to withdraw the report."

The expert was not chosen by the MEPs, but by one of the directorates-general of the Parliament, in a procedure that did not involve the members of the committee. "We asked for explanations and the service involved assured us that it would conduct an investigation to understand how this choice was made," said Staes.

The members of the committee interviewed by Le Monde do not see this as necessarily malicious. But, said a member of Mr Andrieu's team, "We ended up becoming paranoid."


Image of Eric Andrieu from EU Parliament's Twitter feed