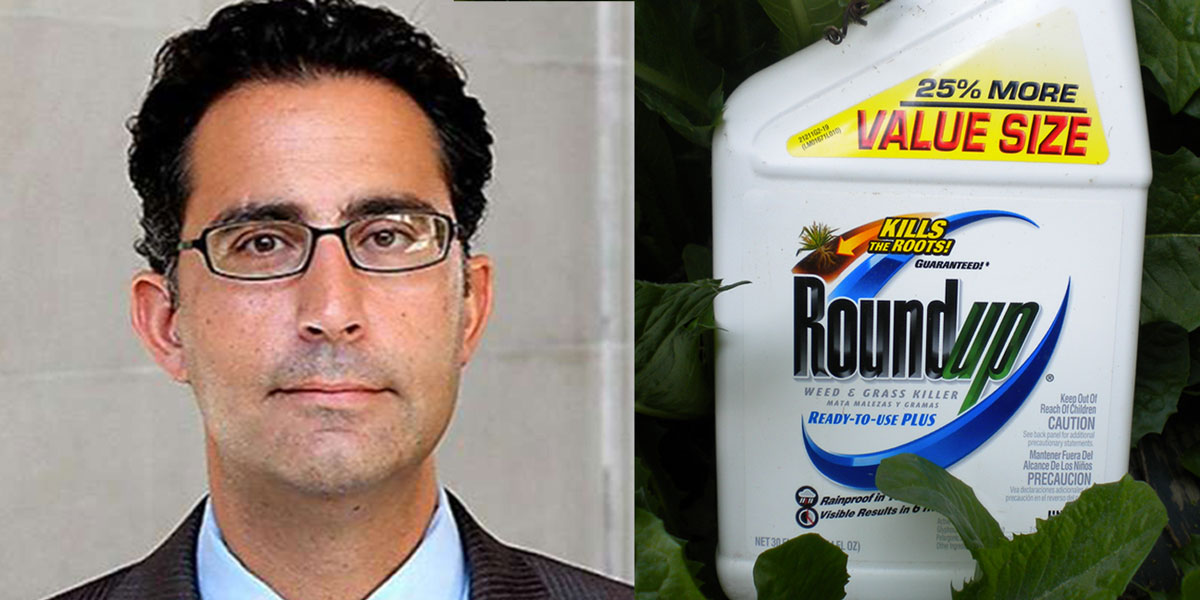 Judge Vince Chhabria is "confident" that the science shows that glyphosate causes cancer in animals, but what about the epidemiology?
On Monday a landmark case began in a crowded San Francisco courtroom with the first person ever taking Monsanto to trial over allegations that its glyphosate-based herbicide Roundup is linked to cancer. And on Tuesday Monsanto lost a ruling in another San Francisco court permitting key witnesses to testify in lawsuits claiming its weed killer caused cancer for farmers and other users.
If you're confused as to why one California court case got underway before another court in California even ruled on the critical issue of expert witnesses, an article by Pam Strayer for Civil Eats has the answer to this and more.
It's all to do with the US court system where cases can be heard under a state or federal court. Tuesday's ruling from US District Judge Vince Chhabria, which determined which experts can be called to the stand during the upcoming federal trials, allowed hundreds of lawsuits against Monsanto to proceed in San Francisco federal court. But the thousands of cases pending in state courts are not subject to Judge Chhabria's gatekeeping decision which is why the first state case got underway in San Francisco before Chhabria even ruled.
But that said, as a Reuters article noted, "While Chhabria's ruling is not binding on them, state court judges have been closely following the federal litigation and expert hearings. The California state judge who handles the most Roundup cases posted to her docket that she was attending the hearings before Chhabria [on the issue of the expert witnesses] in March."
Something else that the article clarifies is why Judge Chhabria in his judgement was much less impressed by the epidemiological evidence of Roundup's link to cancer than he was by the animal studies.
Chhabria felt confident that the science shows that glyphosate causes cancer in animals. This was after Dr Charles William Jameson, an animal toxicology expert retired from the National Cancer Institute and the National Institutes of Health who testified for the plaintiffs, spoke at Chhabria's hearings about the verdict of the cancer agency IARC that glyphosate is a probable human carcinogen. He explained how IARC benefited from an "extraordinarily high amount of animal study data" on glyphosate and that animal studies consistently showed that glyphosate causes cancer.
After listing a dozen studies that glyphosate treatment led to different cancers in mice and rats, Jameson concluded, "It is my opinion that exposure to glyphosate not only can cause non-Hodgkin lymphoma [in humans], but it is currently doing so, at current exposure levels today."
But Judge Chhabria felt the epidemiological conclusions were not as clear. He said, "My biggest takeaway is that epidemiology is a loosey-goosey science and that it is highly subjective." He added that he found the epidemiological evidence on the plaintiffs' side to be "pretty sparse".
Judge Chhabria also said, "I have a difficult time understanding how an epidemiologist could conclude … that glyphosate is in fact causing non-Hodgkin lymphoma in human beings…. But I also question whether anyone could legitimately conclude that glyphosate is not causing non-Hodgkin lymphoma in human beings."
Epidemiology is the study of how often diseases occur in different groups of people and why. But Ricardo Salvador, a senior scientist and director of the Food and Environment Program at the Union of Concerned Scientists, told Civil Eats that it's hard for a non-scientist to assess the validity of epidemiological studies. "I think that epidemiology is being held to standards here that it cannot possibly meet because it's an observational science. The precision of the measurements are not going to be like controlled studies and lab bench work," as in the animal studies.
Epidemiology, he explained, "is the tool that we have to detect signals at the population level. And when then a signal turns out to be something like non-Hodgkin lymphoma, there's a public interest reason why we should pursue potential triggers or causes of that sort of epidemiology."
And although clearly more convinced by the animal studies than the epidemiology Judge Chhabria did conclude that there was certainly sufficient evidence for a jury to hear the cases. And he said a reasonable jury could conclude, based on the findings of four experts he allowed, that glyphosate can cause cancer in humans.
Ultimately, as Chhabria noted, it will be up to juries to decide, having heard all the evidence, "who's right and who's wrong".
Image: Judge Vince Chhabria. SF City Attorney's Office