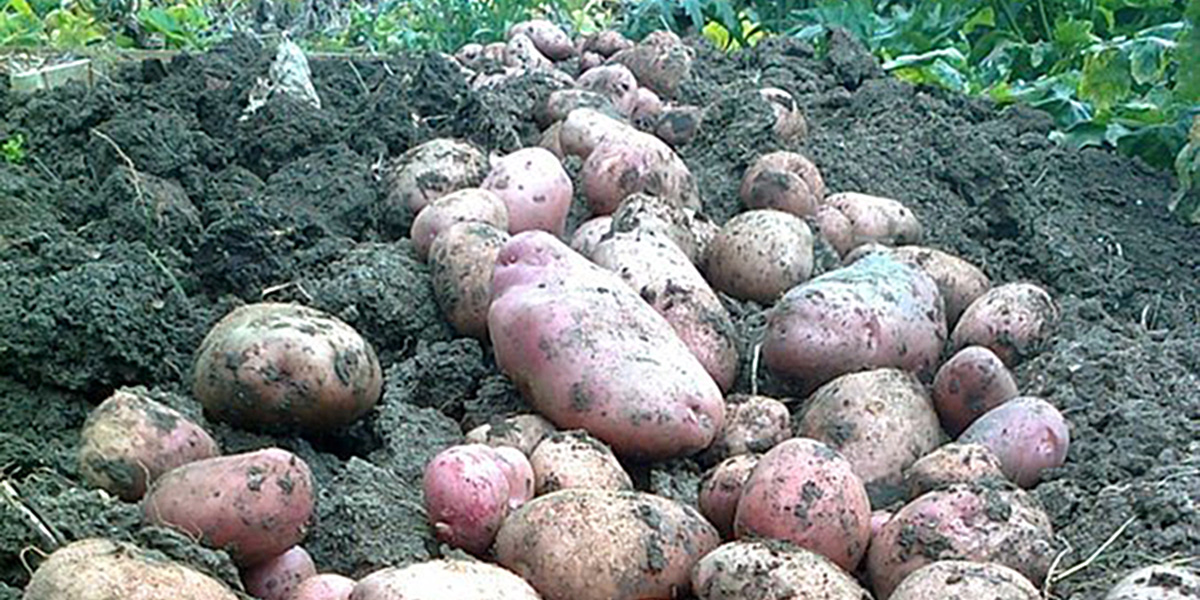 Trial hyped as GMO success but shows no need for GM potato
A new study has found that a popular non-GM potato performs as well as a new GM potato in resisting late blight.
The study was carried out by a team of scientists from Wageningen University and Research in the Netherlands and Teagasc (the Irish Agriculture and Food Development Authority) in Ireland, and was published in the European Journal of Agronomy.
The study compared fungicide use in the cultivation of genetically modified or non-GM late blight-resistant potato varieties, in combination with pathogen population monitoring and a "do not spray unless" strategy.
The strategy, called IPM2.0 (from Integrated Pest Management), was compared to an unsprayed control and to a control that was subjected to the usual recommended weekly spray schedule and thus received 100% of the recommended dose rate of fungicide.
The experimental varieties
The GM potato, known as A15-031, was a genetically engineered version of the Desiree variety, using a gene from a wild potato. This GM method, in which a gene is introduced from a member of the same species, is known as cisgenesis and its products are termed cisgenic.
The conventionally bred non-GMO potato was a variety called Sarpo Mira, a type favoured by organic growers.
The control potato was non-GM Desiree, a blight-susceptible variety.
Findings
The study found that both the GM and the conventionally bred blight-resistant potatoes resulted in an average 80–90% reduction of fungicide use as compared to current common practice on the blight-susceptible non-GM Desiree controls. Untreated Desiree suffered a 17% yield reduction, whereas when untreated, the GM potato and Sarpo Mira did not suffer a yield reduction.
In other words, the reduction in 'needed' fungicide was comparable for Sarpo Mira and the GM variety.
The IPM2.0 control strategy successfully combined a low environmental impact with the same efficacy as the weekly spray strategy. When compared to the weekly spray strategy, the average environmental impact towards aquatic life of the IPM2.0 strategy over all five trials was reduced by 58% on blight-susceptible Desiree, 99% on the GM blight-resistant A15-031, and a comparable 92% on the non-GM blight-resistant Sarpo Mira.
Hype
Despite these results, the study has been hyped as a success of GM technology and used as a stick to beat GMO critics. Science Alert ran its story on the study under the headline, "GM potato can help cut pesticide use by up to 90 percent, study shows. Cue the haters..."
Science Alert could perhaps have more objectively headlined the story, "Non-GM potato performs as well as GM potato against blight. No need for GM, then."
Cisgenesis: The acceptable face of GM?
GMO proponents hope that cisgenic products will evade public opposition to GM foods, based on the claim that the gene that's deliberately introduced is not 'foreign' but comes from the same or a closely related species. However, cisgenic GM poses much the same risks as transgenic GM (where genes from another species are introduced).
That's because the risks associated with GM crops, such as the production of new toxins and allergens, arise not just from the source of the inserted gene, but also from the new genetic context for the inserted gene and the mutagenic (causing damage to DNA) nature of the GM insertion.
GM: A technology looking for a problem
Not for the first time, the GM blight-resistant potato seems like a case of GM technology looking for a problem. Perhaps in an attempt to identify one, the study's authors discuss in their paper how "slow" conventional breeding is for blight resistance in potatoes.
They also mention that Sarpo Mira has "a number of sub-optimal agronomic and commercial traits" – without, however, specifying what they are.
In a press release announcing the study, Wageningen University and Research joins in with the 'speed' meme. It claims, "Cisgenesis allows enrichment of existing potato varieties in as little as 3 years versus current potato breeding programmes that require 10 years or more to produce a novel variety. In addition to accelerating the breeding process, cisgenesis is more accurate than using conventional crossbreeding and selection methods."
This appears to be misleading. The researchers' own paper describes the cisgenic research programme at Wageningen as dating back to 2006. It's taken until now to establish that one GM line works as it should in the controlled environment of a trial. Ensuring that the blight resistance remains stable through several years of cultivation in field conditions is another matter. The necessary research to prove that has not yet been done.
Meanwhile the non-GM Sarpo varieties have been available to growers for many years. And for those who don't like the Sarpo Mira, it's just one of a whole family of naturally blight-resistant potatoes, each with different characteristics. These are ignored by the researchers in their paper, who choose only to mention one member of the Sarpo family.
Marker assisted selection ignored
It's also remarkable in the context of timescales that the researchers have completely omitted to mention marker assisted selection (MAS), a way of using genetic knowledge to speed up conventional breeding. MAS is accepted in conventional and organic breeding because it doesn't in itself result in a GMO. And more to the point, it has proven to be extremely useful for breeding blight resistance into potatoes. Understandably, it is the subject of intense research.
The GM blight-resistant potato is not an argument for going down the GM route. On the contrary, the story of this potato has shown us that viable and less risky alternatives exist and should be preferred.
---
The new study:
Development and validation of IPM strategies for the cultivation of cisgenically modified late blight resistant potato Geert J.T. Kessel, Ewen Mullins, Albartus Evenhuis, Jeroen Stellingwerf, Vilma Ortiz Cortes, Sinead Phelan, Trudy van den Bosch, Marieke G. Förch, Paul Goedhart, Hilko van der Voet, Lambertus A.P. Lotz.
European Journal of Agronomy 96 (2018) 146–155. https://www.sciencedirect.com/science/article/pii/S1161030118300327

Report: Claire Robinson