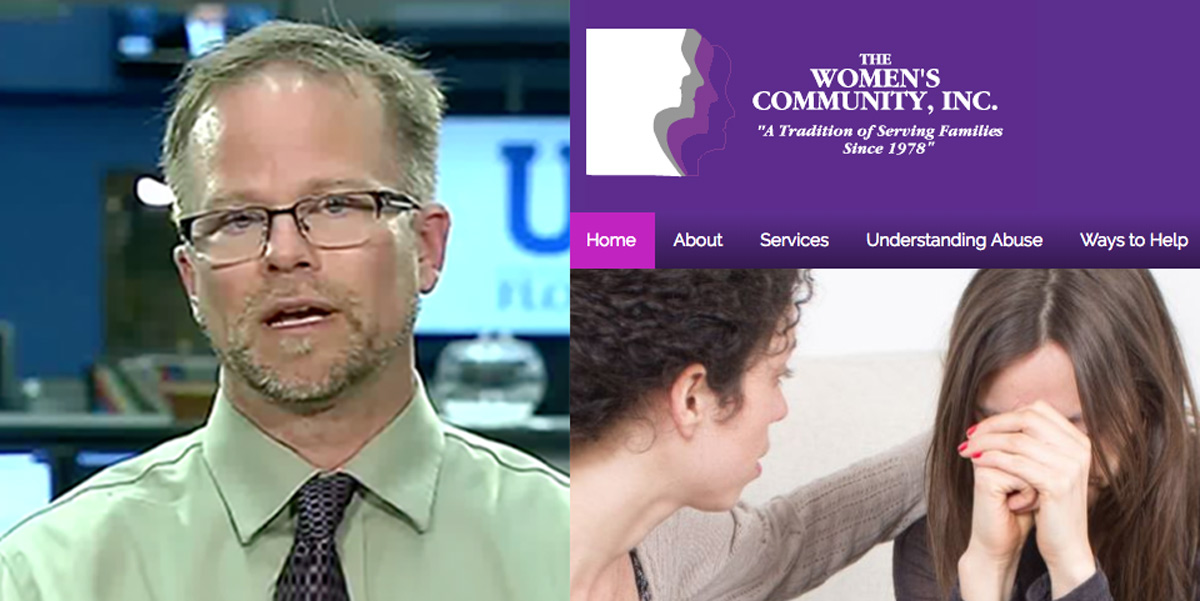 Shelter director says she saw Folta assault his wife
Why were two large donations made by the chair of the University of Florida's horticultural sciences department, Kevin Folta, rejected by an organisation seeking to protect people from sexual assault, stalking, trafficking, and all forms of domestic violence and abuse?

That's the question that has arisen after the executive director of The Women's Community of Wausau, Wisconsin, confirmed that the monies had "been returned to the contributing organizations".

Enquiries were made as to what had happened to the donations after there was no public acknowledgement of their receipt more than a year after they were said to have been made.

The first donation arose out of an event in March 2017 in Orlando, Florida, where Folta was the keynote speaker. Folta asked the organisers, the American Feed Industry Association, to give his $1000 speaker fee to The Women's Community.





A month later Folta was the keynote speaker for the Manitoba Canola Growers at their Community Summit near Winnipeg, and he again asked for his $1000 fee to go to The Women's Community.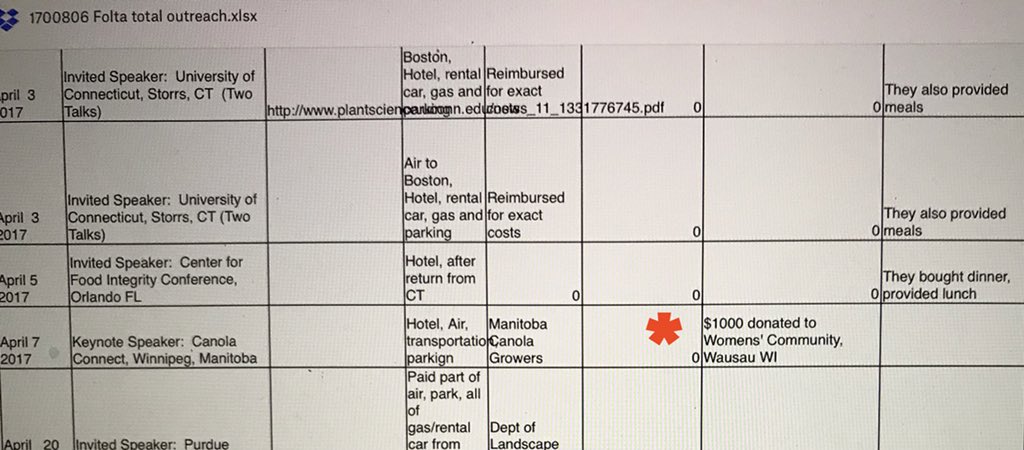 Both these donations are noted in a spreadsheet in which Folta details his outreach activities. And a couple of months later Folta mentioned on Twitter that he got companies to donate speaker fees to a "Womens' [sic.] shelter", adding ironically, "Some bad guy" – a reference to how he feels his critics portray him.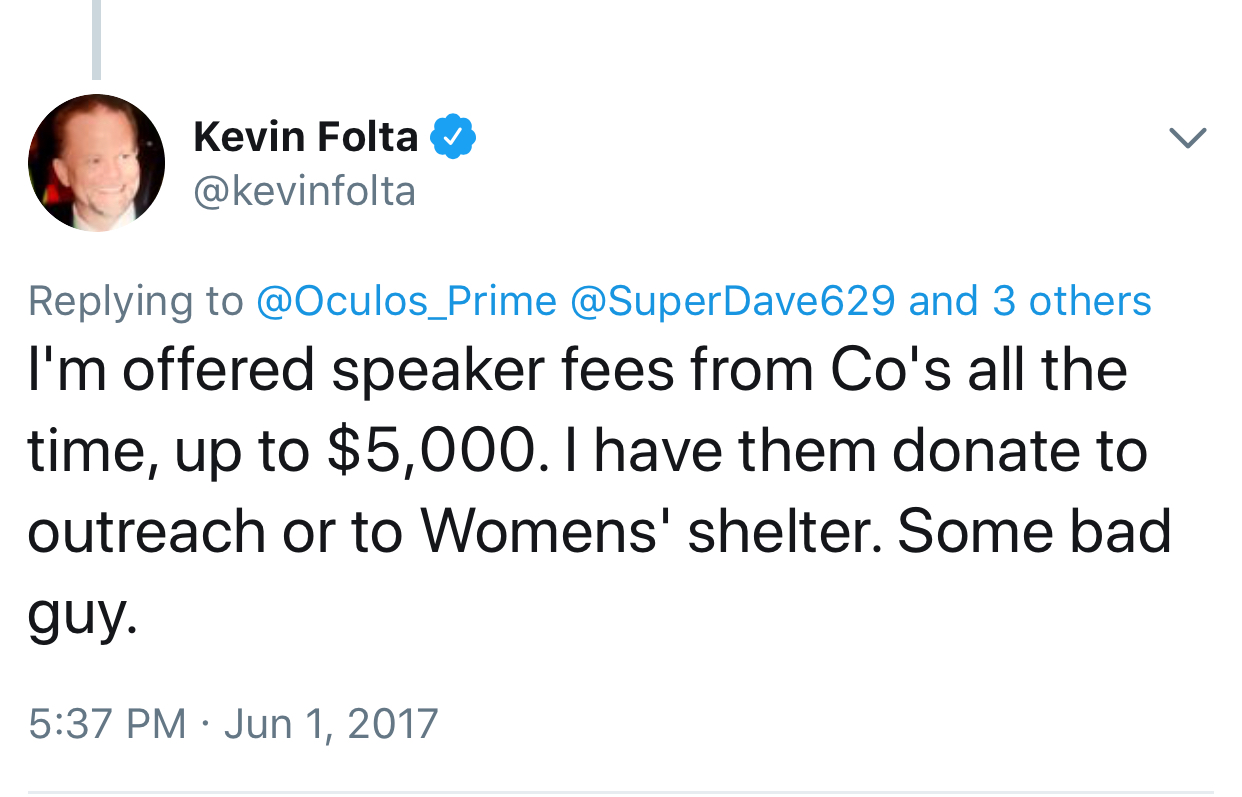 Then in July of last year Folta said more about the donations on his Illumination blog, "I was offered speaker fees on several occasions. I requested that they go to the Womens' [sic.] Community of Wausau WI. People associated with the organization were personally affected by a shooting rampage in March. I have a friend there that tirelessly works to protect area families, and ever [sic.] dollar goes a long way in that organization. What they do on a shoestring is incredible."
But as The Women's Community never publicly acknowledged receiving Folta's donations, they were asked how the monies were being used to help their work. In her reply Jane Graham Jennings, who oversees their operations, explained that the monies "were not used by The Women's Community", because they had been sent back.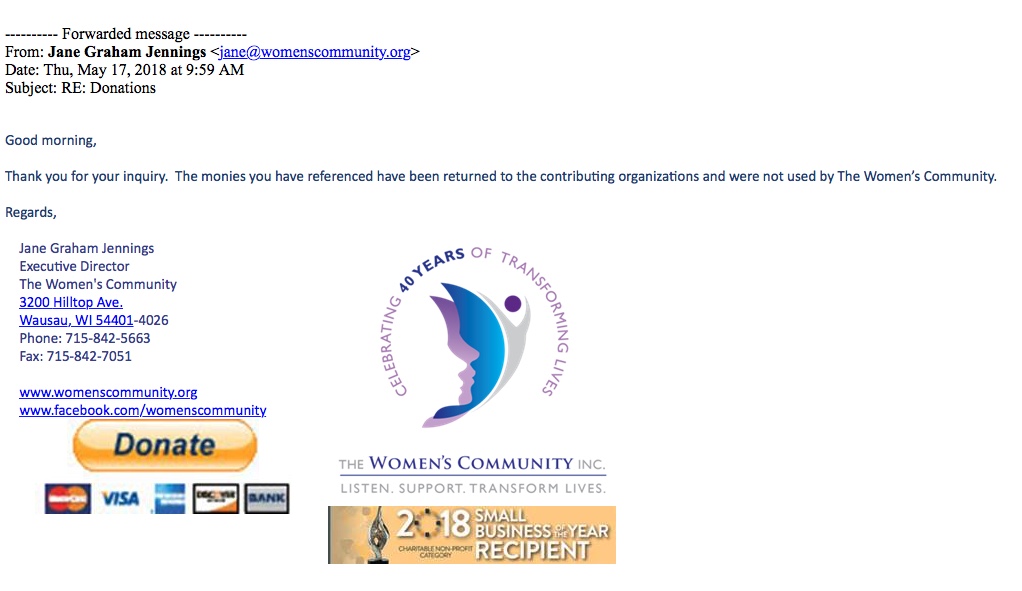 Jane Graham Jennings has so far offered no explanation for the rejection of the $2000 – a hefty donation for an organisation operating a 40-bed domestic violence shelter and sexual assault, stalking and trafficking advocacy nonprofit. And clearly no organization that is struggling to meet the urgent demand for its services is going to reject such sizeable donations lightly.
What makes the rejection even more surprising is that Jane Graham Jennings is the "friend" that Folta mentions. So why would his friend of all people not want to accept his donations?
The Women's Community website points out that even a donation of $200 could provide a week of shelter for a family in danger, so rejecting a far larger sum could surely only be justified if the donor were regarded as guilty of something the women's refuge strongly opposes?  
Well, GMWatch has seen a statement, signed by Jane Graham Jennings, that confirms that this is indeed the case. According to the statement, Graham Jennings personally witnessed Folta engage in an assault. It says she was an eye witness to Folta kicking his wife, Roxanne Porozinski, because he considered she was paying insufficient attention to what he was saying: "Kevin was talking about something and didn't like that Roxanne was looking at her computer. He walked over to where she was seated with her foot hanging over the arm of the chair and he kicked her."
Graham Jennings goes on to say, "There were two things that concerned me in addition to him kicking someone in my house. 1) the look of anger that was on his face and 2) her lack of reaction to this explosion. She responded as if it was no big deal which concerned me that this has happened to her before." Graham Jennings also mentions another incident between Folta and Porozinski that Graham Jennings did not witness but says was relayed to her by Porozinski. These incidents and the "nonchalant" way in which Porozinski responded to them led the executive director of The Women's Community to conclude that Porozinski was "normalizing violent behaviour".
The statement ends, "I had not heard of any other episodes until after she filed for divorce after the third time catching him cheating. She has since relayed a few incidents of frightening behavior that she had normalized and didn't recognize as abusive. It has been hard hearing how the confidence Roxanne once exuded has been whittled away. The things she says to me are consistent with things I have heard from the hundreds of women I have counseled that have been abused and manipulated by their husbands."

These allegations are so serious that the University of Florida now needs to move rapidly to establish the exact reasons why an organisation that works tirelessly to protect women from abusers has rejected the donations of the chair of their horticultural sciences department. Apart from anything else, Kevin Folta is a mentor and supervisor to female staff and students at the University.

In the past the University has backed Folta to the hilt, batting off every criticism. The suspicion is that they have failed to rein him in because his bosses know that industry loves him, and industry is a massive contributor to the University's coffers. But the action of The Women's Community in rejecting Folta's donations sets a standard that others will be judged by.

This time the University of Florida cannot be allowed to turn a blind eye. It has to investigate.


Report: Jonathan Matthews