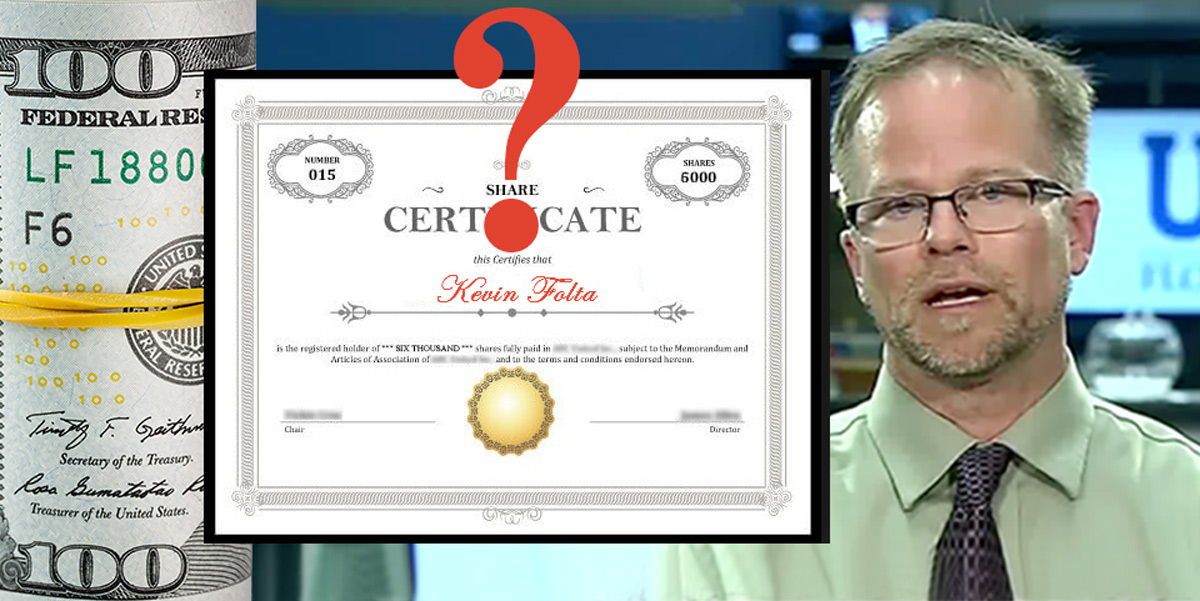 Is there any truth in claims he's still hiding corporate monies? Report by Jonathan Matthews
Last October I heard from someone with good contacts in US food and agriculture that the well known GMO promoter and chair of the University of Florida's horticultural sciences department Kevin Folta was earning $600/hr for work involving the agrichemical giant Bayer.
This seemed more than a little surprising, given that on his University of Florida funding page, Folta says he has declined all paid consultancy. On his own website he goes even further and says, "I've never received personal compensation from any company".
But my source was adamant, saying he'd heard it from "a trusted colleague in academia".
Then a few weeks ago Kevin Folta's estranged wife suddenly alleged something remarkably similar. In a blog post, she accused her husband of "trying to hide" corporate monies. Among the companies she alleged were involved were "Monsanto/Bayer" and she too talked about a hefty hourly rate – this time $400/hr – for consulting work carried out in 2017 for Bayer.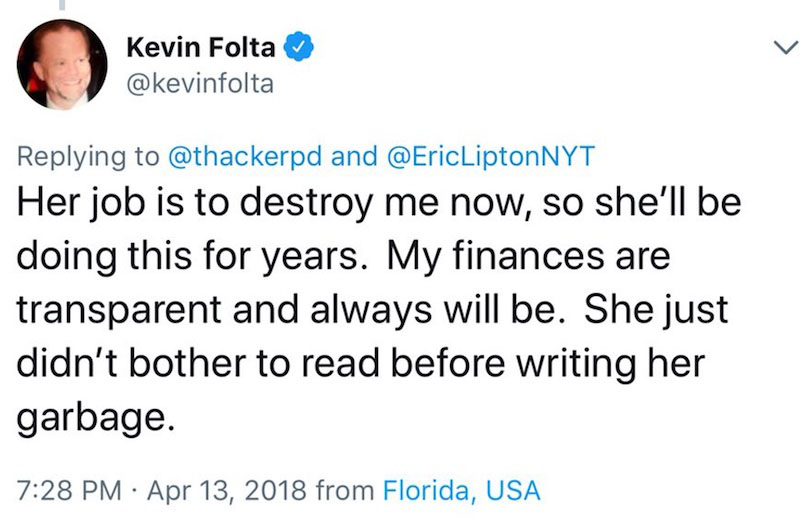 Folta dismissed his wife's claims as "garbage" and called her "truly evil", but it seemed such a coincidence that I went back to my original contact to see what he made of it. His response? "Oh, it's true. I've had a couple of others confirm." He also said he understood it involved legal issues.
As he also suggested Folta would probably have made all arrangements off a non-work email so it would not be subject to FOIA (Freedom of Information Act) requests, we looked at the list of legal issues in Bayer's 2017 annual report for any cases where Folta's expert testimony might be relevant.
But this seemed a dead end, as nearly everything listed related to medical or pharmaceutical issues, asbestos, or toxic waste. There was only one case that had to do with agriculture – a Canadian class-action lawsuit over neonicotinoids against Bayer and Syngenta. However, Folta is no expert on pesticides, despite showing himself more than ready to publicly avow the safety of farm chemicals like glyphosate.
Then someone drew our attention to all the law firms advising on the Bayer/Monsanto mega-deal. Bayer's multibillion dollar acquisition is the largest all-cash transaction in history, making it a gravy train for lawyers.
If Folta is involved with one of the law firms working on aspects of the deal, it might well explain why his wife claimed they had hoped to make enough from this work to pay off their mortgage and build a new home.
We also decided to take a look at some of the other firms she mentioned, apart from "Monsanto/Bayer". Was it credible that he might be getting payments from any of these?
Perhaps the most interesting turned out to be a Canadian company called LEC, whose website says Kevin Folta advises "the company in a consulting capacity". It seems clear from the website that he has been a consultant for the company for many years, even being described as a personal friend of the founder.
Of course, given Folta's statement that he has declined all paid consultancy, he could be doing all this for free. But while digging around LEC, we spoke to someone who told us Folta had been given at least 6,000 shares in the company in return for his input. While wishing to remain anonymous, this informant was able to give us a lot of specific information about this, including the date a large number of LEC shares were transferred to Folta: 30 June 2014.
We were also told that he has a wall-to-wall-encrypted ProtonMail account, so that people can avoid his University of Florida one, which could be subject to FOIA requests. According to our informant, Folta also encourages people to phone rather than mail if they have any concerns about putting things in writing. If true, then this suggests a public scientist who is far from keen on public scrutiny, despite being paid by the public.
Now let's be clear about this: we can't produce definitive evidence that Kevin Folta has been given a large number of shares in a company he's consulted for, any more than we can prove that he's been earning a big fat fee for helping Bayer get the investment monies it needs for its Monsanto mega-merger.
But we do think there is sufficient reason to ask Kevin Folta's employers, the University of Florida, to look into the question of whether the statement on their website that "To date, Folta has declined opportunities for paid consulting and has performed such work at no charge as part of his job", and on Folta's own website that "I've never received personal compensation from any company", is actually true.
Receiving personal compensation from private companies without making that information public may not breach the University of Florida's staff guidelines. But it would raise serious questions over the integrity of a scientist who has repeatedly claimed to be "100% transparent".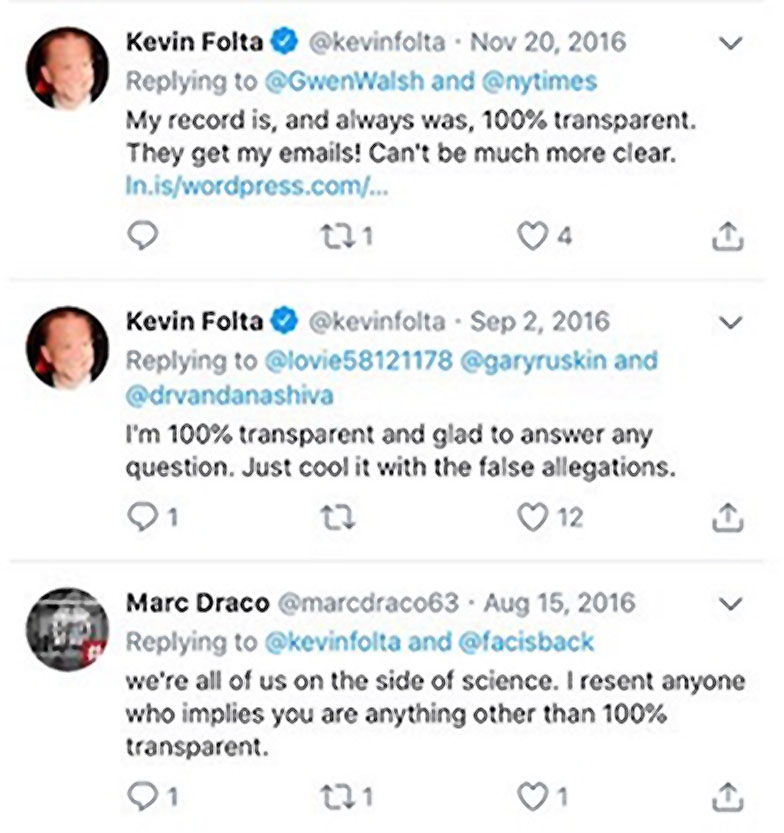 After all, it is Folta who told the readers of the Huffington Post that he held himself to the highest standards when it came to transparency: "If we are going to talk about championing science in an open and honest fashion, we need to be sensitive to the fact that everyone involved wants to know every last detail." He went on to say, "Full disclosure isn't enough. Disclosure needs move beyond appropriate, and now be impeccably clear and obvious. Omission impossible."
Folta wrote that article in the aftermath of revelations that despite his claim that "I have nothing to do with Monsanto", he had not only taken money from them for his outreach work, but had had repeated contact with their PR people, and had even put his name to articles ghostwritten for him by a biotech industry PR firm.

That history means that Folta's denials alone cannot be relied upon. A proper investigation by the University of Florida is now required to see if he has really stuck to the exemplary standard of total transparency that he has so publicly proclaimed.