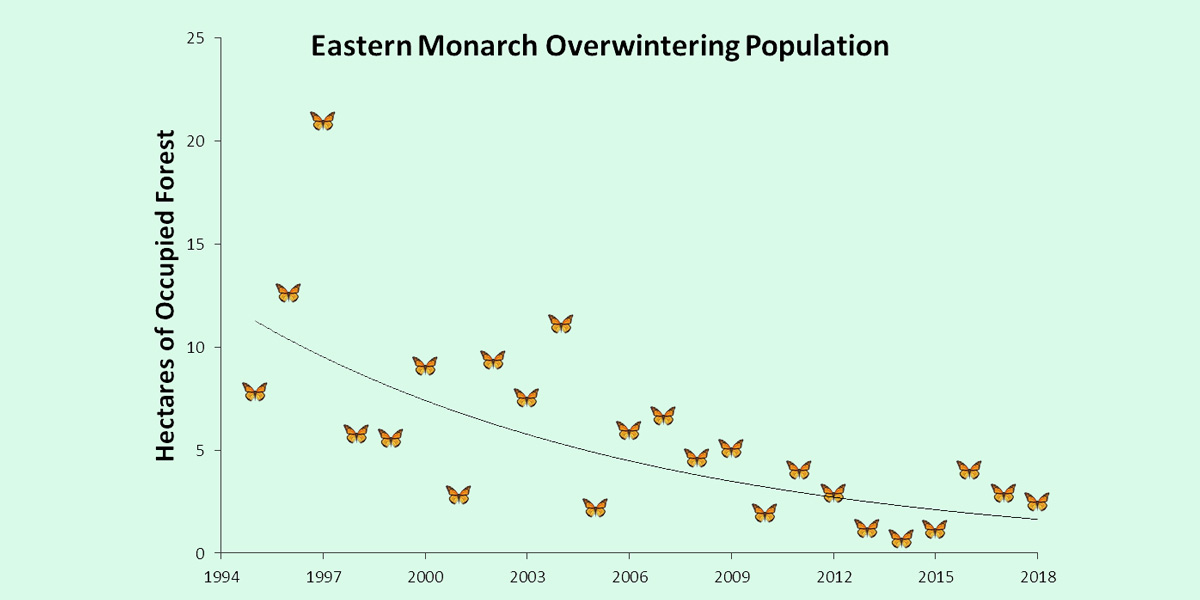 Migration could collapse as population remains low
The yearly count of monarch butterflies overwintering in Mexico, released yesterday, shows a decrease from last year's count and confirms the iconic orange and black butterfly is still very much at risk. The new count of 2.48 hectares of occupied winter habitat is down from 2.91 hectares last winter.

Overall monarchs have declined by more than 80 percent over the past two decades.
In 2014 conservationists led by the Center for Biological Diversity and the Center for Food Safety petitioned the U.S. Fish and Wildlife Service to protect the butterfly under the Endangered Species Act. Monarchs are threatened by a host of sources destroying their habitat and food, but studies have shown that a main source of their catastrophic decline has been genetically engineered crops, engineered with resistance to Monsanto's Roundup pesticide, which has dramatically increased the pesticide use on their habitat. The Fish and Wildlife Service's initial decision was that endangered species protection may be warranted, and pursuant to a court victory the Service agreed to make a final decision by June 2019.

"We could lose the monarch butterfly if we don't take immediate action to rein in pesticide use and curb global climate change," said Tierra Curry, a senior scientist at the Center for Biological Diversity and co-author of the 2014 petition to protect monarchs under the Endangered Species Act.

Roughly 99 percent of all North American monarchs migrate each winter to oyamel fir forests on 12 mountaintops in central Mexico. Scientists estimate the population size by measuring the area of trees turned orange by the clustering butterflies. That population has been dangerously low since 2008. In the mid-1990s the population was estimated at nearly one billion butterflies, but this year's population is down to approximately 93 million butterflies.  

This year's drop is attributed in part to unseasonal weather last year including late spring freezes that killed milkweed and caterpillars, and an unseasonably warm fall that kept late-season monarchs from migrating.

"Another year, another reminder: Our government must do what the law and science demands, and protect monarchs under the ESA, before it's too late," said George Kimbrell, legal director at the Center for Food Safety. "The remaining question is whether the Trump administration wants to do Monsanto's bidding or protect monarchs for future generations."

A 2016 study by the US Geological Survey concluded that due to ongoing low population levels, there is between an 11 percent and 57 percent risk that the eastern monarch migration could collapse within the next 20 years. Scientists estimate the monarch population needs to reach 225 million butterflies to be out of the danger zone.

Monarchs have lost an estimated 165 million acres of breeding habitat in the United States to herbicide spraying and development. The caterpillars only eat milkweed, but the plant has been devastated by increased herbicide spraying in conjunction with corn and soybean crops that have been genetically engineered to tolerate direct spraying with herbicides. In addition to glyphosate, monarchs are threatened by other herbicides including dicamba, Enlist Duo and by neonicotinoid insecticides that are toxic to young caterpillars.

Monarch butterflies west of the Rocky Mountains overwinter on the central coast of California. Their numbers dropped to a five-year low of only 200,000 butterflies this year, down from 1.2 million two decades ago. A recent study found that if current trends continue, the western population has a 63 percent chance of extinction in 20 years and more than an 80 percent chance of extinction within 50 years.

Source: Center for Biological Diversity
http://www.biologicaldiversity.org/news/press_releases/2018/monarch-butterfly-03-05-2018.php