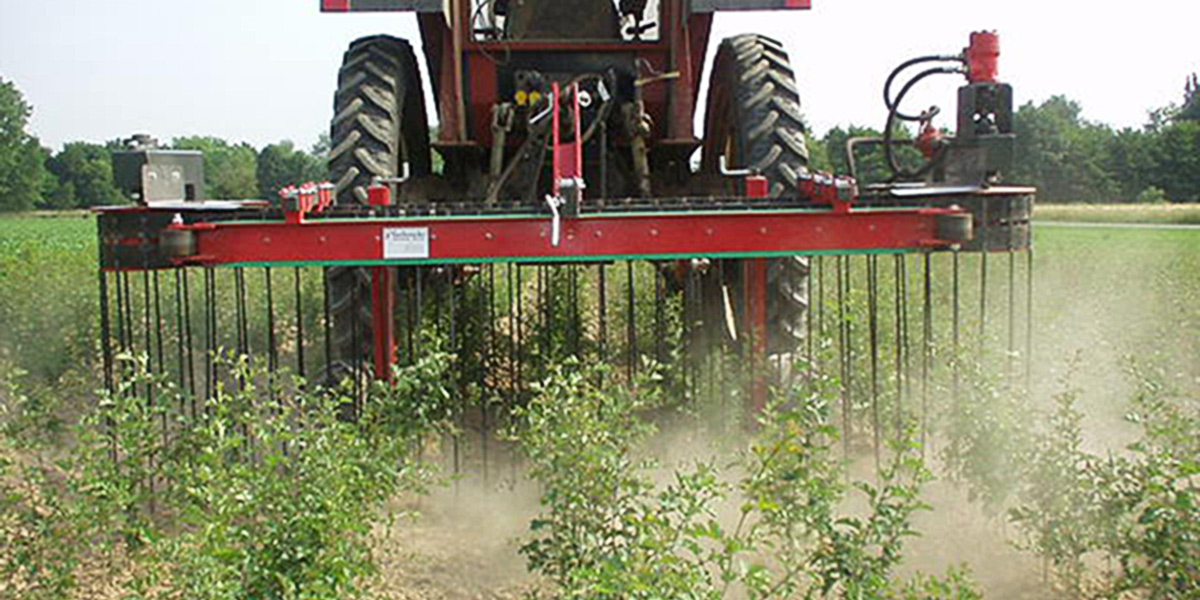 Experts say farmers could manage without glyphosate
At a meeting of an EU expert committee on Wednesday of last week, debate raged over whether or not to extend the European license for the herbicide glyphosate. The vote was postponed because the committee could not reach a qualified majority verdict. The next meeting is scheduled to take place on 9 November.
Without a majority vote by the EU member states on the licence renewal by December 15, glyphosate could be banned in the EU starting in 2018, unless the Commission decides to "save" the chemical by making a decision to renew its licence without the support of member states. With the prospect of a ban in mind, an English-language article, "Farming without glyphosate — how would that work?", has been published in the German newspaper Deutsche Welle (DW).
The article contains some key comments about the impact of a glyphosate ban on agriculture. Although the article quotes farmers as saying a ban would make farming more expensive, it also quotes experts who contradict this assumption.

For instance, Hella Kehlenbeck from the Julius Kühn Institute, a plant research centre linked to Germany's agriculture ministry, believes that "Fundamentally, agriculture can manage without glyphosate." In her research, she estimated the possible costs of a glyphosate ban for German agriculture and found that farming without herbicides "doesn't have to be more expensive in all cases" – much depends on the farming conditions.

In addition, Jörn Wogram from the German environment agency points out that when biodiversity and cleanup costs (e.g. water treatment) are factored in, "a ban of glyphosate and other herbicides could overall be cheaper".
The environment agency is currently analyzing all "externalised" costs of chemical herbicides, including costs for farmers and consumers becoming ill as a result of exposure.
The results of the study will be published next year. "Then we will see the overall picture of chemical herbicides, and be able to draw conclusions on where we can save money," Wogram concluded.
Markets for glyphosate-free produce
Public concern over glyphosate runs high. A recent citizens' initiative calling on the European Commission to ban glyphosate gathered 1.3 million signatures — enough to force the Commission to respond — in record time, and opinion polls suggest a substantial majority exists across Europe for a glyphosate ban.
But would the public also be willing to pay higher prices for food produced without glyphosate? The German Farming Association is doubtful. "I cannot imagine that supermarkets would pay more for field crops," said Katja Börgermann, a pesticide expert at the association.
Nonetheless, other industry insiders do see a chance for farmers to profit from a glyphosate-free product. In an article for Politico, Cam Dahl, president of Cereals Canada, suggests that Italy opposes glyphosate because a ban would give Italian durum wheat producers an advantage over Canadian producers. While we do not accept that ulterior motives beyond public health underpin Italy's stance, Dahl's comment is revealing of the potential for farmers to cater for the sizeable sector of the market that is glyphosate-averse.
Already a German dairy group has announced that it is banning the use of glyphosate by its suppliers ahead of any decision by the EU. Livestock producers and other farmers outside Europe are also expressing concerns about the impacts of glyphosate use, including on markets outside Europe.
NFU cries wolf – again
The UK's National Farmers Union (NFU) has warned of "serious consequences" if glyphosate were to be banned in the EU.
Should we believe it? Maybe not. The NFU has a history of "crying wolf" whenever an agrochemical might be restricted. That's been especially apparent in the case of neonicotinoid pesticides. In 2013 the EU introduced restrictions on three neonics due to the risks to bees. The NFU warned it would be difficult to grow oilseed rape without neonics and put in applications for "emergency" use of these chemicals.
In fact the NFU was echoing the message of an agrochemical industry-sponsored report that warned that if the moratorium went ahead, in five years "the EU could lose 17 billion EUR and more; 50,000 jobs could get lost economy-wide; and more than a million people engaged in arable production… would certainly suffer".
But needless to say, the industry-predicted agricultural armageddon never arrived. UK yield data on oilseed rape gathered since the ban was introduced have not shown a decline. Quite the contrary: this year's yield was one of the highest in the last 10 years and was significantly higher than in 2013, when neonics were still widely used on the crop.
Additional claims by the NFU that the neonics moratorium was forcing farmers to use large quantities of other insecticides also seem to have been untrue.
The NFU is not an organisation to be defeated by contrary facts. In 2015 it was still lobbying for neonics to be reinstated. It pointed to spring oilseed in Sweden and said that 70% had been wiped out by pests.
But again, the facts didn't support the NFU's fearmongering. It turned out the Swedish crop was down just 5%. The NFU also highlighted claims that on some UK farms up to 50% of the autumn crop, which was just being harvested, was being lost to flea beatles. But according to Dr Dave Goulson of the University of Sussex, "Official figures on the area of autumn-sown oilseed rape lost in the UK show that 3.7 per cent has been lost, with about half of this successfully re-sown. Remember, some crops are lost every year, with or without neonics."
Based on the evidence, the NFU has lost its credibility and there is no reason why anyone should believe it when it warns of dire effects from a glyphosate ban.
Some farmers' organisations make money from selling pesticides
Some farmers' organisations are vocal in supporting glyphosate – but have vested interests in pesticides that go beyond the fact that many of their members use these chemicals. They directly depend on the sales of pesticides for their survival.
For example, in Brussels, according to a report in the magazine Basta!, the farmers' union FNSEA is joining forces with the pesticide industry lobby to argue that a ban on glyphosate would cause a drop in cereal production. A large agricultural cooperative in Brittany, Triskalia, has 16,000 member farmers. Its board of directors is managed by farmer members of the FNSEA. In 2016, Triskalia achieved an impressive turnover of 1.9 billion euros. "They sell cattle feed, milk ... but when we look at the annual balance sheets, the most profitable activity is the sale of pesticides," said Serge Le Quéau from the region's Solidarity union. Basta! reporter Sophie Chapelle comments, "The sale of pesticides is, along with feed for farm animals, Triskalia's main lever for profits, out of all proportion to what it receives from marketing genuine agricultural products (milk, cereals, eggs…)."
When farmers' organisations make a lot of money from selling pesticides, it's unsurprising that their interests coincide with those of the agrochemical industry.
Small farmers' organisations support glyphosate ban
Meanwhile small farmers' organisations in France and Germany are actively supporting a ban on glyphosate. The French farmers' union Confédération Paysanne has published a statement saying that the impacts of this product on the health of farmers, citizens and the impacts of the agricultural model it supports "justify a ban". And the German small farmers' organisation AbL has published a list of demands, which include:
1) The active substance glyphosate must not be re-approved. With a temporary transitional period of two years, all farmers are given the opportunity to adjust to the changed circumstances.
2) The end of the approval of glyphosate must not lead to the use or approval of other potentially poisonous substances. Rather, the objective must be a reorientation of arable farming and grassland management. Applicable German plant protection legislation already requires that all biological, mechanical and cultural-technical options are employed before pesticides are used, that should be the starting point.
3) Regardless of the debate on glyphosate, the EU risk assessment of pesticides should be fundamentally reformed. Transparency and use of studies by independent scientific institutes must be the basis.
4) Research, consultancy and training in agriculture must promote agriculture without the use of broad spectrum herbicides. Rather, non-chemical methods of plant protection should be the focus.
In conclusion, it appears that farmers can manage without glyphosate, though some will need support in making the transition.
Image: A mechanical weeding machine. Image from Wiki Commons.