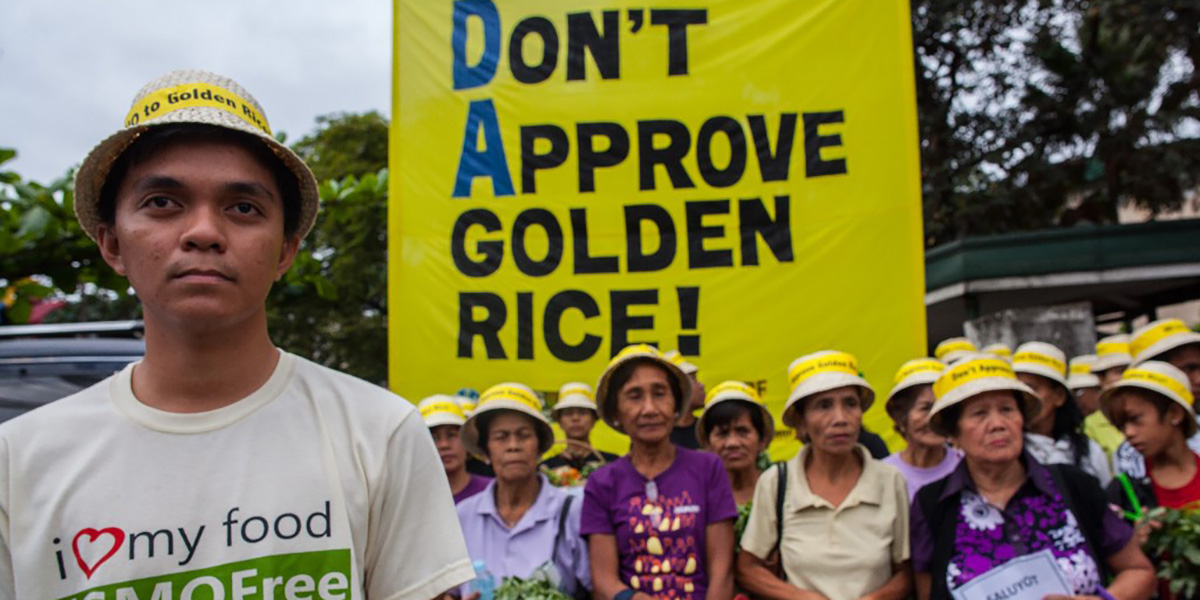 French and Spanish newspapers are not fooled by the Nobel laureates' letter attacking Greenpeace for opposing GMO golden rice
A French and a Spanish newspaper have published articles that are highly critical of the letter signed by over 100 Nobel laureates accusing Greenpeace of "crimes against humanity" for blocking GMO golden rice.

The first article, "Is Greenpeace really guilty of a 'crime against humanity'?", is by the French journalist Stéphane Foucart and was published in Le Monde. Foucart presents Greenpeace's position on GMO golden rice: "The environmental group believes that it diverts attention from the real problem (poverty and access to a varied diet), that it will fail, that its safety is not proven, that it will open the door to commercial GMOs, etc."

Nevertheless, Foucart thinks it is arguable that if golden rice had even a chance to improve the health status of millions of people, it should be tried.

But, he adds, there's a problem: "In order to try golden rice, it would have to be available, and it isn't."

Foucart quotes Glenn Davis Stone, a professor at Washington University in St Louis (USA), who led a four-year rice research programme in the Philippines, as saying, "Despite what these Nobel Prize winners have been led to believe, golden rice is not being, and has never been, blocked by public opposition or Greenpeace. Golden rice is simply not yet ready."

The International Rice Research Institute (IRRI), in collaboration with the Philippine Rice Research Institute, conducted a test on several plots in 2012 and 2013, but golden rice "showed lower yields than the same variety lacking the transgene", says Stone. Neither institute has yet submitted golden rice to regulators for authorisation.

As for the destruction of an experimental plot in 2013 by local activists, Stone says it "occurred after the completion of the trial and involved one small plot among dozens".

Foucart quotes Stone as saying of the laureates' letter campaign, "This story seems above all to arise from a manipulation of public opinion through the use of scientists who are not informed of the facts on the subject."
It is telling that Foucart seems to have been the only mainstream media journalist who bothered to interview Stone, even though he is an acknowledged expert on golden rice and agricultural development issues, as well as being the co-author of a peer-reviewed paper that backs up his statements on golden rice.
Foucart adds an analysis on Twitter of the expertise of the signatories by the mathematician Philip Stark, of the University of California, Berkeley: "1 peace prize, 8 economists, 24 physicists, 33 chemists, 41 doctors". Stark added, "Science is based on evidence, not authority. What do they know about agriculture? Have they done relevant research on the subject?"

The question of who was behind the laureates' letter campaign is also relevant, Foucart writes: "The man who controlled the entrance to the launch press conference on June 29 at the National Press Club in Washington was none other than Jay Byrne, former communications director of Monsanto and now CEO of v-Fluence, a public relations firm". Byrne told Foucart that he was "brought in as a volunteer to help with logistics," and that he no longer has any connection whatsoever with Monsanto.

The initiative is well-timed, says Foucart, to coincide with the US GMO labelling decisions and glyphosate's re-authorisation in Europe. Finally, discussions are in full swing that will decide whether future generations of GMOs will be subject to regulatory constraints. "On all these issues," says Foucart, "be careful what you say or write: according to new standards, you might be judged an accomplice to a "crime against humanity".
Laureates' attack on Greenpeace is "ridiculous and dangerous" – doctor
In an article in the Spanish newspaper El Pais, Manolis Kogevinas, a medical doctor, researcher at the Institute for Global Health of Barcelona (ISGlobal), and president of the International Society for Environmental Epidemiology (ISEE), condemns the laureates' attack on Greenpeace as "ridiculous and dangerous".

Kogevinas writes that while the laureates are "highly skilled people who have helped mankind through science", this does not mean that they are knowledgeable enough to address complex issues such as human malnutrition and sustainable development.

He points to evidence that GMOs can contaminate wild species and adds that the long-term effects of such contamination are unclear. Moreover, he writes, "the evidence on the effects of GMOs on human health are very limited or nonexistent… It is very difficult to make long-term and large-scale predictions on the potential effects of GMOs on the environment and human health."

As far as solving the problem of hunger is concerned, Kogevinas says that the laureates seem to be "accepting uncritically" arguments "put forward primarily by the food industry on the benefits of new technologies and solutions that have not been proven to be sustainable or effective". On the other hand, "Specialized UN agencies like the International Fund for Agricultural Development (IFAD) and other independent institutions do not tire of repeating that new technologies by themselves are not sufficient to achieve sustainable rural development and the elimination of rural poverty, and that there is no single or magic solution to solve complex problems such as malnutrition."

Kogevinas says that accusing Greenpeace, an organisation with "an admirable track record of environmental protection in time of climate change", of a crime against humanity is "indicative of a skewed vision of global reality". He concludes that the Nobel laureate signatories of the letter "would do better to focus their criticisms and actions on preventing the numerous activities that are causing massive destruction of the environment and the health of our planet. Extreme positions, such as that taken against Greenpeace, not only do not help, but are also dangerous."