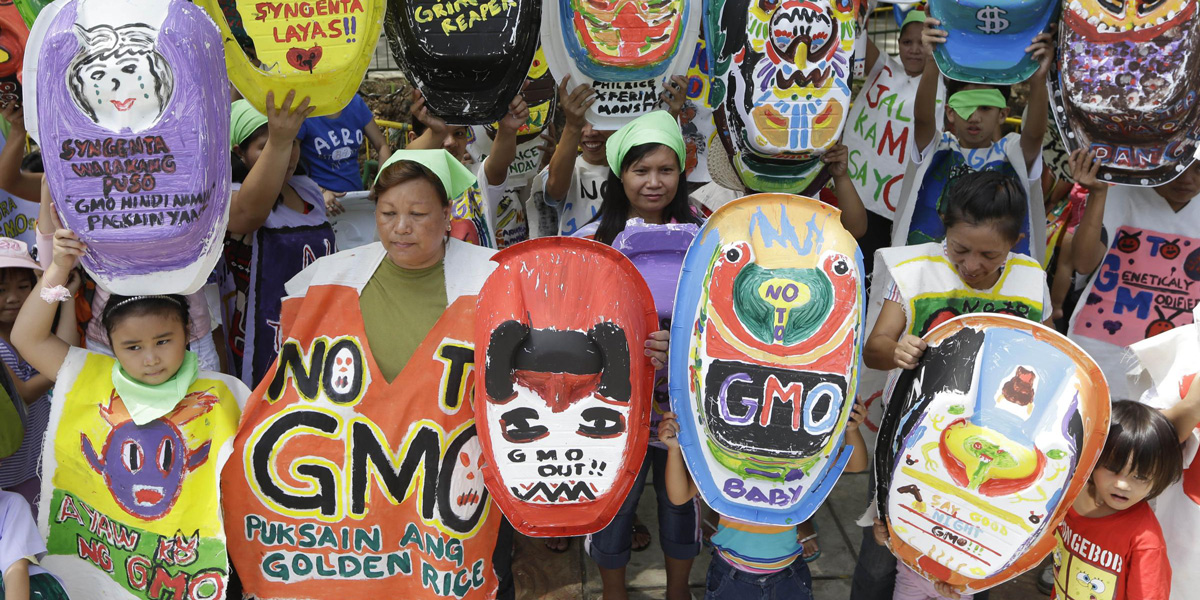 Victory by Greenpeace Southeast Asia and fellow court petitioners
The Supreme Court of the Philippines has ordered a permanent ban on field trials of GM eggplant and a temporary halt on approving applications for the "contained use, import, commercialisation and propagation" of GM crops, including the import of GM products.

The court ruled in favour of Greenpeace Southeast Asia, as well as several Filipino activists, academics and politicians, in a major victory for Filipino farmers and activists around the world.

"This decision builds on a wave of countries in Europe rejecting GE crops, and is a major setback for the GE industry," said Virginia Benosa-Llorin, Ecological Agriculture Campaigner for Greenpeace Philippines. "The Philippines has been used as a model for GE regulatory policy around the world, but now we are finally making progress to give people a right to choose the food they want to eat and the type of agriculture they want to encourage."

The temporary ban is in place until a new 'administrative order' takes effect, and includes the highly controversial GM golden rice, an experimental project by International Rice Research Institute (IRRI) that is currently back at the R&D stage due to the crop's poor performance.[1]

The Supreme Court decision sets a global precedent as it is the first legal decision on GM in the Philippines using the Writ of Kalikasan (environment) - a legal environmental remedy found only in the Philippines. The court is also the first in the world to adopt the precautionary principle - which holds that it is best to err on the side of caution in the absence of scientific consensus - regarding GM products in its decision.

"This case vindicates the many cases of genetic contamination we and others have highlighted, as well as the simple fact that there is no scientific consensus on the safety of genetically engineered crops," said Benosa-Llorin. "It's a major victory for Filipinos, especially for farmers struggling with incidents of genetic contamination."

"GE crops promote an ineffective farming model based on industrial agriculture, a system that cannot withstand the impacts of a rapidly changing climate, and which is failing to deliver what Filipinos currently need: food and nutritional security in times of erratic weather patterns," said Benosa-Llorin.

The decision of the high court invalidates the Department of Agriculture's Administrative Order No. 08-2002 (DAO8) and will bar the Department of Agriculture and the Department of Science and Technology from issuing any GE approvals, pending crafting and approval of a new Administrative Order. It will also impact the trade of GE crops and products.

The Supreme Court affirmed the May 2013 Court of Appeals order for the government to prepare an immediate plan of action to rehabilitate field trial sites and protect, preserve, and conserve the environment, as well as recommending measure to reform the current regulatory process.

Greenpeace Southeast Asia calls on the Philippines government to support ecological agriculture policies, investments and funding.
Notes
[1] The IRRI on the status of GE "Golden" rice: archived on the GMWatch website:
http://www.gmwatch.org/news/latest-news/16503

[2] The petitioners to the case are:  Greenpeace Southeast Asia (Philippines), Magsasaka Siyentipiko sa Pagpapaunlad ng Agrikultura (MASIPAG),  Rep. Teodoro Casino, Dr. Ben Malayang III, Dr. Angelina Galang, Mr. Leonardo Avila III,Ms. Catherine Untalan, Atty. Maria Paz Luna, Mr. Juanito Modina, Mr. Dagohoy Magaway, Dr. Romeo Quijano, Dr. Wency Kiat, Atty. H.Harry Roque, Jr, Former Sen. Orlando Mercado, Mr. Noel Cabangon, Mayor Edward Hagedorn, Mr. Edwin Marthine Lopez

Source: Greenpeace Southeast Asia
http://m.greenpeace.org/international/en/high/press/releases/Philippines-Supreme-Court-bans-development-of-genetically-engineered-products-/