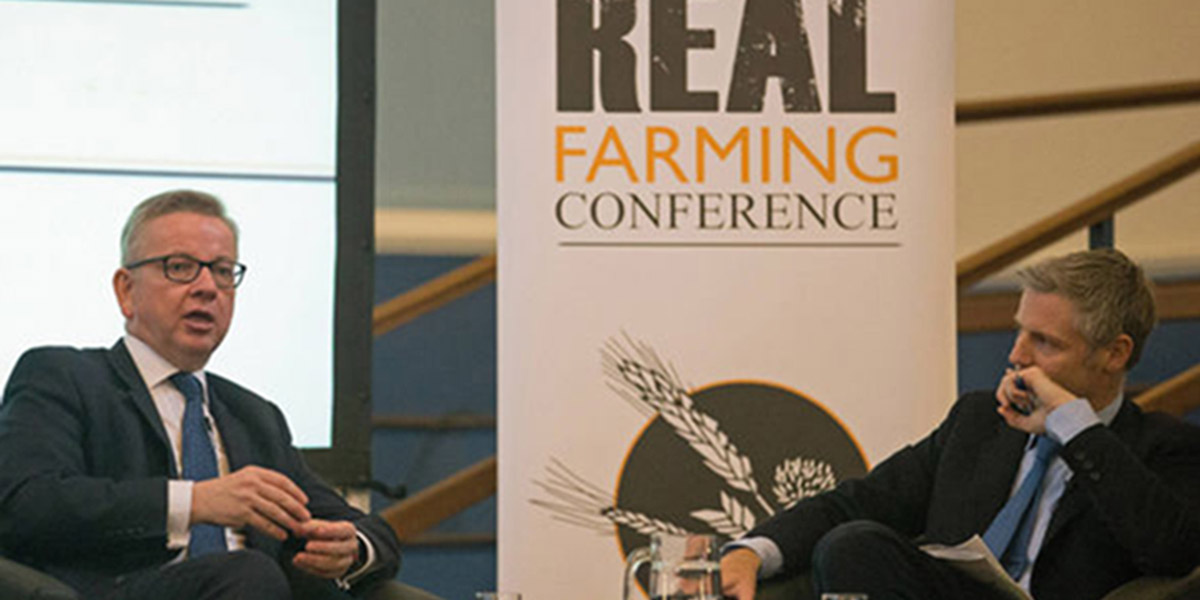 Owen Paterson united the entire environmental movement against him, but could Michael Gove divide and conquer?
According to his allies, the UK's environment minister "is greener than Zac Goldsmith and best mates with Greenpeace, Friends of the Earth and WWF".

And that's certainly the impression you might have gained when Michael Gove gave speeches last week at the Oxford Farming Conference and its more grassroots rival, the Oxford Real Farming Conference (ORFC).

The former Green Party leader Natalie Bennett says of his ORFC reception, "Who'd have thought a Conservative Environment, Food and Rural Affairs Secretary would go down so well at a conference packed with organic farmers and left-wing agriculture workers? There were no boos, and quite enthusiastic applause."

And why not? There was plenty to like, not least his plans to scrap the EU's widely criticised Common Agricultural Policy (CAP) in favour of subsidies for farmers who try to "enhance the environment by planting woodland, providing new habitats for wildlife, increasing biodiversity, contributing to improved water quality and returning cultivated land to wildflower meadows or other more natural states."

His Oxford Farming Conference speech was also peppered with references to safeguarding animal welfare, producing food of the highest quality, and improving public health through better food and farming.

It's not surprising many see Gove as a breath of fresh air after some truly dreadful Defra ministers – most notably Owen Paterson, who managed to unite the entire environmental movement against him, with George Monbiot even labelling him "the worst environment secretary this country has ever suffered".

Even before Oxford, Gove had won over many converts with another well received speech on the need to protect soil fertility, as well as an article in which he gave his backing to a full ban on bee-harming neonicotinoid pesticides. "We only have one earth," wrote Gove, "and it is our responsibility to hand it on to the next generation in a better state."

Gove had also surprised many by publicly taking on his cabinet colleague, Liam Fox, by insisting that Britain will not compromise on standards in order to do a trade deal with the US, for example, by accepting chlorinated chicken.

But not all are convinced by the greening of Michael Gove. Natalie Bennett points out the real differences between what he told the green-minded folk at ORFC and what he said up the road at the Oxford Farming Conference – "a champion of industrial agriculture and big farmers". At the latter, Gove's focus was on "growth" – "in production, in trade, and (astonishingly, in our plastic-choked world) in packaging".

Similarly, on the same day that his article supporting a neonicotinoids ban grabbed so many headlines, the UK quietly voted at an EU committee to reauthorize the controversial herbicide glyphosate.

Gove had already given his backing to its continued use at a little-reported farming event, saying he was committed to ensuring that British farmers will continue to have access to glyphosate. And some suspected that his neonicotinoids article had actually been skilfully timed to distract from the glyphosate vote.

Molly Scott Cato, a Green MEP for South West England, is also among those warning that Gove's conversion to all things green may not be all it's cracked up to be.

She points out, for example, that despite his apparent support for a ban on neonicotinoids, it's not truly a full ban, as he wants to allow limited use under emergency authorisations, which could still be damaging.

And although a neonicotinoids ban would be precautionary, Gove did nothing to keep the precautionary principle, or the principle that the polluter pays, in UK law, via the European Union withdrawal bill. These will no longer apply in the UK when it leaves the European Union.

Scott Cato believes, "Gove is posturing on a series of environmental cheap wins merely to establish himself as a sheep, before revealing himself as a wolf."

Some saw more evidence for that in his Oxford Farming Conference speech when Gove suddenly started waxing lyrical to farmers about gene editing, promoting it in utopian terms as a potential means of "gaining food in abundance" and allowing "mankind to conquer the diseases to which we are vulnerable." Needless to say, there wasn't a whisper of any of that down the road at the ORFC.

And it wasn't just what Gove had to say in Oxford that raised questions about his real agenda. Ted McKinney, Under Secretary for Trade and Foreign Agricultural Affairs to the US Department of Agriculture, was also in town. Unsurprisingly, given the Trump administration's aggressive trade outlook, he urged the UK to relax its food standards post-Brexit. But McKinney, who got angry when someone brought up chlorinated chickens, also revealed that Gove had privately assured US officials that he will draw a line under the chicken dispute on the grounds that it is not fair to American poultry producers.

So has Gove been telling US trade negotiators the exact opposite of what he's been telling the British public?

In a leaked letter to the prime minister last November, he suggested the UK could overhaul, i.e. reduce, regulations after leaving the EU "to give the UK big advantages over EU members".

How to square this with Gove the "environmental defender" and deliverer of the "Green Brexit"?

It's certainly worth remembering that the Tories have a history of "tactical-strategic self-greening", as the writer Robert Macfarlane tweeted in response to Gove's speech. Macfarlane drew attention to an article he wrote back in 2006 about David Cameron turning "green faster than the Incredible Hulk" during the final weeks of the Tory leadership election. In that article, Macfarlane correctly predicted that Cameron would fail to deliver anything like "the greenest government ever" that he claimed he would.

Like Gove, Cameron championed both "green policies" and "deregulation" without any hint of self-contradiction, and like Gove he had at his back a "party whose voting record on green issues was judged by Greenpeace and Friends of the Earth before the European elections in 2004 to be the worst not only in Britain, but the whole of the European Union." Fourteen years later that record still stands.

With Michael Gove nursing his own leadership ambitions, it would be wise to heed Molly Scott Cato's advice and keep Gove the environmentalist in "special measures".*


* The term applied by regulators of public services in Britain to providers that fall short of acceptable standards and thus need to be carefully monitored to make sure that they are making the necessary improvements.


Image: Michael Gove (left) with Zac Goldsmith at the Oxford Real Farming Conference.