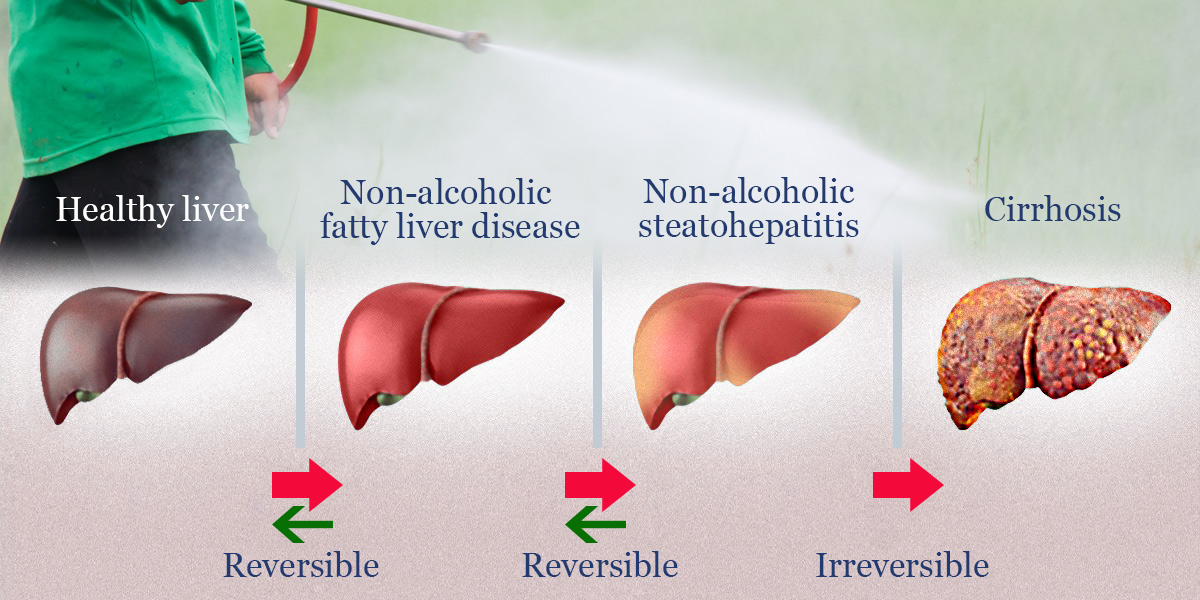 The weedkiller Roundup causes non-alcoholic fatty liver disease at very low doses permitted by regulators worldwide, shows a new peer-reviewed study carried out using cutting-edge molecular profiling analyses. The study is the first to show a causative link between consumption of Roundup at a real-world environmentally relevant dose and a serious disease. It gained widespread media coverage, including in the Daily Mail and The Ecologist. Lead author Dr Michael Antoniou was interviewed about the study by BBC Farming Today.
The Malta government is banning glyphosate products that contain the POE-tallowamine co-formulant. And the Environmental Landscapes Consortium, which "has been operating since 2003 to improve the landscaping and general maintenance of public areas and gardens in Malta", says it's phasing out all glyphosate products.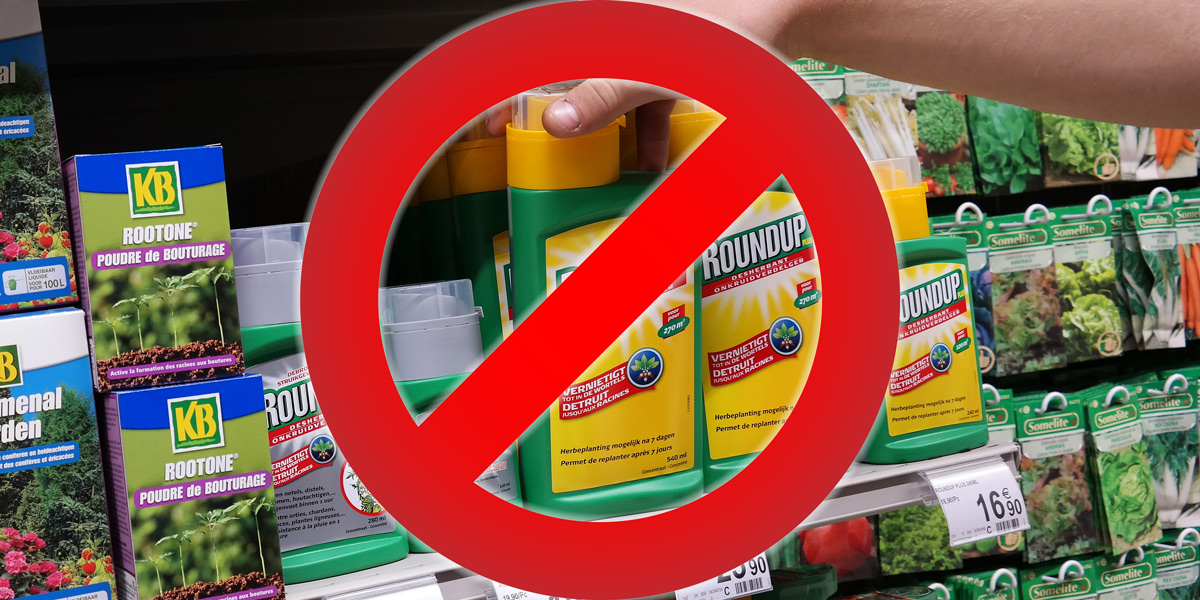 The European Commission has decided to register a European Citizens Initiative (ECI) inviting the Commission "to propose to Member States a ban on glyphosate, to reform the pesticide approval procedure, and to set EU-wide mandatory reduction targets for pesticide use".
The four Green MEPs who requested access to unpublished industry studies on glyphosate have put in a second request to the European Food Safety Authority (EFSA) asking for more information. The MEPs say that EFSA is continuing "to withhold sections of the studies that, in our view, are crucial for an independent assessment".
The Argentinian Federal Prosecutor has filed a request to the Federal Administrative Court of Buenos Aires to ban the sale of GMO seeds that are designed to be grown with glyphosate herbicides (Roundup Ready), due to risks to human health and the environment.
Colombia has started fumigating coca crops with glyphosate again, the government announced Wednesday, after the technique was suspended in 2015 over health and environmental concerns.
Environmental Protection Agency officials received a mixed message from scientists assembled to review evidence of whether glyphosate is a human carcinogen. Some members backed EPA's finding that glyphosate was unlikely to be carcinogenic and others said that the evidence was "suggestive" of carcinogenic potential.
National advocacy groups are suing a cooperative they say is falsely advertising its honey as pure, despite tests that show it contains traces of glyphosate, used in Roundup.
France has officially given the boot to harmful chemicals in outdoor places where young children, crucial pollinators and the general public frequently gather.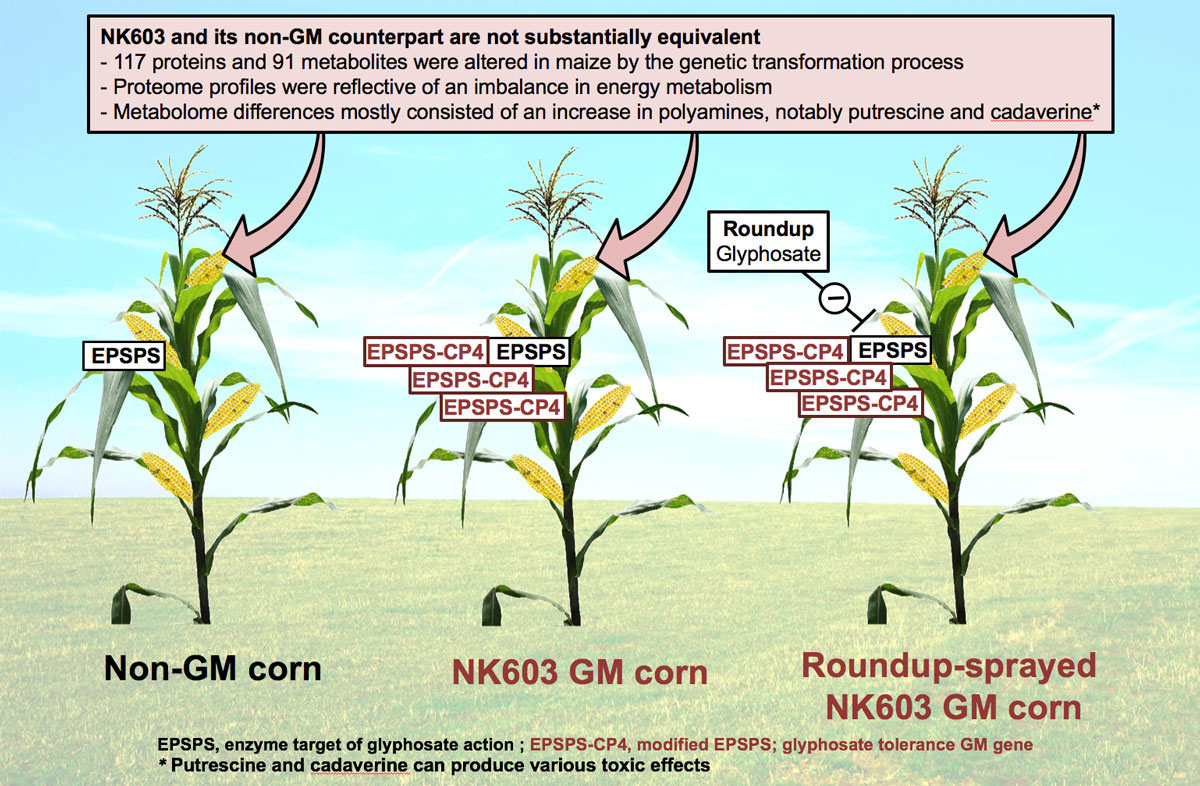 A GMO maize variety that has been in the food and feed supply for years is not substantially equivalent to its non-GMO counterpart, a new peer-reviewed study shows. The study, published in Scientific Reports, used cutting-edge molecular profiling methods ('omics') to reveal changes in the GMO maize, including an increase in two potentially toxic compounds. The study showed that these changes resulted from the genetic engineering process and could have implications for the health of people and animals that eat the maize.
The study was covered in The Times, which headlined its article, "Millions face health risk from 'toxic' GM crop", and also in Le Monde.
The UK's Science Media Centre attempted to dismiss the study, using quotes from "experts" who unfortunately got their facts wrong. Dr Grant Jacobs published a critical blog post on the Sciblogs (an arm of the Science Media Centre New Zealand) website. Dr Michael Antoniou, lead author of the study, responded to Jacobs in detail both in the comments thread and in a document posted on Google Docs.
Jane Byrne, writing in Feed Navigator, quoted former Monsanto scientist Alison Van Eenennaam as saying that there were "a number of experimental design problems" with the study. However, as one reader comment in the comments thread to the article points out, Van Eenennaam doesn't have the correct expertise to pass judgement on this study. She has never published an 'omics' analysis. Instead she is the author of a study that claimed that 100 billion animals eating GM feed prove that GM is safe. Yet 94.7% of those 100 billion animals are 49-day-old broiler chickens, which don't live long enough to reveal any health effects and tell us nothing about mammalian health risks. In the comments thread, the authors of the new study responded in detail to Van Eenennaam's criticisms as well as to criticisms from the Science Media Centre "experts" who were quoted in Jane Byrne's article.
Prof Jack Heinemann argues that new research studies (discussed in detail above) showing that a GMO maize is not substantially equivalent to its non-GM counterpart and that very low doses of Roundup caused fatty liver disease in rats mean that it's time to reassess the way that GMOs and pesticides are evaluated for safety by regulators.
Rats fed GM Bt corn MON810 for only 90 days suffered serious damage to the surface mucous membranes of the jejunum (part of the small intestine), according to a new study. The researchers commented that the findings contradict reassuring reports on GM products. The EU Commission is trying to get approval for this corn to be grown in Europe.
The EU Commission wants to allow the cultivation of GM maize before the 2017 growing season starts.
According to a recent legal dossier, the pending applications for the cultivation of GM maize in the EU suffer from crucial deficiencies. In consequence, the pending applications must be rejected and the existing authorisation for cultivation of maize MON810 withdrawn.
The corn earworm pest is showing increasing resistance to the insecticidal toxins engineered into GM Bt corn, according to a new study. The authors state that "Many sweet corn farmers in Maryland either have stopped growing" GM Bt corn or "are applying more insecticide sprays to compensate for the reduced control efficacy". They also note that the resistance is likely to increase and spread in future due to a number of factors.
Researchers have found that a large share of scientific studies on GM Bt crops were tainted by conflicts of interest, mostly because of having an employee of a GM producing company as one of the authors or having received funding from the company. Forty percent of the articles showed conflicts of interest, and studies with conflict of interest showed a 50 percent higher frequency of outcomes favourable to the interests of the GM crop company.
Products of new genetic engineering or "gene editing" techniques must be tested, regulated, and labelled as GMOs, says the German GMO-free industry association VLOG.
The US Food and Drug Administration has announced that it is dropping plans to release millions of GM mosquitoes in Key Haven, Florida. Attorneys for Key Haven and concerned citizens noted that the FDA did not complete adequate testing on the potential impact the release would have on people, the local environment, and threatened and endangered species. Meanwhile a non-GMO and non-chemical approach to controlling mosquitoes shows promise.
Missouri's largest peach producer has filed a lawsuit against Monsanto, alleging that the company bears responsibility for illegal herbicide use suspected of causing widespread crop damage in southeast Missouri and neighbouring states. The suit filed Nov. 23 on behalf of Bill Bader, who operates Bader Farms near Campbell, Mo., seeks compensation for extensive damage to the farm's peach trees suffered over the last two years — an interval which coincides with Monsanto's release of GM crop varieties resistant to the herbicide dicamba.
International conservation and environmental leaders have called on governments at the 2016 UN Convention on Biodiversity to establish a moratorium on the controversial genetic extinction technology called gene drives.
During the 13th Conference of the Parties (COP 13) to the UN Convention on Biodiversity (CBD), countries agreed to investigate how digital genetic sequences may be used to commit biopiracy and warned against a risky new genetic extinction technology called gene drives. They also agreed on a working definition of synthetic biology and to support an ongoing expert group to move forward international discussions on the topic. However, this progress was undermined by a significant move backwards in safety oversight and risk assessment when a key standing expert group expected to issue risk assessment guidelines for synthetic biology was dissolved.
A new biosafety briefing focuses on GM crops engineered to utilise RNA interference. Such GMOs present a unique set of risks as compared with those generated with classical transgenic approaches.
In an important victory for public health and the environment, the European Court of Justice has ruled that safety tests conducted by the chemical industry and used by regulators to assess the dangers of pesticides must be disclosed.
Zimbabwe has the capacity to produce up to 10 times surplus maize for the export market without using GM technology, a cabinet minister has said. The country has maintained its stance against GMOs.
The state governments of Yucatan, Quintana Roo and Campeche have pledged to make the Yucatan Peninsula a GMO-free region.
Earlier this month, the Department of Agriculture quietly green-lighted the first-ever GM grass. The GM creeping bentgrass, a product of Monsanto and Scotts, is genetically engineered to be immune to Monsanto's Roundup herbicide. It can cross-pollinate with related wild species and spread uncontrollably.
UK farmers are abandoning ploughing and turning instead to systems such as cover cropping. [GMW: No GMOs and herbicides are involved. GMO proponents like to claim that no-till adoption was massively facilitated by the introduction of GM crops, but this is misleading.]
Farmers in northeast China's Heilongjiang province, China's top grain producer, will be prohibited from growing GM crops. Ecns.cn
Monsanto has announced that it has reached a new global licensing agreement with the Broad Institute of MIT and Harvard for the use of CRISPR-Cpf1 genome-editing technology in agriculture.
For the first time in more than two decades, life expectancy for Americans declined last year – a troubling development linked to a panoply of worsening health problems in the United States. There's no evidence that the decline in US life expectancy has anything to do with the large amount (relative to other countries) of GM foods and their accompanying pesticides in the average American diet. But equally there's no evidence that these factors are not to blame.
LOBBYWATCH
At the end of last year, the University of Florida scientist and GMO proponent Kevin Folta promoted a new Twitter account called @askepticalnurse to attack the anti-GMO movement. But Folta's "nurse" turned out to have been a "cosmetologist" – someone trained in hairdressing, nail care or makeup – whose only nursing qualification appears to be a delinquent licence as a nursing assistant.
Kevin Folta has responded to accusations that he knowingly promoted the diet and health expertise of an unqualified nurse, by condemning the criticism as "libelous" and the work of "evil people". But he has failed to rebut the charge that the person in question is not a nurse, yet calls herself one, and that he knew it.
The US National Academy of Sciences is facing questions about how its expert committee members were selected. The concerns focus on a panel studying biotechnology. Critics say that several committee members have financial ties to biotech businesses that could colour the panel's report, which is expected to be published soon, potentially giving short shrift to health and environmental worries.
The First Amendment of the US constitution guarantees the right to free speech. In an astonishing and outrageous move, the State of Iowa tried to remove this fundamental right in its trial against two protesters against Monsanto, the activist known as Reverend Billy, and his co-defendant, Father Frank Cordaro, a peace activist and co-founder of the Des Moines, Iowa Catholic Worker Group. The State of Iowa's motivation appeared to be to protect Monsanto. Fortunately, Rev Billy avoided jail.
Pew Research's GMO survey misleads
A new public opinion poll from the Pew Research Group imposes false narratives on the GMO debate and distorts the public discourse on this controversial technology.