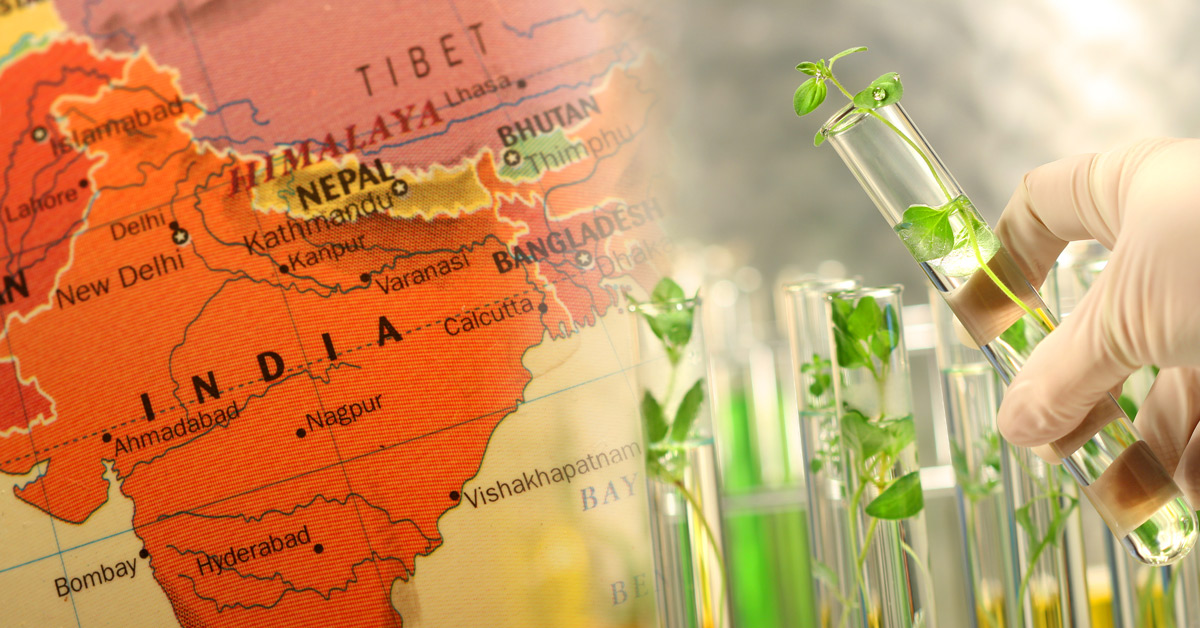 The Indian government assumes that these plants will be non-transgenic – but the uncertainties of gene editing could catch them unawares
The Indian government has exempted certain types of gene-edited plants from the country's genetically modified organism (GMO) regulations. GMWatch condemns the move as unscientific, irresponsible, and based on assumptions that could turn out to be false.

The change in rules, notified on Wednesday, will allow gene-edited plants without any "foreign" genes to be subjected to a weaker regulatory process than the one applied to other types of GMOs. A scientist working with GM technologies said the changes will exempt two categories of gene-edited products — in which genes are either disrupted to make them non-functional or altered to change the function of their protein product but not where a gene from another organism has been deliberately inserted — from being treated as GMOs.

These types of gene editing alterations that are supposedly without foreign genes are known in the EU as SDN-1 (gene deletion/disruption) and SDN-2 (gene alteration using a DNA "repair template"). SDN-3 involves the deliberate insertion of foreign genes and under India's new rules, GMOs developed using this technique will continue to fall under the existing GMO rules.

Approved by the Indian government's Ministry of Environment and Forests on Wednesday, the changes follow recommendations from the department of biotechnology and the department of agriculture, research and education that "SDN-1 and SDN-2 genome-edited products free from exogenous introduced DNA be exempted from biosafety assessment".

As most plant gene editing applications are envisaged to involve an SDN-1 and SDN-2 outcome, the vast majority of these gene-edited products will be exempt from India's GMO regulations.   

The move means that India now has a separate – undoubtedly weaker – regulatory process for such technologies that takes them out of the oversight of the GMO regulator, the Genetic Engineering Appraisal Committee (GEAC).

Commenting, Kavitha Kuruganti of the Alliance for Sustainable and Holistic Agriculture said, "This is unscientific and risky. Genome editing as per Environmental Protection Act 1989 rules has to be regulated fully by GEAC and not selectively."
Wrong assumptions
We agree with Kavitha Kuruganti's view that there are major problems with the assumptions behind this deregulation move, which could open it up to legal challenge. And that doesn't just mean in India. There are several governments that are now moving to deregulate gene-edited crops on the supposed basis that the gene editing-induced changes "could occur naturally" or through conventional breeding and/or that they contain no foreign genes.

But these assumptions are extremely shaky, as we explain below. Thanks to molecular geneticist Dr Michael Antoniou for his technical advice.
SDN-1 (gene deletion/disruption)
In SDN-1, if the gene-editing tool has been introduced into the plant cells as plasmids (circular pieces of DNA) encoding it, either the whole plasmid or fragments thereof – a type of foreign DNA – could be incorporated into the genome by accident. In this case, the product could end up being an unexpected transgenic GMO. Such changes may not be spotted by the developer and without regulatory checks the regulator won't even be looking.
SDN-2 (gene alteration)
In SDN-2, there is a high likelihood of the repair template DNA unintentionally being incorporated into the genome, either in part or as a whole. You may get the intended repair, but in addition, the repair template DNA can be integrated into the genome at the intended edit site or elsewhere, at so-called off-target sites. In these cases, as with SDN-1, an unexpected transgenic GMO could result.

This happened in the case of Recombinetics' gene-edited hornless cattle. The entire DNA repair template should not have inserted into the cattle's genome – but it did. The repair template also contained genes for antibiotic resistance, which raised additional health and safety concerns. Recombinetics' scientists completely missed this unintended insertion, claiming that "our animals are free of off-target events". The unintended insertion was only spotted by scientists at the regulatory body, the FDA, which had done its own analysis of the animals' genome.

Although the generation of the hornless cattle was always intended as an SDN-3 (gene insertion) editing event and involves animals, not plants (currently the Indian government's move is restricted to plants), it demonstrates in principle what could easily happen with SDN-2 in plants. Yet this kind of regulatory scrutiny will almost certainly be removed with India's decision to exempt SDN-2 editing events from the GMO regulations.
Will errors be caught?
GMO developers often claim that they will check their gene-edited products to ensure that inadvertent incorporation of foreign DNA hasn't happened. But the question arises of how they will check. What they should do is use whole genome long-read DNA sequencing in order to spot all the unintended changes (including any integration of foreign DNA), as well as the intended changes. The aim is to ensure that only the intended change has occurred and nothing more.

But whole genome long-read DNA sequencing is still the exception rather than the rule. Most developers of gene-edited plants are still stuck in the old habit of using only short-read sequencing. Yet this will miss many unintended changes. There is no excuse not to use long-read DNA sequencing as the technology is well established and was recently used to identify disease resistance genes in wheat.   

In addition, GMO developers should carry out the full spectrum of "omics" analyses – transcriptomics, metabolomics, and proteomics – to ensure that no unintended and potentially dangerous functional and compositional changes have taken place. If they have, it's a strong indication that the plant's biochemistry has been altered in unexpected ways. That could include the production of toxins or allergens, higher levels of existing toxins and allergens, or altered nutritional value.

Attempts to gene edit plants without creating unintended effects are (to borrow Amy Winehouse's words) a losing game. Genes operate in networks, so it's highly unlikely that the gene editing will only bring about the intended change without creating other unintended alterations in gene function (patterns of gene expression), with potential impacts on crop performance and risks to consumer health. (Whether this disruption could occur naturally is a debatable point. In our view, the onus is on the GMO developer to prove it could.)
Deregulation means checks won't be done
The problem with the checking procedures described above is that when gene-edited plants are deregulated, there will likely be no requirement to carry them out. But there is no excuse for developers omitting to do so, as they are relatively inexpensive and easy to access. The Indian government has a chance to require, through risk assessment guidance, that they are carried out. It must seize that chance now. But even if it does, deregulation will mean nobody will be checking that the developers have actually followed the guidance and that they haven't missed something important.
And even if transgenes are not involved, small intended changes induced by gene editing can result in large and dangerous consequences, as a recent scientific paper pointed out. These can include unexpected toxicity or allergenicity of gene-edited plants.

Further information

Explanation of SDN-1, -2 and -3
 
Report to download from Testbiotech and CBAN warning against the deregulation of genetically engineered organisms
The risks of New GE techniques

Study showing that inducing supposedly small alterations in the genome of crop plants can nevertheless generate complex changes. The results of the study highlight the need for plants developed using new genetic engineering techniques to undergo case-specific risk assessment, taking both the properties of the end product and risks posed by the applied procedures into account.
Kawall K (2021). The generic risks and the potential of SDN-1 applications in crop plants. Plants 10(11). 10.3390/plants10112259.  

Compilation of useful scientific references on the risks of even SDN-1 and -2 gene editing (search for "SDN")


Report: Claire Robinson