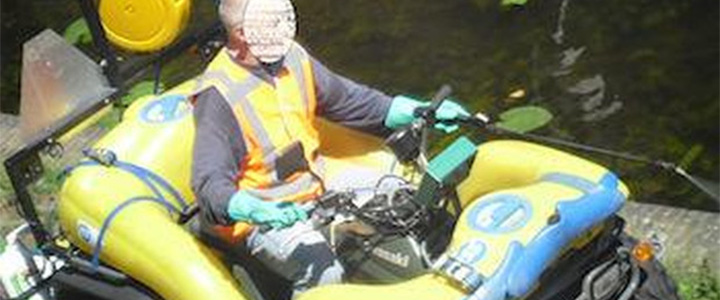 Rotterdam city council has voted to ban Monsanto's Roundup herbicide after citizen campaign
Rotterdam bans Monsanto's Roundup as part of new Green initiative
Fritz Kreiss
OccupyMonsanto, 19 Jul 2013
http://occupymonsanto360.org/blog/rotterdam-bans-monsantos-roundup-as-part-of-new-green-initiative/
Just a short while ago, on June 27th, the Rotterdam city council voted to ban Monsanto's controversial Roundup herbicide. The initiative was begun largely thanks to a citizen run petition campaign appropriately named, "Non-toxic Sidewalks for Our Children", along with a lot of support from the Green Party to get it passed.
While glyphosate (Roundup's "active" ingredient) has long been believed to be quite non-toxic, recent studies have shown that to be very much untrue. The herbicide, currently the most used in the world by a large margin, has been found to be especially harmful when combined with the adjuvants labeled as "inert ingredients" which are designed to increase delivery of the pesticide to target plants.
This ban is considered a big win by the city and a large number of the citizenry who have been working hard to both start the initiative and get it passed. RoundUp has already been found in the urine of a majority of western European urbanites, according to a recent study.
"It is bad stuff and I'm glad we're giving it up," says Emile Cammeraat, Green party leader in the council. "The producer Monsanto also provides genetically engineered seeds, Monsanto's own plants are the only thing RoundUp doesn't kill. In such a business district as you want to be, no Roundup is simply necessary, as there are organic alternatives." (Translated by Fritz Kreiss)
In addition to this win, the Greens have many more reasons to celebrate as they had 12 more of their proposals passed. The city will be designing and building many more projects all over ranging from new parks and play areas, new fruit trees all over, initiatives to help support the bees and other important wildlife, all the way up to new green wall projects being erected. "Think of more flowers, more space for urban wildlife and (natural) scrublands, and less lawnmowing," said Ms. Cammeraat.
The initiative was clearly started primarily out of parents' concern for the children playing in parks and other areas that may be contaminated by the pesticide, but as often is the case with environmentally related initiatives such as these; the benefits it ultimately results in are innumerable. Total cost of the 12 initiatives is projected to be approximately 90,000 euros (the glyphosate ban costs little to nothing at all).
Sources: http://rotterdam.nieuws.nl