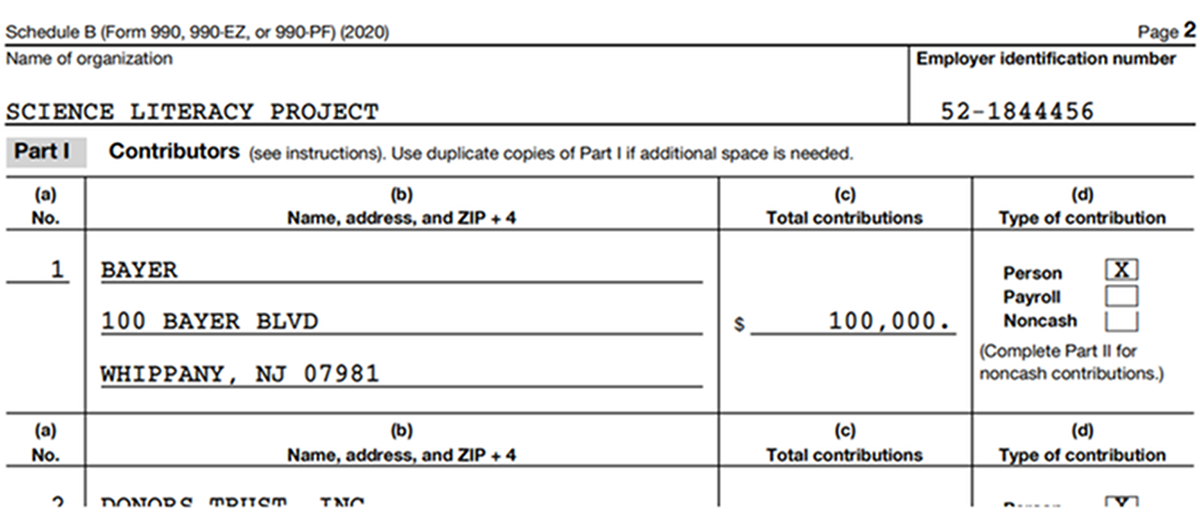 Kevin Folta stands accused of helping the GLP get Bayer's big dollar funding, then lying about it. Report by Jonathan Matthews
Recently the Genetic Literacy Project has been heavily targeting critics of the herbicide Roundup, now owned by Bayer, with a barrage of articles, podcasts, and tweets, in which the controversial University of Florida scientist Kevin Folta has been much to the fore.
It all started when the Guardian published a piece by the award-winning journalist Carey Gillam on a CDC study showing the prevalence in urine samples in the US of Roundup's controversial active ingredient glyphosate, which has been linked to cancer.
Kevin Folta led the charge for the GLP with a piece that labelled the Guardian article the latest example of "yellow journalism" (i.e. lurid, sensationalist reporting), not to mention "deceptive journalism", by "scientifically illiterate journalists". Folta then gave over a further three paragraphs to attacking Gillam personally and outlining his version of her "ethically questionable history". This somehow failed to mention that, among other things, she won a Society of Environmental Journalists' book award or that her former colleagues at Reuters say she is "an exceptional journalist" who produces "impeccably reported" stories.
"Slimeball tactics"
The GLP, which has earned a reputation even among GMO supporters for using "slimeball tactics" and which revels in character assassination, followed up Folta's article with two pieces directly targeting Gillam. Authored by the GLP's "founding executive director" Jon Entine, these prompted veteran science reporter Michael Balter to tweet, "If you see a vicious attack on the excellent environmental journalist @careygillam, just be aware it is bought and paid for by Bayer/Monsanto. I'm not going to link to any of it."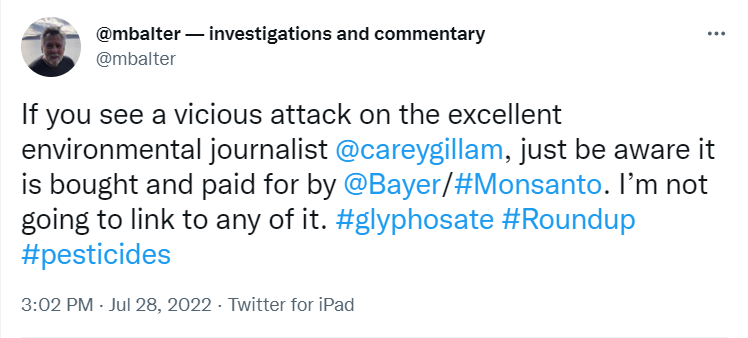 And neither are we, because we know from our own experience that in order to smear industry's targets, the GLP is perfectly happy to publish false and misleading information and attempt guilt by convoluted association.
Bayer is directly funding the GLP
Balter's Bayer reference stems from something neither Folta's GLP piece, nor Entine's followups, felt it necessary to mention – that the GLP is directly funded by the producer of Roundup to the tune of $100,000 (received in the last financial year for which the GLP's tax records are available, July 2020-June 2021). Folta's own lucrative financial relationship with Bayer, which has earned him over $200,000 in consultancy fees, also failed to merit a mention.
Carey Gillam has also noted this reluctance to draw attention to Bayer's backing in Jon Entine's attacks on her. When Entine texted Gillam to ask that she provide a comment for one of his pieces, the reporter asked him to quote her as follows: "The $100,000 you took from Bayer in Fiscal Year 2020/2021 is clearly being put to use in these false allegations. You're so far from any nugget of actual fact there is nothing further for me to say. I assume you'll be disclosing to readers the donation?" But the GLP failed to publish any part of her comment.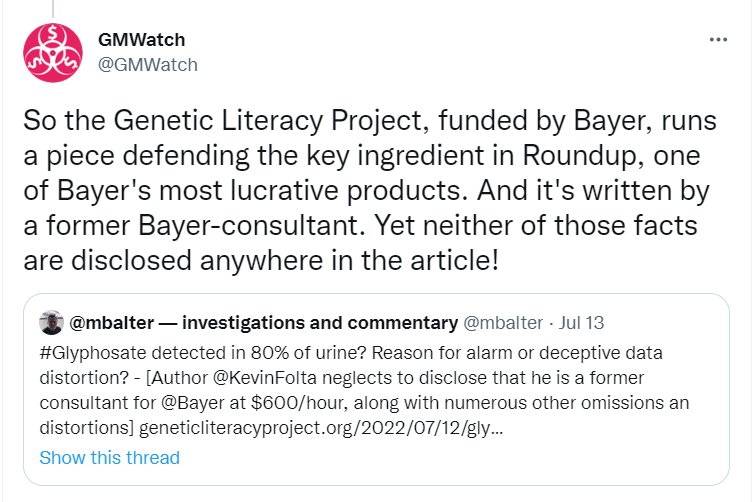 Accusations of lies/omissions
The complaints about this lack of candour don't only come from industry critics.
In a series of damning tweets, a former ally of Folta and Entine has effectively accused them of "omitting or lying about" Bayer's big dollar funding.
Karl Haro Von Mogel is the co-founder of Biology Fortified Inc., a nonprofit that defends GM crops and their associated pesticides, and which used to have Kevin Folta as one of its directors before an acrimonious falling out.
Folta accused of helping secure Bayer funding, then lying about it
In his tweets, Haro Von Mogel refers to Kevin Folta's GLP piece and then complains, without ever directly naming Folta, that "The author of the article falsely asserts that GLP has no connection to industry".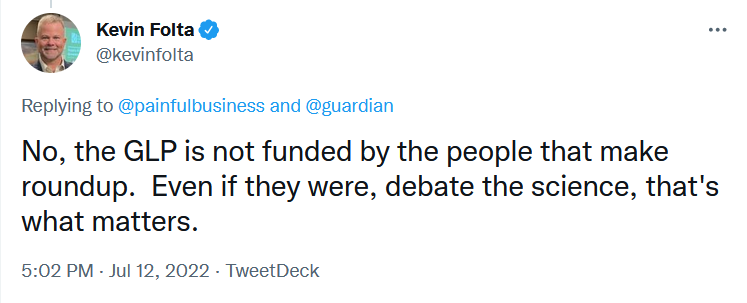 This refers to tweets in which Folta asserted, "No, the GLP is not funded by the people that make (R)oundup" and assured people that claims the GLP was "industry connected" were "not true".
Haro Von Mogel then accuses the author (i.e. Folta) of not just lying about the Bayer funding but of having helped arrange it: "I have information that they [Folta] not only knew about GLP industry funding, but assisted with securing it."
If this is the case, then Folta's response the following day to being told that the GLP was Bayer-funded is beyond disingenuous. He tweeted, "I saw that just now. I could not remember who their funders were, but it was mostly grants, foundations, etc. Industry dollars? Great. There should be more of that."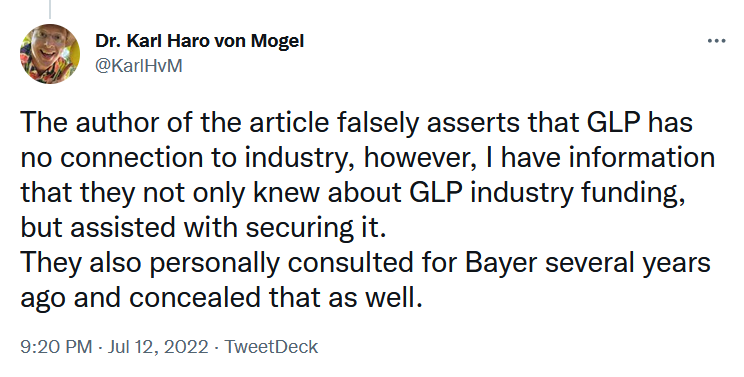 GLP accused of concealing Bayer funding until recently
It's not just Kevin Folta that Haro Von Mogel has accused of being less than transparent. He also has Entine's GLP in his sights, tweeting, "It may also interest people to know that the Bayer funding started over a year ago, and was not revealed until just a few months ago." He added that this type of behaviour "creates distrust" and that he had "done making excuses for it".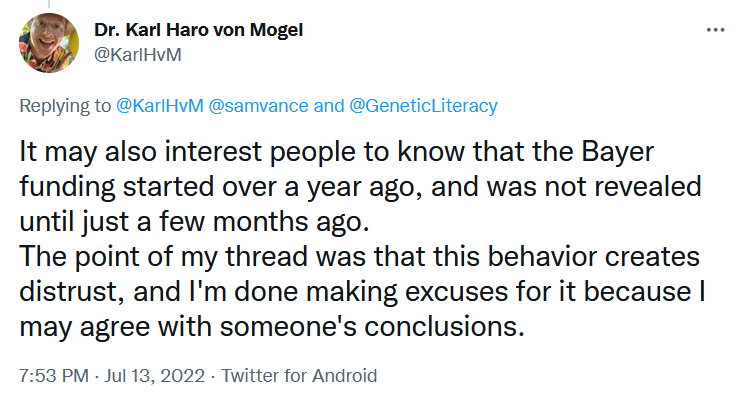 Folta's record of concealment
Keven Folta was initially unambiguous that the makers of Roundup were not funding the GLP and he gave the impression a day later that he had only just seen that they were. So how credible are the accusations of not just "false statements" on Folta's part, but his direct involvement in securing Bayer's money?
Haro Von Mogel has long been closely associated with both Folta and Entine, and others around them, and has been close enough to industry for Monsanto to view his Biofortified organisation as an "industry partner", so it seems perfectly plausible that he might know how the Bayer funding came about.
On the other hand, he and Folta have fallen out and Folta dismisses him as merely "an unprofessional annoyance" who "has invested a lot of time harassing me". Folta has also strenuously denied other charges made by Haro Von Mogel.
But there is no doubt that Folta has had direct financial links to both Monsanto and its current owner Bayer, and has a troubling record of not just failing to disclose those links but of actively denying them:
* Nearly a year after he got $25,000 in funding from Monsanto for his pro-GMO outreach programme, Folta was still publicly proclaiming, "I have nothing to do with Monsanto." He even said as much to the Pennsylvania House of Representatives.
* In his pitch to Monsanto for that funding, Folta outlined exactly how it should be paid to him in order for it NOT to be "publicly noted", i.e. so it wasn't disclosed to the public.
* Folta has repeatedly denied doing any consulting for Bayer, even after Michael Balter published the actual letter from Bayer's lawyers that set out exactly what work Folta was retained to do. That showed Folta's work was authorised by Bayer, would be paid solely by Bayer, and that Bayer's lawyers classified his work as "consulting".
That history means that Folta's denials alone cannot be relied upon. Moreover, Haro Von Mogel was among those who accused Folta of not disclosing his consultancy work for Bayer – indeed, he says it's the reason they fell out. And the evidence that subsequently emerged confirmed the accusation beyond all reasonable doubt.
Full transparency?
So what about Haro Von Mogel's accusation of only belated disclosure by the GLP of its Bayer funding?
Like Kevin Folta, who has repeatedly claimed to be "100% transparent", the GLP makes unambiguous statements about its own financial transparency. "The GLP stands for transparency", it states on its Mission, Financial Transparency and Governance page, where it uses "The GLP is committed to full transparency" as a tagline.
But if the Bayer funding started over a year ago, as Haro Von Mogel maintains, there seems to be no mention of it in archived versions of the GLP's "financial transparency" page until March of this year, when it can finally be found listed under the wrong fiscal year. That's 9 months after the end of the tax year in which the money was received.
What also suggests that the GLP's "full transparency" has been somewhat opaque is that when the news of Bayer's big dollar funding recently broke on Twitter, it clearly surprised many people who closely follow these issues. Critics, of course, have long maintained that Entine and the GLP have deep ties to industry that they're reluctant to disclose, with lawyers even claiming this included undeclared funding funnelled from Monsanto. But this is something the GLP have always denied.
Does any of this matter?
Kevin Folta and his supporters tend to bat off any concerns about industry funding by saying their defence of glyphosate should be judged purely on its own merits. Hence, Folta followed up "No, the GLP is not funded by the people that make (R)oundup" with "Even if they were, debate the science, that's what matters."
Haro Von Mogel has a riposte to this type of deflection, tweeting: "#Protip: If you find yourself arguing that your or someone else's conflicts of interest must be ignored ('check the analysis! What is factually wrong?! Ad Hominem!') or that it shouldn't even need to be disclosed, you're not a wise or responsible scholar. You're a mercenary."
And, of course, the joke is that Folta, Entine and the GLP have long engaged in vicious ad hominem attacks themselves, while demanding that their critics stick to the science.
Bayer bought it and now has to own it
In some ways the news about Bayer's big dollar funding might appear to change nothing. Folta, Entine and the GLP have long been deeply engaged with industry and other dubious supporters, while protesting their independence. And the GLP worked particularly closely with Monsanto in undermining those raising concerns about glyphosate.
But after taking over Monsanto, Bayer gave every impression of wanting to operate in a way that was more ethical and transparent. And they didn't just give that impression generally – they directly reached out to one of Monsanto's prime targets, Carey Gillam, to tell her things would now change for the better.
Someone pretty high up in the company, Gillam told me, gave her that message in person: "He and I met for lunch and he was very nice and said he wanted to forge a truce of sorts, or at least better understand each other and agree to professional respectful behaviour. I pointed out I was not the one lacking in professional behaviour. At that time I was not only being harassed by front groups but also by one of Bayer's corporate communications guys. Anyway, he did say it was his understanding that Bayer was not going to be funding – or engaging in – the front group misinformation and character assassination campaigns as Monsanto had."
Indeed, when Bayer was approached in 2019 by HuffPost about Monsanto's use of third-party players to carry out such campaigns, the company responded that it "no longer provides financial support" to the GLP or to the American Council on Science and Health – another industry attack dog that the GLP shares personnel with and that Monsanto funded.
"That is why it was so disappointing," Gillam told me, "to see Bayer giving $100,000 to Genetic Literacy Project, which is continuing the same misinformation campaign and harassment and slander that the group has done for years."
Monsanto's smear merchant has seamlessly become Bayer's bully.
The image at the top of this article is taken from the Genetic Literacy Project's IRS form 990. It shows Bayer paid the Science Literacy Project, the umbrella organisation for the Genetic Literacy Project, $100,000 in the period from July 2020 to June 2021 for its work "to prevent legislative overreach in genetic engineering".