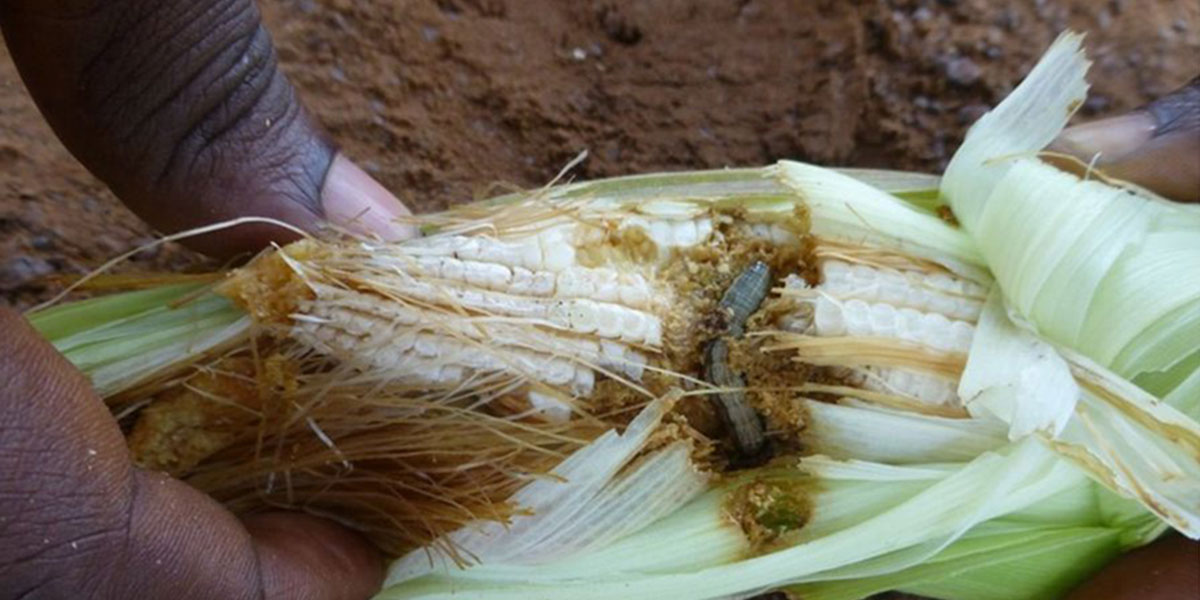 Evidence suggests Gates-funded organisation's GMO solution won't work, while agroecological solutions are already showing efficacy
A new research report published by the African Centre for Biodiversity (ACB) debunks unsubstantiated and unscientific claims made by the GMO lobby, especially the Gates Foundation-funded Water Efficient Maize for Africa (WEMA) Project,[1] that Bt maize is a solution to combat the fall armyworm (FAW) pest.
According to Mariam Mayet, executive director of the ACB, "The advent of the FAW in Africa has given proponents of genetic modification (GM) technologies renewed impetus to push for the commercialization of crops — especially Bt maize — expressing Monsanto's insecticidal Bt toxins to combat the pest. However, requests from the ACB for data to substantiate these claims have not thus far been provided. Nor have any such data been published in peer-reviewed studies or any other publicly available format that would allow for independent scrutiny by scientists and the public."

The fall armyworm (FAW), Spodoptera frugiperda, is a moth pest native to tropical and subtropical regions of the Americas and was first observed in the African continent in 2016, in Nigeria, São Tomé and Príncipe. It has since spread to most sub-Saharan countries where it has posed significant risks to food crop production through yield loss. The armyworm possibly came to the continent via human activities such as commercial flights, travellers, imported agricultural commodities, and long-distance dispersal via wind patterns across the Atlantic.

The WEMA project has been called out by the ACB for promoting a privatised food system that will increase farmer costs while making unsubstantiated claims of food safety and security and efficacy. Outrageous claims are now being made that current field trials conducted by the WEMA project in Kenya, Uganda, and Mozambique on so-called drought-resistant and insect-resistant GM maize are showing efficacy against the FAW. Claims range from Bt maize providing either "partial" or "strong" protection", to its offering a "sure solution" with "demonstrated efficacy".

These claims are echoed by the United States Agency for International Development's (USAID's) "Feed the Future" project, as well as African scientists associated with the WEMA project, the Gates Foundation-funded African Agriculture Technology Foundation (AATF), and the Cornell University and Monsanto/industry-funded International Service for the Acquisition of Agri-biotech Applications (ISAAA). Indeed, the ISAAA claims that Kenyans will be on "the brink of starvation" if they do not gain access to this technology. Emails to ISAAA requesting evidence to back up claims made in their articles have been ignored.

The ACB's report thoroughly critiques these unverified claims, analysing published data and reports from the Americas, where it is a major pest. It has found that GM crops have been far from sure solutions, but instead have become rapidly ineffective in many cases due to FAW resistance to GM traits. Resistance is rendering Bt crops useless in Brazil, where Bt maize is widely grown on millions of hectares.

According to Sabrina Masinjila, advocacy and outreach officer with the ACB, based in Tanzania, "The lack of scientific data denies full and proper public participation in the approval process for commercialisation of GM crops, as stipulated in the UN Cartagena Protocol for Biosafety to which all WEMA countries are signatories. Crucially, it questions the scientific rigour and ethics of the project that is intended ostensibly to benefit smallholder farmers across the region."

The ACB believes that the push for the commercialisation of GMOs as a solution to the FAW is yet another Trojan horse that is being used to open up African countries to GM crops. The group calls for the rejection of this "solution that claims to be on the side of modern science but is not backed up by rigorous scientific results and analysis and available for public and independent scientific analysis".

The ACB calls on African governments to implement holistic strategies, which are already showing efficacy in the field, to support smallholder farmers. These include various agro-ecological strategies such as the intercropping, the "push-pull" system, and integrated pest management strategies. These are being implemented in both the Americas and Africa and provide sustainable solutions to the FAW and will not further enmesh farmers in debt or compromise their health and that of their surrounding environment.

Notes
1. The Water Efficient Maize (WEMA) for Africa is a project whose goals are to produce drought tolerant (DT) hybrid and GM drought tolerant and Bt varieties of maize seed. It is primarily funded by the Bill and Melinda Gates Foundation (BMGF) and claims to provide solutions to smallholder farmers facing the threat of climate change in several African countries including, South Africa, Kenya, Uganda, Mozambique, Tanzania and more recently, Ethiopia.
Download the new report:
https://acbio.org.za/en/wemas-bt-maize-fall-armyworm-africa-claims-are-unscientific-and-unsubstantiated
Image: CABI