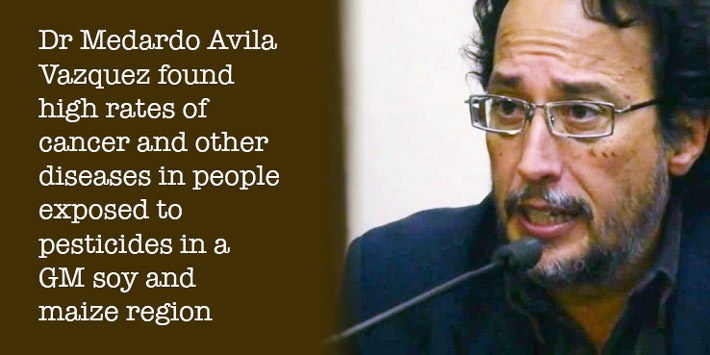 University dean who called for sanctions against Dr Medardo Avila Vazquez reported to have signed deal with Monsanto
The National University of Cordoba, Argentina has dropped the administrative sanctions it had planned against a doctor who conducted cancer research in the town of Monte Maiz in the face of huge popular and scientific support for his work.

Dr Medardo Avila Vazquez and his team conducted a survey that found that the incidence of cancer in Monte Maiz was three times the provincial and national average, correlating with exposure to pesticides in the area. The main crops grown are GM soy and maize.

The administrative sanctions against Dr Vazquez were requested by Juan Marcelo Conrero, the dean of the Faculty of Agriculture.

The university had said it did not support the research that Dr Vazquez and his team conducted because did not match the project that it authorised.

But according to an article on the news website La Mañana de Cordoba, "The truth is that the order sanctioning Dr Medardo Avila Vazquez did not gain support."

Dr Vazquez, in contrast, "received the support of social, labour, student and political organisations that designated themselves as 'committed to the life and health of our people and to responding to a social and environmental emergency'."

Scientists also expressed their support for Dr Vazquez, as did the Argentine national political party Unidad Popular. Unidad Popular reported on its website that Juan Marcelo Conrero, the university dean who initiated the action against the doctor, had only last year signed agreements between the university and Monsanto.

The Health Secretary of Monte Maiz, Hugo Bettiol, commented on the University of Cordoba's moves against Dr Vazquez, "There are many economic interests. We are a soybean country with lots of money at stake, and there are many pressures." He added: "I think that the study that Dr Medardo Avila Vazquez conducted did have scientific backing; we must not undermine his work."

Report: Claire Robinson

News sources (Spanish): http://www.lmcordoba.com.ar/nota/202860_marcha-atras-de-la-sancion-a-vila-vazquez-por-investigacion-sobre-cancer
http://corrienteup.org/2015/04/solidaridad-de-up-con-el-doctor-medardo-avila-vazquez/

Dr Vazquez's team's study is here (Spanish): http://www.reduas.com.ar/wp-content/uploads/downloads/2015/03/%C3%BAltimoMMM.pdf