As always, don't forget to check out our LOBBYWATCH and COVID-19 sections!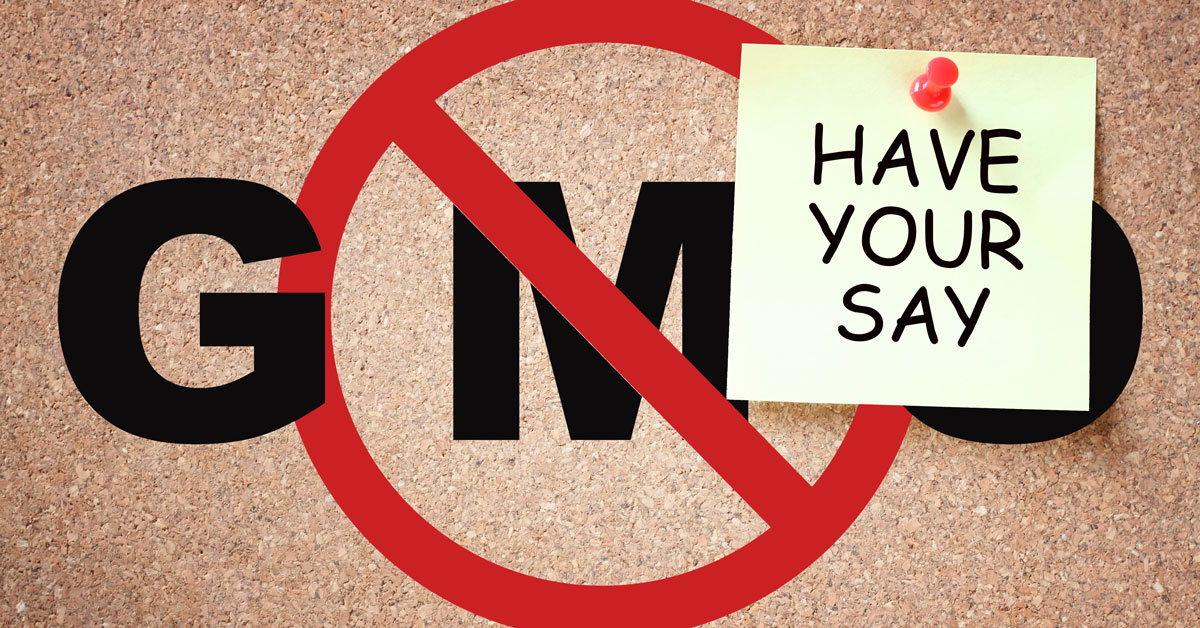 The recently launched Consultation on the Regulation of Genetic Technologies provides an opportunity for members of the public to air their views on whether plants and animals created using new experimental gene editing technologies should be deregulated – meaning removing safety checks and GMO labelling. Beyond GM and GM Freeze have published guidance for the public on how to respond. GMWatch and others provided input to this guidance. Please take part – the safety of our food depends on it!
For years the biotech industry, with some supporters in academic circles, has run an evidence-free media campaign claiming that CRISPR- and other gene-edited crops will help us fix the most serious problems in our farming systems. Friends of the Earth Europe has compiled a short briefing to explain where the real solutions are and why we have scientific and legal reasons to keep them regulated as GMOs, as the European Court of Justice ruled in 2018.
The UK government must talk with — not at — the public, or risk losing the argument over GMOs again, says Jack Stilgoe, associate professor of science and technology studies at University College London, UK in a highly incisive commentary. He has expertise in this area and he is scathing about how poor the public consultation is that's on offer. He writes, "Public dialogue, if it is to be trusted and constructive, has to be an actual dialogue. People don't want to be force-fed new technologies, nor do they want to be told what they should and shouldn't talk about." Elsewhere he has written about the failure of scientists and politicians to learn from the past, saying, "The GM controversy was not a failure of communication. It was a failure of technology and a failure of governance."
Commenting on the launch of the UK government's gene editing consultation, RSPCA chief executive Chris Sherwood said: "The RSPCA is very concerned about government plans to weaken legislation on livestock gene editing in England... While the UK is no longer compelled to follow the EU's robust genetically modified food laws which are designed to protect human and animal life, health and welfare, it would be a huge mistake for the Westminster government to water down that legislation."
UK organic certification body OF&G (Organic Farmers & Growers) has welcomed the launch of the new gene editing consultation but says the outcome could negatively impact on market access along with damaging the economic and ecological landscape for farming across England, and potentially the rest of the UK.
Gene editing is being presented by the UK government as a silver bullet when it can only be a "sticking plaster" – diverting vital investment and attention from farmer-driven action and research for agroecology which could be yielding results right now, writes Louise Payton of the Soil Association.
James Bailey, executive director at Waitrose, says customers may not want to buy gene-edited food. He said, "This would be one of those things [where] our customers demand to know where their products have come from and in what way they have been produced." [Register with name and email address for free access to limited number of articles]
The food writer Joanna Blythman has published an article in the Herald, called "No one wants genetically modified food – but Westminster wants to foist it upon Scotland anyway". Blythman mentions a Scottish survey that found that only one in ten citizens would be likely to buy GM food even if it was significantly cheaper, but adds that under the terms of post-Brexit legislation, Scotland could be forced to accept gene-edited foods in shops.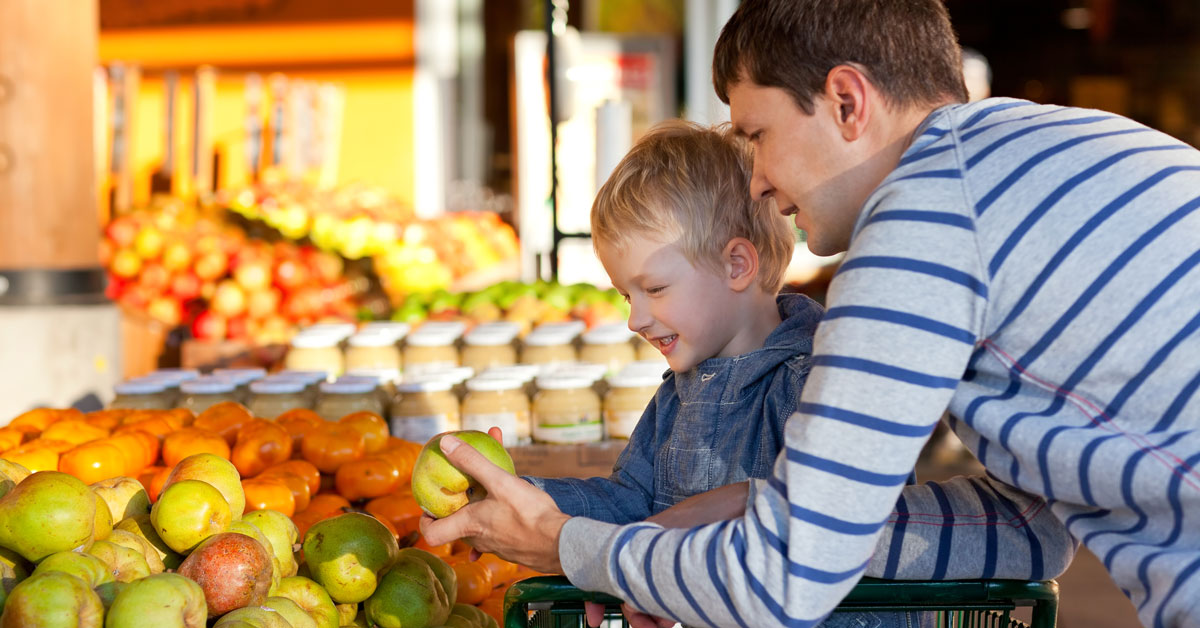 Swing voters in the so-called "Red Wall" strongly support robust food regulations and standards, according to new research by Unchecked UK. The Red Wall is a band of constituencies that traditionally voted Labour but switched to Conservative in the 2019 election, thus supporting Brexit. The research, carried out by Unchecked UK in partnership with KSBR Brand Futures, found overwhelming support for strong, well-enforced food standards among first-time Conservative voters in Red Wall constituencie s.
Four professors have warned that Brexit shouldn't be a reason for deregulating new GMOs. They point out that the driving force behind deregulation in Britain and parts of Europe – they focus on Belgium – is not really the issues that are flagged up (supposed silver-bullet solutions to agricultural problems), but the lobbying power of Big Ag, together with an obsession at the national level with competitive advantage.
A new briefing, "Why genome edited organisms are not excluded from the Cartagena Protocol on Biosafety", shows that currently used genome editing technologies and applications, including all techniques involving CRISPR-based systems, clearly fall within the Cartagena Protocol on Bisoafety's definition of a living modified organism (LMO), whether they involve inserting, deleting or editing sequences of genomes. LMO is the Protocol's word for GMO. The briefing is available in English, Spanish, French and Portuguese versions.
The EU Commission looks set to press ahead with a "new approach" to GM crop authorisations in the wake of lack of political support for the technology in the European Parliament. In December, MEPs voted for five objections against authorisations of GM crops for use as food and feed, bringing the number of objections to 51 in five years.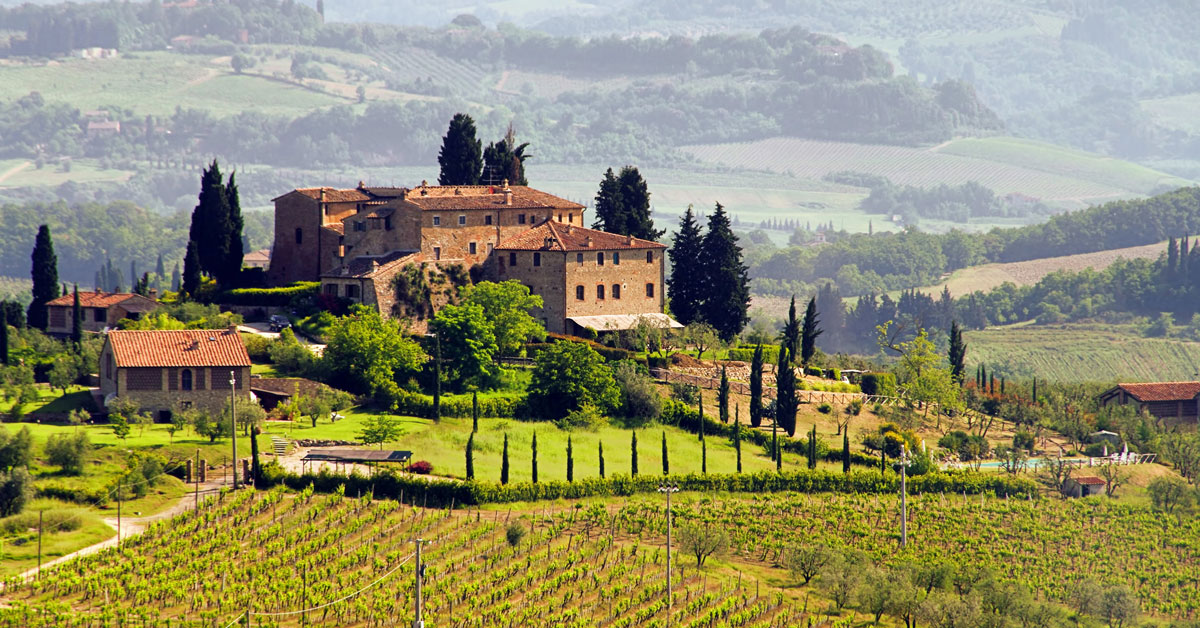 This month, 26 environmental organizations in Italy launched a powerful campaign that prevented the government from passing four bills inspired by the agribusiness lobby. The bills were proposed by the Minister of Agriculture and were set to permit GMOs, including products of new genetic modification techniques such as gene editing, to enter the country. After an intense media storm and public pressure placed on every parliamentarian of the Agriculture Committee of the Chamber, the pro-GMO decrees of the Ministry of Agriculture were not passed in their original form.
Testbiotech has published a new report providing evidence that the European Food Safety Authority (EFSA) is intentionally keeping significant risks related to GM plants "in the dark". While EFSA is aware that the data compiled by industry are insufficient to demonstrate the safety of the plants, it has nevertheless failed to take action to solve the problems. On the contrary, the authority has for years defended assumptions even if they are contradicted by facts.
Some people have expressed alarm at reports suggesting CRISPR crops aren't GMOs in the eyes of France, or that France is challenging EU's cautious gene-editing regulations. These stories all seem to derive from a Reuters report based on pro-GMO statements by France's agriculture minister. But the minister cannot claim to speak for France.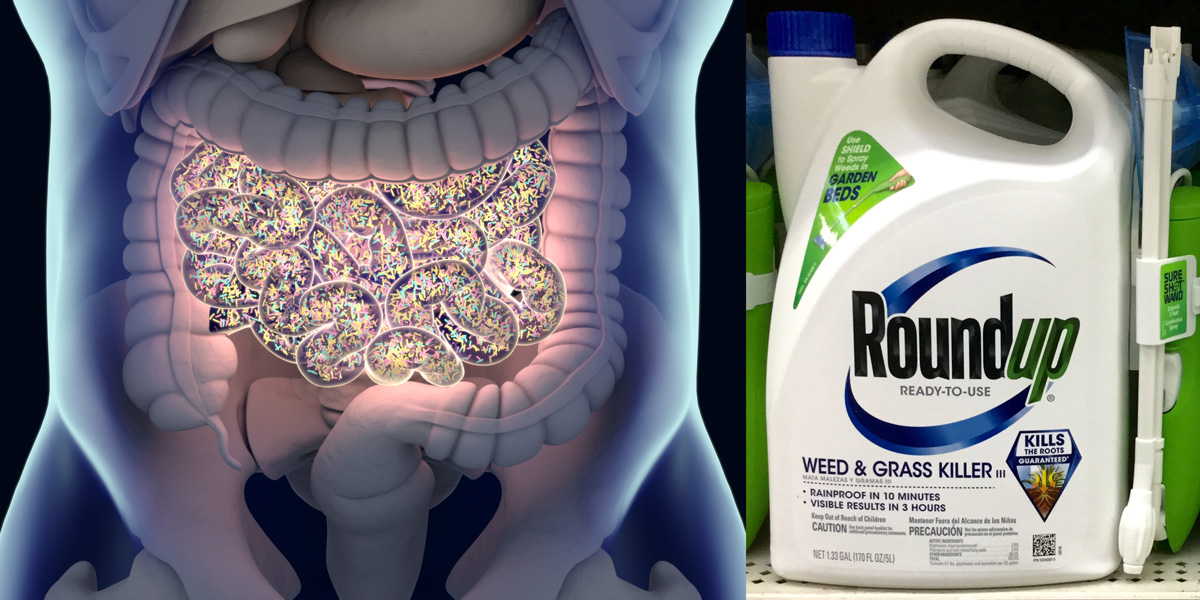 Glyphosate and the glyphosate-based herbicide Roundup disrupt the gut microbiome by the same mechanism by which the chemical acts as a weedkiller, and these effects happen even at low doses that regulators claim to be safe, a new study has found. The new study was conducted by an international team of scientists led by Dr Michael Antoniou of King's College London. The study is the first to describe a mechanism by which glyphosate and Roundup affect the function of the gut microbiome (bacterial populations and biochemical function) in rats, the standard model that regulators use for assessing the human health risks of chemicals.
US Right to Know has covered the new study (above) in an article and a video interview by Carey Gillam with the researchers, Drs Michael Antoniou and Robin Mesnage.
Is glyphosate toxic to bees? A meta-analytical review (of 16 papers on mortality with 34 datasets) finds it is. Most of the datasets showed glyphosate exposure caused higher mortality in most bee species studied.
Former wildlife instructor and deer biologist Rod Cumberland is a step closer to getting his day in court. Eighteen months ago Cumberland was terminated from his job as an educator at the Fredericton-based Maritime College of Forest Technology (MCFT). He launched a lawsuit against the College, alleging administrators wrongfully dismissed him for expressing his opinions about the dangers of the herbicide glyphosate, a chemical sprayed by helicopters and planes on industrial tree plantations across New Brunswick.
Luxembourg is the only EU country to have banned glyphosate, with the ban taking effect on 1 January 2021. But more than 60% of the country's farms had already given up glyphosate on their own and the country's main farmers union is not going to fight the ban.
A group of indigenous and afro-descendant communities in the Nariño region of Colombia has successfully taken legal action to suspend the national glyphosate aerial fumigation programme, which was set to re-start in 2021.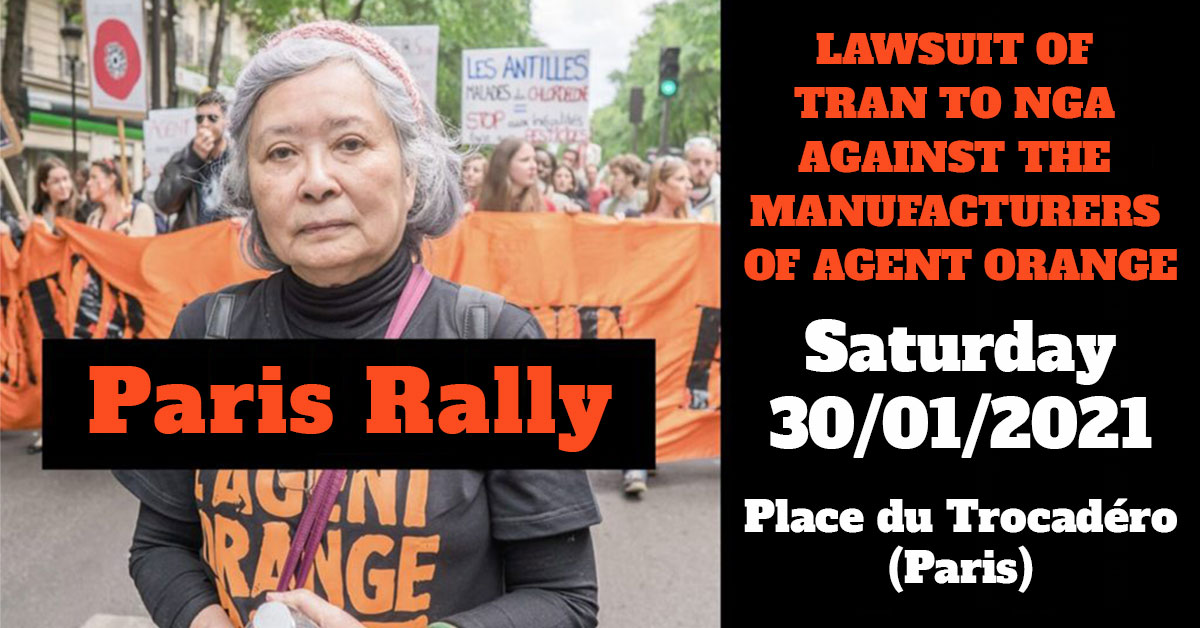 A new litigation front has opened up for beleaguered Bayer – Agent Orange lawsuits. On January 25, Tran To Nga, a former Franco-Vietnamese journalist and resistance fighter in the Vietnam war, took fourteen American companies involved in the production and sale of Agent Orange to court for causing grievous harm to her and others. The companies include Bayer (formerly Monsanto) and Dow Chemical, the principal manufacturers for the US military of this toxic herbicide. In Bayer's case it threatens to open up a whole new litigation front with millions of aggrieved victims, on top of the multiple other lawsuits Bayer is already embroiled in over other Monsanto products.
Months after Bayer announced plans for a sweeping settlement of US Roundup cancer litigation, the owner of Monsanto continues to work to settle tens of thousands of claims brought by people suffering from cancer they say was caused by Monsanto's weedkillers. Now one more case appears to have found closure, though the plaintiff did not live to see it. Lawyers for Jaime Alvarez Calderon agreed to a settlement offered by Bayer after a judge allowed the case to move closer to a trial. The settlement will go to Alvarez's sons because their father, a winery worker in California, died from non-Hodgkin lymphoma he blamed on his work spraying Roundup.
The US Dept of Agriculture (USDA) has proposed that it take over the regulation of GM animals from the Food and Drug Administration (FDA). Agriculture secretary Sonny Perdue said this would provide GMO "developers with a one-stop shop for their products at USDA". This appears to be an attempt to smooth the path to market for GM animals, including new gene-edited animals, by removing oversight from the FDA.
Food and Drug Administration Commissioner Stephen Hahn
The yearly winter monarch count along the California coast, overseen each year by the conservation group Xerces Society, was the lowest ever. In 2020, citizen scientists counted only 2,000 butterflies. The findings indicate that many on the planet today are, within their lifetimes, likely to experience a world where western monarchs are extinct. Tell the US Fish and Wildlife Service to list monarch butterflies on the list of threatened and endangered species. Tell the Environmental Protection Agency to eliminate pollinator poisons.
The Midwest Center for Investigative Reporting published a story in December on yet another example of the corporate malfeasance that exalts profit far above concerns for safety, health, and ecosystems. The Center's investigation finds that Monsanto and BASF, makers of the problematic herbicide dicamba, engaged in a variety of deceitful, unethical, and possibly fraudulent practices to enable its use. The bottom line is that the companies knew, before they released dicamba, about the massive damage it would cause — and then put it on the market.
The Center for Food Safety (CFS) has filed a legal brief in its challenge to the US Food and Drug Administration's (FDA) 2019 approval of soy leghemoglobin (SLH), a colour additive used to make Impossible Foods' plant-based burger, the Impossible Burger, appear to "bleed" like real meat. The novel SLH colorant is produced in genetically engineered (GE) yeast, and is modelled on a protein found in the roots of soybean. The GE SLH is actually a colour additive preparation that also contains over a dozen yeast proteins. Because GE SLH is new to the human diet, and substantial quantities are added to the Impossible Burger, FDA should have required extensive safety testing before approving its use as a colour additive, as required by law.
Will Europe stop buying GMO soy because if its devastating ecological impact? France's President Macron said, "To continue to depend on Brazilian soybeans would be to endorse the deforestation of the Amazon. We are consistent with our ecological ambitions; we are fighting to produce soy in Europe!"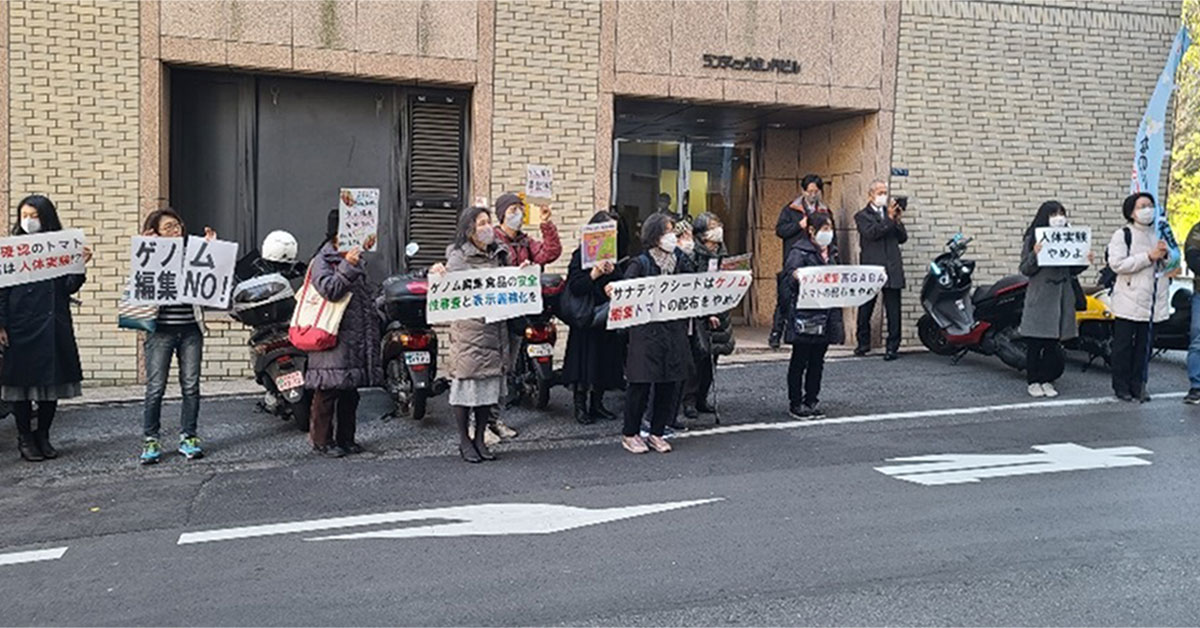 A gene-edited tomato that is intended to have a biological effect on consumers has been approved in Japan for commercial sale – without safety checks or GMO labelling. The tomato is genetically engineered to contain higher than usual amounts of GABA, a substance that is said to have the ability to lower blood pressure.
The Tanzanian government has suspended GMO trials in the country and now requires testing of imported seeds to avoid GMOs coming into the country and protect seed sovereignty.
On 5 January 2021, the Peruvian Congress approved Law 31111, extending by 15 years its moratorium on the import and production of GMOs that are intended for release into the environment. The new law amends the previous Law 29811, which established the moratorium in 2011, and extends it to 31 December 2035.
Leydy Pech, a Mayan beekeeper in Mexico who organized a grassroots campaign to stop the use of GM soybeans and glyphosate on her people's territory, is the 2020 Goldman Environmental Prize recipient for Central and South America. In an interview, Pech talks about the legal battle to protect the environment and the indigenous Mayan community's ancient practice of beekeeping. She says that when GM soybeans were first planted in her area, she observed "the death of bees at a massive rate. Why? Because contrary to what we were being told, bees do pollinate soy ".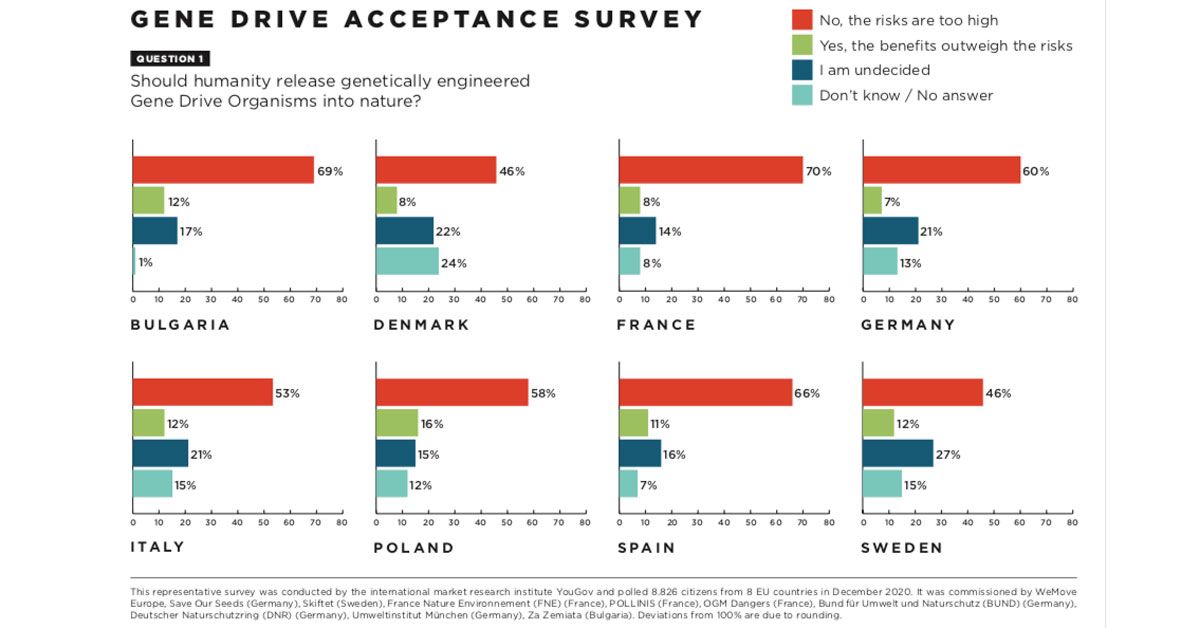 Should humanity release genetically engineered gene drive organisms into nature? The response of a majority of citizens in eight European countries is: "No, the risks are too high". This first opinion poll on the subject shows high levels of opposition to (46%-70%) and very low levels of support for (7%-16%) the use of gene drive technology in the environment.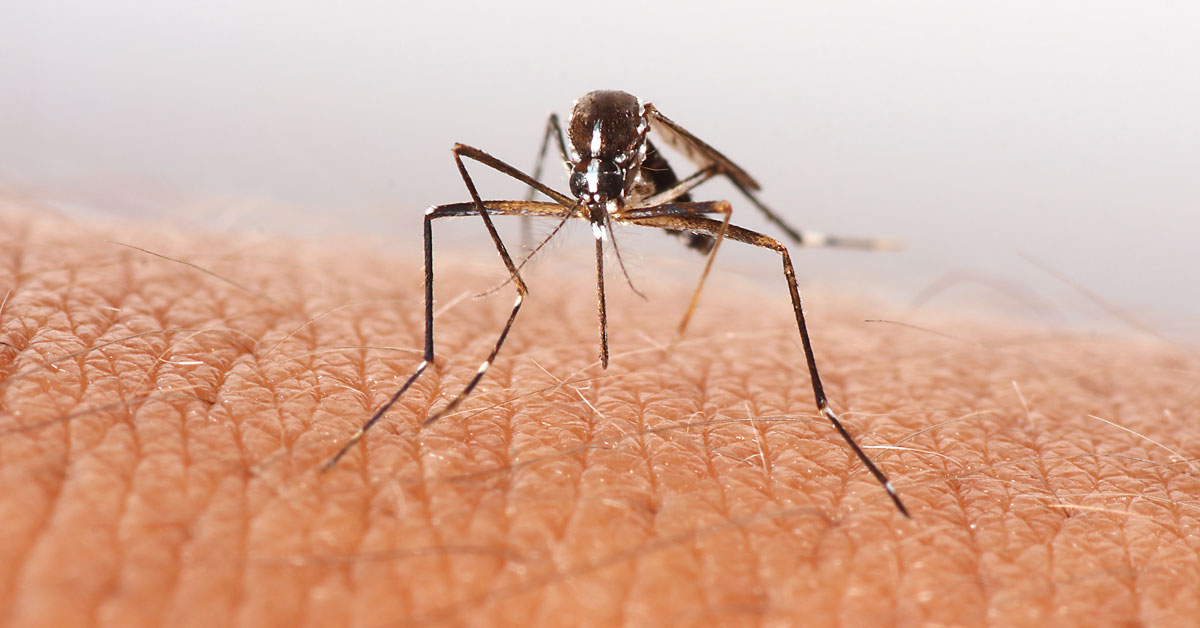 Genetic engineering techniques designed to make insects "sterile" for disease vector or pest control, have been tested in field releases by the company Oxitec, including in Malaysia, the Cayman Islands and Brazil. However, these genetic switches are known to be not fool-proof, with some larvae managing to survive in the wild, and cannot thus be accurately described as "sterile". Now a new study has revealed another chink in the molecular armour of these types of genetic switches, whereby "sterile" insects revert back to being fertile, resulting in resistant GM populations persisting in the environmen t.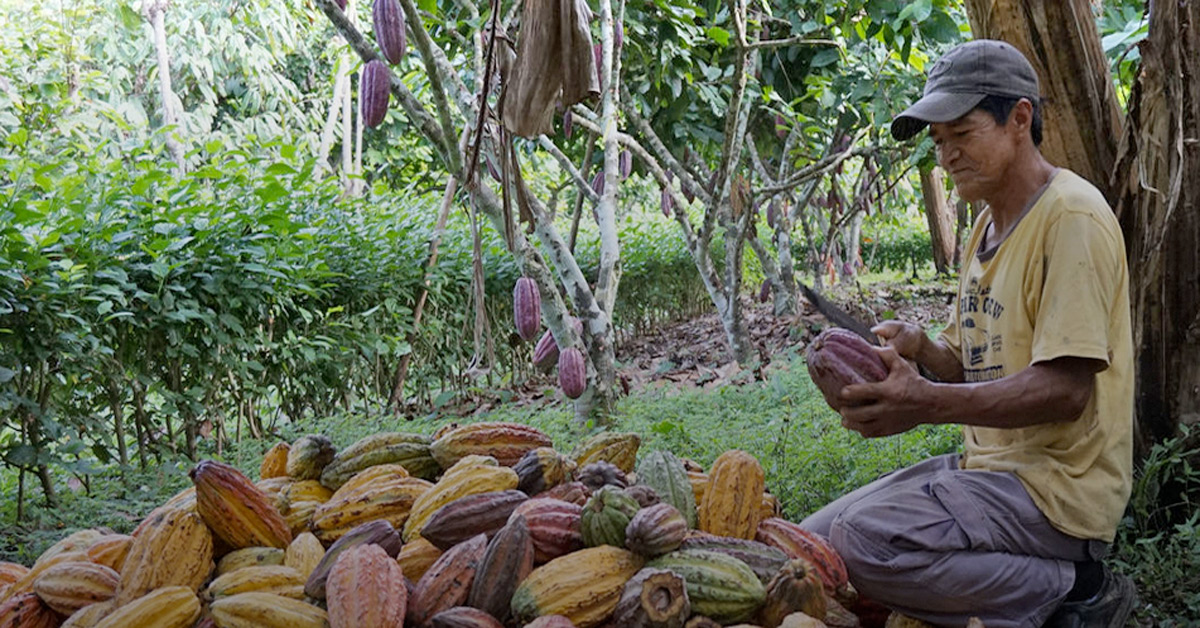 Long-term comparative farming systems research by the Research Institute of Organic Agriculture (FiBL) and its partners in Kenya, India, and Bolivia reveals that the profitability and productivity of organic agriculture can equal other production systems. Furthermore, the results show that well-managed organic farming systems can increase soil fertility, reduce pesticide residues and enhance biodiversity.
LOBBYWATCH
Project Censored has published its top 10 underreported stories of 2020. A story on Monsanto comes in at No 2. The story tells how in its fight to avoid liability for causing cancer, Monsanto (now owned by Bayer) cre­ated an "intelligence fusion center" to "monitor and discredit" journalists and activists.
Deutsche Telekom and Bayer co-financed a group that called for the pro-Trump demonstration before the storming of the US Capitol. They also donated to Republican MPs who voted in Congress against recognizing the election of Democrat Joe Biden as president.
The Senate Agriculture Committee has advanced the nomination of Tom Vilsack for Agriculture secretary, setting the former Iowa governor up for a quick Senate confirmation. Vilsack is known by some as Mr Monsanto due to his support for Big Ag and GM crops.
The first episode of The Davos Diaries podcast series explores the origins of the World Economic Forum and their annual meeting in Davos. It delves into the idea of "The Great Reset", as proposed by Klaus Schwab, founder of the WEF, and the concept of the Fourth Industrial Revolution, and looks at the growing influence of Big Tech on global governance. How do spaces like Davos enable the corporate capture of global governance? Featuring Jim Thomas of ETC Group, among other experts.
COVID-19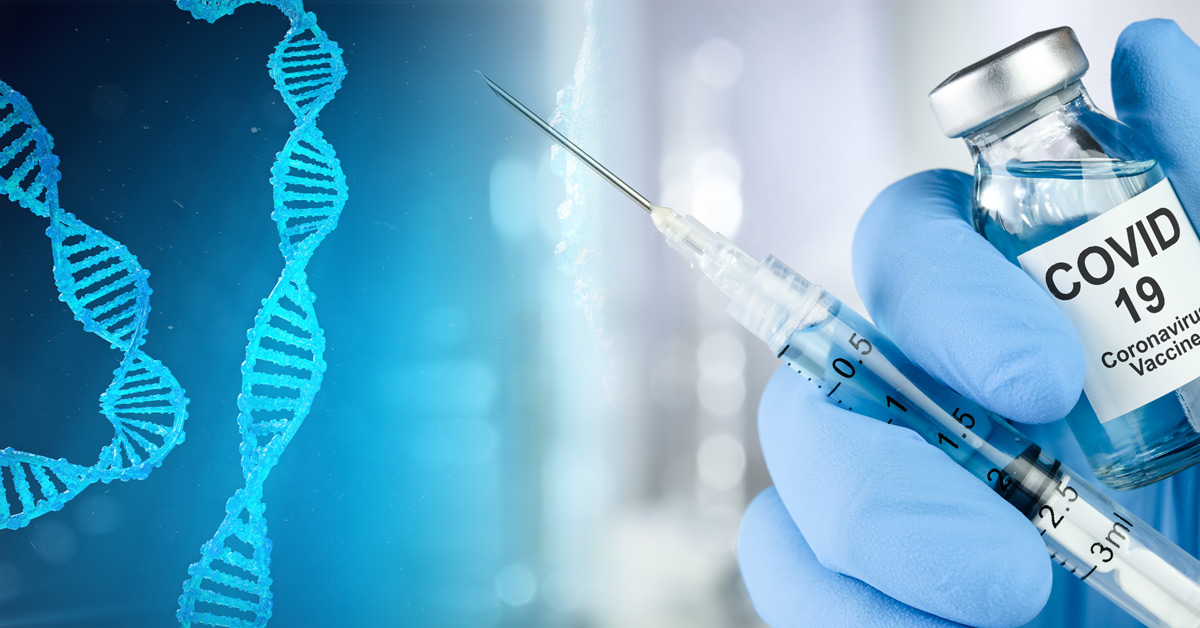 With over 2 million dead, and countries as developed as the UK and the USA failing miserably to contain the virus, it's understandable that many see vaccines as a silver bullet that can save the world from the illness and death, never mind the social isolation and economic collapse, that the current pandemic is leaving in its wake. It's perhaps equally unsurprising that hard pressed promoters of GM crops and animals are seeing this as an ideal marketing opportunity. GMO spin doctors are trying to use vaccines for COVID-19 as a validation of GM crops and animals – but their arguments make no sense.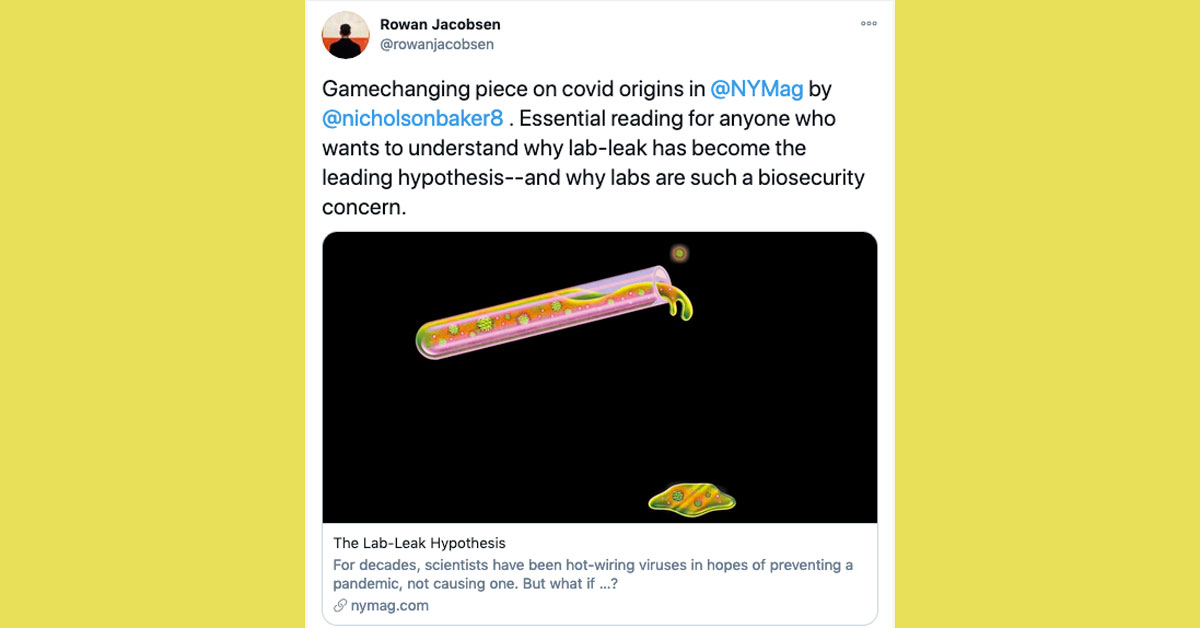 "The Wuhan lab-leak hypothesis goes mainstream" is the headline of an article about New York magazine's latest cover story, a deep dive into the origins of SARS-CoV-2 by the respected American novelist and essayist Nicholson Baker. Baker's The lab-leak hypothesis makes for a long but compelling read that is well worth staying with right to the end. The award-winning science writer Rowan Jacobsen, whose own impressive piece covered similar territory for the Boston Review, calls Baker's article "game-changing" and "essential reading for anyone who wants to understand why lab-leak has become the leading hypothesis – and why labs are such a biosecurity concern". GMWatch's Jonathan Matthews looks at the article and the backlash against it.
The US's Deputy National Security Adviser, Matthew Pottinger, says the "most credible" theory about the origin of the coronavirus (SARS-CoV-2) is that it escaped from a lab in China. And now the journalist Ian Birrell has written an authoritative article explaining why the lab escape theory is a real possibility.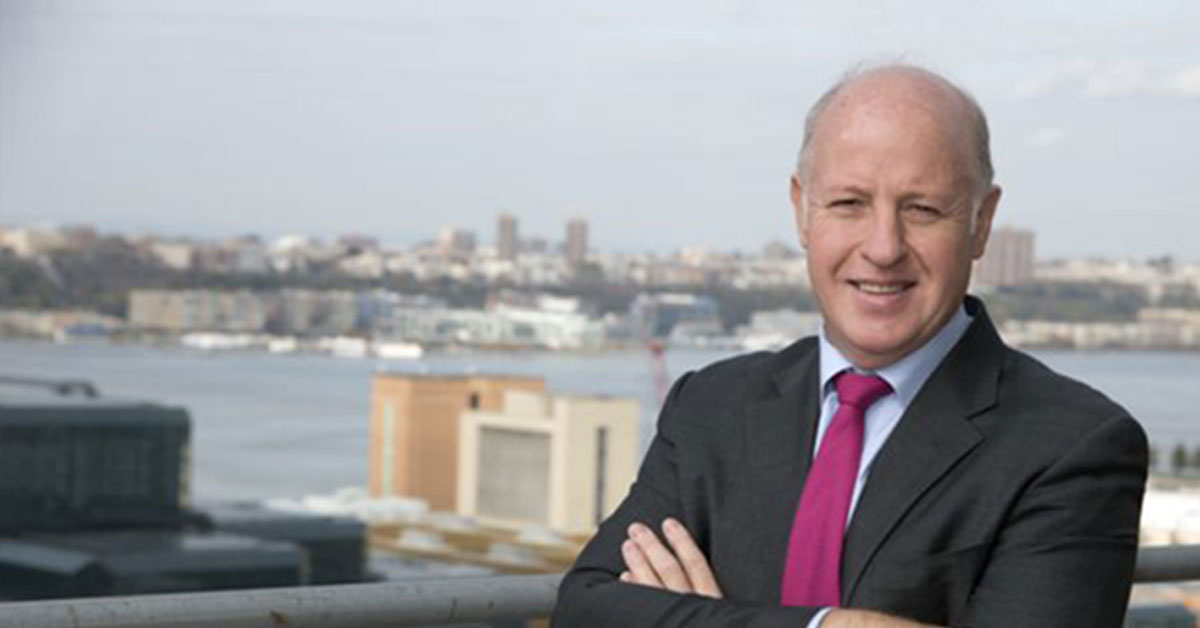 Peter Daszak – who not only funded risky bat virus research in Wuhan but orchestrated the branding of any suggestion of a lab-leak as "conspiracy theories" – faced calls to step down from two key Covid-19 origins inquiries, just as the World Health Organization's team of international investigators finally got to Wuhan.
Dr Peter Daszak described how easy it was to manipulate bat-based coronaviruses in the lab in an interview filmed just weeks before the COVID-19 outbreak in Wuhan.
Evolutionary biologists Heather Heying and Bret Weinstein join Bill Maher to discuss the nature and possible lab origin of the SARS-CoV-2 coronavirus.
As expected increases in funding from the Biden-Harris administration start flowing to the biosciences, it will be important to remain watchful for a reboot of bioweapons research and development in US labs. There are reasons for concern, among them Biden's long record of supporting US militarism, including his unapologetic support for the 2003 Iraq War.