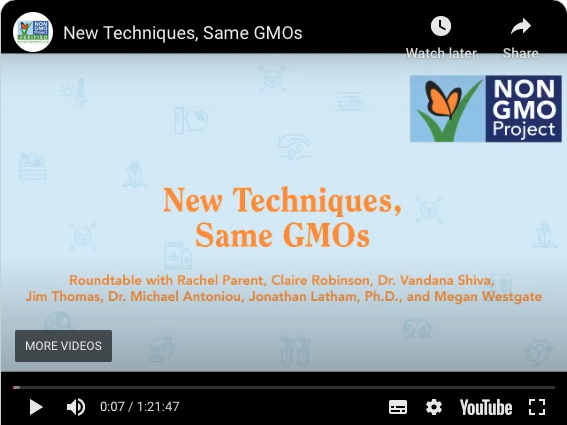 A video discussion provides an easy-to-follow introduction to the issues around gene editing from an expert panel that includes molecular geneticist Dr Michael Antoniou, crop genetics/virology expert Dr Jonathan Latham, Dr Vandana Shiva of Navdanya, Jim Thomas of ETC Group, GMWatch editor Claire Robinson, and Megan Westgate of the Non-GMO Project. The discussion is hosted by youth activist Rachel Parent.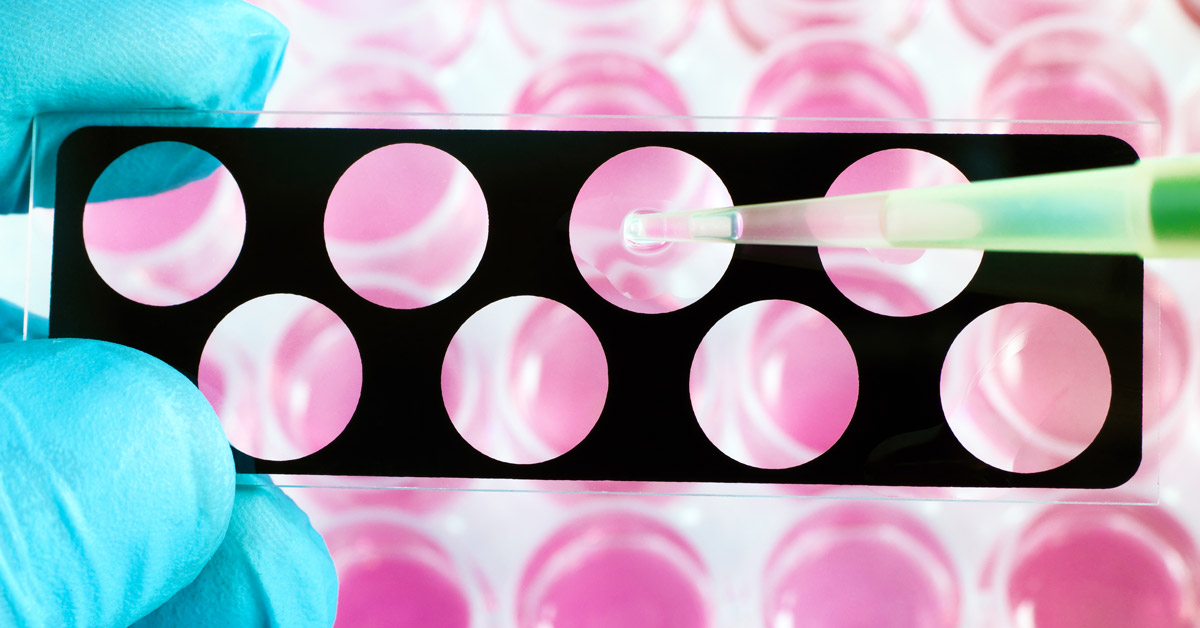 The US nonprofit GMO/Toxin Free USA has launched GMOResearch.org, the first-of-its-kind searchable science database of studies and reports on the safety and effects of genetically modified organisms (GMOs) and associated agrochemicals. GMO Research is the world's most comprehensive science database on the topic, with over 2,000 studies and journal publications documenting risks and potential and actual harmful effects of GMOs and the related agrochemicals.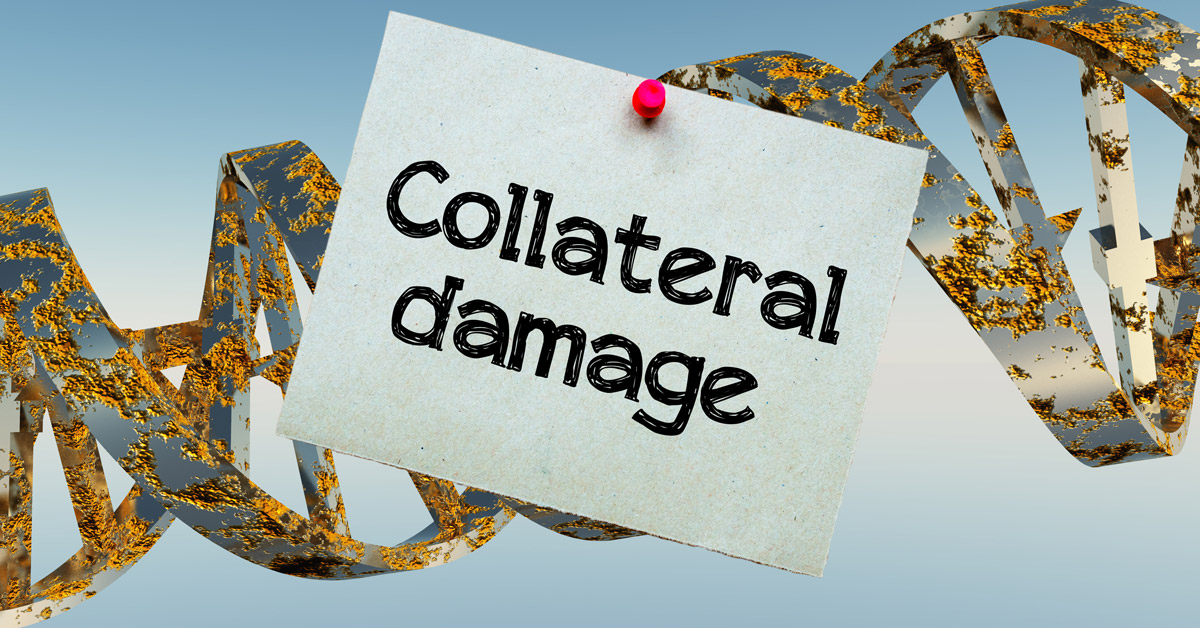 In a pattern that will be all too familiar to GMWatch readers, yet another paper has been published by researchers in the medical field, highlighting the wide range of unintended outcomes from gene editing, both at the site targeted for editing and at other locations in the genome. Meanwhile plant biotechnologists keep silent on the issue or make false claims about the supposed precision of the technology. The paper contains some remarkable quotes in which the authors extend the uncertainties and risks of gene editing beyond the medical field to agricultural applications in plants and animals.
Testbiotech has published a new report on New Genetic Engineering (New GE) that shows why these techniques need to be strictly regulated. New GE – or genome editing – opens up new possibilities which go way beyond conventional breeding and previous methods of genetic engineering. One of the most important tools in this scenario are CRISPR/Cas gene scissors (nuclease). In contrast to chemical or physical mutagens used in conventional breeding, tools such as CRISPR/Cas can directly interact with biological mechanisms in the cells.
The 2020 Nobel Prize in Chemistry – named after the inventor of dynamite and founder of one of the largest bomb factories in the world – has been awarded to researchers who developed the genetic engineering technique CRISPR-Cas9. Some of the applications of this technology could have such an explosive effect on nature and people that it has been called a "gene bomb". CRISPR and new forms of gene manipulation must not be allowed anywhere near our food systems or into the wider environment, writes Silvia Ribeiro of ETC Group.
The gene-editing tool CRISPR-Cas9, which nabbed the Nobel Prize in Chemistry for two female scientists, can cause serious side effects in the cells of human embryos, prompting them to discard large chunks of their genetic material, a new study has found. Administered to cells to repair a mutation that can cause hereditary blindness, the CRISPR-Cas9 technology wreaked genetic havoc in about half the specimens that the researchers examined, according to a study published in the journal Cell. Instead of gently goading the cell into editing the genetic "text" at which it was targeted, the CRISPR machinery gouged irreparable gaps in cells' DNA, said Maria Jasin, a geneticist at Memorial Sloan Kettering Cancer Center and an author of the study. She said, "They were talking about trying to repair one gene, and you have a substantial fraction of the genome being changed."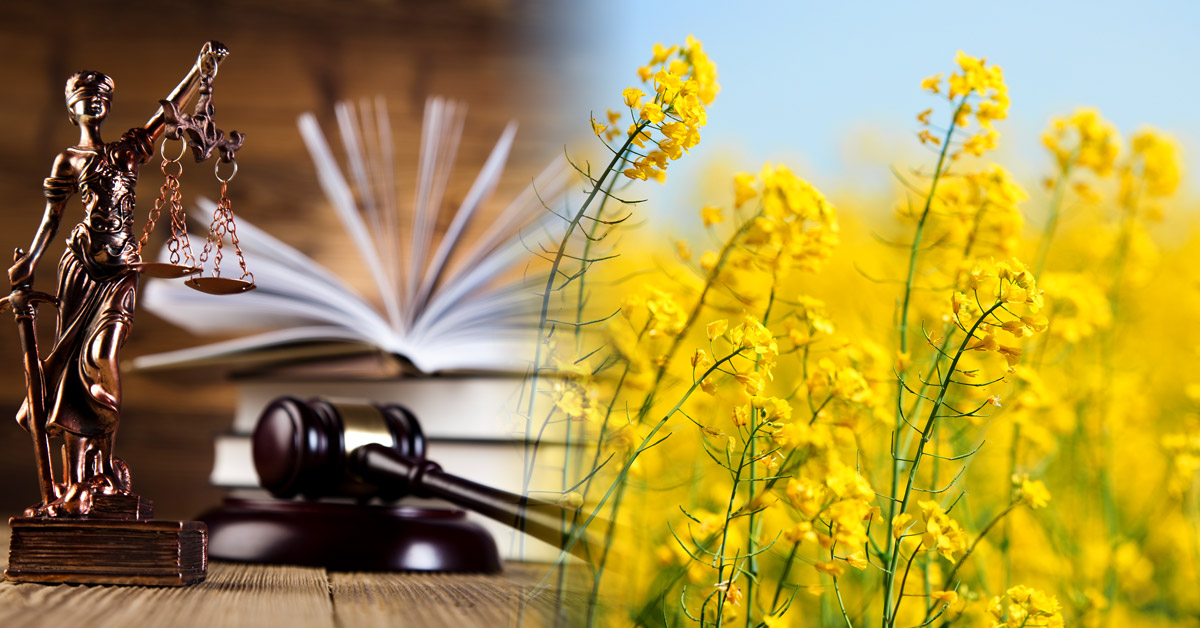 A lawyer acting for the German Association for Food without Genetic Engineering (VLOG) has waded into the row over the newly developed detection test for Cibus's gene-edited herbicide-tolerant SU Canola (oilseed rape). He said that ENGL, the EU's GMO detection labs, were incorrect to dismiss the test on the grounds that it doesn't show that the change was induced in the canola via gene editing. The lawyer reminds the European Commission of its duty to test imports for the presence of the unauthorised canola.
A new survey on gene editing in food and farming showed a "fairly low level of detailed knowledge on the issue of genome editing" among members of an umbrella campaign group involved in these topics. No respondents mentioned specific scientific research.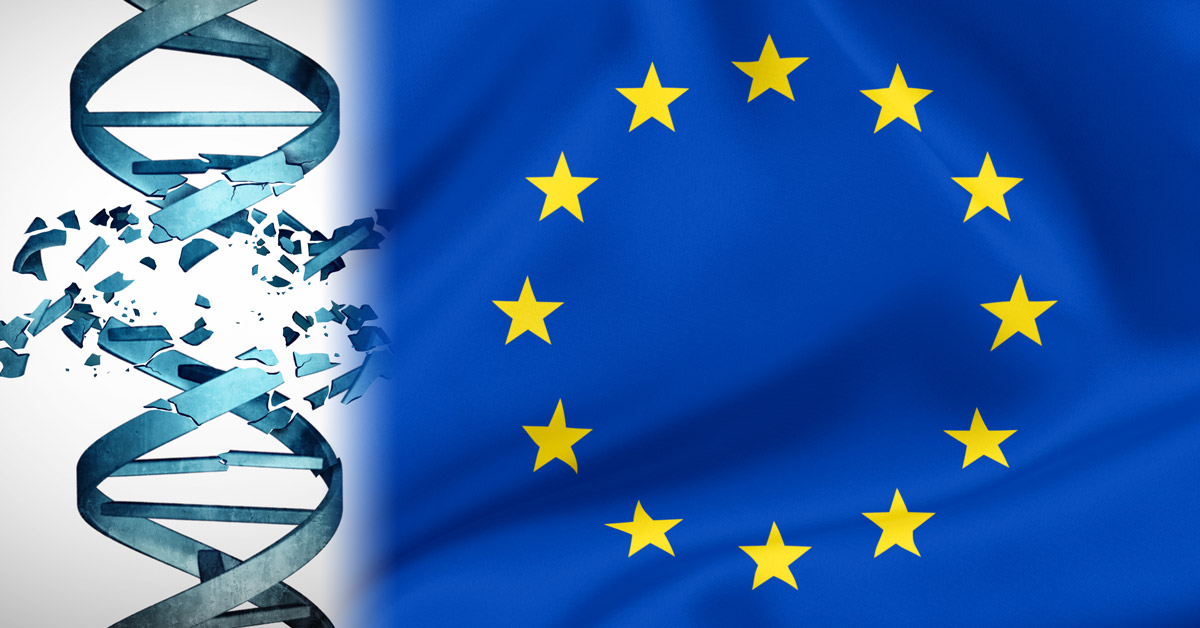 Recent years have seen a massive push from the GMO lobby to exempt gene editing from the EU's GMO laws, thus enabling them to escape safety checks and labelling. This de-regulation would require the GMO Directive 2001/18 to be opened up in order to change the definition of a GMO. But a peer-reviewed paper suggests that there is no appetite among EU member states to support such a move.
The US Environmental Protection Agency has approved dicamba herbicides for use over-the-top of GM dicamba-tolerant cotton and soybean crops for five years. The decision will allow the continued use of the controversial herbicide, which has been blamed for millions of acres of crop damage in recent years. Dicamba has become a serious issue because of this use in conjunction with GM crops, which has led to heavy spraying at a time of year it would not normally be used. The EPA's decision comes despite a federal court having overturned the EPA's previous approval because the agency had "substantially understated the risks" of dicamba herbicides and "failed entirely to acknowledge other risks". The EPA made multiple errors in granting the registrations, the court ruling stated. The EPA's new decision will also be contested in the courts.
Despite its decision to allow use of dicamba, the EPA's own data show that the damage from the controversial weedkiller was worse than previously known. Dicamba harmed tens of thousands of farmers, overwhelmed state agriculture departments and damaged research plots across the US, according to documents the federal agency released. Wide swathes of natural areas and rural communities were also poisoned.
Damage to soybeans and trees from drifting weedkillers — particularly dicamba — is the "most extensive" this year since the herbicide was introduced in the 1960s, according to experts. The distinctive cupping and curling of soybean leaves exposed to airborne pesticides has been reported by agronomists across the state and a record 329 pesticide misuse complaints have been filed. Dicamba is sprayed on GM dicamba-tolerant crops but drifts off-target.
A study has found that dicamba exposure is linked to increased rates of liver and bile duct cancer, as well as chronic lymphocytic leukaemia.
Up to 60 percent of people worldwide are worried the food they eat will harm them in the next two years, according to a poll. GM food is seen as a high risk with 48 percent of people worldwide saying they think these foods will mostly harm people during the next 20 years.
Argentina has become the first country to approve the growth and consumption of GM wheat. The ministry's scientific commission said it had approved a drought-resistant variety of wheat in the world's fourth-largest exporter of the crop.
Brazil's wheat association Associação Brasileira da Indústria do Trigo, or Abitrigo, has warned against the conditional approval of a drought-tolerant GM wheat variety in Argentina, saying Brazilian millers may halt purchases of Argentina wheat if the crop arrives on the market.
"Gene-silencing pesticides" now under development pose unique risks to surrounding ecosystems and beneficial insects, including bees, according to a new report released today by Friends of the Earth and Dr Eva Sirinathsinghji. The report summarizes the gaps in research on experimental gene-silencing pesticides and the risks they pose to human health, the environment, and farmers. Several biotech and agrichemical companies are moving quickly to patent and bring gene-silencing pesticides to market.
After several years of low corn rootworm populations, the "billion-dollar bug" is catching eyes again in the Corn Belt. Populations of both western and northern corn rootworm are rebounding after a mild winter and favourable egg hatch conditions this year, and increasingly they are resistant to the Bt toxins in GM Bt insecticidal crops.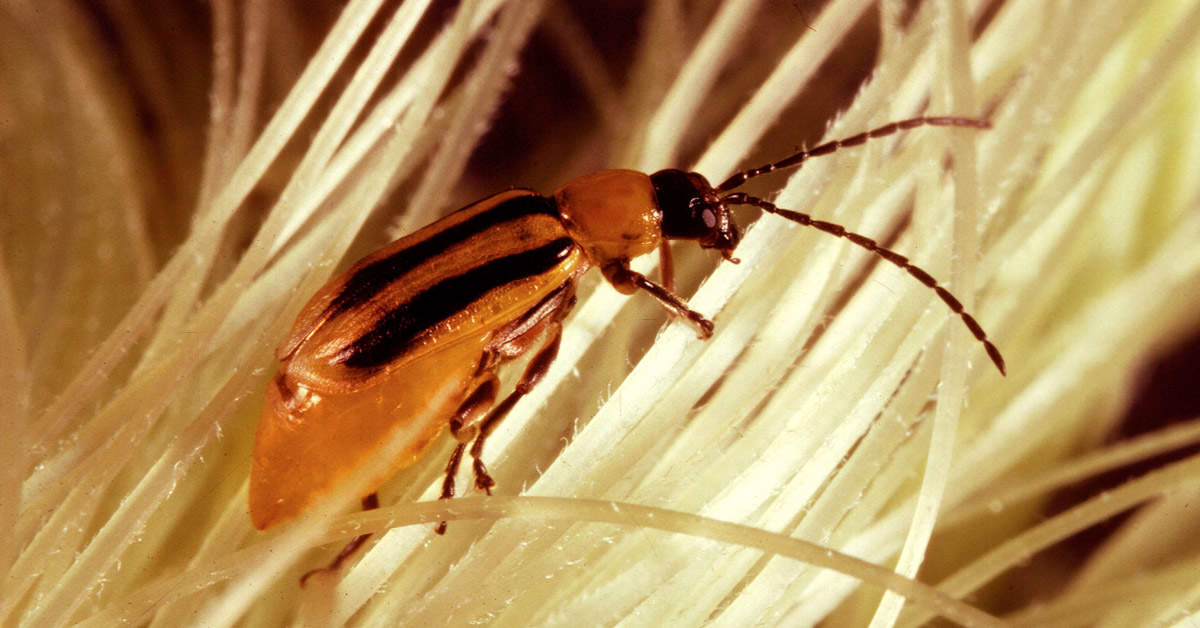 Dr Doug Gurian-Sherman explains that current problems with the Western corn rootworm pest have been created by industrial agriculture, with its destructive monocultures. He says that the problem would not have arisen in the first place if genuine agroecological principles had been followed.
GM Bt crops are no longer offering protection from pests. Scientists say that the problem results from farmers overusing the crops, and are pushing for new regulations. Julie Peterson, an entomologist at the University of Nebraska, says that if current farming practices don't change, it's possible that all of the Bt genes currently on the market will stop working reliably within a decade.
Farmers in Thailand use armies of 10,000 "field chasing ducks" to eat their way through rice paddies after a harvest. The tradition has long been practiced in Thailand and surrounding countries to rid rice paddies of pests and rice husks and reduce the cost of feeding the ducks. Studies have shown this method of farming is not only beneficial to the environment, but can also increase crop yield.
Europe's highest court has concluded that member states have the right to ban pesticides even if they are permitted at the EU level, provided they officially inform the European Commission.
The government of Switzerland has announced that it will no longer allow exports of five pesticides that have long been banned in their own country due to known health and environmental harms. Given that pesticide industry giant Syngenta is based in Switzerland, this is significant.
The California Supreme Court will not review a California man's trial win over Monsanto, dealing another blow to Monsanto's German owner, Bayer. The decision to deny a review in the case of Dewayne "Lee" Johnson marks the latest in a string of court losses for Bayer as it tries to complete settlements with close to 100,000 plaintiffs who each claim they or their loved ones developed non-Hodgkin lymphoma from exposure to Roundup and other Monsanto weedkillers.
In September, California Attorney General Xavier Becerra filed a notice of appeal, challenging a court decision barring Proposition 65 warnings for glyphosate-based herbicides. As a result of the International Agency for Research on Cancer's (IARC) classification of glyphosate as a probable human carcinogen, the California Office of Environmental Health Hazard Assessment (OEHHA) listed glyphosate as a chemical "known to the State to cause cancer". Attorney General Becerra said, "We won't let pesticide producers sweep the dangers of cancer-causing pesticides under the rug."
Personal injury and civil rights attorney Ben Crump has denounced Bayer Corporation for seeking to profit both from the sale of its weedkiller Roundup, which has been linked to non-Hodgkins lymphoma, and a new Bayer drug to treat the disease.
A new paper by Chilean researchers is the first comprehensive review that consolidates the mechanistic evidence on glyphosate as an endocrine disrupting chemical (EDC). The paper concludes that glyphosate, the active ingredient in the world's most widely used herbicide, meets at least eight of the 10 key characteristics of EDCs, as proposed in an expert consensus statement published in 2020.
A review of the literature about the effects of glyphosate and glyphosate based herbicides on the gut microbiome concludes, "Glyphosate exposure, either through active ingredient alone or commercial herbicide formulations, has the potential to induce dysbiosis [imbalance in the microbiome] by creating an imbalance between commensal members of the gastrointestinal microbiome and opportunistic pathogens. Glyphosate may be a critical environmental trigger in the etiology of several disease states associated with dysbiosis, including celiac disease, inflammatory bowel disease and irritable bowel syndrome. Glyphosate exposure may also have consequences for mental health, including anxiety and depression, through alterations in the gut microbiome."
Send a message to Governor Andrew Cuomo urging him to sign Bill A.732-B/S.6502, to prohibit the use of toxic herbicide glyphosate on New York State property.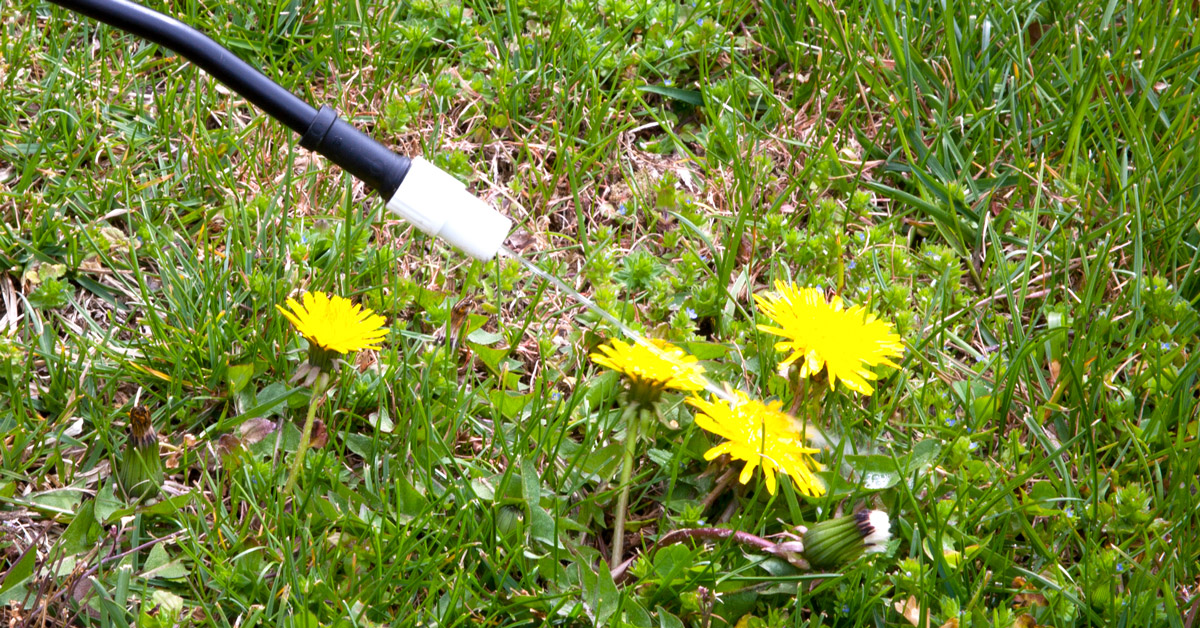 Researchers analysed 14 glyphosate-free herbicides marketed in Europe and found that they contain heavy metals, including arsenic, lead, iron, nickel, and titanium. They also contained carcinogenic polycyclic aromatic hydrocarbons (PAHs), a class of chemicals found in coal, crude oil, and gasoline. Some of the substances were found at levels above regulatory safety limits for water. The researchers conclude that as vinegar and glyphosate-free acetic acid-based herbicide both contain around 6% acetic acid, people may as well use vinegar, which is less toxic and cheaper.
The Center for Food Safety (CFS) has filed an amended complaint in their ongoing litigation challenging the US Department of Agriculture's (USDA) "bioengineered" (more commonly known as "genetically engineered") food labelling rule, challenging the law's prohibition on states' labelling of genetically engineered seeds. The new filing adds claims challenging the part of the "bioengineered foods" rule that will leave genetically engineered seeds unlabelled, preventing consumers and farmers from knowing if seeds are genetically engineered.
A GM virus-resistant cassava is slated for release in Kenya. But Dr Hans Herren, who won the World Food Prize in 1995 for using biological controls to halt a mealybug infestation that threatened to destroy cassava crops across Africa, is dismayed at this development. He says ecological approaches that keep nature in balance are the key to defeating viruses.
A study by Mexico's National Council of Science and Technology (Conacyt) found that 27% of the tortillas consumed in Mexico had traces of the "probably" carcinogenic herbicide, glyphosate. The study also found that 82% of the foods analyzed had transgenic sequences and that 70% of urine samples contained glyphosate.
More than 200 activists and environmental and sustainable agriculture organizations have written to President López Obrador to urge him to cancel a plan that they say will open the door to the cultivation of genetically modified corn and allow the ongoing use of glyphosate, a controversial herbicide. The president pledged to ban genetically modified corn and phase out the use of glyphosate – the active ingredient in the Monsanto herbicide Roundup.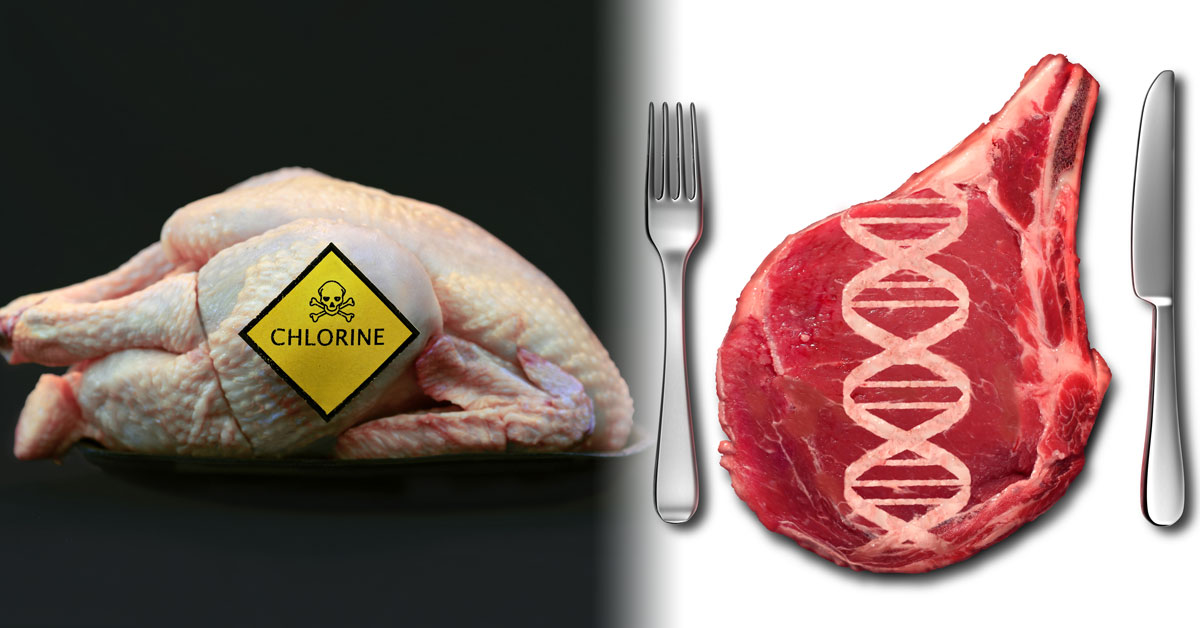 National Farmers' Union (NFU) president Minette Batters has voiced concern about the prospect of chlorinated chicken and hormone-fed beef coming into the UK following on from a UK-US trade deal. But the NFU fails to mention another risky type of product – GM (including gene-edited) foods. And a powerful campaign to maintain UK food and farming standards, Biteback2030, is also silent on GM even though it's fronted by chef Jamie Oliver, who has publicly criticised GM foods.
The increasing likelihood of a "No Deal" Brexit will mean that the UK has only a deal with Japan to show off in terms of its economic relations with other rich nations, and it ensures that the UK government will be even more keen on a deal with the United States. The result could be concessions made on chlorinated chicken, hormone-fed beef, factory farms, and GM crops.
Farmers facing one of their toughest years in recent memory have received little comfort from a usually reliable ally: the Conservative party. Their pleas to the government to enshrine in law a commitment to the UK's high standards of food safety and animal welfare were ignored. In a long and impassioned debate in the House of Commons, amendments to the agriculture bill that had almost universal backing from farming leaders were defeated, steamrollered under the government's 80-strong majority.
In a new survey, nearly nine in ten (88%) people said that the UK should not allow hormone treated beef, three quarters (75%) said the same about chlorinated chicken, while over half (59%) said they wished to maintain the ban on GM crops. In fact, however, GMOs aren't banned in imported food and feed, but they have to be approved and labelled at the EU level. GMO cultivation has only not been allowed in the UK because only one GM crop has been approved for cultivation at the EU level and that isn't suitable for the UK. With Brexit, and with the EU protections removed, all this could change.
New consumer research from Food Standards Scotland finds "Sale of chlorinated chicken and GM foods are of the greatest concern" to consumers post-Brexit. Only one in 10 would be likely to buy GMO foods even if they were cheaper – though that assumes they would still be labelled.
The Ayurvedic medical establishment has staunchly resisted attempts to commercialise GM Bt brinjal (eggplant/aubergine) in India – and that opposition hasn't gone away. A peer-reviewed paper examines the reasons why. They boil down to the incompatibility of the reductionist approach of genetic engineering and the GMO approvals process with Ayurveda's holistic emphasis on the whole plant and the mixture of compounds present in it.
Peru will remain GMO-free for 15 more years, Congress has decided. The main argument to extend the moratorium is the the value of the country's crop biodiversity and the role of peasant farmers in feeding the nation with it. The right to healthy food was another of the arguments presented by the legislators.
Percy Schmeiser, the Canadian farmer whose name became synonymous with the legal fight against patent rights centred around Monsanto's genetically modified canola, has died aged 89. Monsanto's GM canola was found in Schmeiser's field but he had never paid for the right to grow it, and he said the seeds blew onto his field in the wind.
Percy Schmeiser's fight against Monsanto has been dramatised in a new film directed by Clark Johnson and starring Christopher Walken as Schmeiser.
Some long-time GMWatch readers will remember Prof Dave Schubert, the Salk Institute scientist who repeatedly warned about the health risks of GM foods. We're very sorry to report (for those who haven't already heard) that Dave died in August after a cancer diagnosis. We remember him as a dear friend and fearless truth speaker who was always generous with his help and advice in any effort to protect public health. A fitting tribute to him is published in the San Diego Union-Tribune.
What would a truly resilient society look like? In an excerpt from his new book A Small Farm Future: Making the Case For A Society Built Around Local Economies, Self Provisioning Agricultural Diversity, and A Shared Earth, Chris Smaje examines the question of resilience from the points of view of politics, economics, and the physical world. He challenges both conventional wisdom and standard utopian visions to elaborate on the opportunities and the problems inherent in realising this goal. As Vandana Shiva notes on the book's cover, "Either we have a small farm future, or we face collapse".
In the last 10–15 years, groups have been promoting organic vegetable cultivation in Kerala. Many health-conscious people have begun to produce at least part of the vegetables for their own needs in their kitchen gardens and even on rooftops. Some have started to share and sell their produce with neighbours and weekly markets set up by like-minded people. The movement has intensified during the COVID-19 pandemic.
LOBBYWATCH
EU agriculture ministers said the EU should make use of "new innovative ingredients and techniques" – apparently a reference to gene editing technologies – to boost the sustainability of food production, as long as they are shown to be safe for humans, animals and the environment. They also gave their stamp of approval to the European Commission's Farm to Fork plan to reduce the use of fertilisers by 30 per cent and turn 25 per cent of agricultural land over to organic farming. However, there is zero evidence that gene editing could boost sustainability – and gene-edited crops and foods have not been shown to be safe for consumption or the environment. Farm to Fork should focus on proven successful and safe agroecological methods to improve sustainability.
A backroom deal between the three biggest political groups in the European Parliament seems to give the kiss of death to the relatively ambitious Farm to Fork strategy, which aimed to make food systems more sustainable. The deal will keep the many problematic aspects of the Common Agricultural Policy (CAP), which accounts for over one-third of the EU annual budget – completely undermining the EU's latest green ambitions. These politicians have effectively locked the EU into seven more years of subsidised environmental destruction.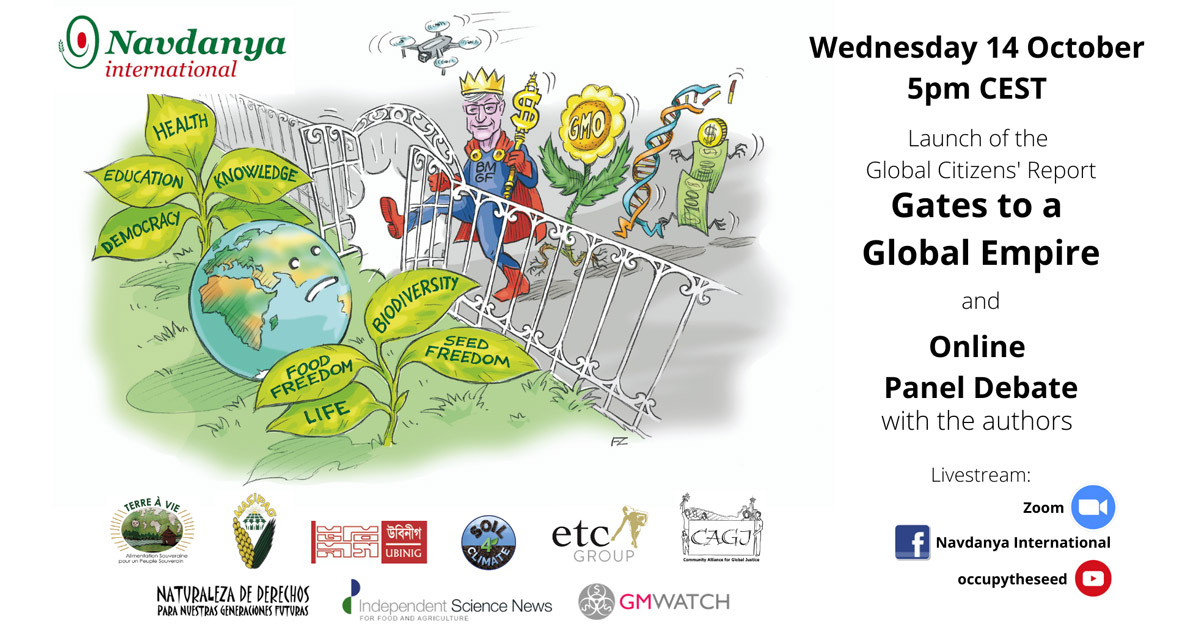 Navdanya's report on the Gates Foundation's attempts to take over food, agriculture, knowledge and global health systems, along with a synthesis document, are available for free download. GMWatch contributed a section on the dangers of gene editing.
Navdanya has released a video of the launch of its report, Gates to a Global Empire. Speakers at the launch include Dr Vandana Shiva, Dr Michael Antoniou, Dr Jonathan Latham, ETC Group's Jim Thomas, Farida Akhter of UBINIG in Bangladesh, and GMWatch's Claire Robinson.
COVID-19
ENSSER (the European Network of Scientists for Social and Environmental Responsibility) held a round table discussion on SARS-CoV-2 and COVID-19. The recording has been released. Speakers are Dr Michael Antoniou, Prof Ignacio Chapela and Prof Giuseppe Longo. Dr Antoniou's talk comes first and is titled: "SARS-CoV-2: natural original or laboratory creation? Does it matter?"
Dr Michael Antoniou is extensively interviewed in English by Italian journalist Paolo Barnard on the origins of SARS-CoV-2.