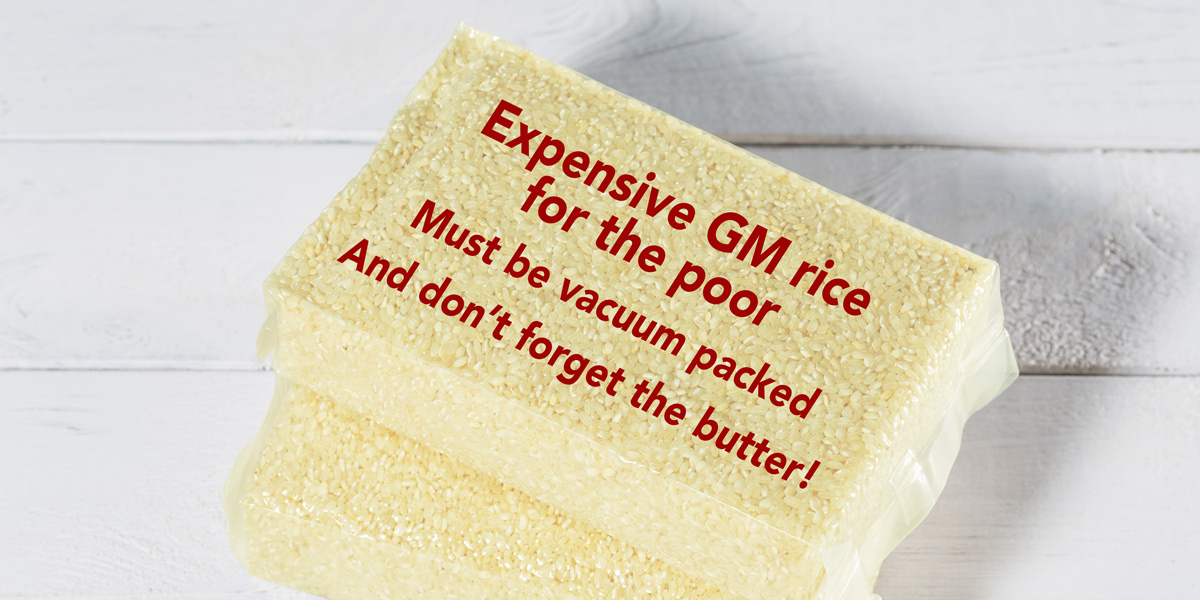 The vitamin A precursor beta-carotene is only present at low levels in GM golden rice, when compared to carrots and green leafy vegetables. But it rapidly degrades to even lower levels when the rice is stored after harvest, a new study by Indian scientists has found. After just 6 months of storage in the presence of air, even at the low refrigerated temperature of 4 degrees C, the beta-carotene degraded by around 68–79%. The scientists concluded that the best way to preserve the beta-carotene content of the GM golden rice was to vacuum pack it as paddy (rice with the hull left on) – though no one eats rice in this form. Under these conditions, at 25 degrees C, just over half (54%) of the beta-carotene was retained, versus only around 20% under non-vacuum packaging (air packaging) at the same temperature. All this means it's not a practical solution to vitamin A deficiency in the developing world.
India has announced that the use of biofortified rice will become mandatory in school meals and public nutrition programmes by December 2019. India is a target country for the release of biofortified crops like iron and zinc pearl millet, iron and zinc rice and provitamin A rice. At first many of these crops will be non-GMO, but GMOs will follow. GRAIN looked at biofortification in Asia, Africa, and Latin America and the emerging critiques from feminist perspectives and food sovereignty movements. They found a worrisome push for a top-down and anti-diversity approach to food and health that may undermine people's capacities to strengthen local food systems.
A new peer-reviewed publication provides an overview of several differences between genome editing (CRISPR/Cas) and conventional plant breeding on the molecular level. It is the first scientific review to specifically explore this issue. The publication reviews applications of CRISPR/Cas in plants and shows some differences from conventional mutagenesis used in plant breeding and from spontaneous mutations. In conventional breeding and in natural processes some regions in the genome undergo changes less frequently than others because these regions are especially protected by repair mechanisms in the cell. CRISPR/Cas applications can bypass these naturally occurring processes.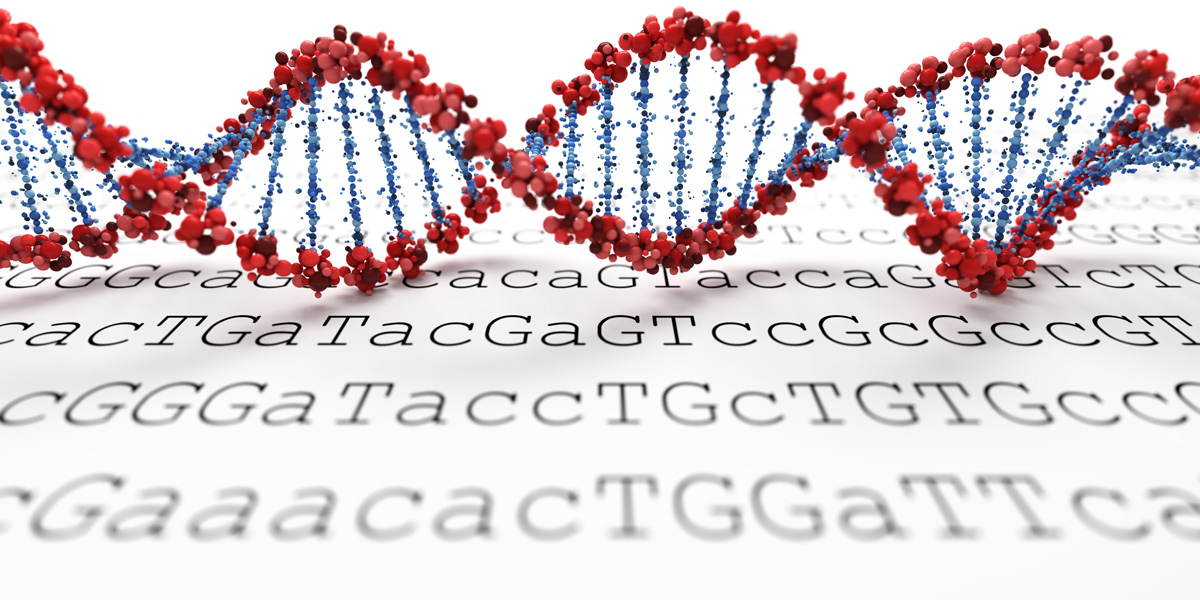 A new report from the experts of the European Network of GMO Laboratories (ENGL) argues that a gene-editing-induced DNA alteration that is "not unique" cannot be regulated under the EU's GMO regulation because the alteration could have arisen naturally from traditional breeding or from chemical- or radiation-induced mutagenesis techniques used in conventional breeding. But this argument is unconvincing. GMWatch explains why.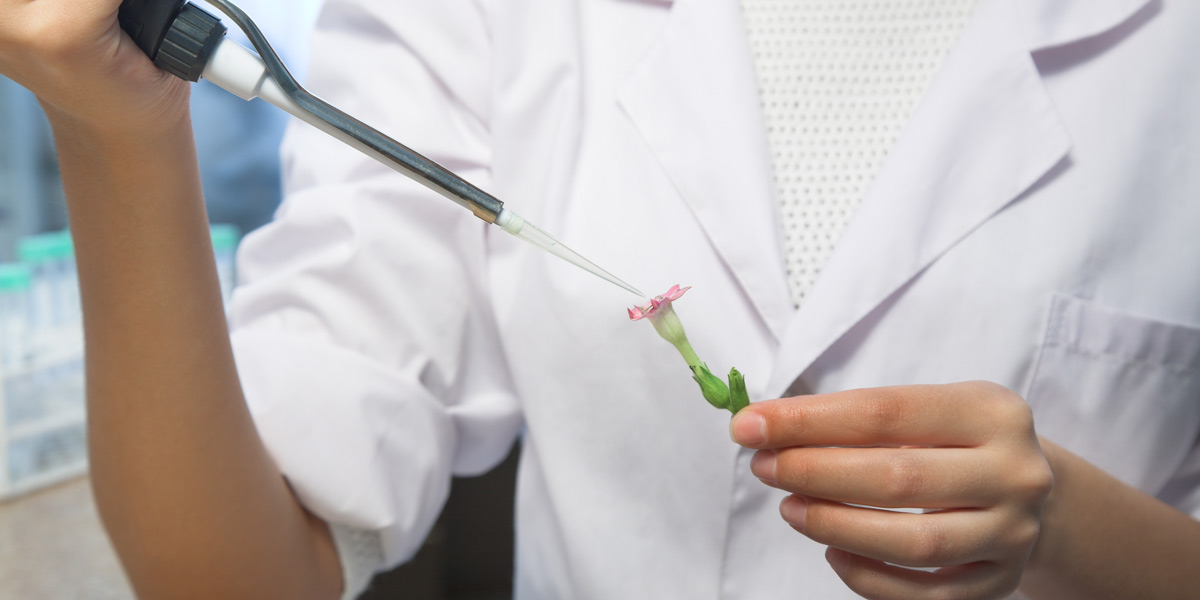 More than 40 organisations from the fields of science, environmental protection, lobby control, food production and agriculture have published a joint letter in which they warn that the outgoing EU Commission might approve around a dozen GM plants on the basis of a scientifically unacceptable risk assessment, before handing over to the new Commission.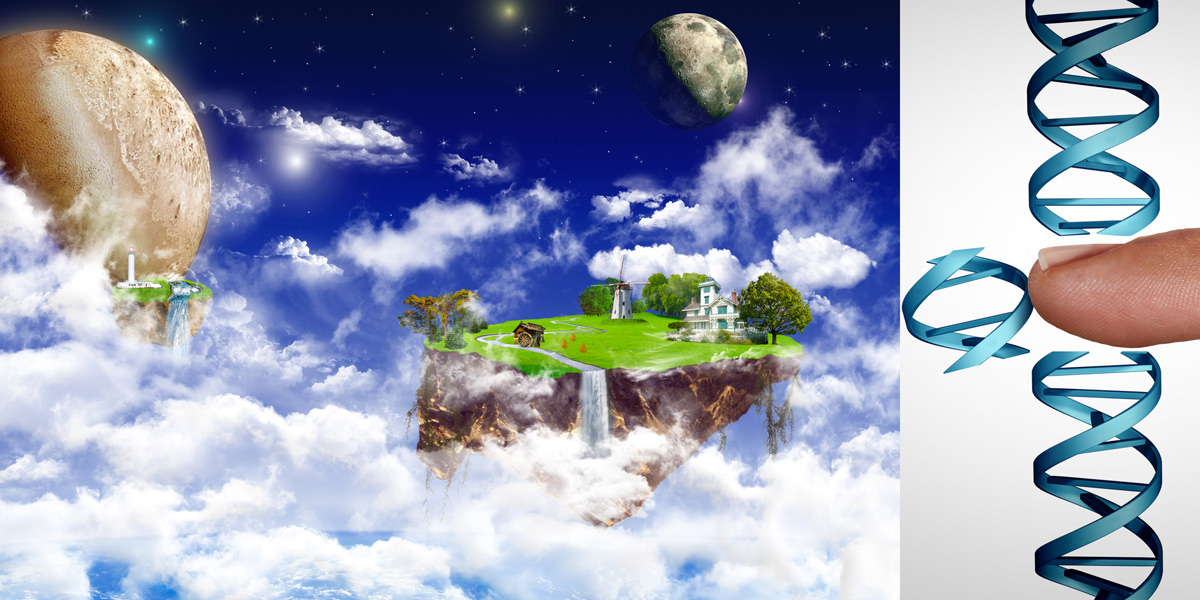 An article in the Guardian hypes "CRISPR gene editing" as a technology that will "change the way Americans eat". While paying lip service to concerns about gene editing, the article largely swallows the GMO lobby sales pitch wholesale. Inherent problems with CRISPR technology, health risks of novel foods, and the spectre of bioweapons are ignored in favour of non-existent super crops and livestock animals.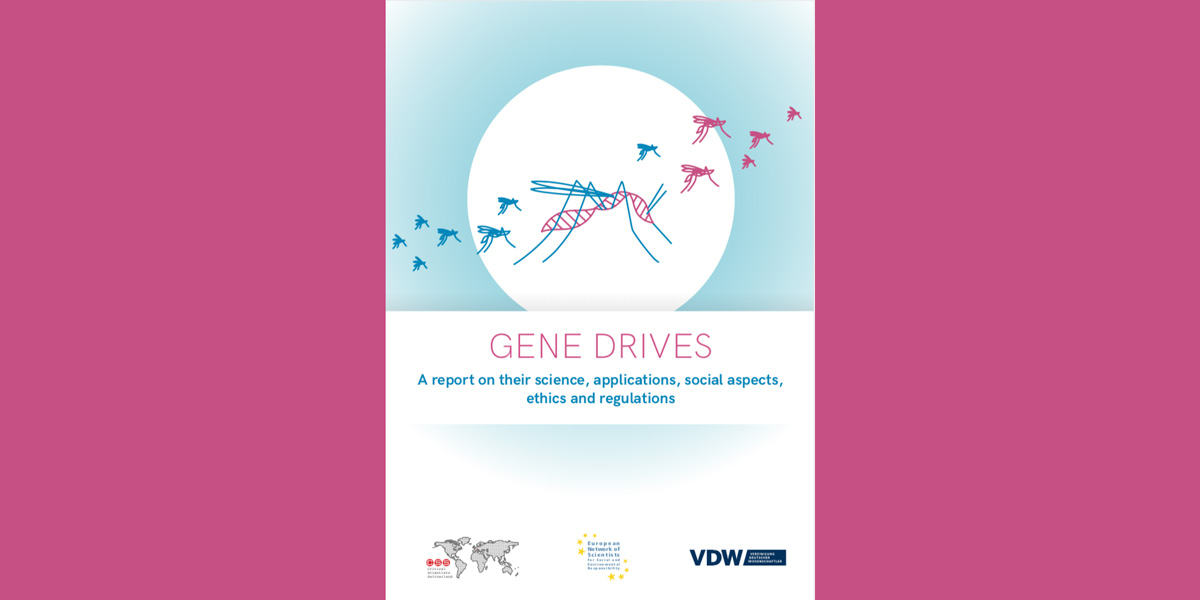 Gene drives must be treated with extreme caution and put on hold until they are sufficiently understood or other solutions to the problem are chosen, according to a new report published by Critical Scientists Switzerland (CSS), European Network of Scientists for Social and Environmental Responsibility (ENSSER) and Federation of German Scientists. In addition, in any scenario where a gene drive is put forward as a solution, public engagement must take place at the beginning of the process in order to define the problem and examine all possible alternatives. GMWatch has republished the summary of this important report.
The farmer organisation European Coordination Via Campesina has written an open letter to the European Parliament candidates standing in the next EU elections, demanding that they reject the false promises of the GMO lobby and that the EU applies full GMO risk assessment and labelling to "new GMO" products.
A California jury found that Monsanto's Roundup likely caused a couple's cancer and awarded them a staggering $2.055 billion in damages, in a third consecutive Roundup trial loss for the Bayer-owned unit. After nearly two days of deliberations, the jury found that it is more likely than not that Roundup was a significant contributing factor in causing Alva and Alberta Pilliod's non-Hodgkin lymphoma.
Brent Wisner, an attorney in the Roundup cancer litigation (see item above), highlighted the industry capture of the US EPA in an interview. Wisner said: "In the middle of trial, after we had rested our case-in-chief but before closing arguments, out of nowhere, the EPA issues an interim analysis. It was written by an individual, Billy Mitchell, who doesn't have any higher or specialized education or training. And if you read the document, it literally reads like the opening statement from Monsanto during our trial. It was – Monsanto wants a report; EPA brings it. And that just shows you just that the level of capture of this agency that essentially does not work for the American public but works for industry – these documents from these corporate intelligence agencies, they just show us just how deep it runs."
Here's a good video discussion about the $2 billion verdict against Monsanto/Bayer regarding the cancer-causing ability of Roundup, the shortcomings of US and European regulators, and where we go from here. Includes interviews with Carey Gillam of US Right to Know and Corporate Europe Observatory's Nina Holland.
Shares in Bayer were down 6.8 per cent in early trade on Tuesday after a jury awarded more than $2 billion to a California couple in the largest US jury verdict against the company over allegations its Roundup weed killer causes cancer. That put the stock at its lowest level in almost seven years, even though the punitive damages award is likely to be reduced due to US Supreme Court rulings that limit the ratio of punitive to compensatory damages to 9:1.
The law firm that represented the Pilliods in the latest Roundup trial, Baum, Hedlund, Aristei & Goldman, has released a video of the press conference held after the 2 billion dollar verdict against Bayer. Brent Wisner from the firm said the verdict was a clear signal that "Monsanto needs to change its conduct."
A 44-year-old Elk River man is among the latest Minnesotans to join a nationwide flood of plaintiffs suing Monsanto, claiming the company's blockbuster Roundup weedkiller caused their cancers.
A Melbourne gardener has launched legal action against Bayer in the first Australian case to link cancer with popular weedkiller Roundup. Michael Ogalirolo, 54, was diagnosed in 2011 with non-Hodgkin lymphoma, after more than 18 years of exposure to Roundup.
A federal judge in California has appointed the prominent attorney Kenneth Feinberg to serve as mediator for court-mandated settlement talks between Bayer and people who say the company's glyphosate-based weedkiller, Roundup, gave them cancer.
When it comes to the health risks of Roundup, cancer is only part of the story. Studies suggest that glyphosate — the active ingredient in Roundup — pollutes water sources, hangs around in soil far longer than previously suspected, and taints human food supplies. In the US and Europe, the supposedly safe limits for human ingestion are based on long-outdated science. Research also points to serious adverse consequences for the environment, and there are indications glyphosate can cause disease in mammals even several generations removed from the initial exposure. Toxicity studies in rodents have found that glyphosate herbicide can damage the liver and kidneys, even for doses in the range generally considered safe for humans. Young pigs fed soybeans contaminated with glyphosate herbicide residues have exhibited congenital malformations, not unlike birth defects observed for people living in farming regions with intensive glyphosate use.
Exposure to glyphosate herbicide correlates to more severe cases of nonalcoholic fatty liver disease, researchers at the University of California San Diego School of Medicine found in a study. GMWatch previously reported on this study here.
The inevitable attacks by industry have begun on the study by Prof Michael Skinner, which showed serious negative health impacts from glyphosate taking several generations to manifest. In an interview, Prof Skinner responds to pesticide manufacturer Bayer's criticisms.
The team led by Prof Michael Skinner (see above item) made a serious error in their published paper on glyphosate: they stated that the International Agency for Research on Cancer (IARC), a specialist scientific arm of the World Health Organization, had "retracted" its finding that glyphosate was a probable human carcinogen. It's not true. But Prof Skinner has refused to correct the error, one of several in the paper.
A multidisciplinary research team including epidemiologists, bio-statisticians, and neurologists has identified a link between prenatal and infant pesticide exposure and increased risk of developing autism spectrum disorder (ASD) for residents of California's Central Valley. Use of 11 pesticides (including glyphosate) within 2,000 meters of a family's home during developmental periods correlated with increased risk of autism.
Bayer said on Sunday it was hiring an external law firm to investigate French media complaints that Monsanto, the US seed maker it took over last year, had compiled a file of influential personalities. French prosecutors opened an inquiry after newspaper Le Monde filed a complaint alleging that Monsanto had compiled a file of 200 names, including journalists and lawmakers, in the hope of influencing their positions on pesticides.
The epidemic of chronic kidney disease that has plagued agricultural workers and manual labourers in Sri Lanka has arrived in the US. A new scientific paper by researchers at the University of Colorado Anschutz Medical Campus suggests it may be caused by a combination of increasingly hot temperatures, toxins and infections. Pesticides including glyphosate herbicides are among the suspected culprits.
The Detox Project tested eight top-selling protein powders. Most of the brands were vegan and contained pea protein, but they also tested brands with soy, whey, and collagen proteins. Some of the organic pea protein brands' products came back with higher levels of glyphosate than the conventional brands.
University of California President Janet Napolitano has halted the use of glyphosate on all ten of its campuses, which serve over 200,000 students.
Sonoma County has restricted the use of Roundup and other synthetic pesticides on public land, joining a wave of cities and counties across the US that have done the same.
Following recent bans on the use of glyphosate-based herbicides by cities and institutions in the US, including Key West, Los Angeles, the University of California and Miami, Sustainable Pulse research found that 17 countries have now banned or restricted the use of this "probably" carcinogenic herbicide.
On 18 May 2019, a demonstration for a revolution in agricultural paradigms and against Bayer and Syngenta took place in Basel for the fifth year in a row. Over 2000 participants loudly demanded the implementation of real climate protection measures. The demonstration moved through the town to Syngenta's headquarters and was accompanied by street artists, musical contributions and children dressed as bees. Bayer's takeover of Monsanto makes the corporation a leading player in the pesticide market.
A group of around 100 children and parents staged a "die-in" at the Town Hall to protest the council's continued use of the weedkiller glyphosate.
Some US states are saying they might stop reporting dicamba damage incidents to the EPA because it costs them so much in resources and the EPA doesn't take any effective action. Brian Verhougstraete, a Michigan pesticide regulator, said several states may not cooperate with the survey of damage incidents proposed by the EPA for this year – based on their experience of reporting injury data in 2018. "To be quite blunt: What did we get out of it?" he said. "The way most states saw it is we got more... labels with vague and unenforceable terms, and we also now have a bunch of extra work on our certification programs. There will be some serious thoughts by states on whether they will participate - and they may not even have the time, because they'll be too busy with [dicamba] investigations."
Farmers in seven Ontario counties will have a tougher time fighting a weed called waterhemp, because some have developed a resistance to glyphosate — a type of chemical used for weed control.
Farmers in Haryana and experts fear widespread contamination of GM brinjal or eggplant in the state, with the farmer accused of cultivating Bt brinjal in Fatehabad district in the northeastern part of the state, adjoining Punjab, admitting that he has been growing and selling the GM produce since 2017. GM brinjal isn't legal in India. Prashant Bhushan, public interest lawyer in the Supreme Court of India, has called for criminal proceedings to be brought against those who enabled the illegal sale and cultivation of Bt brinjal.
After illegal cultivation of GM brinjal was discovered in Haryana, India, recently, many have exhorted farmers to defy the moratorium on Bt brinjal and other GM crops and plant seeds. Several of these articles have discussed the "success story" of Bt brinjal in Bangladesh. However, this has to be taken with a pinch of salt, given the counter-evidence of farmers reporting losses, writes Kavitha Kuruganti, from the Alliance for Sustainable & Holistic Agriculture (ASHA).
Confirming the worst fears of Telangana government that unapproved GM herbicide-tolerant (HT) cotton seed is making its way into the state and farmers are using HT seed on a large scale, a whopping 2,005 kilos of HT cotton seed has been seized. The managing director of a seed company and a driver were arrested.
The Competition Commission of India (CCI) found that Mahyco Monsanto Biotech (MMBL) has abused its dominant position in the country by charging an unfair license fee for its GM Bt cotton seed. According to a report, MMBL also entered into pricing agreements directly aimed at overcharging farmers who use Bt cotton seeds.
With Juan Guaidó's parallel government attempting to take power with the backing of the US, the top political donors of those in the US most fervently pushing regime change in Venezuela have close ties to Monsanto and major financial stakes in Bayer. While numerous other Latin American nations have become a "free for all" for the biotech company and its affiliates, Venezuela has been one of the few countries to fight Monsanto and other international agrochemical giants and win. However, since that victory — which was won under Chavista rule — the US-backed Venezuelan opposition has been working to undo it.
The Oregon Legislature is considering a bill that would let farmers sue companies, such as Bayer and Syngenta, that hold patents on GM seeds if crops grown from those seeds contaminate other crops. GM wheat was found in Eastern Oregon in 2013, temporarily halting exports to Japan, South Korea and Taiwan. And GM bentgrass escaped from a field trial more than a decade ago and is now causing problems for farmers across Oregon.
Russia's consumer rights protection watchdog Rospotrebnadzor has filed an administrative violation case against Nestle Russia after finding GM papaya in the company's instant cereals oatmeal porridge. According to Rospotrebnadzor, the manufacturer knew about the non-compliance of its Bystrov brand ingredients with the mandatory requirements but did not inform the watchdog.
There are new concerns about the world's first genetically modified babies. It appears that the genetic variation a Chinese scientist was trying to re-create when he edited twin girls' DNA may be more harmful than helpful to health overall, according to a study. The Chinese scientist who "edited" the babies' genes said he modified a gene known as CCR5 to protect the girls from the AIDS virus. But there's also evidence the CCR5 variation has other effects, such as making people more vulnerable to the West Nile and influenza viruses. It is also linked with significantly increased premature death.
Research shows pesticide exposure can change the activity of dozens of genes in bees, shorten their flights, and produce symptoms of addiction. Commenting on his study, Imperial College London researcher Dr Richard Gill said: "Given a choice, naïve bees appear to avoid neonicotinoid-treated food. However, as individual bees increasingly experience the treated food they develop a preference for it. Interestingly, neonicotinoids target nerve receptors in insects that are similar to receptors targeted by nicotine in mammals. Our findings that bumblebees acquire a taste for neonicotinoids ticks certain symptoms of addictive behaviour, which is intriguing given the addictive properties of nicotine on humans."
Bird populations across the French countryside have fallen by a third over the last decade and a half. Dozens of species have seen their numbers decline, in some cases by two-thirds, scientists found in a pair of studies. The problem is not that birds are being poisoned, but that the insects on which they depend for food have disappeared. Despite a government plan to cut pesticide use in half by 2020, sales in France have climbed steadily, reaching more than 75,000 tonnes of active ingredient in 2014.
In Denmark, the abundance of flying insects in a farmland area as revealed by numbers killed on the windscreen of a car decreased by more than 80% during 1997–2017, a study has found. The measure of insect abundance on cars strongly correlated with the numbers of birds that eat insects.
The GMO-containing Impossible Burger arrived in New York City with much hype, but now it is hard to find there. Possible reasons include that the burger is expensive and can't compete with cheaper options; that the company that makes it, Impossible Foods, is having problems keeping up with demand; and that people don't see any reason to buy it when plant-based veggie burgers with everyday ingredients are commonly available. It's also just possible that NYC restaurant owners and/or customers are growing wary of the GMO status of the product.
The recent headlines announcing billions of dollars in damages to people who got cancer after using Roundup are just the tip of a large iceberg. There are thousands of lawsuits against Monsanto's parent company, Bayer, waiting to be heard by the courts. But beyond concerns about that glyphosate-based weedkiller, we should be talking about the innumerable other potentially punishing chemicals in our food system, writes Maria Rodale. After all, our food and our health are deeply connected. American healthcare spending has ballooned to $3.5 trillion a year, and yet Americans are sicker than most other developed countries. Meanwhile, the US food system contains thousands of chemicals that have not been proven safe and many that are banned in other countries.
GMO advocates say the most widely used variety of wheat in organic farming, Renan, is a GMO according to the EU definition. But an investigation by a French NGO shows they are lying. Renan is not a GMO as defined by European and international regulations. However, some "improvement" processes, involving a synthetic chemical, were implemented in its development. And it's reasonable to question whether these are desirable in organic breeding.
Remember the IPBES (Intergovernmental Science-Policy Platform on Biodiversity and Ecosystem Services) report on food and farming? The one saying 1 million species are going extinct in the coming years? Juliette Leroux, policy advisor on agricultural and rural development for the Greens/EFA in the EU Parliament, summarises in a Twitter thread what the report says about the solutions to the problems with our agricultural and food systems. Leroux says that among other topics, the report emphasises the importance of involving communities in the decisions about the lands they use and inhabit: "Big projects coming 'from above' are often destructive. Think of that next time you believe a white guy in a lab coat is going to save 'Africa' from hunger".
A genetically modified fungus is said to have killed huge numbers of malaria-carrying mosquitoes in a trial that took place in a fake village set up by researchers in Burkina Faso, West Africa. Researchers from the University of Maryland in the United States and the IRSS research institute in Burkina Faso genetically enhanced a fungus called Metarhizium pingshaense so it produces spider toxin. What could possibly go wrong?
LOBBYWATCH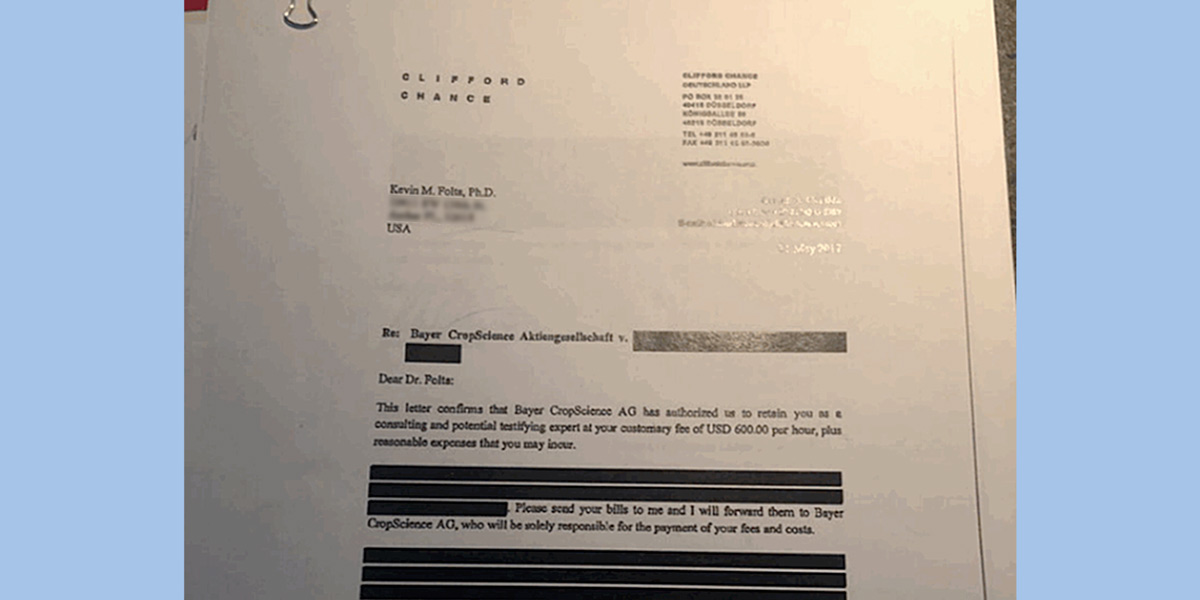 The veteran science reporter and former NYU and University of Boston adjunct professor of journalism Michael Balter has launched a scathing series of attacks on the University of Florida's Kevin Folta, a leading defender of GMOs and glyphosate. As part of this, Balter has posted documentary evidence of the terms of Folta's private work for the biotech giant Bayer, and it blows apart Folta's assertions that he has not done paid consulting.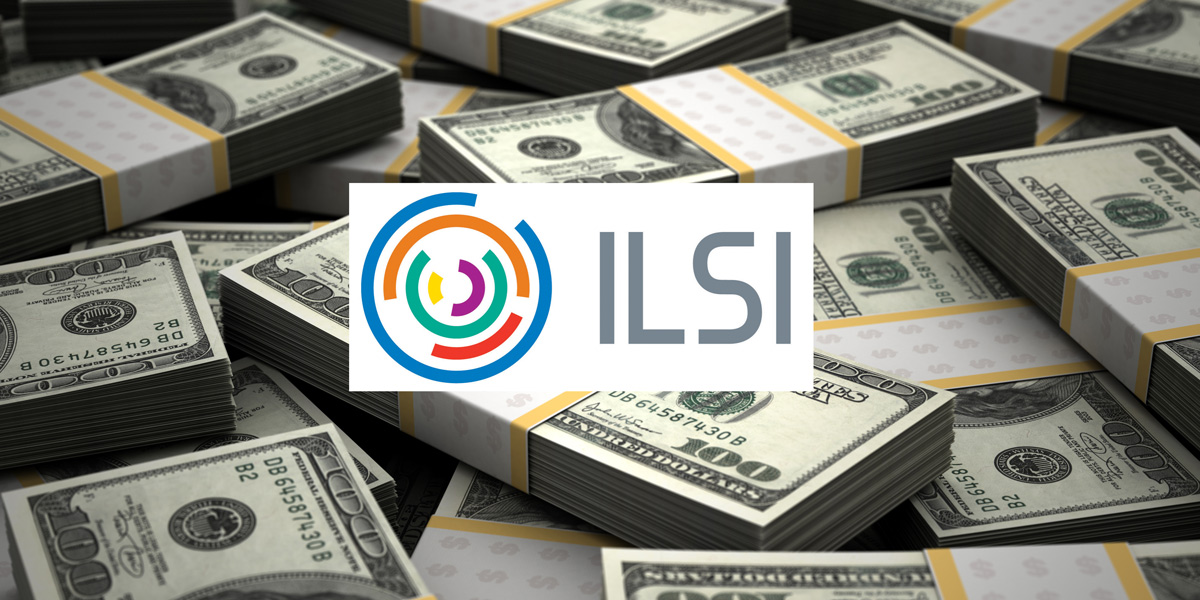 A new peer-reviewed study definitively exposes the International Life Sciences Institute (ILSI) for what GMWatch has always said it was – a corporate lobby group – rather than the scientific organisation it claimed to be. The paper's lead author, Dr Sarah Steele, a Cambridge university senior research associate, said: "Our findings add to the evidence that this nonprofit organisation has been used by its corporate backers for years to counter public health policies. ILSI should be regarded as an industry group – a private body – and regulated as such, not as a body acting for the greater good." GMWatch has often covered the heavy role of ILSI in manipulating regulatory standards for GMOs and pesticides in industry's favour.
Monsanto paid a shadowy chemical industry front group to help push back against the mounting scientific evidence that the company's signature Roundup weedkiller causes cancer, court documents reveal. "If a company like [Monsanto] won't support us, then who will?" the head of the American Council on Science and Health wrote to a Monsanto scientist in 2015. A day later came the reply: "[T]he answer is yes.... [D]efinitely count us in!!"
Over the past year, evidence of Monsanto's deceptive efforts to defend the safety of its top-selling Roundup herbicide has been laid bare for all to see. Through three civil trials, the public release of internal corporate communications has revealed conduct that all three juries have found so unethical as to warrant punishing punitive damage awards. But in addition to the manipulation of science and of regulators, the company's most insidious deceit may be its strategic manipulation of the media, according to internal records. Monsanto's own emails and documents reveal a disinformation campaign to hide its weedkiller's possible links to cancer.
Bayer's public relations headaches over its mammoth takeover of Monsanto intensified as a scandal about "watch lists" of pro- or anti-pesticides figures kept by the US group snowballed across Europe. Bayer said the lists covered politicians, journalists and others across seven European countries and in Brussels.
Union of Concerned Scientists president Ken Kimmell has dodged questions and provided no answers about the funding for its campaign to reduce transparency into how taxpayer-funded science is conducted. The UCS sponsored a bill to severely limit journalists' access to documents at public research institutions. In the last few years, academics' emails have been critical for reporters who have found Coca-Cola and Monsanto using scientists to promote their talking points. The UCS got support for its campaign from groups that promote Monsanto.
Claire Fox, the sister of Fiona Fox – the director of the Science Media Centre – has become embroiled in a huge row since becoming Nigel Farage's star candidate in the forthcoming European elections. This is because the North West of England constituency that she is standing for includes the town of Warrington, where in 1993 two young boys were killed and many others were injured by IRA bombs – an atrocity that Claire and Fiona Fox both defended.
Newly released European Commission documents reveal a fight to cripple important European pesticide protections. The haul of over 600 documents was obtained after a two-year legal battle won by Pesticide Action Network Europe (PAN). They show top officials trying to protect chemical and farming interests from incoming European rules that were expected to directly ban up to 32 endocrine-disrupting (EDC) pesticides.
Prof Tony Shelton, a busy promoter of GMOs and in particular of GM Bt brinjal (eggplant) in Bangladesh, fed the pesticide Dipel to his students in a public seminar. Dr Jonathan Latham, in an article for Independent Science News, comments that this stunt "creates an impressive list of problematic issues: safety concerns, ethics concerns, questionable science, and, not least, by eating a pesticide and encouraging his students to do the same, both the professor and his students broke the law."
Throughout the US, major food brands are trying to get rid of GMO ingredients because nearly half of consumers say they avoid them in their food, primarily for health reasons. But the CEO of Impossible Foods, purveyor of the Impossible Burger, is bucking that trend. The manufacturers of the controversial veggie burger just announced that in the future, due to "high demand" for the product, its plant-based patties will be made using GMO soy. Pat Brown, founder and CEO of Impossible Foods, publicly defended the move. But a closer look reveals that Brown's claims about the healthfulness and sustainability of "Impossible Burger 2.0" don't stack up.
Europe's candidate to run the UN's Food and Agriculture Organisation (FAO), which guides policymakers around the world, is Catherine Geslain-Lanéelle, the former head of the European Food Safety Authority (EFSA). Geslain-Lanéelle has promised the US that if she gets the job, she will "not defend the EU position" in resisting the global spread of GMOs. In a bid for US support, Geslain-Lanéelle told senior US officials that under her leadership the FAO would be more open to American interests and accepting of GMOs and gene editing.