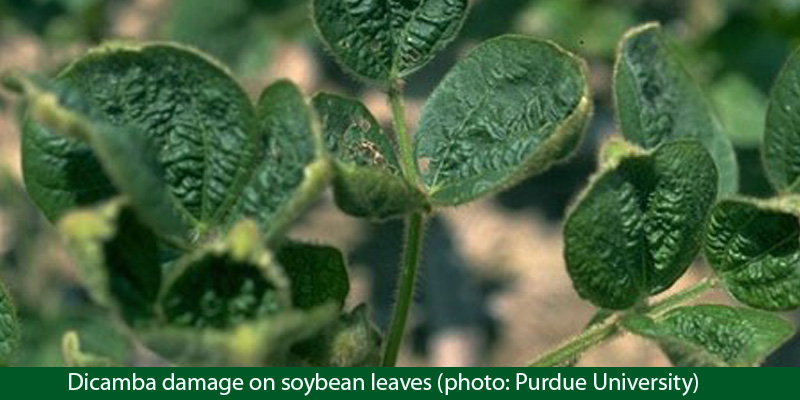 The Arkansas Plant Board has voted to ban the sale and use of the herbicide dicamba in the state. Dicamba is a chemical sprayed on GM dicamba-tolerant soybean fields in order to kill pigweed. The herbicide damages other crops after drifting in the wind. At least 242 complaints in 19 counties linked to dicamba damage have been filed with the Arkansas Plant Board this year.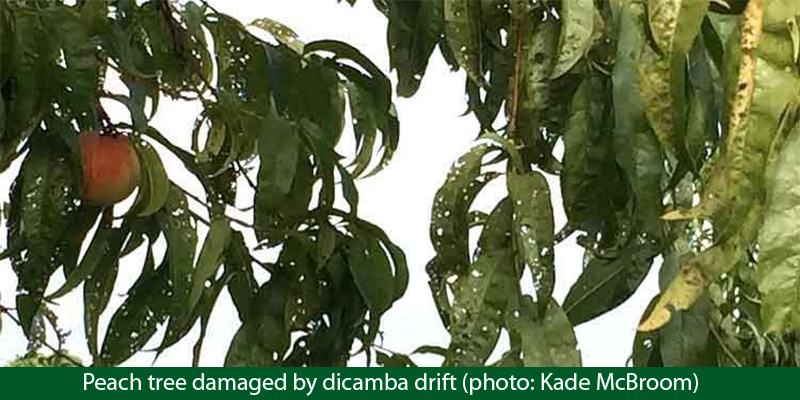 Crops were hurt last year, too, by dicamba drift – but the difference is that this year the brand of dicamba that's causing the problem is being marketed as drift-resistant. Engenia herbicide, with supposedly reduced drift potential, was registered in Arkansas and coupled with strict application guidelines which included mandatory applicator training, extending 100ft buffer zones around the field at application, and a 0.25 mile downwind buffer to sensitive crops. But it seems none of these measures has worked to reduce off-target damage. The University of Arkansas' 100 acres of soybeans have been ruined and the orchards of Missouri's largest peach grower have been hit for the second year – over two years the grower has lost 34,000 peach trees to dicamba.
A group of Arkansas farmers whose crops have suffered damage from dicamba drift have filed a class-action lawsuit against Monsanto and BASF. David Hundley, who manages grain production for Ozark Mountain Poultry in Bay, Arkansas, said of the dicamba scandal, "It's fracturing the agricultural community. You either have to choose to be on the side of using the product, or on the side of being damaged by the product.".
China approved two new varieties of GMO crops for import from June 12, after the world's top buyer of GMO soybeans pledged to speed up a review of biotech products as part of a recent trade deal with the United States.
Brazil has approved commercial use of a GM sugarcane, engineered to express the insecticide Bt toxin. The company that developed it has made applications to clear sale of sugar made from GM cane in the United States and Canada. It will seek regulatory approval in China, India, Japan, Russia, South Korea, and Indonesia.
As a new study reveals that hundreds of unintended mutations were induced in mice by a genome editing technique that is hyped as precise, molecular geneticist Dr Michael Antoniou explains the implications for the safety of genome-edited food products.
A new study shows that malaria mosquitoes quickly gained resistance to a gene drive based on a CRISPR construct designed to disrupt key genes essential for female fertility. Over 25 generations, the mosquitoes developed mutations that restored the functionality of the target gene. The authors commented, "Such mutations show rates of increase consistent with positive selection in the face of the gene drive. Our findings represent the first documented example of selection for resistance to a synthetic gene drive."
A close look at the next generation or "GMOs 2.0" technologies reveals possibly even greater risks than existing GMO technology, with human health risks and potential negative impacts on farming communities.
On 13 June an important debate took place in the European Parliament on the health risks of glyphosate. During the debate, many Members of the European Parliament (MEPs) strongly criticized the reports of the European Food Safety Authority (EFSA) and the European Chemicals Agency (ECHA), which claimed that glyphosate was not carcinogenic. And one of the biggest parliamentary groupings, the Socialists and Democrats (S&Ds) have pledged to hold a more in-depth Parliamentary hearing that could lead on to the establishment of a committee of inquiry to fully investigate the issue.
The Greens/EFA group in the European Parliament is taking the European Food Safety Authority (EFSA) to court after a year of attempts to get access to documents used for the 2015 assessment of glyphosate. The Greens/EFA group said it believes all studies used for the glyphosate assessment should be made public in full.
Leading toxicologist Prof Christopher Portier has written to the European Commission denouncing the poor scientific quality of the EU's assessment of glyphosate. According to Portier, the agencies did not take into account observations of increased cancer rates after exposure to glyphosate. In his letter, he attached a complete list of all the missing data and asked EFSA and ECHA to examine them and correct their conclusions.
Tissue slides from long-dead mice in a research study are being scrutinized by fresh eyes as an expert pathologist employed by lawyers for cancer victims looks for evidence to prove a cover-up of the dangers of glyphosate.
California to list glyphosate as cancer-causing
Glyphosate, an herbicide and the active ingredient in Monsanto's popular Roundup weedkiller, will be added to California's list of chemicals known to cause cancer effective July 7, the state's Office of Environmental Health Hazard Assessment said. Monsanto's petition for a review of the decision and its application for stay were denied by a court.
The GM mustard variety (DMH-11) that has been approved by the GMO regulator GEAC is not high yielding; its productivity is less than three other existing non-GM varieties, writes food policy analyst Devinder Sharma. He adds, "DMH-11 is therefore actually a junk variety. By all scientific norms, it should have been confined to the dustbin."
India's mustard honey exports are likely to be hit if GM mustard seed is allowed for commercial cultivation as it is harmful for the honey making industry, an expert said.
Bihar Chief Minister Nitish Kumar has criticised both the previous and current Indian governments for promoting GM seeds. He said, "The areas where [GM] Bt cotton is grown, there are more reports of farmer suicides.
Only recently have governments in India admitted to the failure of Bt cotton. There are hard cautionary lessons to be learnt from 15 years of the bitter harvest of Bt cotton, so that the mistakes are not repeated at the expense of hapless farmers.
Global biotech companies are reducing research activities and investments in India following policy uncertainty over the use of GM crops.
Some of France's top chefs have denounced the $66-billion takeover of Monsanto by chemicals giant Bayer as a "danger for our dinner plates".
More than 7,000 Kansas farmers have gone to court seeking to convince a jury that the Swiss agrochemical giant Syngenta rushed the GMO corn seed Viptera to market in 2010 before getting import approval from China. China later stopped shipments after tagging the corn as contaminated.
Swiss agrochemical giant Syngenta has said it is now officially owned by the state-owned China National Chemical, or ChemChina. ChemChina chairman Ren Jianxin said the new company will target the developing world, including China and India.
Some of the world's most powerful global agro-chemical companies are gearing up to join forces, which will grant them even greater control over essential food markets. Although the European Commission is tasked with the role of 'competition watchdog', its track record for the enforcement of merger rules to date confirms a strong pro-concentration stance. Since 1990, the Commission has approved nine out of ten notified mergers without imposing any conditions.
A lawyer tells how he took on the case of a baby born without eyes after his mother was sprayed during pregnancy with an agrochemical made by DuPont.
The Trump administration will attack overseas regulations that restrict the export of GMO crops and other products resulting from American technological innovation, said US Trade Representative Robert Lighthizer at the first meeting of a newly created interdepartmental task force on rural America. "We are going to bring cases at the WTO and other venues, we're going to insist that any barrier be science-based, and the United States will increase exports," he said.
A new peer-reviewed paper draws attention to environmental problems associated with GM crops and the gaps in our knowledge of their effects.
GM bacteria have been found in riboflavin vitamin supplements intended for animal feed use, according to newly published EU tests. Contamination of food grade or animal feed supplements with GM bacteria is illegal in the EU.
Consumers should consider going organic because pesticides on foods are far more dangerous than was thought, causing damage to the human brain, a major study suggests. The research, published by the European Parliament, warns of the "very high costs" of current levels of exposure to pesticides – especially for children and pregnant women.
Mycotoxins are toxins produced by moulds that can cause disease and death in humans and animals. They can colonise crops and thus regulators worldwide set limits for the amount that is allowed to be present in food and feed. For years, pro-Big Ag lobbyists have claimed that organic produce is more likely than chemically grown produce to contain mycotoxins, since organic farming uses less, or less "effective", fungicides. But a new study finds that this is nonsense.
Labour leader Jeremy Corbyn has said that the party "will not be promoting GM crops".
Charities have been forced to change their key messages to the public during the general election because of the "chilling" effect of the controversial Lobbying Act, a group of leading UK organisations has warned.
A new survey conducted by Beyond GM shows most diners want to see more transparency about GMOs.
Michael Gove has been appointed Environment Secretary by Prime Minister Theresa May in her cabinet reshuffle. The Green Party leader Caroline Lucas, pointing to his support for fracking and his attempts to wipe climate change from the national curriculum, called him "an environmental disaster waiting to happen".
In its manifesto the Scottish National Party (SNP) makes nine pledges which will impact Scottish agriculture, including not to allow the UK government to dismantle Scotland's GM-free status and commitment.
Many Australians are seeking to make food choices excluding GM ingredients. To help them, the GM-Free Australia Alliance (GMFAA) has produced a GM-Free Shopping List.
LOBBYWATCH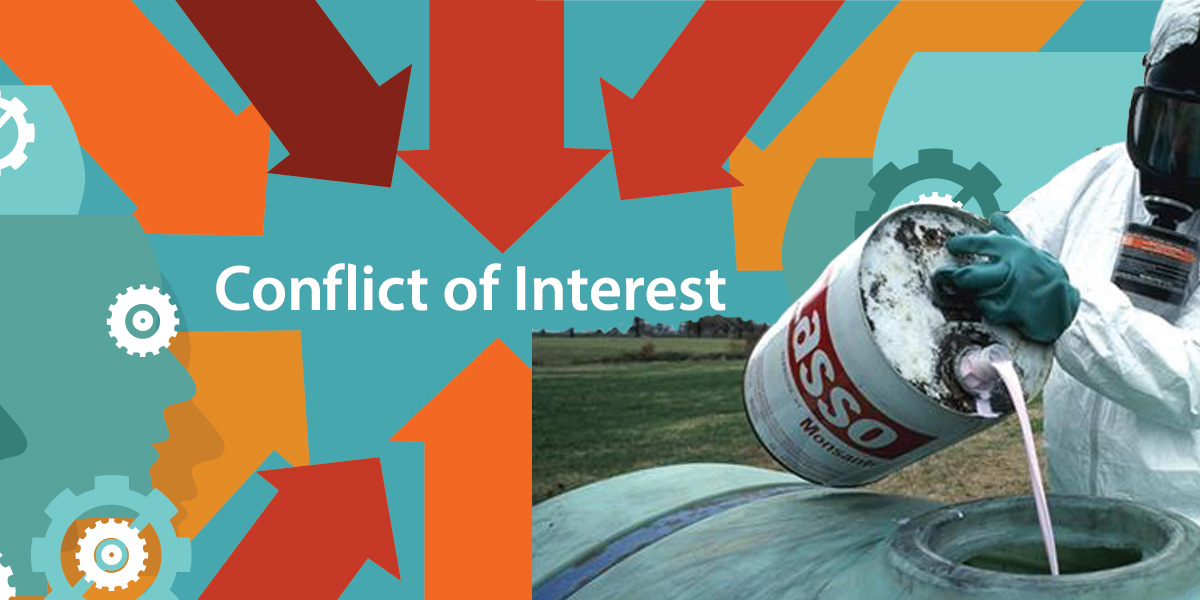 Conabia, the agency that approves GMO crops in Argentina, is stuffed with GMO industry employees and scientists with conflicts of interest, a new investigation by Dario Aranda shows. Out of 34 members, 26 belong to the same companies that produce seeds or are scientists with conflicts of interest. This corrupt system is having a devastating impact on the environment and the health of rural populations – just to supply GMO animal feed to factory farms in Europe.
Some industry messaging efforts are so heavy-handed they end up highlighting their own PR tactics more than the message they are trying to convey. That's the problem with Food Evolution, a new documentary by Academy Award-nominated director Scott Hamilton Kennedy and narrated by Neil deGrasse Tyson. Prof Marion Nestle has demanded that the director remove the clip of her interview from the film because she says she was quoted out of context. He refused. The star of the film is former Monsanto scientist Alison Van Eenennaam – but her evidence that GMOs are safe is data showing that billions of chickens gain weight to the ripe old age of slaughter at 47 days, writes the veterinarian Dr Ena Valikov in an entertaining blog piece.
This month saw an important debate in the European Parliament on the health risks of glyphosate. One of the triggers for that debate, and for more in-depth Parliamentary inquiries that look set to follow, were revelations about Monsanto's "war on science" published in the French daily paper Le Monde. In Le Monde's two-part investigation, the journalists Stéphane Foucart and Stéphane Horel detailed the brutal attacks that Monsanto has been waging on the World Health Organisation's International Agency for Research on Cancer (IARC) – the body that set the cat among the pigeons by concluding that glyphosate was a probable carcinogen.
A court transcript shows that contrary to claims by Reuters reporter Kate Kelland, IARC researcher Dr Aaron Blair did not unfairly withhold data that indicated that glyphosate does not pose a cancer risk. The transcript also presents further evidence of a cancer link with the chemical. Dr Michael Hansen, senior scientist at Consumers Union, said the Reuters report was a "grossly misleading story attacking Dr Aaron Blair" and criticized the way the study cited in the story was interpreted.
Year after year the European Food Safety Authority (EFSA) has been hit by conflicts of interest scandals. And conflicts of interest still abound in EFSA's panels, with nearly half (46%) of current experts on EFSA panels in a financial conflict of interest, according to a report by Corporate Europe Observatory. The report shows that of 18 members of EFSA's GMO Panel, 8 have conflicts of interest.
Cornell student Robert Schooler, who set up an independent GMO course in response to the pro-GMO propaganda put out by Cornell and its organisation, the Alliance for Science, has replied to an email sent to him by GMO and pesticides proponent Dr Steve Savage. Savage accused Robert of being "driven by ideology" rather than science. Read Robert's reply and decide for yourselves who is the idealogue!
As usual, the GMO industry group ISAAA's annual report painted a rosy picture about GM crop global expansion and its advantages – but a closer examination suggests that growth has plateaued and that the crops do not provide the benefits claimed.
TAKE ACTION
The USDA's Agricultural Marketing Service (AMS) is asking the public to give input for drafting a rule to implement the federal GMO labelling law signed nearly a year ago (in its consultation document the AMS calls GM foods "bioengineered" foods). Among other topics, the AMS wants to know people's thoughts on what form GMO labelling should take. Now's the time to tell the AMS that QR codes (barcodes) on food products and website links, which require a smartphone and internet connection to work, are discriminatory and are not adequate means of disclosure for GMO ingredients. Add that you want a clear text label on the product, consisting of language compliant with the State of Vermont's GMO labelling law (superseded by the federal labelling law): "Produced with Genetic Engineering," or "Partially Produced with Genetic Engineering".