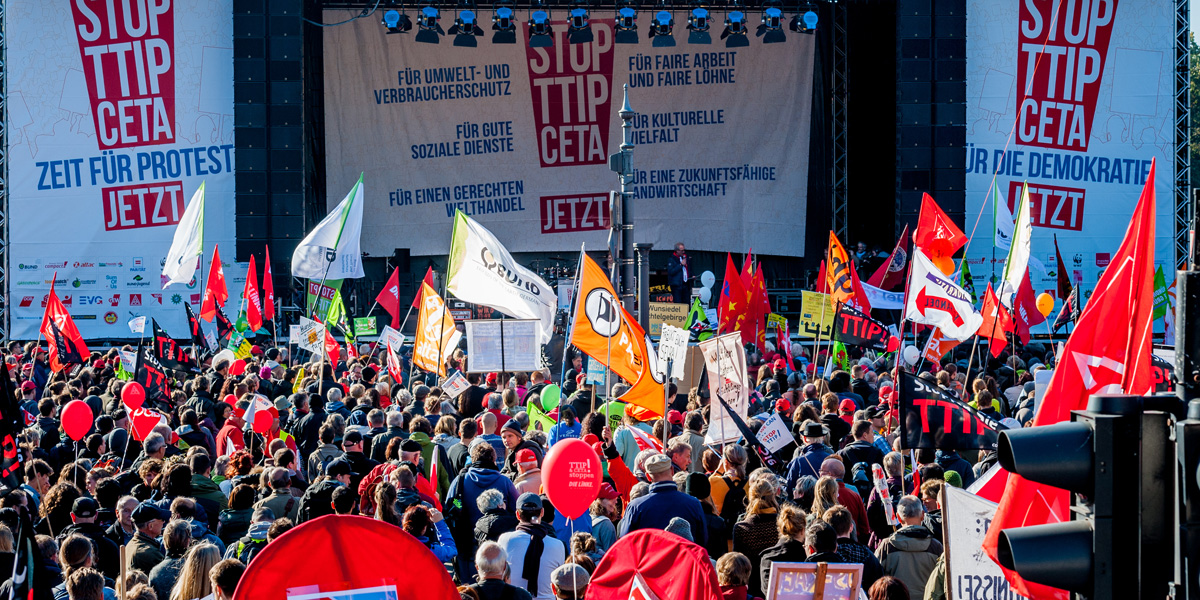 Leaving the EU won't save the UK from TTIP-style GM crop farming and the re-introduction of pesticides currently banned in Europe. But staying in might, writes Claire Robinson.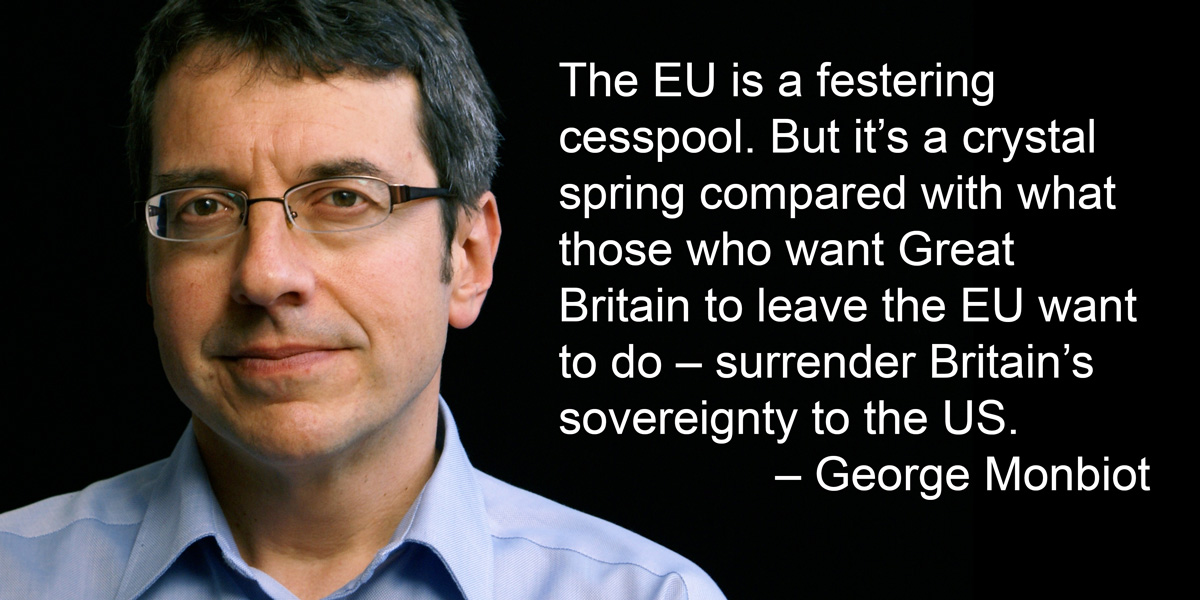 The EU is a festering cesspool. But it's a crystal spring compared with what those who want Great Britain to leave the EU want to do – surrender Britain's sovereignty to the US, writes George Monbiot.
Experts have called the TPP a "big win" for the biotech seed industry, and many warn that the trade deal will further enrich seed companies at the expense of farmers' rights. This important article explains a key aspect of the Trans-Pacific Partnership and similar trade deals: enabling the biotech industry to patent and own the food supply via GMO technology.
The Regional Comprehensive Economic Partnership threatens to increase corporate power over seeds in member countries, leaving farmers and ordinary people with few rights, a leaked chapter of the agreement shows.
A study published in April by Glenn Davis Stone, professor of anthropology and environmental studies at Washington University in St Louis, and Dominic Glover, a rice researcher at the Institute for Development Studies at the University of Sussex, shows that anti-GMO activists are not to blame for Golden Rice's unfulfilled promises. The fact is that the rice still isn't ready, after 24 years of research and millions of dollars in funding.
The EU Commission has published its long-awaited proposal for criteria to identify endocrine (hormone) disruptors. The proposal has come in from a barrage of criticism from scientists, NGOs, industry and consumer groups. GMWatch denounced it as a betrayal of public health and the environment which ties in neatly with what the US wants from the TTIP trade deal negotiations. Endocrine expert Prof Andreas Kortenkamp said of the proposal, "It is a total reversal of the intention of the [EU pesticides] regulation, the worst of all the possible outcomes. Risk assessments are precisely what industry has lobbied for, and the Commission has given it to them." The Endocrine Society said that the proposal "fails to protect public health".
Secrecy and industry lobbying cloud what should be the science-based process of regulating endocrine disrupting chemicals in Europe, according to three important and readable articles translated from the French newspaper Le Monde for Environmental Health News.
Today, soybean producers spend 88% more on pesticides than they did six years ago, according to figures from the 2015 National Ag Statistics Survey (NASS). The data confirm that GM soy farming in the US increases pesticide use over time.
A new US EPA report on the weedkiller atrazine highlights risks to wildlife that researchers have been pointing to for years. The report vindicates the research of Tyrone B. Hayes, a biologist at the University of California, Berkeley, who has been drawing attention to these risks for two decades.
In a Global Justice Now campaign, the UK's most popular weedkiller, Roundup, which is based on the chemical glyphosate, has had its labels replaced with ones created by activists. The new labels warn, in line with the verdict of the World Health Organisation's cancer agency IARC, that it is a probable human carcinogen. In Wales, the campaign has been covered by the press.
The EU Commission's amended proposal to approve glyphosate herbicide for only 18 months failed to get qualified majority approval from EU member states. The issue will go to an appeals committee on 24 June. France will vote against approval.
The EU Commission is trying to get glyphosate re-approved by 24 June, before the Commission leaves for a break. If there is no re-approval, the licence will automatically expire on 30 June and it will no longer be legal to sell glyphosate in the EU. Sign the petition to EU member states urging them not to extend the licence for glyphosate.
Thirty-one European environmental, health, trade union, consumer protection and medical organisations (including GMWatch) have called upon EU Commission and member state officials to stop any further extension of glyphosate's authorisation.
France's food safety agency ANSES has started to withdraw authorisations for 132 products containing the glyphosate herbicide co-formulant POEA (POE-tallowamine), due to health risks. (Subscription only; French text).
Doctors in white coats demonstrated in front of the German ministry of agriculture building to affirm their opposition to the re-approval of glyphosate. (German text)
A new study on the wives of pesticide applicators showed that women who used the pesticides glyphosate and maneb/mancozeb had a higher risk of developing rheumatoid arthritis than non-users of pesticides.
Glyphosate herbicide disrupts the development of the uterus of female rats when they are exposed for 7 days after birth, a new study shows. The study indicates that glyphosate herbicides may be endocrine disruptors.
A new study shows that dicamba and glyphosate herbicide formulations cause genetic damage in the larvae of a species of toad when used separately; and that dicamba and glyphosate formulations applied together have a synergistic effect in causing DNA breaks in blood cells of the toad larvae. These herbicides are used together on Monsanto's Roundup Ready Xtend GM soybeans.
The world needs to move away from industrial agriculture to avoid ecological, social and human health crises, say scientists in a major new report which criticizes GM herbicide-tolerant crops for causing an explosion of herbicide-resistant superweeds.
Around 2.5 billion people go hungry, and contrary to claims from the United Nation's Food and Agriculture Organisation (FAO), the numbers are getting worse. This is the finding of an excellent short report from Food First, which shows how the FAO appears to have manipulated data.
The US Agriculture Department needs to do more to improve oversight and understand the impact from the accidental mixing of GM crops with other plants, the Government Accountability Office has concluded.
The European Parliament has voted to accept a critical report on the New Alliance for Food Security and Nutrition – an aid initiative that has received £600 million from the UK's Dept for International Development (DFID).
June's European Parliament plenary saw five different votes in the European Parliament related to GMOs. Altogether they give a good idea of the EP's coherent opinion on GMOs, which can be summarized as a resounding "no".
Back in 2014 GMWatch reported on research showing that the "refuge-in-a-bag" strategy doesn't work in delaying pest resistance to GM Bt insecticidal maize. But now scientists are saying that the "refuge-in-a-bag" may actually speed up pest resistance. As usual, GMO developer companies have no solution.
The US FDA has issued a GRAS (generally recognized as safe) no objections letter for EverSweet, Cargill's synthetic biology-produced sweetener – made via fermentation with GM yeast rather than from the stevia leaf – qualifying it for use in food and drinks. But there is no evidence to justify the GRAS status for this product. And there is a worrying precedent to suggest that far more care should be taken to verify its non-toxicity. Stacy Malkan of US Right to Know comments on the development and looks at how corporations are racing to move food production from the land to the lab without laws or regulations in place that require scientific assessments or transparency.
Gene drives force a genetically engineered trait to be expressed in every single generation, driving engineered traits through an entire species to permanently change it or cause it to go extinct. There must be no commercial or environmental release of gene drives, says Dana Perls, food and technology campaigner for Friends of the Earth.
An MIT Media Lab scientist is challenging scientists working on gene drives, a genetic technology that could permanently alter, or even eradicate, entire species, to make their plans public before they do further experiments on mosquitoes or other organisms. Kevin Esvelt says the change is necessary to allow public scrutiny and avoid accidents that could have global consequences. "Do you really have the right to run an experiment where if you screw up, it affects the whole world?" he asks.
The National Academy of Sciences (NAS) report, "Gene Drives on the Horizon", fails to properly address three of the most pressing issues raised by the controversial new technology of CRISPR-CAS9 gene drives, says ETC Group. The group's Jim Thomas has published an article on this topic in The Guardian.
The discovery of genes wasn't predestined, nor do they dictate our destinies — and current ideas about them may die, writes Nathaniel Comfort, who holds the Baruch Blumberg Chair of Astrobiology at the Library of Congress/NASA, and who is a professor of the history of medicine at Johns Hopkins University.
Scientists trying to grow human organs inside pigs in an attempt to tackle a shortage of donors have created part-human, part-pig embryos.
While Cayman Islands opposition leader Hon McKeeva Bush acknowledges that something has to be done to keep Cayman Zika-free, he does not agree with the release of 22 million GM mosquitoes and is calling for the suspension of the release.
The US National Research Council has formed a committee to study how the US's GMO regulatory system can be improved. Dr Doug Gurian-Sherman of the Center for Food Safety has published his comments to the committee.
Three public interest groups are challenging the merger between Dow Chemical and Dupont.
Three mega-mergers in the agrochemical sector, including Bayer and Monsanto, have raised concerns among farmers who fear higher prices and consumers more GM food.
There have been no corn imports from the US to Brazil this year, though the corn shortfall is so severe that the chicken producers have cut output by 10% in recent months. This is because Brazil's authorities haven't approved some varieties of GM corn that are approved in the US.
The conflict between farmers and Monsanto over technology fees charged for GMO Intacta soybeans is growing daily and no resolution is in sight.
A court has ruled that consultation with indigenous people is required before issuing permits for GMO crops – but planting of GM soybean and maize continues unabated.
As US food companies shift to non-GMO sugar cane, Claire Robinson examines claims by a GMO promoter and glyphosate defender that important environmental and social gains will be lost.
US grain companies are refusing to accept a new variety of GM soybean marketed by Monsanto because it hasn't been approved by the EU and may put exports at risk.
European Union cultivation of GM corn has fallen to a three-year low, even as the bloc's reliance on imports of GM soybeans are growing.
As the biotech industry and European Food Safety Authority experts push for mandatory animal feeding trials with GM crops to be abolished, Testbiotech looks at what's wrong with the current regulatory system and how it could be improved.
Nigeria's National Biosafety Management Agency has issued permits for the commercialisation of GM cotton, and a confined field trial of maize, to Monsanto. In response to the furious reaction, the government said that it has "only" approved field trials (as if contamination didn't happen from such trials) and that the cotton for commercial release will be subjected to further processes for two years before commercialisation.
In Africa, almost 50% of the food produced is wasted. According to the Food and Agricultural Organization of the United Nations (FAO), the amount of food wasted on the continent is enough to feed 300 million people.
A documentary film depicting the harmful effects of GM Bt brinjal has premiered in Bangladesh.
Biotech regulator GEAC has deferred its decision on commercial cultivation of GM mustard in the country and asked its risk assessment group to look into the deficiencies pointed out by a subcommittee. Objections put forward by activists will be forwarded to the risk assessment group.
Delhi University scientists rigged data to claim GM mustard will increase yields, says the Coalition for a GM-Free India.
To promote organic farming and curb use of pesticides, the Maharashtra government will distribute seeds of "desi" (indigenous non-GMO) cotton varieties for cultivation to farmers in suicide-prone Yavatmal district. The aim is to wean farmers off GM Bt cotton and prevent farmer suicides.
The Indian state of Andhra Pradesh cut pesticide use almost in half in just four years by using Non Pesticidal Management systems, which are an aspect of agroecology.
Scientists are researching how farmers can protect crops against diseases by fostering the right types of microbes in the soil.
Waitrose in the UK is set to sell fresh chicken which contains healthy omega-3 fatty acids. The chickens get the boost in omega-3 content by being fed algae. This is one among many good reasons why the new GM omega-3 crops are not needed.
LOBBYWATCH
Dr Rob Verkerk of the Alliance for Natural Health has written an excellent response to the recent report from the UK's Royal Society, which hypes GM crops.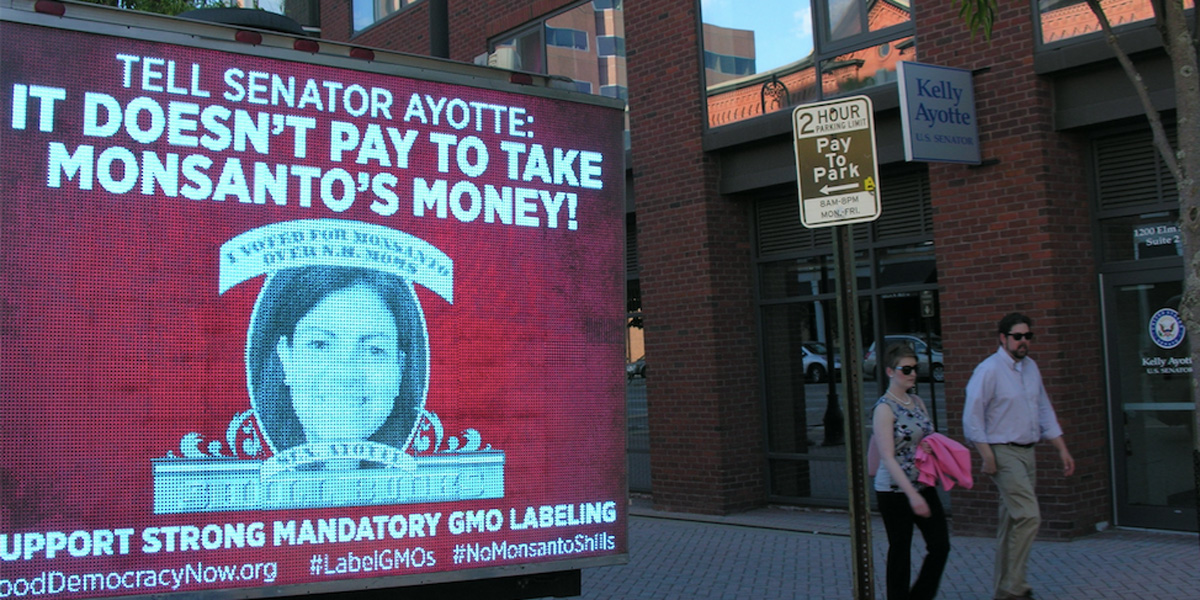 New Hampshire Senator Kelly Ayotte is being featured on a new billboard advertisement highlighting the amount of campaign money she has accepted from Monsanto. Ayotte has taken more than $10,000 from the GMO seed and chemical giant despite overwhelming support in New Hampshire for GMO labelling.