Secret TTIP trade deal documents leaked to Greenpeace unveil for the first time how the US is trying to change the EU democratic legislative process. The US is demanding increased access for GMOs to the European market and is trying to annul the EU's legislative commitment to the precautionary principle. There is no sign in the documents that the EU is fighting back. John Hilary, executive director of War on Want, commented: "The TTIP negotiations will never survive this leak." France has already said it will not sign the TTIP agreement in its current form. In an action calling for transparency, Greenpeace activists projected the leaked documents onto the Berlin Reichstag (the German Parliament building) – see image.
Archer Daniels Midland and Bunge Ltd, two of the largest US grain traders, said they won't accept a new variety of GM soybean being marketed by Monsanto because it hasn't been approved by the European Union and may put exports at risk.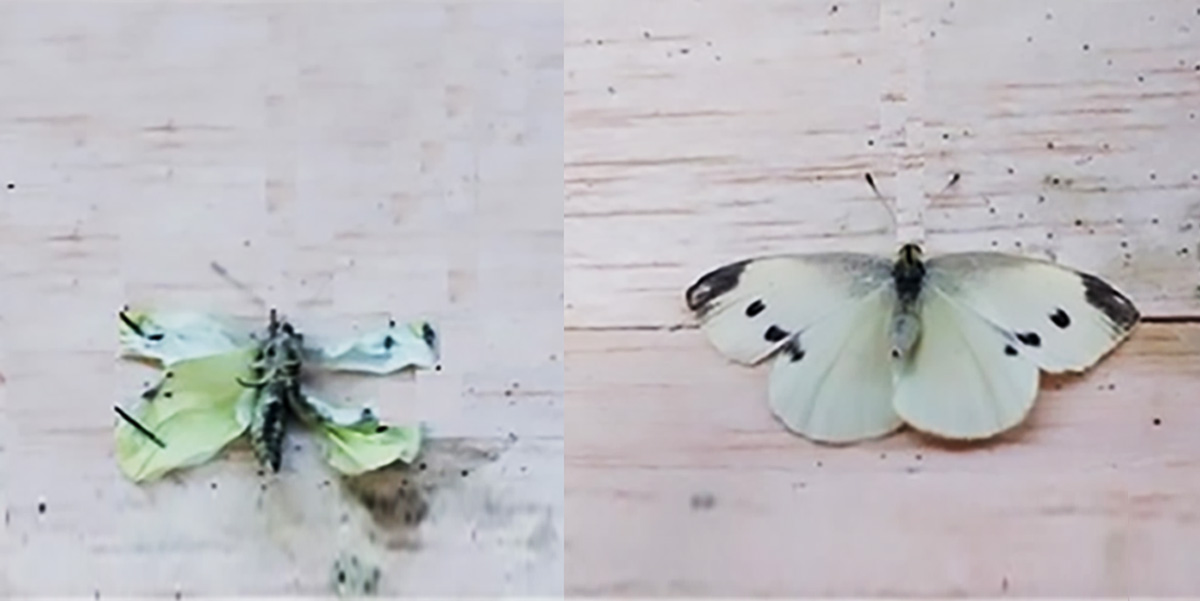 It looked like such a good idea: take the pressure off wild fish stocks by growing GM oilseeds that produce health-enhancing long-chain omega-3 fatty acids. But as a new study shows, those fish oils, novel in terrestrial ecosystems, cause wing deformities in cabbage white butterflies. Nonetheless, a third open field trial of a GM crop engineered to express the problematic oils is under way in the UK.
A study found the same type of omega-3 oils that are engineered into new GM crops make butterflies grow up deformed. Attempts by the pro-GMO campaigner Mark Lynas and the UK institute Rothamsted Research to discredit the study are a mixture of bad science, 'straw man' arguments, and outright falsehoods, writes Claire Robinson.
For humans, there is another useful dietary source of long-chain omega-3 fatty acids besides fish oils – and that's organic dairy products. A paper published this year concluded that organically produced milk has significantly higher concentrations of total omega-3 fatty acids than non-organic milk, including over 50% more of the nutritionally desirable long-chain omega-3 fatty acids.
Investment analysts say Oxitec's GM mosquito technology "won't work, is way too expensive, and is many years from generating even minuscule revenue". As shares in its owner, Intrexon, slump, three law firms have announced they are investigating.
GM soybeans that tolerate glyphosate, a probable carcinogen, are already imported into Europe. Now the European Commission is coming under US pressure to allow the import of GM soybeans sprayed with a second probable carcinogen. Ray Seidler, a former senior scientist with the US EPA, says Europe should just say no.
The EU Commission wants to re-license glyphosate for 10 years without the restrictions requested by the EU Parliament. The requested restrictions included a ban on use in public areas and by non-professionals. The MEPs' (Members of the European Parliament) group, MEPs Against Cancer, called the Commission's proposal inappropriate and unacceptable. However, the Parliament's view is not binding on the Commission. The vote on the Commission's latest proposal will take place on 18 May. Meanwhile, Georgina Downs of the UK Pesticides Campaign says even the Parliament's suggested restrictions would fail to protect residents who live near pesticide-sprayed fields.
French environment minister Segolene Royal has said France will vote no on 18 May to the glyphosate re-approval in Europe. It's unclear whether a qualified majority will be reached in the vote.
Environmental organisations have launched legal proceedings against those responsible for the assessment of glyphosate in Europe – Monsanto, German government institute BfR, and the European Food Safety Authority, EFSA, on the grounds of those entities' systematic misinterpretation of studies.
Monsanto's toxic herbicide Roundup is dangerous for the environment and our health. We have less than a month to kick it out of the EU. Help Global Justice Now expose the truth behind Roundup's labels in a new truth-in-labelling campaign. Order your campaign pack now!
Spanish, British and German organisations are urging the EU Commission to take effective measures to prevent GM maize from spreading into the environment via cross-pollination with a wild ancestor, teosinte.
New plants like corn and mushrooms altered with CRISPR gene editing are falling outside the purview of US regulators.
The European Commission has shelved a legal opinion confirming that new types of GMOs produced through gene editing and other new techniques must undergo rigorous safety testing and labelling, following intense lobbying by the US government.
A propaganda war is in progress to convince us that genome editing is precise, accurate, and specific; but the problem is, it isn't any of those things, writes former genetic engineer Dr Jonathan Latham.
After Europe's decision to keep its door shut to GMOs, the European Commission is trying to avoid opening a new trade row with the US over how to regulate new plant breeding techniques. However, they are GMOs, as defined by European law.
Cibus's oilseed rape, developed with a technique called oligonucleotide directed mutagenesis (ODM), should be classified as a GMO under European law, according to the findings of a scientific report.
An Innovative Farmers field lab tested heritage varieties of potato and found that all varieties, including newer breeds, performed well for yield and blight resistance. A taste test also found that all tasted good.
Tomato product company Red Gold is ousting GMOs from most of its products. The move follows the announcement by yoghurt giant Dannon (called Danone outside of the US) that it is phasing out GMO ingredients, including in the feed for its cows. We're now close to the July 1 deadline for complying with Vermont's GMO labelling law, and there still has been no court ruling to overturn this law.
The US FDA says AquaBounty's GM salmon is as safe to eat as non-GM salmon. But critics are worried about allergens. They say AquaBounty studies (the company used an unscientific sample size of just six fish) show levels high enough to cause concern and should be redone.
The US Agriculture Department needs to do more to improve oversight and understand the impact from the accidental mixing of GM crops with other plants, the Government Accountability Office has concluded.
Glyphosate herbicide is used worldwide, including on soybean and cotton plantations in Argentina. It's causing cases of cancer, miscarriage, and malformations there, says pediatrician Ávila Vázquez.
Testing by an independent laboratory found detectable levels of the herbicide glyphosate in oatmeal and bagels as well as coffee creamer and seven more products, for a total of 10 out of 24 breakfast food items showing levels of glyphosate.
A lawsuit has been filed on behalf of consumers in New York and California against the owner of Quaker Oats after traces of the pesticide glyphosate were found in oatmeal.
Tom Philpott gives a revealing glimpse into what Monsanto really thinks about GMOs and what the technology is capable of. The company seems far less gung-ho about GMOs than are many politicians, journalists, and supposedly independent scientists.
For more than 150 years, the big agricultural corporations that produce sugar have been top dogs in Maui's economic life and its political governance. As the industry winds down, a new generation of activists are dreaming big of replacing sugar not only with a new agricultural model – explicitly excluding GMOs and associated pesticides – but with a new political order.
Fifteen farm organizations have called upon Canada's agriculture minister to stop the sale of GM alfalfa seed in Canada and prevent the inadvertent importation of GM alfalfa via contaminated seed from the US, where it has already been introduced. Exchange Magazine
As pressure mounts from agricultural scientists and farmers, the Pakistan government has stopped the commercial sale of GM corn seeds, in an about-turn after its earlier permission to multinational companies to market their seeds.
In the wake of the Bt cotton meltdown, in which the crop fell victim to whitefly, the Punjab government has been promoting non-GM native cotton varieties. But farmers can't obtain the seed – a situation that critics of the GMO agribusiness model have been warning about for years.
The Andhra Pradesh government has announced plans to reduce the Bt cotton crop area from 6.7 to 4.5 lakh hectares after the crop developed pink bollworm pest.
According to Burkina Faso farmers interviewed for a new video, yields of GM Bt cotton were appalling, seed was expensive, and they still had to spray pesticides.
Natural health advocate Dr Joe Mercola interviews GMWatch's Claire Robinson about the book she co-authored with two genetic engineers, GMO Myths and Truths. The book demolishes the major claims used to promote GMOs. Buy it here. Article here.
The Urban Farm interviewed Claire Robinson about GMO Myths and Truths and has published a podcast. The Urban Farm also offers courses teaching people to grow their own food and raise livestock.
LOBBYWATCH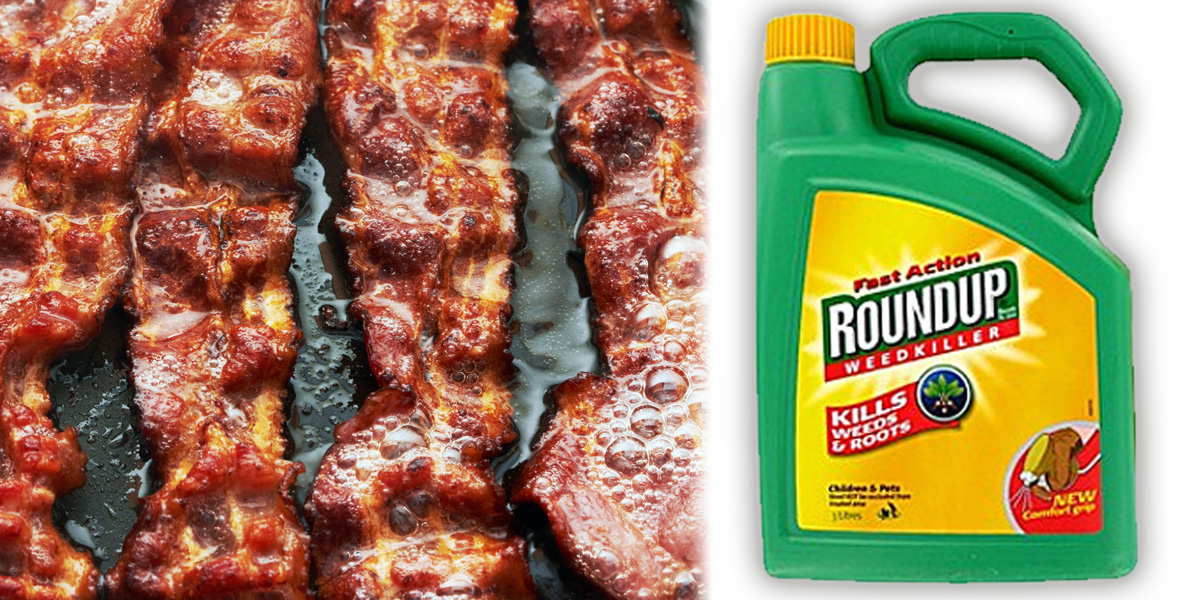 Reuters has published a hit piece titled "Who says bacon is bad?", which quotes industry-linked sources to smear IARC, the World Health Organisation cancer agency that judged glyphosate a probable carcinogen.
Rick Friday, a fourth-generation Iowa cattle farmer, had been drawing cartoons for Iowa's Farm News for 21 years. Until his cartoon pointed out that the three CEOs of Monsanto, John Deere, and DuPont were paid more than 2,129 Iowa farmers. A corporate advertiser complained and he was fired.