With Brazilian President Dilma Rousseff fighting for political survival, the agribusiness lobby in the Brazilian Congress is moving to push through an amendment to the country's biosafety law. That amendment would permit exemptions to the ban on Terminator seeds. If approved, the amendment would make Brazil the first country in the world to legislate in favour of the commercial cultivation of crops with built-in sterility.
A whitefly attack on GM Bt cotton in Punjab and Haryana has decimated between a half and two-thirds of the harvest, triggering over two dozen suicides among farmers. Farmers have taken to the streets in protest. Chemical-free and non-GM cotton appeared to be relatively less affected by whitefly than Bt cotton.
Challenging the claims about GM "golden rice" as a remedy to vitamin A deficiency, renowned Indian scientist Dr Tusher Chakraborty has cautioned that the rice poses a serious threat to human health and rice itself.
Official documents on New Zealand government transgenic cow experiments reveal a disturbing story of illness, death and deformity.
One hundred percent of the raw cotton and sterile cotton gauze contained glyphosate (a probably carcinogenic herbicide according to the World Health Organization) or its metabolite AMPA, according to a study by the Socio-Environmental Interaction Space (EMISA) of the University of La Plata, Argentina. Cotton swabs, wipes, tampons, and sanitary pads were also found to contain glyphosate and AMPA.
A US farm worker and a horticultural assistant have filed lawsuits claiming Monsanto's Roundup herbicide caused their cancers and Monsanto intentionally misled the public and regulators about the dangers of the herbicide.
Fast food restaurant chains Wendy's and McDonald's, and baby food company Gerber's, say they will not sell the GMO Arctic apple.

The GM-Free Farmers Group and Conservation Council of Western Australia have warned that WA's markets for non-GM canola are at risk after GM canola plants were found growing at five sites, in some cases more than 100 km from the closest grain farm.
We were sad to hear the news of the death of Michael Meacher MP, a former UK environment minister and a staunch ally of campaigners critical of GM crops and foods.
Prof Gilles-Eric Séralini has been honoured with the 2015 Whistleblower Award of the Federation of German Scientists (VDW) and the German Section of the International Association of Lawyers Against Nuclear Arms ("IALANA"). Prof Séralini received the award in recognition of his research demonstrating the toxic effects of Roundup herbicide on rats when administered at a low environmentally relevant dose over a long-term period.
Industry sources have warned that Europe could soon become a "graveyard" for GMOs. A total of 19 EU countries have "opted out" of growing GMO crops within all or part of their territories.
The report by the German Federal Institute for Risk Assessment, BfR, that will be used to decide whether glyphosate is re-approved by the EU authorities has serious deficiencies, according to an analysis by the toxicologist Dr Peter Clausing. In particular, the safety claims on genotoxicity and carcinogenicity are unreliable.
Monsanto is slashing 2,600 jobs – 12% of its workforce – and spending $3 billion to buy back shares. These are not characteristics of a company confident in the long-term profitability of its core technology: the genetic modification of crops.
Ireland hasn't much to gain from going down the genetically modified organism (GMO) route, according to Fine Gael MEP, Sean Kelly. The Irish MEP said that Ireland should focus instead on promoting its grass-fed produce.
Former genetic engineer Dr Belinda Martineau spells out the differences between traditional breeding and GM.
The European Patent Office (EPO) has granted Syngenta a patent on pepper and its use "as fresh produce, as fresh cut produce, or for processing such as, for example, canning". The patent also covers the plants, their cultivation, harvesting and seeds. The plants have been developed to contain no seeds and are derived from conventional breeding using existing biodiversity. They are not GM.
LOBBYWATCH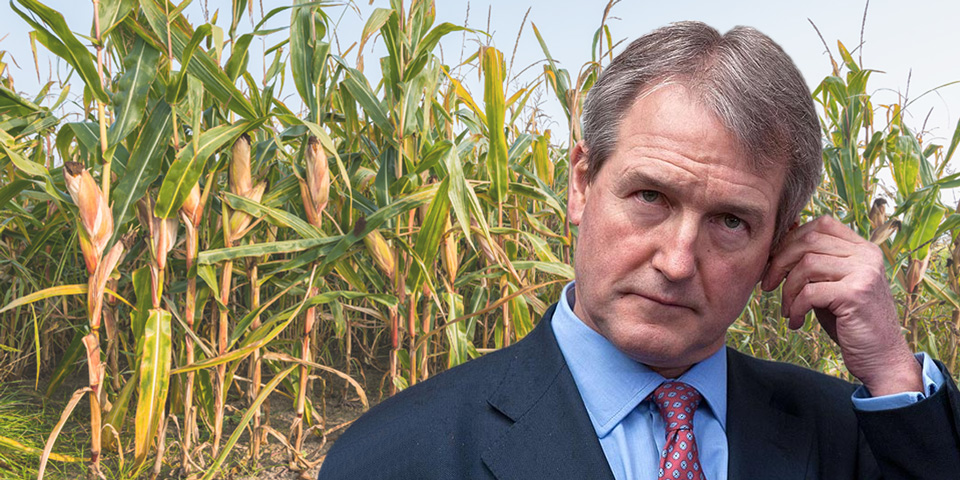 Former UK environment minister Owen Paterson made the astonishing claim on BBC radio that GM maize in South Africa has already increased yields by 500% and will soon increase yields further by 1000%. While there appear to be no data backing Paterson's claim of a massive yield hike for GM maize in Africa, there are reports of bumper maize yields coming out of Zimbabwe. But they are non-GM.
Monsanto, other ag-biotech companies, and their trade groups and hired PR guns rely on friendly professors as foot soldiers in the industry's battle against regulators and critics of GMO foods, emails disclosed as a result of freedom of information request reveal.
A Harvard Kennedy School professor wrote a widely disseminated policy paper last year in support of genetically modified organisms at the behest of the seed giant Monsanto, without disclosing his connection, e-mails show.
Attempts to equate the influence on academia of the organic industry with that of the GMO industry is a distortion of reality, writes Tim Schwab of Food & Water Watch.
As freedom of information requests reveal ostensibly independent GMO proponents to be working hand-in-hand with the GMO industry, GMWatch's Claire Robinson asks if the misinformation game is finally over.
The revelations about Kevin Folta's deceptions – practised to promote GMOs and pesticides – continue to mount. Now news has emerged that he created a shady podcast alter ego, misleading guests and listeners alike.
Public interest attorney Steven Druker, who wrote the exposé book abut the GM venture, Altered Genes, Twisted Truth, has welcomed the move by Cornell's Alliance for Science to open up a scientific dialogue on GMO crop safety.
We at GMWatch need your support to continue our work. We don't take funding from big business or governments, so we rely on the generosity of individual donors like you. Donating is quick and easy. Many thanks to those who have already donated – we appreciate your support!