All but one independent study found effects from GM Roundup Ready feed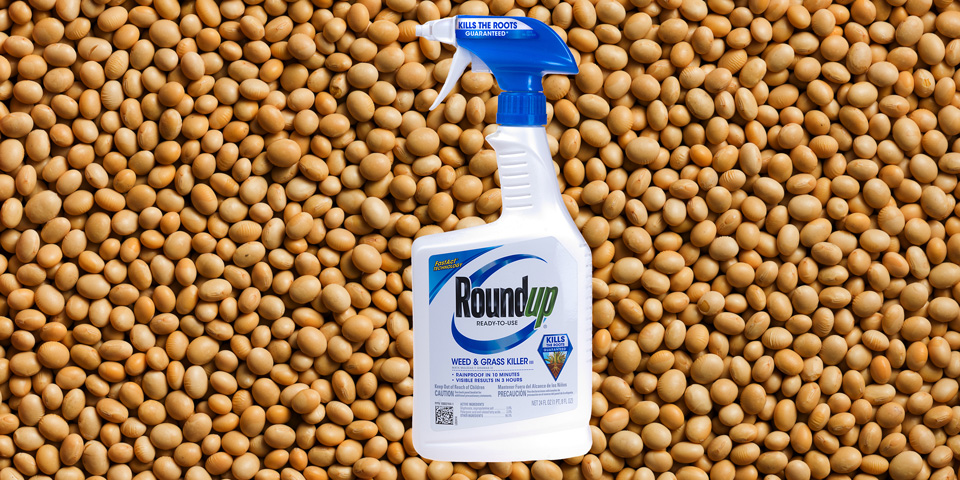 All but one of the animal feeding studies performed by researchers independent of the GMO industry and considered in a new review found significant effects in animals fed GM Roundup Ready feed. The review, published in Environmental Sciences Europe, also found that glyphosate residues in GM Roundup Ready crops are largely ignored in studies used for GMO regulatory safety assessments.
France, the EU's largest grain grower and exporter, has used the EU's new GMO cultivation opt-out to ask to be excluded from GM maize crop cultivation. Northern Ireland has also opted out of GMO cultivation, as have Croatia, Austria, and Italy. Latvia, Greece, Germany, and Scotland have previously announced that they are opting out of GMO cultivation.
A senior Russian government member said the cabinet has decided that any food production in the country will completely exclude GMOs.
Major German retailers and suppliers are demanding products from animals fed with non-GMO soy.
A USDA survey indicates that of the organic farmers who chose to answer the question, 92 had experienced monetary loss from GMO contamination between 2011 and 2014 averaging approximately $66,395 per farmer during that timeframe. Overall, GMO presence cost organic farmers at least $6.1 million over four years. This figure is 77 times that reported during the 2006 to 2011 timeframe – a staggering increase.
National GMO experts from Austria, Germany and Norway have told the European Food Safety Authority (EFSA) that there is no scientific consensus on the safety of GMOs and that EFSA's GMO risk assessments are based on an outdated concept.
A key committee in the European Parliament rejected a proposal to halt an extension in the use of glyphosate herbicide. Surprisingly, some members of the Parliament's Green group were among the blocking majority.
Experts investigating the finding that glyphosate is a "probable" human carcinogen appear to agree that it is, says article in ENDS Europe.
The European Food Safety Authority (EFSA) is to publish its conclusions on glyphosate in the next few months and says it will take into account the International Agency for Research on Cancer (IARC) study on the active ingredient.
Researcher Anthony Samsel says he has obtained a large cache of Monsanto's secret toxicology studies. After examining the studies, Samsel concluded, "Monsanto misrepresented the data and deliberately covered up data to bring the product [glyphosate] to market."
Bt cotton farming has brought farmers indebtedness and pesticide poisoning, according to an article in The Statesman.
Busting the claims of the Indian government and scientists that the country has a robust regulatory mechanism to test GM crops, toxic loopholes are emerging. From 2008 to 2014, only 39 of the 133 GM crop field trials were properly monitored, leaving the rest to pose unknown risks and possible health hazards.
A Bangladeshi expert has condemned BBC Panorama's coverage of Bt brinjal in Bangladesh as deceptive and dishonest.
The Kenya Small Scale Farmers Forum has sued the government in a bid to stop it from lifting the ban on GMOs.
The Minister of Agriculture, Water Affairs and Fisheries and an Appeal Board have rejected the commercialisation of GM potatoes in South Africa.
Scientists have weighed in with their views on the systems biology research suggesting that GM soy is not substantially equivalent to non-GM soy. Dr Michael Hansen notes, "There is a big myth that the USFDA [US Food and Drug Administration] regulates and does safety assessment of GM foods. This is simply not true."
A legal dossier on the legal status of new methods for the production of genetically engineering plants has been published. The author, Professor Dr Ludwig Kraemer, argues, contrary to the industry position, that the products of the new technologies are indeed GMOs.
GMWatch has reported on a new study that found that some miRNA molecules – minute fragments of plant genetic material that can silence genes – present in maternal breastmilk are not taken up into mice tissues. However, Dr Michael Antoniou says the miRNAs in natural breastmilk cannot be compared with the miRNAs engineered into GMOs.
LOBBYWATCH
Disclosed emails reveal the influence of huge amounts of industry money on the independence of academic agricultural science, writes Dr Doug Durian-Sherman in the first of a two-part series. In the second part, Dr Durian-Sherman describes how the corporate takeover of public universities has been accompanied by the intimidation of scientists who question the development of biotechnology.
Monsanto and the GMO industry are copying Big Tobacco tactics, hiding behind the façade of public university scientists and hiring PR firms to promote GMOs and the toxic weedkiller glyphosate.
In 2013 in Kauai, Hawaii, Kauai County Councilman Gary Hooser proposed a bill to protect people from pesticide spraying on GMO crops. The pesticide industry launched a massive PR and lobbying exercise to defeat the bill. Its chosen mouthpieces were the pro-GMO scientist Kevin Folta and a group of other supposedly independent scientists.
In the second part of this series, Jonathan Matthews examines the pro-GMO scientist Kevin Folta's claims to have done "nothing wrong, said nothing false".
The Alliance for Science is a campaign of Cornell University that claims to want to "depolarise" the debate around GMOs. Supported by a $5.6 million grant from the Bill & Melinda Gates Foundation and with the GMO industry as its partners, the real aim of the campaign appears to be to promote GMOs and silence critical voices. At a recent event organised by the Alliance, when Dr Jonathan Latham questioned the claims being made by the panel on pesticide use due to GMO crop adoption, supporters of the Alliance banged a gong to drown him out!