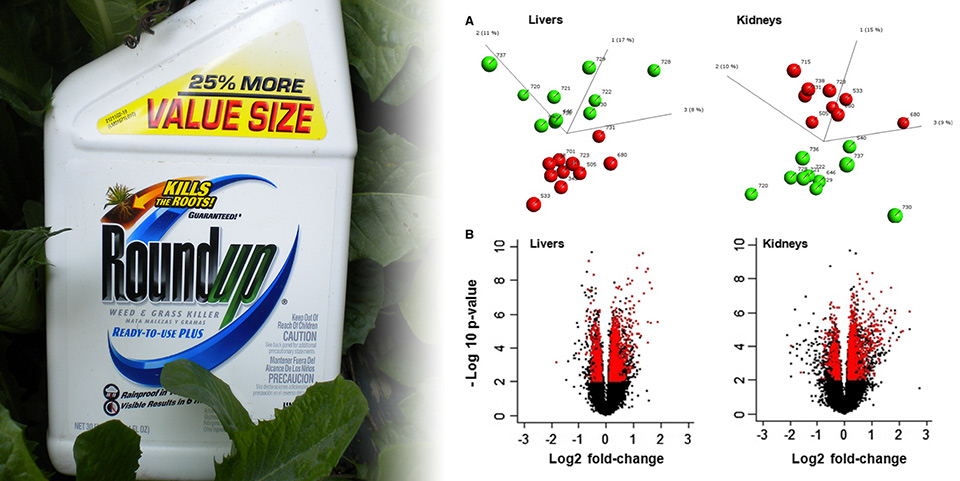 Roundup at extremely low doses within the levels permitted in drinking water in the EU can damage the liver and kidneys of rats, according to a new peer-reviewed study led by Dr Michael Antoniou at King's College London. To arrive at their results, the researchers analysed the gene expression profiles of liver and kidney tissues from the Roundup-treated rats in the rat feeding study led by Prof Gilles-Eric Séralini at the University of Caen, France. The gene expression changes seen in the new analysis confirmed the liver and kidney pathologies suggested by the findings of the Séralini study.
Science must be defended against commercial interests that attempt to get important papers on GMOs and pesticides retracted rather than encouraging further research to clarify any uncertainties, says a new peer-reviewed paper. The paper details the events that forced the retraction of the research study led by Prof Gilles-Eric Séralini on GM maize NK603 and Roundup.
Hawaiian doctors are in the eye of a storm over whether corn that's genetically modified to resist pesticides is a source of prosperity or of birth defects and illnesses.
A French court of appeal has upheld a judgement against Monsanto in the poisoning of a farmer with a corn herbicide known as Lasso.
Whitefly pests have attacked Bt cotton in India, leading to a 30-40% reduction in yield in affected areas.
Agriculture and food security sector experts have expressed concern over the adverse impact on the farm sector due to the possibility of GM mustard being cultivated commercially in India.
The California Environmental Protection Agency has announced that it plans to label glyphosate – the most widely used herbicide and main ingredient in Monsanto's Roundup - as cancer-causing.
Pro-GMO scientist Kevin Folta's claim that glyphosate is less toxic than cell phones and caffeine is "wrong", says cancer expert Prof Chris Portier, who helped co-author the report by the World Health Organisation cancer agency IARC that concluded glyphosate is a probable carcinogen.
Roundup spraying of illegal coca crops in Colombia should end this October – but until then, airplanes are still dropping poison from the sky.
The UK Soil Association is asking retailers and suppliers to ensure that there are no glyphosate residues in their flour and bread. And a new petition has been launched, asking the FAO to revise the recommended maximum residue levels for glyphosate in food to "negligible" (effectively zero) levels.
Germany is taking steps to outlaw the cultivation of GM crops in Europe's biggest economy. Scotland has taken similar measures.
Monsanto said it would abide by Latvia's and Greece's requests under a new EU opt-out law to be excluded from its application to grow a GM crop across the European Union.
The European Commission has asked the European Food Safety Authority (EFSA) to help it find ways of allowing unapproved GMOs in food and feed imports.
The number of products going GMO-free is growing. Of the 33,000 new products launched globally each month in the USA in 2014, 3.8% of food and beverage products included a GMO-free claim on the package, up from 1.6% three years prior in 2010.
Are GM food crops such a great innovation that the US should set aside basic American principles to ensure that they end up on American dinner plates? Maybe not, concludes former genetic engineer Dr Belinda Martineau. BiotechSalon.com
A federal judge in Florida has approved a $3.99m deal to resolve a proposed class action accusing Kashi of misleading shoppers by labelling products made with GMOs as "all-natural".
Earlier this year GMWatch announced the release of a hard-hitting report from Brazil's National Cancer Institute INCA, part of the country's Ministry of Health. The report blamed GM crops for placing the country in the top ranking globally for pesticide use. It called for stronger regulation of pesticides and for the development of agroecological alternatives to the dominant pesticide-dependent GMO agricultural model. Now an English translation of the report has been made available to GMWatch.
Farmers in Heilongjiang Province in China have been found illegally growing GM soybeans.
A study has found that some plant miRNAs – minute fragments of genetic material – in diet are not taken up into mice tissues. But how comprehensive are the results, and should we be reassured?
An organic farmer in Western Australia whose land was contaminated with GM canola from a neighbouring farm has lost his court appeal for compensation.
LOBBYWATCH
The New York Times has published an article on the Kevin Folta affair, in which the pro-GMO scientist was revealed to have accepted $25,000 from Monsanto, even though he had repeatedly denied having any Monsanto funding. A damning string of emails, released as a result of freedom of information requests, have been posted online. Many of the emails are between Kevin Folta and Monsanto or other industry and PR players. The emails show Folta as an eager partner in a cosy relationship with Monsanto from as early as the spring of 2013.
The real scoop from the emails released in the Folta affair was not the deceit of a handful of individual professors – but the proof of active collusion between the agribusiness and chemical industries, academics, PR companies, and administrators of land grant universities for the purpose of promoting GMOs and pesticides, writes Dr Jonathan Latham in an article that's gone viral across the Internet.
Following the Folta affair, the scientific publisher PLOS carried an article by journalists Charles Seife and Paul Thacker, which argued for transparency of scientists' affairs in order to protect the public interest. The article so offended Folta that PLOS decided to retract it after, it seems, coming under intense pressure from Folta supporters.
GMWatch's Jonathan Matthews examines Kevin Folta's claims of having been subjected to "terrorism" and death threats by GMO opponents.
In the second of a two-part series, Claire Robinson points out scientific errors in the journalist William Saletan's latest attack on her and other GMO critics.
The restaurant chain Chipotle, which recently announced it was going non-GMO, is being attacked in a smear campaign organised by the corporate lobby group, the Center for Consumer Freedom.