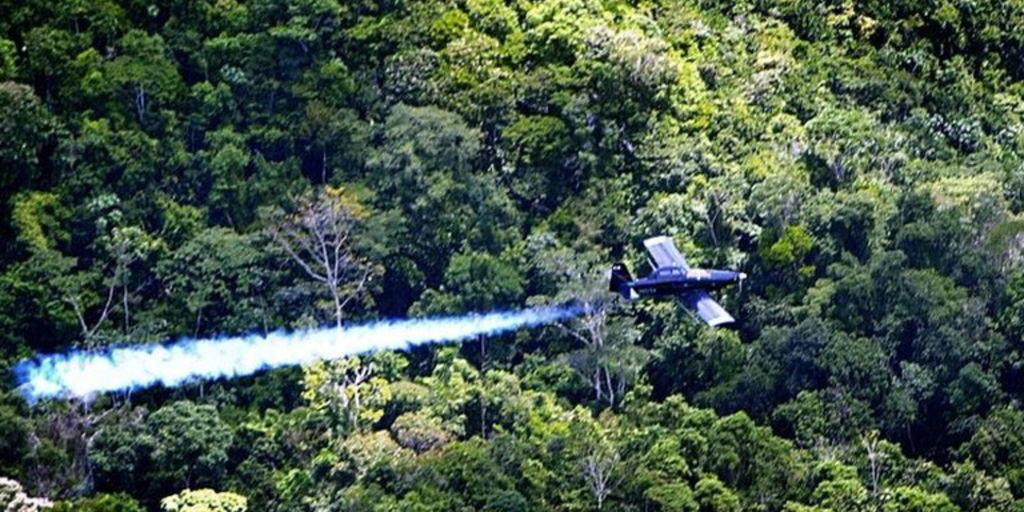 Colombia will suspend aerial glyphosate spraying of illegal coca plants in light of a report by the World Health Organisation's cancer agency IARC linking the herbicide to cancer.
The Argentine Society of Pediatric Hematology-Oncology has called for urgent measures to protect people from glyphosate herbicide. Childhood cancer specialists say they are alarmed by the massive use of toxic products, advertised as "technological progress" and recklessly sprayed in mixtures of increasing doses. (Spanish)
In the small towns of the Argentinean Pampas, glyphosate herbicide spraying on GM soy is making residents sick and poisoning life – but resistance to this agricultural model is growing day by day.
Social organisations and scientific researchers argue that governments no longer have an excuse not to intervene in glyphosate herbicide use.
Residents of the Argentine town of Monte Maiz have criticised the University of Cordoba for its attempt to sanction a researcher who found high rates of cancer in people exposed to pesticides used on GMO crops. They said the university must "rethink its attitude, which is shameful to all those who dream of a university that puts knowledge at the service of the population".
Two scientists challenge science writer Michael Specter and others who claim there's no need for action against glyphosate herbicides – they say such action is long overdue.
The REWE Group's 350 toom Baumarkt DIY stores will not carry any glyphosate products after September 30, 2015. The move follows a warning by the World Health Organization (WHO) that glyphosate is "probably carcinogenic".
Germany's state consumer protection ministers are calling for an EU-wide ban on glyphosate to protect public health.
The International Society of Doctors for the Environment (ISDE) has written to officials of the EU Parliament and Commission asking for an immediate ban on glyphosate herbicides and four insecticides judged by the World Health Organisation's cancer agency, IARC, to be probable carcinogens.
Women who have been eating organic and non-GMO very strictly, for several months to two years, did not find detectable levels of glyphosate in their breast milk.
The import of Roundup herbicide has been suspended in Bermuda due to health risks.
An interactive map shows the amount of glyphosate herbicide sprayed in each US county and tallies the 3247 elementary schools that are located within 1000 feet of a corn or soybean field and the 487 schools within 200 feet.
The Environmental Protection Agency has wrapped up its review of glyphosate and plans to release a preliminary risk assessment by July. The EPA is also promoting biopesticides as a safer alternative to chemicals. "Biopesticides" is undefined but microorganisms used as pesticides can be harmful and need to be evaluated carefully.
Controversy over the World Health Organisation's new evaluation of glyphosate herbicide lifts the lid on aspects of chemical safety regulation that often remain hidden from public view, writes a researcher in science and technology policy in a must-read article.
The US EPA registered atrazine, Roundup (glyphosate), 2,4-D and hundreds of other poisons based on fraudulent or nonexistent industry safety studies.
Concerns about antibiotic resistance genes, honey contamination, and water extraction were not addressed in Brazil's approval of GMO eucalyptus trees, writes Nagib Nassar, professor emeritus at the University of Brasilia.
Argentina plans to bar grain handlers from collecting royalties after the harvest on behalf of seed developers such as Monsanto.
In Brazil, Senator Katia Abreu's attempts to allow sterile GM seeds threaten the genetic resources of Brazil and ultimately the world, writes Prof Nagib Nassar.
State-owned research corporation Embrapa has cancelled the release of its GMO bean following the failure of virus resistance in field trials and findings that the bean had toxic effects on rats.
Food containing unlabelled GMOs and illegal GMO rice content is being sold across China's major cities, shows an investigation by Greenpeace.
The European Commission last month proposed giving individual member states the ability to opt out of any EU approvals of GMO imports for food and feed. Now officials in Washington have expressed anger about the impact on efforts to secure a Transatlantic Trade and Investment Partnership (TTIP) but also have raised the possibility of bringing the EU to the World Trade Organisation if the proposal becomes law. (behind paywall)
Hungary could be the first to introduce the new European Union regulations allowing countries to ban the cultivation of GMO crops.
In a new report, the African Centre for Biodiversity interrogates the Gates Foundation and Monsanto's Water Efficient Maize for Africa (WEMA) project, which aim to develop drought-tolerant maize for Africa. The report exposes the project as unlikely to produce useful varieties and as designed to ensnare smallholder farmers into adopting hybrid and GM maize in order to benefit seed and agrochemical companies.
Kauai County Council Member Gary Hooser spoke to Syngenta shareholders at their annual meeting in Switzerland. He asked Syngenta to give the people of Kauai the same respect and protection that the people of Switzerland are given, by stopping the use of hazardous pesticides on GM crops in Kauai. However, the cameraman filming the event was ejected from the meeting.
Biotech's attack on Chipotle for going GMO-free is an act of desperation and the mainstream media's complicity is a failure of the institution of journalism, writes Ronnie Cummins of the Organic Consumers Association.
While agribusiness sees GMOs as central to their business future, the customer-sensitive ends of the food supply chain, like Chipotle, do not – and Chipotle's move to non-GMO supplies may well represent the beginnings of a market swing of historic proportions.
Chipotle and Ben & Jerry's haven't increased prices of their foods by going non-GMO.
A federal court has affirmed the constitutionality of Vermont's GM food labelling law. The ruling denied the preliminary injunction motion brought by the Grocery Manufacturer's Association (GMA), Snack Food Association, and other plaintiffs to try to halt the law's implementation. The GMA is appealing the ruling.
In Iowa, a large faction of women voiced strong support for Hillary Clinton's presidential candidacy until the GMO issue came up, prompting them to switch allegiance to rival candidate Senator Bernie Sanders of Vermont. "These women were really pushing for Hillary until they found out about the Monsanto connection, and then they dropped her like a hot potato," said James Berge, Democratic Party chairman for Worth County, Iowa.
A growing demand for organics, and the near-total reliance by US farmers on GM corn and soybeans, is driving a surge in imports from other nations where crops largely are non-GM.
The European Commission has announced it will create a new High Level Advisory Group to replace the now defunct Chief Scientific Advisor to the President of the European Commission.
Support among Germans for the TTIP trade deal has fallen sharply over the past year with many in Europe's biggest economy worrying about its impact on food standards.
The European Food Safety Authority (EFSA) could not conclude on the food safety of Syngenta's GM maize 5307 because of the poor quality of the animal feeding studies conducted by the company.
Killing badgers with the aim of reducing TB in cattle, GMO crops, and no restrictions on bee-toxic neonicotinoid pesticides must be the priorities of the new government, Britain's National Farmers Union says.
Soybean growers reported declines in glyphosate effectiveness on 40% of their plantings in 2012, says a USDA report on glyphosate resistance management in GM corn and soybeans.
Worries over glyphosate-resistant weeds, damage to monarch butterfly populations, and the health impacts of glyphosate herbicides pose major problems for farmers growing GMO corn.
A proposed merger between Monsanto and the chemicals giant Syngenta would create a company with unprecedented market share in soybeans and corn seeds and will encourage other firms to merge and consolidate. An article for Mother Jones says the takeover bid is contradicting years of Monsanto rhetoric about how its ultimate goal with biotech is to wean farmers off agrochemicals.
Many articles have reported that the USDA had developed the first government label for GMO-free products. But the Non-GMO Project, a nonprofit that "offers North America's only third party verification and labeling" for non-GMO food and products, says these claims are misleading.
The Opal apple is non-browning – and non-GMO.
This film investigates how Monsanto, in collusion with the government and politicians, promoted GM Bt cotton in India, leading to farmer indebtedness and despair. After the film there will be a question and answer session with the directors and War on Want's John Hilary. Book now!
A study by Irish researchers concludes that volunteer potatoes appearing years after deliberate cultivation "present a significant challenge" for "effective coexistence of GM and non-GM potato crops".
Gary Hirshberg, chairman of Stonyfield dairy company, explains in an entertaining interview for Bloomberg why Americans should have GMO labelling.
A growing number of farmers are reporting health problems with farm animals fed GM feed and saying that animal health improves when feed is switched to non-GMO.
The Indian organisation Rashtriya Swayamsevak Sangh (RSS), the world's largest voluntary NGO, has staged a protest against Narendra Modi's government's "anti-farmer" policies. RSS strongly objects to the open field trials of GM crops that are now in progress.
More farmers in North India are choosing to plant the native varieties of cotton in preference to GM Bt cotton because they like the pest and drought resistance it offers.
Nutrition expert Marion Nestle says GMOs, antibiotics in chicken production, and artificial colours are not necessary in the food supply and it's time they were removed.
Thanks to the new method of rice cultivation, SRI, farmers in India have been able to boost their harvest massively without expensive fertilisers or pesticides.
A new study found that replacing chemical fertilizer with organic manure significantly decreased the emission of greenhouse gases, changing the agriculture ecosystem from a carbon source to a carbon sink – and yields improved too.
Most organic and non-GMO farmers have no choice but to foot the bill for expensive precautionary measures that must be taken in order to maintain and verify the purity and non-GMO status of their crops and seeds.
In a super-clear talk, molecular geneticist Dr Michael Antoniou explains why GM foods and their associated pesticides are dangerous.
The GMO industry must stop attempting to suppress and hide the evidence of harm provided by animal feeding studies with GM foods, argues Richard C. Jennings, Affiliated Research Scholar in the University of Cambridge Department of History and Philosophy of Science.
Dr Elizabeth Cullen of the Irish Doctors Environmental Association spells out why GMO safety concerns are justified.
Public service unions are asking the Canadian federal government for the first time to enshrine scientific integrity language into their collective agreements. The language is intended to ensure that researchers employed by the government can speak openly about their work, publish results without fear of censorship and collaborate with peers.
LOBBYWATCH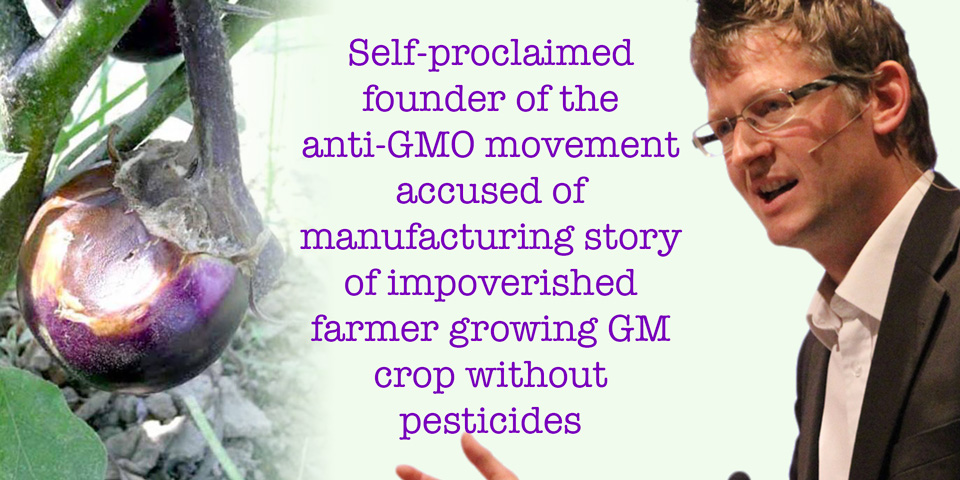 New evidence from Bangladesh raises further questions about the claims made by Mark Lynas that GM Bt brinjal is helping farmers, writes Jonathan Matthews. Reports from the country say that Bt brinjal was a widespread failure for the second year running.
Reporter Jeremy Berlin and pro-GMO scientist Pam Ronald used the example of a non-GM rice variety to argue that GM is necessary to feed the world! GMWatch
Snow tells how the TTIP EU-US trade deal could "have a massive impact" on all of us.