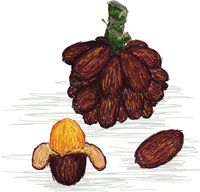 In the wake of the field trial failure of GM golden rice, there's been much media hype about the GM beta-carotene enriched banana. An important overlooked fact, however, according to Indonesian food sovereignty organisation Mantasa, is that the GM banana is "a clear case of biopiracy". Natural beta-carotene-rich orange bananas have long been available and have been used in Indonesia as a food to wean babies.
US farmers in three states are suing seed giant Syngenta in billion-dollar lawsuits. The lawsuits allege Syngenta "destroyed the export of US corn to China and caused depressed prices for all domestic corn" by releasing a new GMO corn that isn't approved in China.
The US Dept of Agriculture (USDA) has no idea how GM wheat got into an Oregon farmer's field in 2013. Now it's opened a new investigation into a different GM wheat variety found growing at a Montana research facility that carried out field trials up to 2003.
The arrival of 2,4-D-tolerant crops is a direction-defining moment for US agriculture, according to a weed ecologist. As farmers run out of chemical options to kill herbicide-resistant weeds, they are seeking advice about integrated weed management.
A new scientific publication co-authored by Monsanto employees is warningthat the cultivation of the GM soybean Intacta (MON 87701 x MON 89788) could promote the spread of specific pest insects.
Laboratory studies show that Roundup causes DNA damage, disturbs cell division, increases cancer growth in tissue culture, and induces cancer when fed to test animals, writes Jeff Ritterman, MD.
The bodies and minds of children living on the Hawaiian island of Kauai are being threatened by exposure to chlorpyrifos, a synthetic insecticide that is heavily sprayed on GMO crop fields located near their homes and schools.
Pressuring any country to buy Monsanto's GMO seeds is a "tragic mistake", writes Jeff Ritterman, MD, in an article analysing the possible link between farmworkers' exposure to glyphosate herbicides and a fatal kidney disease.
US hay exporters are watching an important growth market, China, dry up following tests that showed trace amounts of GMO alfalfa in shipments.
China's agriculture ministry hopes to stifle the anti-GMO sentiment that has gathered momentum in the wake of incidents such as reports that GM rice had been illegally sold at a supermarket in the centre of the country.
Scientists in Vietnam warn that GM technology will not increase crop yield or save domestic agricultural production.
One soybean exporter in Brazil has agreed with Monsanto to collect royalties, in exchange for a fee, from farmers who planted GM seeds marketed by the company.
Brazilian researchers have released thousands of mosquitoes infected with Wolbachia bacteria, which suppress dengue fever. The mosquitoes are not GM. Meanwhile, a Brazilian town where Oxitec's GM mosquitoes were released to combat dengue fever was recently reported as still suffering from increased dengue incidence.
Prof Andrés Carrasco made powerful enemies but also many friends in a country heavily dependent on GM soybeans, says a tribute to the renowned scientist and fearless campaigner who died earlier this year.
Cotton farmers in Maharashtra, India should explore options beyond Bt cotton seeds as the costs of cultivating the crop were higher, but with no added productivity, profitability or sustainability, said agriculture department officials and other experts.
Gujarat has joined a list of 10 other Indian states that have rejected open GMO field trials. Recently Bihar's agriculture minister said the state would block the entry of any company permitted by the central government to conduct GMO maize field trials, on the grounds of risks to health and the environment.
In 2011 the German film maker Wilfried Huismann released his documentary film exposé of the devastation caused by the expansion of GM soy in South America and WWF's collaboration with Monsanto in the Round Table on Responsible Soy. Now Huismann has published an English language book on his investigations.
In Europe, regulators are ignoring the legal obligation to use independent science in setting safety levels for pesticides, including glyphosate, shows a new report by Pesticide Action Network Europe.
US negotiators and industry lobbyists are trying to force the EU to allow imports of food and seeds that are mixed with GM food or seeds, even in cases where the GM material has not been authorised as safe in the EU, via the trade deal called the TTIP. In an article called "Six reasons why TTIP should scare you", journalist Lee Williams explains why these secret trade negotiations are an assault on European and US societies by multinational corporations.
Two direct actions by the Faucheurs Volontaires (Voluntary Reapers) in France aim to secure a moratorium on GM soy imports in order to protect health and the environment.
Three of the world's largest biotech companies, Monsanto, DuPont and Syngenta, now have a significant foothold in African markets for maize and cotton.
GMOs are a bad financial risk, according to an incisive and well-written report by Portfolio 21, an investment management group with about US$500 million mutual fund, based in Portland, Oregon. The report analyses an industry that "bullied its critics, overwhelmed government regulators and used the global agricultural and food systems as a source of profits at the expense of many participants".
Jon Entine, PR man for pesticides and GMOs, has come out with another GMO promotional in Forbes, called "The debate about GMO safety is over, thanks to a new trillion-meal study". However, the new study, by former Monsanto employee Alison Van Eenennaam, tells us almost nothing about GMO safety, writes Claire Robinson of GMWatch. A separate analysis by GMO Free USA shows that the study is marred by bias and scientific shortcomings. And environmental journalist Judson Parker points out that this isn't a long-term study of animals living a full life cycle. Instead, it's a study of 19 years' worth of 49 day-old chickens!
The pro-GMO lobby group Biology Fortified Inc (Biofortified for short) has launched its GENERA database of GMO studies, which it is promoting as showing GMO safety. But what it doesn't say is that Monsanto is the most common funder of studies in the database and not all the funders are as independent as Biofortified makes out, writes Tim Schwab for Food & Water Watch.
Monsanto's been sponsoring speakers at the SXSW Eco conference without disclosure, a conference staff member has revealed.
Biotech seed companies and front groups are broadcasting the myth of a "scientific consensus" on the safety of GMOs by misrepresenting the views of scientific organisations, explains a useful short report by Food & Water Watch.
The role of the EU chief scientific advisor is currently conceived as that of an enlightened "philosopher-king" – challenging the democratic foundations of decision-making, says the Cancer Prevention and Education Society in the latest instalment of a row that isn't going away in a hurry.
A new report debunks claims that GMO labelling will force farmers and food producers to spend "millions" and increase food costs for consumers. The new analysis commissioned by Consumers Union found that labelling of GM food would cost the consumer just $2.30 per person annually.
Opponents have branded Oregon's GMO labelling proposal as causing mass confusion and misinformation, jacking up grocery bills, ruining farmers, and hurting the poor – but none of these dire predictions has happened in the 64 countries already labelling, writes Rick North.
The idea that GM technology can solve the problem of world hunger, or be a tool towards ending hunger, is compelling but false, says an easy-to-read new report by the Canadian Biotechnology Action Network (CBAN).
It is the failure of GM technology – not Luddite fear-mongering – that has prompted scientists, academics, policymakers, governments and regular people to question the biotech industry, writes Debbie Barker in an article for the Center for Food Safety. Barker especially debunks GMO myths promoted by Michael Specter in the New Yorker.
The idea that GM technology can solve the problem of world hunger, or be a tool towards ending hunger, is compelling but false, says an easy-to-read new report by the Canadian Biotechnology Action Network (CBAN).