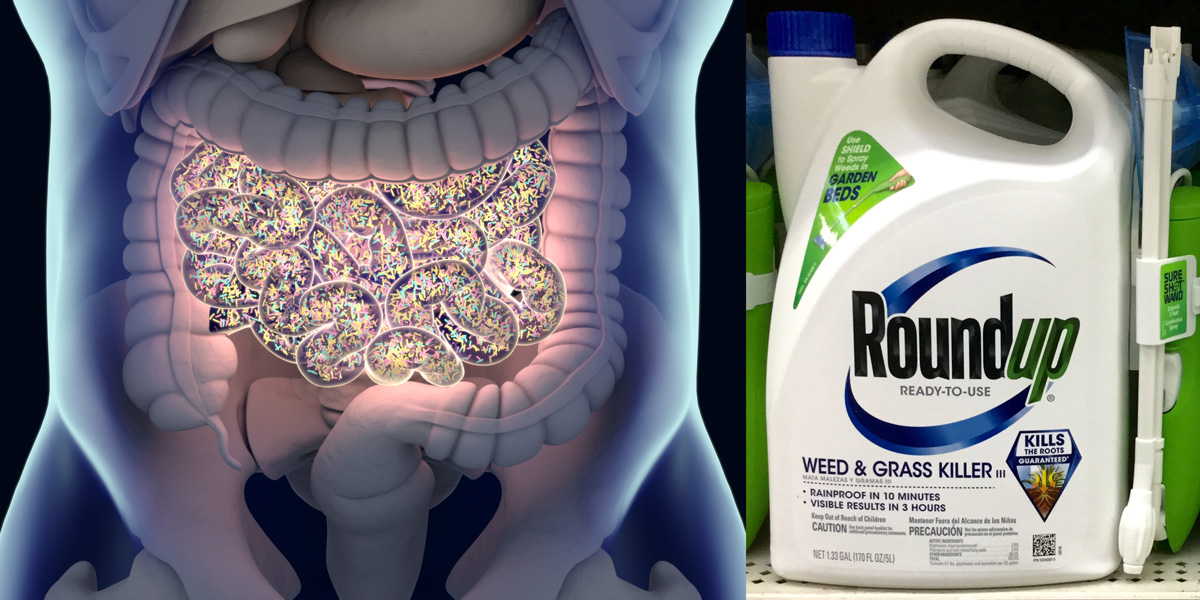 Findings suggest probiotics could help reverse damage to people's gut bacteria caused by Roundup exposure. Report by Claire Robinson
Both glyphosate and Roundup disturbed the gut microbiome in a study conducted in a simulated human digestive tract, but some of the changes were reversed with a probiotic formulation. This is the first study to prove that glyphosate and Roundup disrupt the human gut microbiome.
Methods
The study looked at infant gut bacteria taken from a healthy three-year-old child. The bacteria were cultured in the presence of glyphosate or Roundup in concentrations that regulators claim are safe to ingest over the long term.

The experiment was conducted in a state-of-the-art simulated human digestive tract known as SHIME, which is valued by researchers for its highly reproducible results and its close relevance to living humans. It was used in this experiment because it is not considered ethically acceptable to experiment on living humans by making them deliberately ingest pesticides.
Results
The study found that Roundup and to a lesser extent glyphosate caused an increase in fermentation activity and an increase in the bacteria's production of acetate and lactate, resulting in acidification of the microbial environment.

Ammonium production was substantially increased by Roundup exposure but not by glyphosate. An increased production of ammonium is harmful because it can activate cell proliferation of colon cells and subsequently promote colon cancer.

Metabolomics (molecular profiling) analysis revealed major disturbances in a large number of metabolic pathways. However, the relevance to health of most of these changes is not yet known.

Exposure to Roundup resulted in an increased abundance of long-chain polyunsaturated fatty acids – a finding that the researchers described as "surprising". Changes in bacterial composition suggested that the growth of lactobacilli was caused by the acidification of the gut environment.

Overall, the results suggest that Roundup and glyphosate can exert effects on human gut microbiota. The effect of these changes on human health is still unknown.

However, treatment with the probiotic formulation MegaSporeBiotic reverted some of the changes in short-chain fatty acid levels, suggesting that it may be helpful in treating people who are suffering from gut bacteria imbalance due to Roundup exposure.
Aren't lactobacilli "good bacteria"?
Specific Lactobacillus and Bifidobacterium strains are currently used as probiotics. But analysis in a previous study of the composition of bacterial communities in inflammatory bowel patients has shown increased proportions of Bifidobacteria and lactobacilli, against a decrease in butyrate-producing bacteria.

The new study suggests that imbalance in these bacteria might cause inflammation. This also reflects findings of a recent laboratory animal study showing that rats exposed to glyphosate in the womb until adulthood had increased levels of lactobacilli.
Aren't long-chain fatty acids good for you?
The increase of long-chain fatty acids has been found to be linked with an a higher abundance of Lactobacillus in rodents that were separated from their mothers immediately after birth, triggering faster transit of faeces through the colon and imbalance of gut bacteria. This suggests that these bacteria can affect the conversion of food into energy (metabolism).
Funding
The study was part-funded by Microbiome Labs, which manufactures MegaSporeBiotic. Despite this interest, however, there appears to be no reason to doubt the outcomes of this relatively simple – and repeatable – experiment.
Limitations of the study
The experiment was done in a tiny sample of one (the culture was taken from a single child and only one SHIME system was involved). Therefore scientists may wish to confirm and extend these results with further research and clinical practice.

Also, scientists are only just beginning to investigate the relevance to health of different types and functioning of gut bacteria. So the full implications of exposure of gut bacteria to glyphosate-based herbicides such as Roundup are not yet understood.
---

The new study:
Robin Mesnage, Marta Calatayud, Cindy Duysburgh, Massimo Marzorati and Michael N. Antoniou (2022). Alterations in infant gut microbiome composition and metabolism after exposure to glyphosate and Roundup and/or a spore-based formulation using the SHIME technology. Gut Microbiome. 26 Jul. https://www.cambridge.org/core/journals/gut-microbiome/article/alterations-in-infant-gut-microbiome-composition-and-metabolism-after-exposure-to-glyphosate-and-roundup-andor-a-sporebased-formulation-using-the-shime-technology/3A2DCE99E24D2498BA28D9D9E9CD8046